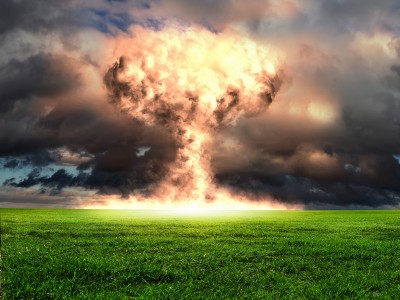 The media has spent decades telling us a nuclear exchange would be the end for all of civilization.  Not only is this wrong but it is down right deadly advice.  Most will survive the initial blast and heat yet many people will die horrible deaths that could have been avoided with little preparation.  This list of ten items, some of which are common and in your home right now, are essentials for surviving a nuclear bomb with the possibility of walking away unscathed.  Mind you, it is obviously not directed at people whose homes have been blown away by the initial blast.  It is aimed at the millions that would be in the vicinity of the bomb, say the suburbs or outer parts of a city.
Sandbags- Why sandbags?  Because in order to survive the initial gamma radiation after a nuclear bomb you will need to put as much dense material between you and the radiation possible, like dirt or sand.  Sandbags are the perfect choice to hold the material.  Remember, for every 3.6 inches of sand or dirt between the radiation and you, you halve your dose.
Shovel- To bury the dead?  Maybe, but in this case to fill the sandbags.  Even if you don't heed my warning, the shovel can still pile dirt into or onto something to shield you from radiation.
Wind Sock- A windsock can be used to quickly assess the direction and strength of the surface winds.  This can give you a basic indication as to how long you have to prepare before the radiation arrives.  Be sure to pay attention to the weather everyday to note the upper level winds.
Plastic Sheeting- We all laughed when homeland security told us to stock up on plastic sheeting but there is some merit to this, actually quite a bit.  You can pile dirt on top of it for an expedient shelter, temporarily fix broken windows, after the gamma radiation subsides it can be used to make a "clean room" when you have to leave your home in search of food or water.