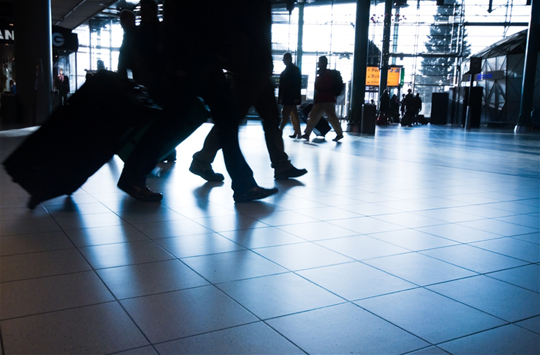 All preppers travel from time to time whether it be on business or for a family vacation.  I get the feeling that most preppers might let their guard down during travel, especially when boarding airplanes.  With all of the rules and regulations it can be daunting to know what you can and can't bring, how it can be packed, etc.  It can also be difficult when balancing what to pack for a trip versus what to pack to survive if something should go wrong.  What I suggest is take an analytical, minimalist approach to the matter.  Look at the things that you need to survive, air, shelter, water, food, etc.  Start there.  Choose the things you pack for vacation or business travel to coordinate with a survival situation.  For instance, wear your Columbia, North Face, etc hiking pants  or shorts while on vacation instead of packing jeans, remember, cotton is a killer.  Make sure to pack good water resistant gear to wear while you travel.  Now I travel with a pretty large suitcase and I forego carrying on just to be prepared.  These items do not take up much space in my suitcase and should provide a decent level of preparedness during your trip.
N95 respirator –  There are two things that reoccur in quite a few of my lists, this is one.  Pack a couple of these whenever you travel.  If some sort of disaster hits while you are on the road you won't be inhaling any of the dust, radioactive particles, etc.  If you happen to be travelling to Japan you will fit right in.
Imogene UL2 Tent (GoLite) – Call me spoiled, but I like tents and I almost always have one with me.  Tarps might be fine for some but I like a floor below me. Some might think my sane meter is broken for packing a tent to go stay in a hotel but that is the point of prepping now, isn't it?  You never know when that hotel is "not going to be available".  If you have my luck it will be 35 degrees and sleeting when it happens.  The GoLite tent is a nice lightweight and roomy one man tent.  At less than 3 pounds it is very light and packs down to a compact 4"x19" .
Kelty Cosmic Down 20 –  If you bring a tent, you might as well bring a bag.  Who wants to sleep on those hotel sheets anyways?  I like the Kelty Cosmic Down bag for a number of reasons.  It has an EN rating of 21 degrees but it really shines in that it is cheap, can pack down really small, and is very light weight.  You can find these if you really look for under $100.  The listed pack size is 9"x14" but with a compression sack you can get it much smaller.   Just remember not to store it in the sack.  There are other options on the market that are even smaller, lighter but they can get pretty expensive, like the Sea-To-Summit Micro.
Therm-a-Rest NeoAir XLite S – Continuing on with the shelter motif, I also take this sleeping pad with me, especially in the colder months.  Combining this with the Kelty along with whatever winter clothing you normally pack should buy you some survival time if the temperature really drops.  Again, this Xlite is very compact and lightweight at 8 ounces and a 3.3"x 9" packed size.
Sawyer Water Filter – After shelter, water is next on the list. I choose the Sawyer because the filter itself is very compact, can be easily packed, and there are never any cartridges to change.  Since I travel with a large suitcase I bring the accompanying water bottle, but if space is a premium the filter and hoses will suffice.  The Sawyer will allow you to take advantage of just about any water you can scavange.