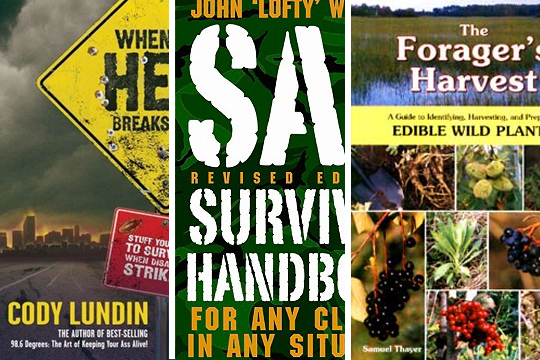 You can have all the gear in the world but without proper knowledge you won't last long. Here are some great books to help you gain the knowledge that you will need to survive. I highly recommend you practice the skills taught in these books so you aren't caught off guard when a disaster does strike.
1. SAS Survival Handbook: The Ultimate Guide to Surviving Anywhere
The SAS (Special Air Service) is a British Army special forces unit, and is revered as one of most elite fighting forces. So when British author, survival consultant, and former SAS member, John "Lofty" Wiseman wrote the SAS Survival Handbook, it was almost a given that it would be chocked full of extremely useful information. This is a book more geared towards survival in a combat situation, but one can apply the same principles when their not under fire as well. The Handbook was originally published in 1986, but has went through several revisions since then. Now it's also available in a pocket sized version that can be easily stowed away in an emergency pack or your pocket, for quick referencing.
2. The Ultimate Guide to U.S. Army Survival Skills, Tactics, and Techniques
Anyone that has opened an old Army field manual will notice something off the bat. This book is comprised of all the useful survival information in those field manuals and put out by the US Department of the Army. Dealing with physical fitness, defensive positions, and militaristic ways of approach to survival, this read covers a ton of scenarios. When SHTF, and some places get turned into a war zone, the information in this book will come in real handy.
3. The Prepper's Pocket Guide: 101 Easy Things You Can Do to Ready Your Home for a Disaster
This guide offers 101 easy, DIY style projects to get you and your family ready for disasters. A lot of the tips are fast, effective, inexpensive things a person can do to prepare. This book is a great beginner's guide with tips like: Start a Food Storage plan for $5 a week, learn to cook without electricity, or packing a Bug Out Bag. This book will certainly get you started in the right direction.
4. When All Hell Breaks Loose: Stuff You Need To Survive When Disaster Strikes
Cody Lundin is a survival expert that one could say is cut from a different cloth. That's not saying he's any less of an expert though. This book is something a family that's not prepared at all, could pick up and get started in the right direction. Geared towards emergency scenarios that are plausible everyday, this is a book filed with information on what the everyday person would need to do. Highly recommend this to the urban and suburban survivors.
5. Bushcraft 101: A Field Guide to the Art of Wilderness Survival
Written by former survival reality show host, and YouTube sensation, Dave Canterbury brings us Bushcraft 101: A Field Guide to the Art of Wilderness Survival. This is a must-have book to any amateur bushcrafter. The author is extremely well versed in primitive survival skills (as well as being former military) and has brought his knowledge to the people in an easy-to-read beginner's guide. This book is great for campers, hikers, and folks planning on hitting the woods in a SHTF scenario. Plus, once you're done with this, make sure and check out Advanced Buschraft: An Expert Field Guide to the Art of Wilderness Survival.
6. Strategic Relocation: North America Guide to Safe Places, 3rd Edition
Okay so you've Bugged Out, now where do you plan on going? This is a book that was written by a relocation consultant that has spent over 30 years designing high security homes and retreats. If security is a concern when you're looking for a permanent place to live, this is also the book you want to read. The information is broken down into statistics, graphs and charts, but there are things taken into consideration the everyday person never even thinks of. It also gives some insight on some possible places that would be ripe for rebuilding a society.
7. The Complete Guide to Hunting, Butchering, and Cooking Wild Game: Volume 2: Small Game and Fowl – Anyone planning on Bugging Out to the wilderness had better hope they can hunt and fish. Not only should they know how to hunt, but also how to clean their kill, and be able to cook it. This is an all-in-one comprehensive guide to hunting, butchering, and cooking wild game, but is also a great choice because Vol. 2 focuses it's knowledge on small game and fowl. These are the types of game one would catch in handmade snares, which is perfect for wilderness survival.
8. The Doomsday Book of Medicine
The Doomsday Book of Medicine- Dr. Ralph La Guardia has spent over 30 years researching the topic of treating medical emergencies when there are no doctor's or hospitals left. This book is so full of information on off-grid medical practice that it is unreal. One could call this the "Encyclopedia" on the topic. Almost anything you could think of that could ail you, is touched on in this book, and ways to deal with it.
9. The Forager's Harvest: A Guide to Identifying, Harvesting, and Preparing Edible Wild Plants
Another thing people will need to be educated on if they plan on hitting the woods to survive will be wild edibles. This is a great, well-rounded book on finding, identifying, knowing the seasons of harvest, and collection and preparation of wild edibles. Complete with color photographs, an index, harvest calendar, and an illustrated glossary, this is an easy book for any beginner to use. Samuel Thayer's follow up, Nature's Garden, along with this book, are a couple of must have's on the specific topic.
10. Prepper's Instruction Manual: 50 Steps to Prepare for any Disaster
This is another great book for people just starting to prepare. Touching on subjects like food caches, amateur radios, and CERT training, this book touches on great topics and goes in depth to each of them. Dealing with a wide range of disasters, this guide ultimately helps you prepare for any of them. Written by Dr. Arthur Bradley, a former US Army infantryman with a Ph.D. in Engineering, this is just another one of his fantastic reads on the subject of preparedness.