10 Must Have Survival & Preparedness Books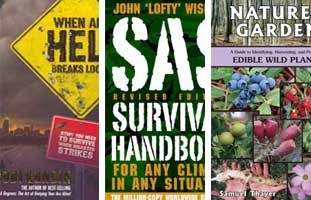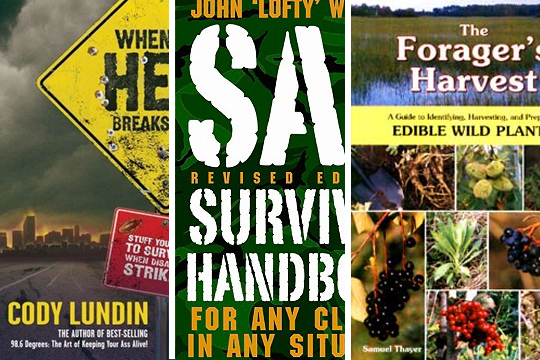 Here is a list of 10 great Survival and Preparedness books
SAS Survival Handbook: The Ultimate Guide to Surviving Anywhere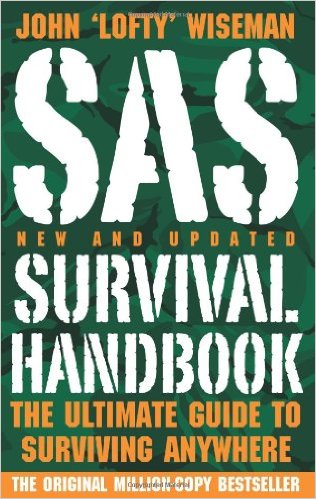 A new and fully updated edition of the original, bestselling survival handbook. Written by ex-SAS survival expert John 'Lofty' Wiseman, this book provides the most reliable, authoritative and respected survival information on the market. The original survival handbook – the choice of both survival expert and novice, this book is the international bestseller which in the 20 years since it was first published has been often imitated but never bettered. John 'Lofty' Wiseman served in the SAS for 26 years: his knowledge, experience and skills are unrivalled in survival circles. He is the first and best expert on survival instruction – in any situation. In this fully updated edition, Lofty imparts his much sought-after survival experience, knowledge and timeless techniques – preparing you for anything, anywhere in the world. Updated contents include: Be prepared – The latest, most resilient, resourceful and eco-friendly must-have kit On the move – Up-to-date navigation technologies such as GPS are discussed and explained Health – The body's physiology explained: how to maximise survival when injured or in any climate, on land or at sea. Disaster Survival- Increasingly-changing environmental conditions are addressed: what to do in the face of flash flooding or fast-spreading fire Fear Management – How to react, keep calm, and manage hostile environments and survival situation Navigation – Skills, technologies and techniques to use when making your way through unfamiliar terrain Also featuring new case studies and survival scenarios, designed to offer fascinating insight into other people's survival experiences and to force you to think about what you would do in their position.
The Ultimate Guide to U.S. Army Survival Skills, Tactics, and Techniques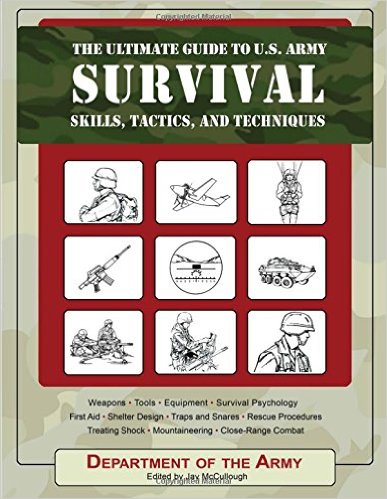 Here for the first time in one place is everything you will ever need to know in order to survive just about any difficult or dangerous situation. Drawing from dozens of the U.S. Army's official field manuals, editor Jay McCullough has culled a thousand pages of the most useful and curious tidbits for the would-be soldier, historian, movie-maker, writer, or survivalist—including techniques on first aid; survival in the hottest or coldest of climates; finding or building life-saving shelters; surviving nuclear, biological, and chemical attacks; physical and mental fitness, and how to find food and water anywhere, anytime. With hundreds of photographs and illustrations showing everything from edible plants to rare skin diseases of the jungle, every page reveals how useful Army knowledge can be.
The Prepper's Pocket Guide: 101 Easy Things You Can Do to Ready Your Home for a Disaster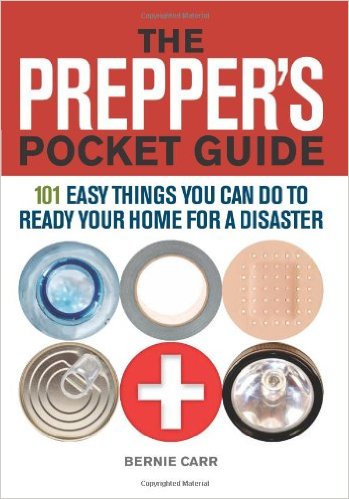 From California earthquakes and Rocky Mountain wildfires to Midwest floods and Atlantic hurricanes, you can't escape that inevitable day when catastrophe strikes your home town — but you can be prepared! Offering a simple DIY approach, this book breaks down the vital steps you should take into 101 quick, smart and inexpensive projects, some examples:
When All Hell Breaks Loose: Stuff You Need To Survive When Disaster Strikes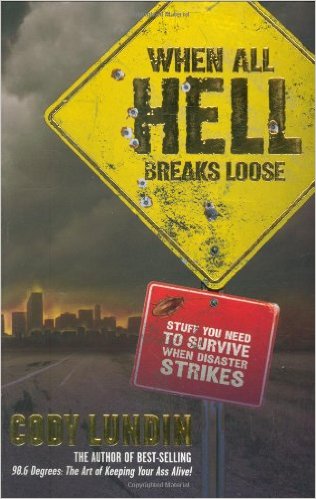 Survival expert Cody Lundin's new book, When All Hell Breaks Loose: Stuff You Need To Survive When Disaster Strikes is what every family needs to prepare and educate themselves about survival psychology and the skills necessary to negotiate a disaster whether you are at home, in the office, or in your car. This is not your father's scout manual or a sterile FEMA handout. It entertains as it informs, describing how to maximize a survival mind-set necessary for self-reliance. According to the book, living through an emergency scenario is 90 percent psychology, and 10 percent methodology and gear. Relevant quotes and tips are placed throughout the pages to help readers remember important survival strategies while under stress and anxiety. Lundin also addresses basic first aid and hygiene skills and makes recommendations for survival kit items for the home, office, and car. Watch naturalist Cody Lundin in "Dual Survival" on The Discovery Channel as he uses many of the same skills and techniques taught in his books. When All Hell Breaks Loose provides solutions on how to survive a catastrophe.
Handbook to Practical Disaster Preparedness for the Family, 2nd Edition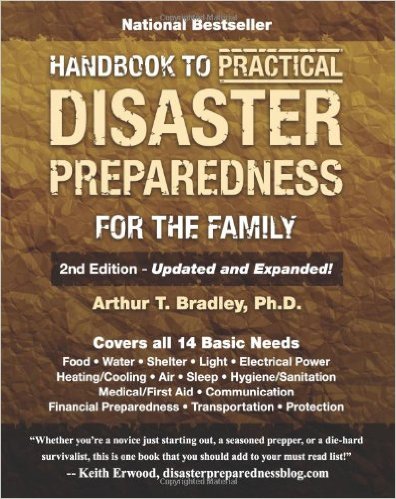 This handbook will help you to establish a practical disaster preparedness plan for your entire family. The 2ND EDITION has been expanded to include discussions of long-term food storage options, firearm selection and handling, disaster preparedness networks, radiological emergencies, our country's impending financial collapse, and much more. Steps are also provided to help you prepare for the five deadliest types of natural disasters: earthquakes, tornadoes, hurricanes, floods, and tsunamis. This new larger 8″ x 10″ format includes easy-to-copy worksheets to help organize your family's preparedness plans. Additional information is presented for the elderly, those with children, people with disabilities, pregnant women, and pet owners. Every topic is well researched with over 280 references cited.
Strategic Relocation: North America Guide to Safe Places, 3rd Edition
What if: a labor crisis halts the inflow of food and business goods? Will your community provide the basic necessities of life? an economic crisis that threatens your pensions, investments and other so-called "guaranteed" income? a major earthquake or other natural disaster suddenly upsets the natural social order for months at a time? Could you get out of harm's way if massive social unrest erupts in the wake of a crisis? an emergency clogs the area's freeways? Do you have contingency plans to exit the area? the "unthinkable" happens: nuclear war? Or have you thought about the potential of a major terrorist attack on a U.S. city with chemical or biological weapons? It's easy to dismiss these threats during times of peace and prosperity, but they are real. Not only that, but the probability of such events coming to pass increases every year. Strategic Relocation: North American Guide to Safe Places is an in-depth analysis of North America's safest places to live. This book will help you look ahead for potential threats that most other people fail to see or choose to ignore. It contains a complete discussion of the strategies and relocation contingencies that will help you avoid or mitigate each of the major modern threats, from national disasters to economic collapse to nuclear war.
How to Survive the End of the World as We Know It: Tactics, Techniques, and Technologies for Uncertain Times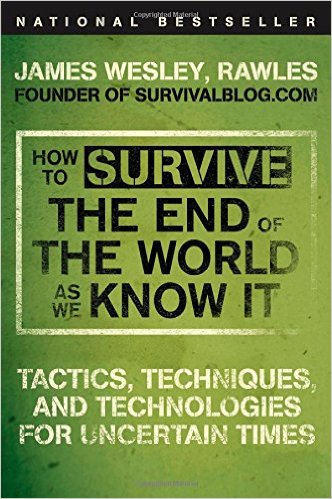 Global financial collapse, a terrorist attack, a natural catastrophe-all it takes is one event to disrupt our way of life. We could find ourselves facing myriad serious problems from massive unemployment to a food shortage to an infrastructure failure that cuts off our power or water supply. If something terrible happens, we won't be able to rely on the government or our communities. We'll have to take care of ourselves. In How to Survive the End of the World as We Know It, James Rawles, founder of SurvivalBlog.com, clearly explains everything you need to know to protect yourself and your family in the event of a disaster-from radical currency devaluation to a nuclear threat to a hurricane. Rawles shares essential tactics and techniques for surviving completely on your own, including how much food is enough, how to filter rainwater, how to protect your money, which seeds to buy for your garden, why goats are a smart choice for livestock, and how to secure your home. It's the ultimate guide to total preparedness and self-reliance in a time of need.
Medicine for the Outdoors: The Essential Guide to Emergency Medical Procedures and First Aid, 5th Edition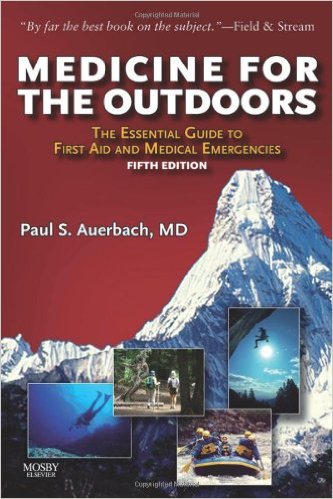 Since 1986, Medicine for the Outdoors has been hailed as the definitive take-along manual on the subject. Packed with step-by-step instructions, how-to explanations, and practical approaches to outdoor and wilderness emergencies, it tells you the best ways to respond to just about any medical problem when help is miles or days away. Author Paul S. Auerbach, MD, MS, FACEP, FAWM, is recognized as one of the world's leading authorities on wilderness medicine. This 5th edition features major updates to bring you the latest on emerging infectious diseases…the most current drug and dosage information…an increased emphasis on making do with the materials at hand…and much more. Logically organized, easy to reference, and simple to understand, Medicine for the Outdoors may literally save your life. When you're venturing into mountains, deserts, forests, jungles, or out to sea, it belongs in your duffel or backpack!
The Forager's Harvest: A Guide to Identifying, Harvesting, and Preparing Edible Wild Plants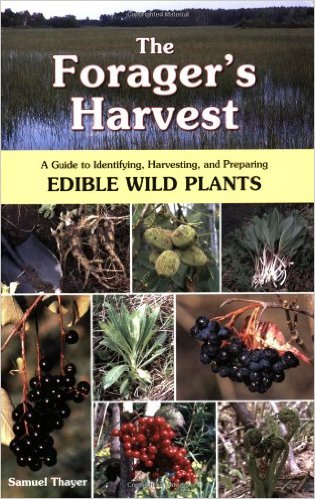 A practical guide to all aspects of edible wild plants: finding and identifying them, their seasons of harvest, and their methods of collection and preparation. Each plant is discussed in great detail and accompanied by excellent color photographs. Includes an index, illustrated glossary, bibliography, and harvest calendar. The perfect guide for all experience levels.
Prepper's Instruction Manual: 50 Steps to Prepare for any Disaster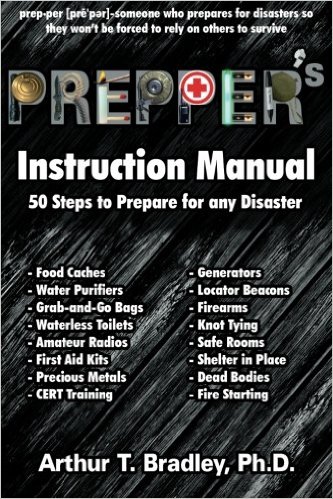 If your community was hit with a major disaster, such as an earthquake, flood, hurricane, or radiological release, how would you handle it? Would you be forced to fall into line with hundreds of thousands of others who are so woefully unprepared? Or do you possess the knowledge and supplies to adapt and survive? Do you have a carefully stocked pantry, a method to retrieve and purify water, a source for generating electricity, and the means to protect your family from desperate criminals? In short, are you a prepper? This book contains fifty of the most important steps that individuals and families can take to prepare for a wide range of disasters. Each step is complete, clearly described, and actionable. Together, they cover every aspect of disaster preparedness, including assessing the threats, making a plan, storing food, shoring up your home, administering first aid, creating a safe room, gathering important papers, learning to shoot, generating electricity, keeping warm, and much more. Recent events have reminded us that our world is a dangerous place, whether it is a deadly tsunami, a nuclear meltdown, or a stock market collapse. Our lifestyle and even our very existence is forever uncertain. Join the quickly growing community of individuals and families determined to stand ready. Become a prepper!