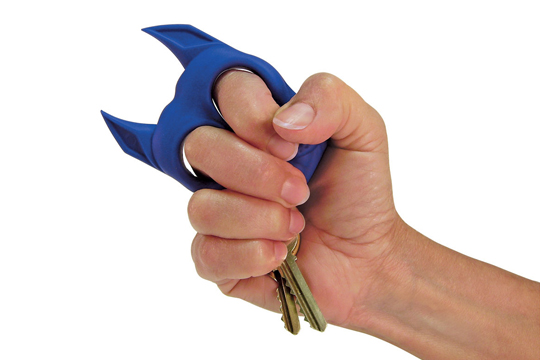 Everyone carries a keychain in their pocket to hold their car or house keys, and its a good idea to carry a tactical self defense keychain since you have to have them with you anyways. Most of these keychains have handy features to injure assailants and prevent crime  if needed.
Check your local laws some may prevent you from carrying some of these self defense keychains.
Fury Tactical SDK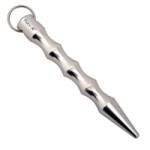 with Pressure Tip from Joy Enterprises gives the user accurate control to apply pressure to key parts of the body. This less lethal device is custom designed with finger groves and lightweight materials for easy concealment and carry. The included key ring attachment provides an added defensive tool.
Brutus the Bull Dog Self Defense Keychain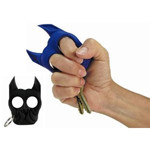 can be attached to keys or easily stowed elsewhere. Made of impact resistant molded plastic that is strong as metal. This keyring will give you the edge you need against unwanted advances You put your fingers through the eye holes and the tips of the ears can be used to defend your self against an attacker.
Fox 40 Sonik Blast CMG Official Whistle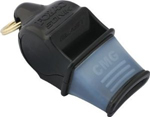 Just blow the whistle in an emergency and it bursts 120+ becibels of ear piercing sound to attract everyone near if you are in danger. This is the simplest device you can add to your keychain and can easily be used before a crime occurs.
Self Defense Keychain Kubotan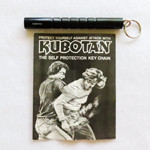 is a pressure point self defense device. the principal areas for attacks in self-defense include bony, fleshy and nerve targets such as knuckles, forearms, bridge of the nose, shins, stomach, solar plexus, spine, temple, ribs, groin, neck, eyes etc. The Kubotan is usually held in either an icepick grip (for hammerfist strikes) or forward grip (for stabbing and pressure point attacks). Common uses include hardening the fist (fistload) for punching, attacking vulnerable parts of an assailant's body, and gaining leverage on an assailant's wrist, fingers and joints. With keys attached, it can also function as a flailing weapon.
SABRE Red Spitfire Pepper Spray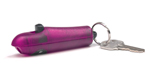 The fastest deploying and most compact key chain pepper spray is now manufactured and sold exclusively by SABRE RED! Spitfire's ergonomic patented design has become a favorite of pepper spray users for over a decade by deploying with less effort and with greater accuracy from your hip or over your shoulder. Weight of the Spitfire is 0.21 ounces with approximately 8 bursts at 6-8 feet in a cone spray pattern with a point of aim to the center of face.