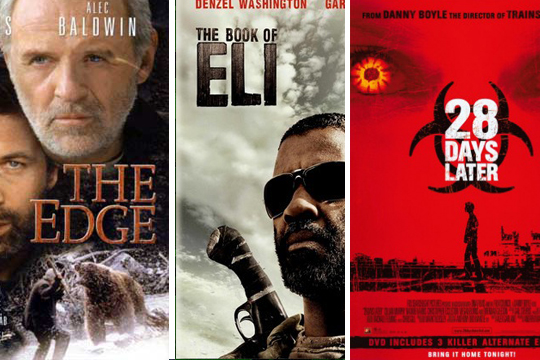 Wether it is surviving a disaster, nuclear wars, sci-fi alien invasions, zombies or plagues, the best survival movies cover a broad range of genres.
Here is my list of some of them.
Wilderness Survival Movies
Post Apocalyptic Movies
The Day  In a post-apocalyptic future, a group of survivors must make a desperate final stand over 24 hours.
The Book of Eli A lone warrior wanders the post-apocalyptic desert that was once America, battling lawlessness to realize his hope of a better future.
The Road An epic post-apocalyptic tale of the survival of a father and his young son as they journey across a barren America that was destroyed by a mysterious cataclysm.
The Divide Survivors of a nuclear attack endure days in the basement of their apartment building, only to be driven mad by dwindling supplies and fear of what lies outside their bunker.
Hell In the not too distant future, people struggle to survive their greatest enemy, the sun.
The Road Warrior Mad Max joins forces with nuclear holocaust survivors to defend an oil refinery under siege from a ferocious, marauding horde that plunders the land for gasoline.
Cyborg A martial artist hunts a killer in a plague-infested urban dump of the future.
Doomsday An action-packed thrill-ride through a post apocalyptic hell!
Escape from New York A thrilling vision of a lone warrior battling his way out of a post-apocalyptic Manhattan!
The Postman Kevin Costner directs and stars in this action-filled epic set in a post-apocalyptic American West. In the year 2013, a massive warhas left most of the country in total disarray.
Invasion / War Survival Movies
End of the World / Armageddon Movies
Zombie Apocalypse / Plague Movies
Misc. Survival Movies
Frozen A typical day on the slopes turns into a chilling nightmare for three snowboarders when they get stranded on the chairlift before their last run. As the ski patrol switches off the night lights, they realize with growing panic that they've been left behind, dangling high off the ground with no way down.
Take Shelter Curtis LaForche lives in a small town in Ohio with his wife, Samantha, and daughter, Hannah, a six-year-old deaf girl. When Curtis begins to have terrifying dreams, he keeps the visions to himsel…