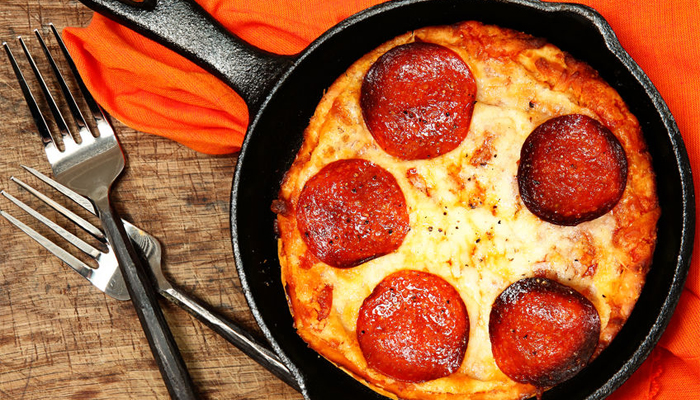 Pizza does not have to be unhealthy, and the best part is it tastes even better the healthier you make it. Imagine a dish with fresh herbs like basil, oregano, rosemary or pick your favorite along with some lean meat, and your daily serving of vegetables such as fresh onions, peppers, and tomatoes and even black olives. Add pineapple to get your daily serving of fruit, as well.
There is any number of ways of cooking a pizza over an open fire. One method is to use a cast iron skillet with a tent of aluminum foil (with small holes in the foil) over the top to ensure even cooking. When using a cast iron skillet tenting is not as important.
Another method is to use a pizza stone or pan. You can make your own pizza stone by picking up unglazed red tile at your local home and garden store. They come in various sizes and having more than one size is ideal. 
Perforated and well-seasoned metal pizza pans are ideal because they can take the extreme heat without damaging the pan. Cast iron can, as well, but a pizza stone can crack. Use cooking spray, olive, or vegetable oil to coat any metal pans you use.
Note:The pizza stone needs to be warmed slowly. Putting a cold stone near extreme heat may crack it, and also placing cold food on the stone may cause cracks or breakage, as well.
When using a pizza stone, you will want some coarse corn meal handy to sprinkle on the stone so you easily place the pizza dough on the stone. A pizza paddle is not a bad idea either. Place the stone so it heats evenly, and it must be hot before placing the pizza on the stone. This is where a paddle comes in handy. Sprinkle cornmeal on the paddle and then make your pizza right on the paddle and then slide onto the heated stone, and then tent with aluminum foil, with holes in the foil to let steam escape. Steam collecting may cause a soggy crust.
Pizza can be shaped any way you want, but square or round are the traditional shapes
A Very Simple Pizza Dough Recipe Calls For:
1 Package Active-Dry Yeast

1 1/2 Cup Very Warm Water (110-115° F To Activate The Yeast)

4-Cups Of Flour (You Can Use Whole Wheat Flour)

1 1/2 Teaspoon Salt

2-Tablespoons Of Olive Oil

Add Honey For Flavor And Health
Make sure all mixing bowls and utensils are at room temperature so the warm water is not cooled too much, thus preventing the yeast from activating.
Mix the dry ingredients together well and then add the oil and honey if using.
In a perfect world, you would use a dough hook in your mixer to mix the dry ingredients, and then to mix the wet ingredients in, but at the campsite, you won't have this luxury.
Once everything is well mixed, cut the dough into balls, each one being a pizza. Make them as big or as small as you want. You can wrap the dough balls in plastic wrap and freeze or refrigerate for the short term. Coat the wrap with some flour or coat very lightly with oil to keep the dough from sticking.
The dough will have to set and rise (proof), before kneading and shaping into a pizza. Let it rise until it has doubled in size. Place the dough in a warm area and cover with a cloth or wrap the bowl it is in with plastic wrap.
Types of Pizza
Breakfast pizza is becoming popular, and they are simple to make. Instead of the traditional red sauce, you would use cheese sauce. You can buy the cheese ready to use or make your own.
To make your own cheese sauce, melt some butter in a pan and add 1-tablespoon of all-purpose flour and whisk together. Let simmer for a minute and then add one cup of whole milk or even half-and-half if you want it richer.
Cook until it thickens somewhat and then turn the heat off and add several cups of real grated cheese of your choice and then stir until melted. Play with the recipe, to make more or less sauce, and you really cannot mess this one up so don't worry about being exact.
Spread the cheese on the dough and add scrambled eggs that were cooked very soft, and then crumbled somewhat after they cooled. Then add crumbled sausage, bacon, Canadian bacon or any meat you like for that matter. Top with cheese of your choice. Mozzarella is the traditional pizza cheese.
Pizza can be made with white sauce and usually the white sauce is a version of an Alfredo sauce. Typically, chicken is used as the meat, along with fresh herbs and sliced or diced tomatoes are placed on the pizza, as well, as fresh cut mozzarella pieces, and then topped with shredded cheese or left as is to bake.
A traditional pizza uses pizza sauce (red) along, with toppings people have come to associate with pizza, but you can of course, experiment with the ingredients. Pepperoni is popular, as is mild or hot sausage crumbles, crumbled hamburger, shredded chicken, and even smoked meats such as shredded pork mixed with BBQ sauce.
You can make your pizza anyway, you want with any ingredients you want and make it right over your campfire or on the grill in the back yard.