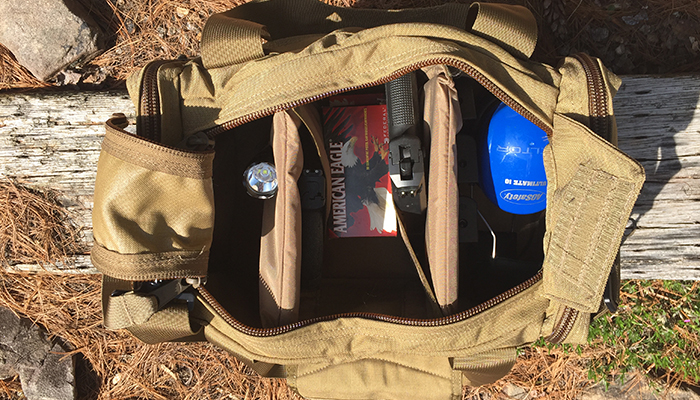 This bag is made in the USA in Selma, North Carolina, and it is Berry Amendment compliant under USC, Title 10, and Section 2533a. What is the Berry Amendment and what does it have to do with a range bag anyway.
The Berry Amendment is a statutory requirement that restricts the Department of Defense (DoD) from using funds appropriated or otherwise available to DoD for procurement of food, clothing, fabrics, fibers, yarns, other made-up textiles, and hand or measuring tools that are not grown, reprocessed, reused, or produced in the United States.
The Berry Amendment has been critical to maintaining the safety and security of our armed forces, by requiring covered items to be produced in the United States. With respect to textiles and clothing, the Berry Amendment has been critical to the viability of the textile and clothing production base in the United States (Trade.Gov, 2016).
Read Full Article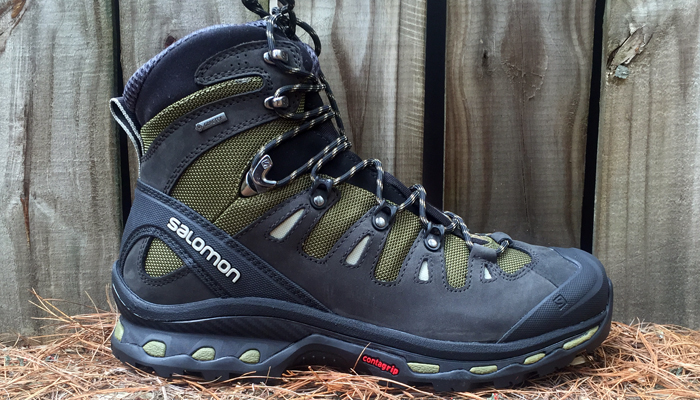 It's rare to find a pair of boots that feel broken in right out of the box, but the Quest 4D feel like they were tailor-made for my feet. The ankle support these boots provide is what seals the deal for me. Rolling an ankle in the backwoods, or anywhere for that matter, is not something any hiker wants to do, and if you can find a boot that is comfortable, sturdy, breathable and looks good, with good ankle support, you had better grab them fast.
Walking around the backyard doing yard work is one thing; hiking over rough terrain with a pack on is another matter entirely. There are work boots and there are hiking boots. You need to know the difference and you can't scrimp when it comes to hiking boots, because if your boots fail you, where does that leave you. Unless you are Cody Lundin you are left barefoot and possibly with a foot or ankle injury from wearing the wrong hiking boot.
Read Full Article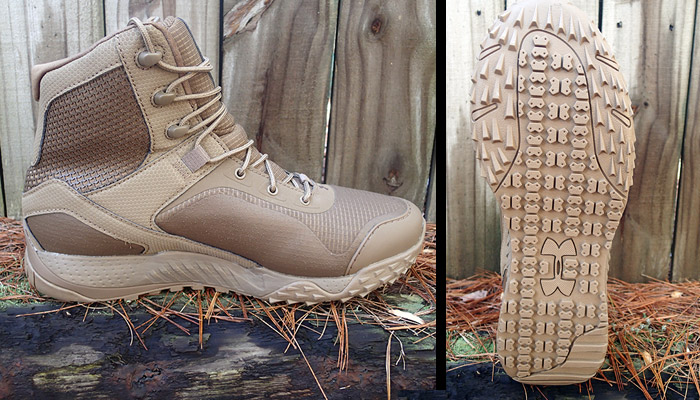 Posted in
Apparel
, February 17, 2016
A foreword about UA
Kevin Plank went a long way from UA's humble beginnings in his grandmother's basement to owning a brand generating around 4 billion per annum.
It all started with an intention of making a "better" T-shirt that'll get rid of the body sweat rather than absorbing it. He was a college football team captain at the time, after failing private school and working countless jobs ranging from selling flowers to parking cars.
Read Full Article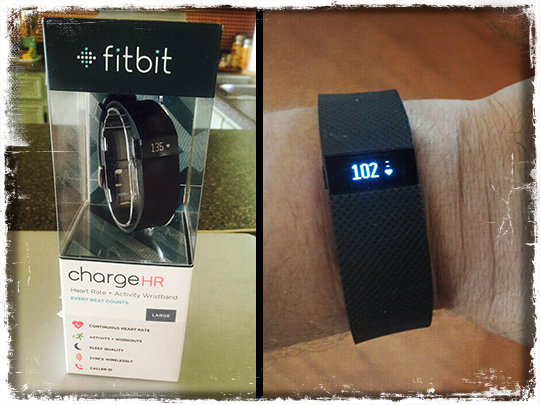 If a disaster struck today, would you be ready. Do you have an emergency stockpile of food, medicines, water, and other essentials? If you are a Prepper of course you do, a rather silly question really. The next question is, are you ready physically to meet the demands of a crisis, and this one is not a silly question, and how many people can or will answer it honestly.
You may have to travel on foot carrying supplies, travel by shank's mare as the saying goes. Tasks will have to be performed, and you may not have the benefit of electricity, which means no power tools, no pumping fuel for chainsaws and other equipment that makes chores easier. You will need to meet the physical demands, and no one needs to tell you what happens if you cannot meet those demands.
It is never too late, and there is no better time than right now to begin thinking about your fitness level and doing something about it, so when the SHTF you are ready physically.
The Fitbit Charge HR may be just what you are looking for if you can honestly say you need to get into better shape. Let's take a look at it to see if it is something that can help you. It requires a commitment by you and nothing good ever comes easy, but it can be done.
What Is It
It is a heart rate and activity wristband with Pure Pulse™ Heart Rate, which allows for continuous and automatic heart rate updates right from your wrist.
Sync to your computer, Smartphone or tablet. To sync however, you will need to install an app. Track your daily steps, number of miles walked, calories consumed and then track calories burned. The device can even count the number of stairs you have climbed.
To count calories consumed and burned you would enter what foods you have eaten at each meal and then the device tells you how many of the consumed calories you have burned during a particular activity. Find out just how many calories 30 minutes of bicycling burns, or how many you burn walking two miles or taking the stairs at work instead of the elevator, for example.
Track your exercise routines and review jogging routes using the app. The app tracks your activities for the entire day and you can view/monitor all activities from any compatible device that has been synced at any time day or night.
For those that want to lose weight and get into better shape, this may be the perfect matchup, because frankly, people can deceive themselves on the number of calories they consume, and then convince themselves that a few minutes of exercise here and there offsets the amount consumed.
It takes a considerable workout just to burn 1000 calories, and so compare this to consuming 2500 to 4000 calories a day for example. Where does this leave you? If you can track your intake and burn rate then you are in control, no more guessing and wondering, and no more deceiving yourself.
Set calorie goals, numbers of steps or miles to walk, and so on for the day, and then enter the information. From this point you have up to the minute heart rate, calories consumed, calories burned, and miles or steps walked so you can track your progress throughout the day. Collect the data over a certain period, so you can then tailor a plan that works best for you based on your lifestyle.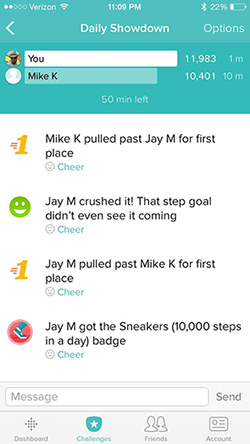 The Fitbit also tracks your sleep patterns, so you will know how many hours you slept, and how many times you awoke during the night. You have to identify a problem before you can solve it and the personal motivator called the Fitbit can help you.
You have family and friends, and they too must be ready to meet the challenges, so why not get your family or Prepper group on board, so you can work together to meet yours and everyone else's goals.
The app allows you to add friends that also have a Fitbit so you can challenge any of your friends in a face-off to see who takes the most steps in a day. Reaching certain goals also unlocks rewards (badges) to help motivate you throughout the day. Turn getting into shape a competitive sport with the Fitbit Charge HR.
One of the reasons people fail at exercise or weight loss programs is because they try to do it alone, and without the proper information. You have to know how many calories you are consuming and how many you are burning, and once you see progress, you will become motivated to do more, to push yourself. Having others involved is also a motivator especially if you are competitive.
However, not having the right information and a way to track your progress, such as with the Fitbit may mean a higher failure rate. Fitbit has several models to chose from so you can chose a model that meets your specific needs. You can purchase the Fitbit Charge HR for around $130 bucks on Amazon.
Read Full Article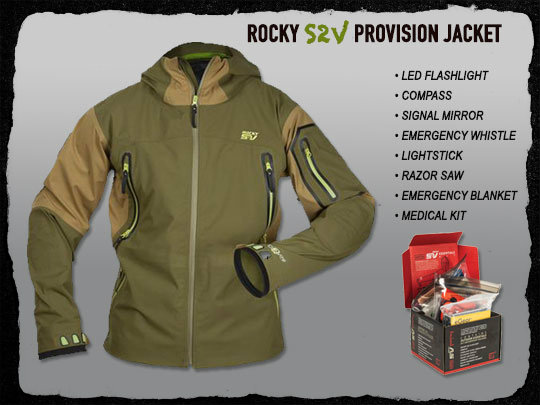 Rocky S2VProvision Jacket That Includes the S2V Essentials Kit
As any outdoor enthusiast knows, your clothing is your first line of defense against the elements. Clothing is shelter against the cold, rain and snow and not having the right outer layer can spell disaster.
Read Full Article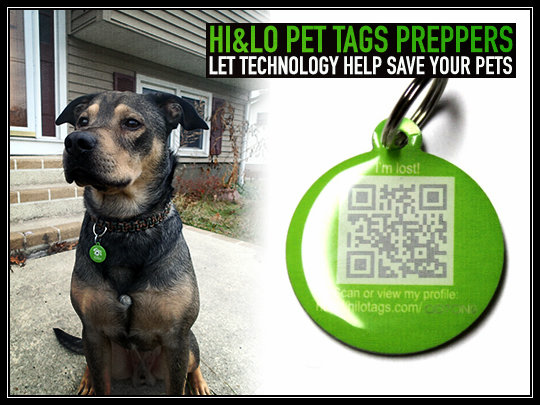 Posted in
Apparel
, December 5, 2014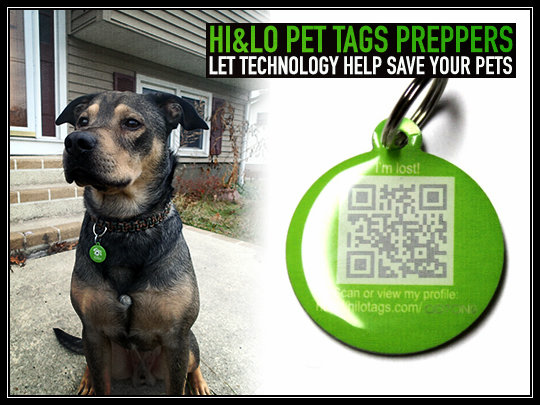 Preppers, when a disaster strikes, your first priority is to make sure that all family members are protected and this of course includes any pets in the home. Your pets will be under stress just as you are and may not follow commands, as they should. If the unthinkable happens, and you and your pet (s) become separated, you want to do all you can do, to reunite with them. The Hi&Lo QR pet ID tags may be just the answer you are looking for when disaster strikes.
What are Hi&Lo pet tags? They are "pet-tags" that the pet wears on its collar. The tag is laser engraved with a Quick Response (QR) Code and a unique alphanumeric ID code. The QR code laser engraved on the tag can be scanned by any Smartphone once a free scanner app is downloaded.
There are free android and iPhone scanner apps available for immediate download.
Each pet tag will have a unique alphanumeric ID and QR code engraved on the tags. The engraving will not wear off or become faded and the tags are coated in epoxy for greater protection.
You have all heard the horror stories about pets lost during a crisis, and in particular, the heart wrenching stories after Hurricane Katrina struck. Thousands of pets separated from their family never to be reunited because the shelters and individuals that had the pets simply did not have any way of contacting the owners. Now individuals can alert you that they have your pet, because they will have access through their Smartphone by simply scanning the barcode on the tag.
When the QR code is scanned by taking a picture of it the app immediately links to your pet's online profile, so any person anywhere can contact you from their cell phone immediately after coming in contact with your pet, all this without them having to take your pet to a veterinarian or shelter to have a microchip read.
The tag's QR code is readily apparent when someone looks at the tag and it states, "I'm lost scan or view my profile". The website is listed on the tag, so someone can simply type in the address to access your pet's profile without scanning the QR code. Many QR code scanners already installed on many Smartphone's would work with the tags.
The Hi&Lo QR pet tags make it easier and affordable for you to reunite with your beloved pets during a crisis or at anytime they become separated from the family. Preppers you can now expand your preparedness plans to include Hi&Lo tags for all of your pets.
Once you receive the tag you can create an online profile unique to your pet (s). Your pet will always have the same tag, any changes to your information is done online, anytime and as often as you need to. This is a lifetime benefit, no expiration dates, and you will never have to purchase new tags unless the tag is lost or damaged.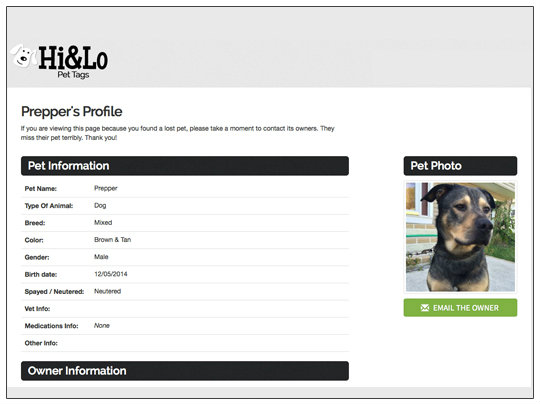 You can provide as much or as little information as you want when setting up the online profile. Anyone that finds your pet and scans the QR code or enters the unique ID code online can only see what information you have checked when setting up the profile.
You can change the information and access to the information at anytime, and of course you or anyone else can access your pet's profile from anywhere in the world where there is access to the Internet.
Anyone that finds your pet can also enter the alphanumeric code embedded on the tags to find your pet's profile online to gather contact information so you and your pet (s) can be reunited.
Privacy is a big concern of course, so once a "stranger" has accessed your pets' profile you decide what contact information they see.
For contact information, you can list a cell phone number, home address, what veterinarian your pet's uses, email address, other phone numbers or all available contact information. You get to decide what someone sees when they access your pet's profile online.
You can list any maintenance medications, the pet's name of course, allergies the pet has or particular medications the pet is currently taking and/or any information that may help them care for your pet until you are reunited.
This is an amazing concept because microchips that must be embedded need to be read by specialized scanners that are normally only found at veterinarian's offices or at certain animal shelters. It may take days or even weeks before your pet finds their way to a veterinarian or shelter so the microchip can be read.
The Hi&Lo QR pet ID tag retails for 19.99 but can be purchased here for $8.99 on Amazon. To learn more about the Hi&Lo QR pet ID tag visit HiLotags.com.
Read Full Article
Posted in
Apparel
, October 19, 2014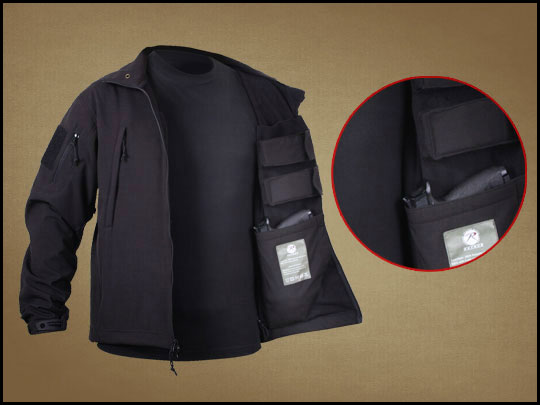 Rothco takes this tactical soft shell jacket to the next level. Not only is the outer shell waterproof the inner layer is breathable fleece making it ideal for cold weather tactical training, hunting or for any outdoor cold weather activity.
Specifications:
2 Interior Mag Pouches
2 Interior Concealed Carry Pockets w/ Hook & Loop Closure
Loop Fields on Shoulder
Adjustable Wrist Cuffs, Multiple Pockets & Concealed, Detachable Hood
Material Specs: Outer Shell is 100% Polyester, Inner shell is Fleece
Zippered shoulder pocket
Forearm pocket on left sleeve
Two front slash pockets,
Two back pockets, vented under arm, and a 4″x4″ hook & loop patch attachment on each side
Size Ranges: S, M, L, XL, 2XL, 3XL
The jacket has a zippered collar with a concealed and detachable hood, which is important. Hoods can create blind spots, interfere with hearing and they certainly can interfere with your frontal vision when operating in windy conditions, because the hood is always blowing around your ears and face. Something as simple as a hood that can be restrained and concealed makes a huge difference. Use it when you need it, but when not needed it tucks away so as not to be in your way.
Now for the best part, the Rothco Concealed Carry Soft Shell Jacket is specifically designed for concealed carry. The jacket has two interior conceal carry pockets, one on each side and two pouches for magazines. Load up, zip up and no one knows you are carrying. Stay unzipped for quick access with either hand and still stay warm because of the soft inner shell.
In the past, you may have carried pistols in your parka's pocket and you know how awkward it is trying to fumble the weapon out of the pocket. Not only awkward it can be deadly, because the firearm can become tangled up in the material making it very difficult to get it out, and besides all that, your pockets sag with the weight, and then bang against your legs or hips as you walk or run.
You cannot holster a weapon on your belt and expect to get to it quickly with a heavy parka on that hangs below the waist and the same with shoulder rigs, but now you can have quick access to your pistols with the Rothco Concealed Carry Soft Shell Jacket. No sagging from the weight and no bulky material to get in the way as you reach for your weapon and no one knows you are carrying because of the design.
Frankly, the Rothco Concealed Carry Soft Shell Jacket is well worth it without the concealed carry pockets and with them, well the jacket is something you just simply have to experience for yourself to appreciate. Rothco really takes this jacket to the next level. Anyone that has a need to carry concealed will realize the second the jacket is put on how well designed and how clever the jacket really is.
The magazine pouches have Velcro closures and they are mounted sideways and not up and down so you simply slide the mags out instead of trying to pull them out. Open the flap and push the bottom of the Mag with your thumb and it slides out into your hand for quick reloads.
The concealed carry pockets will not sag, so no awkward looking bulges and once loaded up your pistol (s) will not bang against your chest as you walk or even run, and have no fear the pistols will stay in place until needed because of the hook and loop closures.
The jacket is so well designed that even if you only carry a pistol on one side the jacket will not feel off balanced. Actually, it feels perfect, and once you are loaded up, the weight is a comfort that can only come from knowing you are protected.
Like anything new, it will take a bit of practice, but I found the design of the jacket makes it easy to reach in and draw without having to paw around. The pockets are right there ready for the hand. Take the time to practice drawing with or without gloves. Heavy gloves or mittens of course would make it difficult to draw effectively so keep this in mind and practice, practice and then practice some more.
The Rothco concealed carry soft shell jacket retails for $132.99 and can be purchased at Rothco.com
Read Full Article
Posted in
Apparel
, October 18, 2013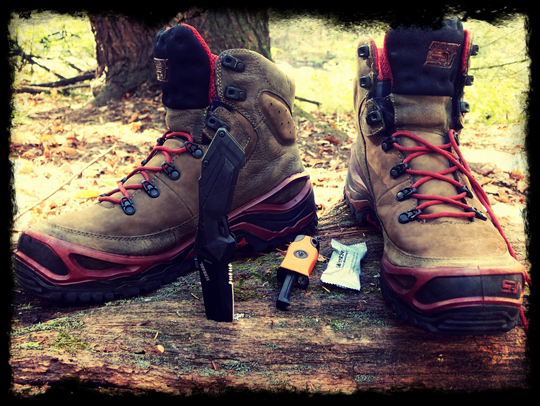 Product Review Rock S2V Substratum Direct Attach Hiker
Hikers, hunters and other outdoor enthusiasts understand the need and importance of good footwear. Additionally, anyone serious about roaming the great outdoors on foot knows not to give his or her feet a passing nod, especially when it comes to comfort and safety. Your foot comfort should be a top priority. Keep your feet dry and blister-free to prevent certain types of medical conditions from developing; you simply cannot afford to risk your health, especially if you are miles from civilization. Make your feet a top priority and ensure comfort for your feet by picking up a pair of Rock S2V Substratum Direct Attach Hikers.
Manufactures' Description/Specifications
Moisture Wicking Lining
Fully gusseted tongue for performance comfort
Molded foam padded with high abrasion Lycra and antimicrobial space mesh
Open cell foam forefoot with polyurethane top layer
Polyurethane enhanced toe wrap and extended back guard
Polyurethane, direct attached for superior longevity and a permanent outsole bond
Proprietary wave underlay texture for element traction and shedding
Target pattern design for max articulation
Three quarter TPU stability and impact resistance plate with flexible forefoot
TPU arch plate
Tri-density molded antimicrobial insole, fuchsia colored for signaling
550 military grade Paracord boot laces
Crampon and snowshoe compatible
Flexible woven forefoot & 3mm EVA perforated cover
UST essentials located within outsole: fire sparker and wet cubes (x2)
Having a moisture wicking lining is so very important especially in cold weather. As you know, having wet feet can cause trench foot (emersion foot), frostbite, blisters or even worse. Your feet will sweat in cold weather. There is no way really to stop your feet from sweating but having the moisture wicked from your feet will reduce the cooling effect cause by evaporation of that moisture and help to prevent blisters and other foot conditions caused by damp feet.
The boot laces are 550 Paracord, which as most of you know, has seven inner strands which can be used for fishing line, sewing thread, shelter building, fire starting (bow and drill) and the list goes on. You simply cannot have too much 550 Paracord when out in the field.
This is a true hiking and survival boot. Fire sparker and wet cubes, used for fire starting, are in the insole. If you have cordage and the means to build a fire in wet conditions, you have dramatically increased your chances of surviving in any situation.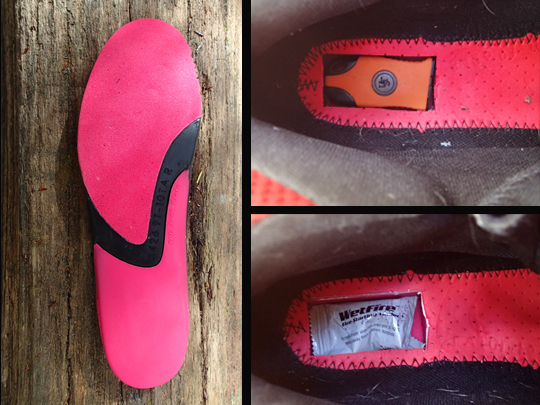 The insole is brightly colored and it can be removed to signal for help. That is not all this insole has. The antimicrobial insole also helps to prevent odor and cushions the feet. The Rock S2V Substratum Direct Attach Hiker has one of those soles you just have to love. How many times have you been mired in mud and you shoes seemed to be carrying 20 pounds of mud when you move on. The soles seem to shed mud, dirt and debris so you can keep your traction. It has an arch plate that absorbs impact and you will be surprised how long you can be on your feet in these boots without all of the aches and pains.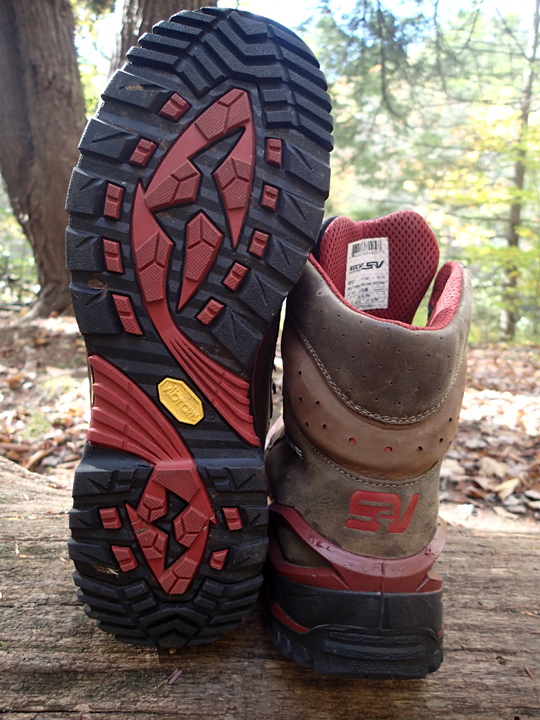 If you have ever worn snowshoes or crampons then you know you had better have the right pair of boots. Being miles from home is not the time to realize you cannot strap on a pair of snowshoes or crampons. With these boots, you have no worries because they easily adapt for a sure fit.
An incredible hiking shoe that with the lace up design of these shoes you have plenty of ankle support and the laces can be adjusted throughout the day. This is especially important if your feet happen to swell; the laces are easily adjusted to accommodate. Walking over rough terrain really gives your ankles a workout, and a sprained ankle spells disaster when you are miles from home.
Final Thoughts 
After seeing these hikers for the first time I knew that I had to have a pair, at least to try. For years survival experts have been telling people to make sure their packs are equipped with plenty of 550 Paracord, fire starting tools and a way to signal for help. Now with my pair of Rocky S2V hikers those bases are covered as I have the means for all of that. I wore my boots while hiking and fishing all this past summer and they held up great; my feet always stayed dry and comfortable. So, if you're looking for a great pair of hikers, I highly recommend that you give them a try. To see the full line of Rocky S2V Substratums visit rockys2v.com.
Read Full Article
Posted in
Apparel
, December 12, 2012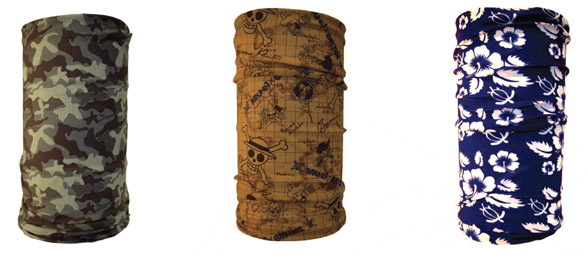 So I came across a cool little product that I will be keeping in my bug out bag from now on, it's called the Hoo-rag. Whats a Hoo-rag you ask? It's a cool type of bandana that can be used in a variety of different ways. Not only can you wear it like a regular bandana without having to tie it, but it can also be worn as a balaclava, face rag, head band, neck warmer, pony tail rag, pirate rag, and an alice rag. This could be very useful in a SHTF type scenario i.e. protect from dust, sun, sweat ect.
You can also change the way you wear it in a matter of seconds which is a plus and it can be used to strain water if need be.  I think it's so useful that I plan on getting another one for my get home bag. They come in a variety of colors and patterns including many popular camo patterns. The video below gives a demonstration on how easily you can change the way you wear it. Hoo Rag also specializes in bandanas for the US Marine Corps, fisherman, motorcyclists and even dogs!
The price of the Hoo Rag is $14.95 for most designs and if you aren't picky about the design, there are 3 color combinations (black/white, white/black/, pink/white) available with the Hoo Rag logo for $9.95
For more info or to order online: HooRag.com
Read Full Article