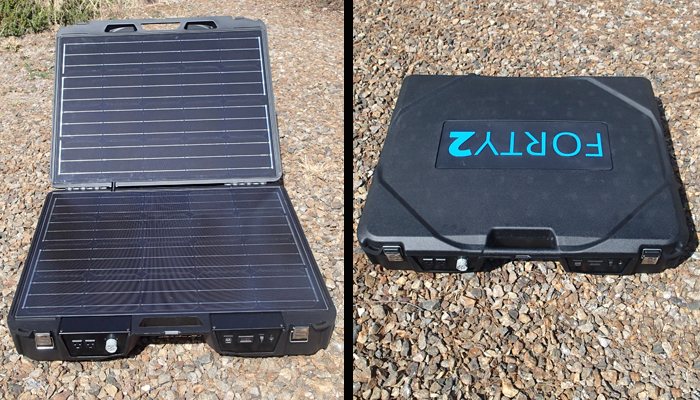 During a SHTF scenario, you will run out of gasoline, diesel, propane, and natural gas supplies will be disrupted, but sunshine, well the sun is not going away anytime soon. Some might say a volcano or comet strike can create so much ash and dust that the sun will be blocked, so what good is a solar generator then. Well if you are convinced either of the two will happen soon, then so be it, but for everyone else, you can still rely on sunshine while every other energy source is long been depleted.
Read Full Article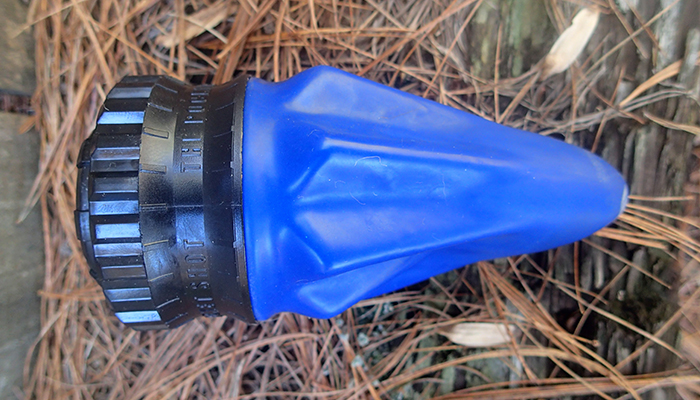 The Pocket Shot is new take on the slingshot, a natural evolution, if you will, from the traditional slingshot to a circular one that you can carry in your pocket, tackle box, or backpack, closed it measures 2.3 inches by 1.3 inches, so carry it anywhere.
It is described as a projectile launcher with a cone-shaped latex pouch that is securely attached to a fiber-reinforced composite ring, so all you do is drop your ammo into the pouch, stretch it back, and let fly.
Read Full Article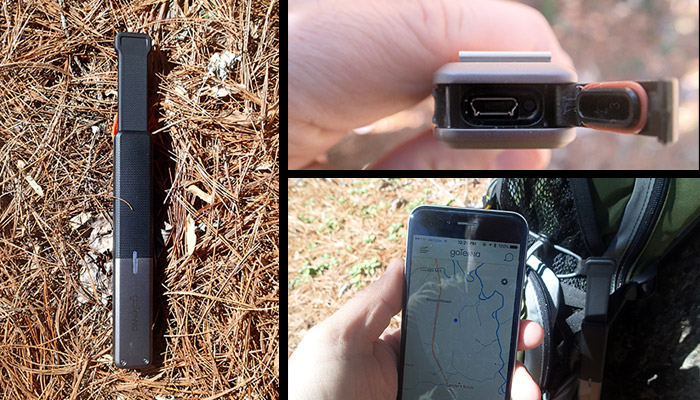 The goTenna works with iOS or Android devices.
Pair goTenna to your Smartphone via Bluetooth, and use the app to connect with other goTenna users, which can be up to several miles away. This system essentially turns your Smartphone into a walkie-talkie.
It takes less than a minute to create your own people-powered network, anywhere. This system does not require towers, routers, or satellites.
The manufacturer recommends that you attach your goTenna externally and as high off the ground as is practical for best results. Attach to the outside of your pack, or attach to your person in some manner, such as a belt loop or shoulder straps. When not moving about put the antenna where the signal is less likely to be obstructed by heavy foliage, hills and so on.
Read Full Article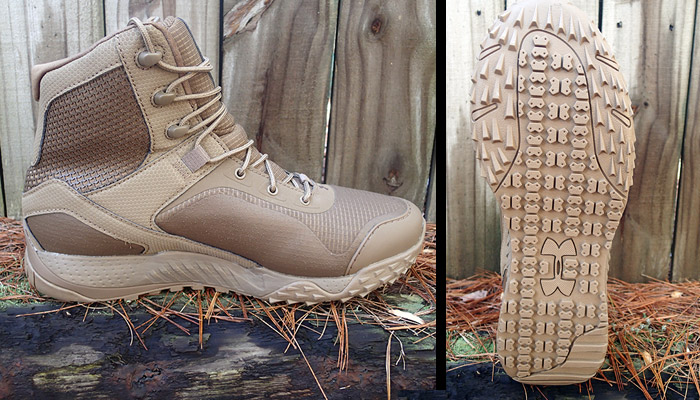 Posted in
Apparel
, February 17, 2016
A foreword about UA
Kevin Plank went a long way from UA's humble beginnings in his grandmother's basement to owning a brand generating around 4 billion per annum.
It all started with an intention of making a "better" T-shirt that'll get rid of the body sweat rather than absorbing it. He was a college football team captain at the time, after failing private school and working countless jobs ranging from selling flowers to parking cars.
Read Full Article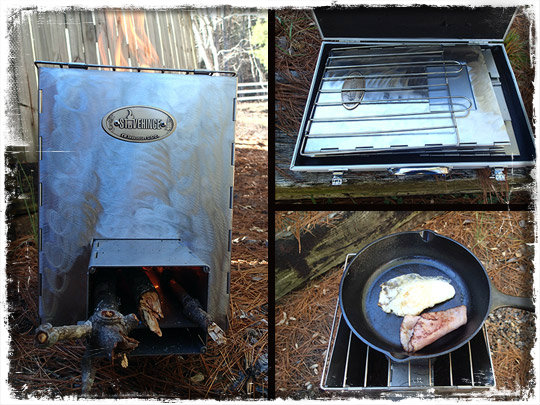 Posted in
Stoves
, January 19, 2016
First, a little about how the Stovehinge Collapsible Rocket Stove works, and why it is so efficient when it comes to combustion. This stove has the traditional "L" shaped design that allows oxygen to be drawn into the fire chamber via the split feed tube design.
The feed tube is split into two chambers, the top is the feed tube for combustibles, and the bottom is for airflow.
Read Full Article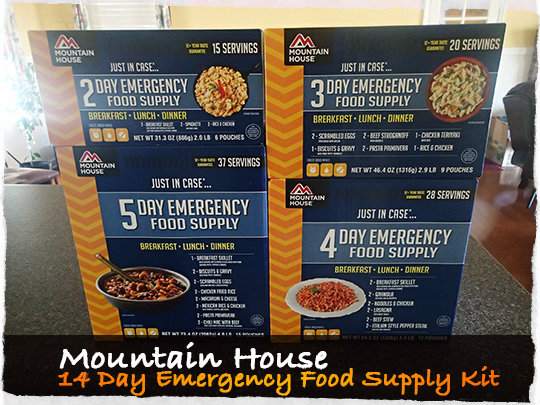 As some of you may know, previous articles have talked about emergency management experts recommending that you have a three day supply of emergency essentials on hand in the event of a disaster. The recommendation comes from emergency managers at the local, state, and federal levels. We here believe that the recommendation of three days of essentials is outdated, in my opinion it needs to be raised to a more realistic level.
Read Full Article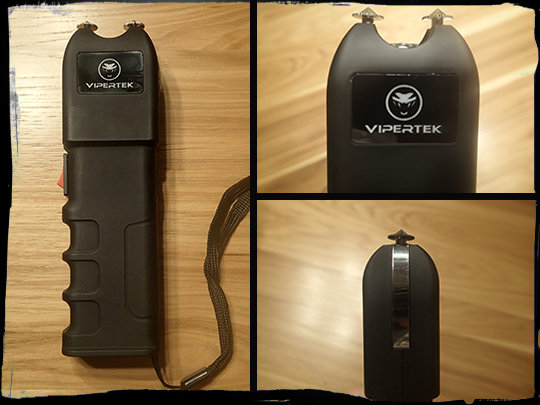 Posted in
Misc
, December 20, 2015
First, the specifications:
Powerful Stun Gun, powerful is an understatement, coming in at 53 million volts

A Built In Rechargeable LED Flashlight (Excellent Feature)

Convenient Size (6.5″ x 2″ x 1″)

Snatch Prevention 
Should an assailant try to snatch the device from you, the shock plates on the side of the unit will also deliver a high voltage shock, keep in mind the shock plates can zap you as well, so you do have to pay attention
Read Full Article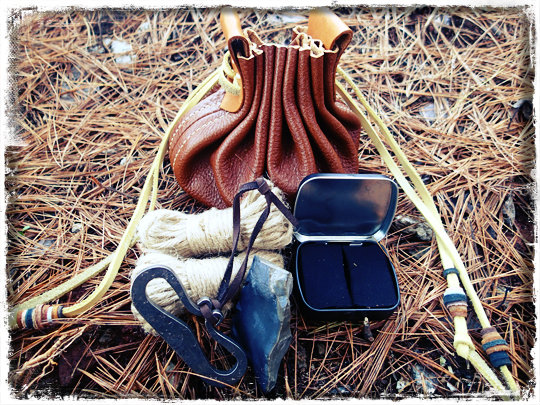 A friend of mine recently sent me a traditional medieval flint and steel fire making kit in a leather pouch.
This kit originates from a Russian gentleman who is both a craftsman and a blacksmith with a heritage of several generations. He produces handmade steel strikers and ready-to-use fire making kits for hunters, fishermen, travelers, historical re-enactors and other active people all over the world.
In his work he accurately renders such things as pouches and differently shaped steel strikers and knives, much like those found during archeological excavations. His works have become exhibits in a number of museums throughout Russia, Finland, Sweden, Germany and Australia.
They are frequently used to perform demonstrations and run workshops for kids and adult visitors alike. The craftsman runs his own site dedicated to flint and steel primitive fire making and offers delivery of his beautifully made kits worldwide. His works are also available on Etsy and eBay.
His works are very beautiful and from what I can tell after using the kit I received, they are very functional and reliable. They are useful tools as much as they are works of art and historical reconstruction. This means they can be used as real and reliable tools for fire making in the harsh conditions one can have to endure while hunting, traveling or living in the wilderness.
No matter what you use for fire making, a traditional kit like this is something everyone should have in their collection of fire making tools because this kit is a classic; it is the "grandfather" of all firemaking methods that we use nowadays, no matter whether we are talking about matches, gas lighters or modern firesteels.
A kit like this would also be a great gift for all active people and for those who like to gather with family and friends by the fireplace or to cook food over a fire.
Primitive Flint and Steel Kit 8.2
Let's start with the contents of this beautifully crafted flint and steel kit.
Steel Striker 3 Inches in Length

Flint-3 Pieces

Char Cloth In A Metal Tinder Box

Two Bundles Of Jute Twine

A High Quality Hand Crafted Leather Pouch To Carry It All, The Pouch Has leather Draw Strings To Keep All Contents Secured
First, this is not your typical flint and steel kit. Frankly, anyone can cobble together a piece of flint and steel, and some tinder, but this particular kit is by no means cobbled together.
Except for the jute twine and the tinder box, everything is hand crafted in a workshop. Not in some factory somewhere cranking out the kits by the hundreds or thousands. Each kit is made by hand, one at a time.
The material is made without the use of electricity, and without any mass production techniques. The craftsman believes in using techniques handed down through the generations, so the skills and techniques are preserved and passed down once again.
The kit is crafted with care. The steel is hand forged using age old techniques that had been handed down. The attention to detail is remarkable, right down to the type of wood used to heat the metal, and then tempering the metal in rainwater.
About The Char Cloth
The char cloth was carefully made and of excellent quality. I could see that right away. It was flawlessly made using unbleached linen, and the texture was perfect for handling without fear it would crumble in my hands. To make it, the craftsman placed the linen in a hermetically sealed earthenware jar and then placed it in a wood burning oven to scorch.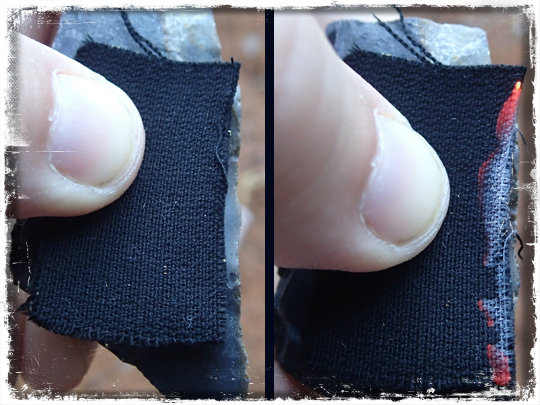 Char cloth, as many of you know is organic material that is reduced by heat to its carbon form. Char cloth is essential for fire starting when using flint and steel. The cloth must be able take a spark and create an ember. Poorly made char cloth may mean some cold nights in the wilds.
The flint, steel and the char cloth with this kit does not disappoint, because after a few strikes I had an ember glowing brightly. From that point it was simply a matter of feeding it some oxygen and some dry tinder, jute twine for example.
Flint and Steel
In years past people did not have extra linen or cotton material laying around the house. Linen and cotton were goods to be sold, bartered with, or worn, so given this, other things were used to make char. Usually charred plant material was carried in a tinder box along with flint and steel. Flint and steel were usually the only way to create a fire, because matches were either nonexistent, or were a luxury no one could afford.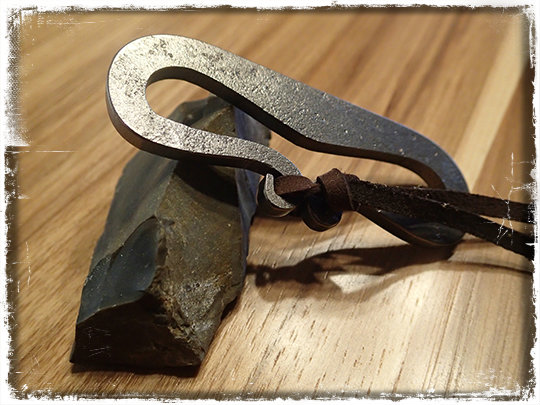 Char cloth can be made from essentially any organic material. It is typically made from vegetable fibers such as cotton, jute, or linen. However, you can make char from punk wood, using husks from nuts, bark from trees, pine cones, certain moss and even birch fungi picked from dead birch trees is becoming another popular choice as well. The technique used would the same as if you were using cotton cloth or cotton balls.
Organics, once broken down by a process called pyrolysis will ignite at a lower temperature. Thermo chemical decomposition of organic material at elevated temperatures in the absence of oxygen is what reduces organic material down to its carbon form, in other words down to char.
You can make it at home, but we do not suggest you try sealing the cloth in an earthenware jar. You may want to leave that to the craftsman. The process will produce gases that have to escape, so for those making it at home use a sealed metal tin with a small vent hole in it.
Gases' exiting the vent is what keeps oxygen from entering the tin through the vent hole. Once the gases stop venting, oxygen can then enter the tin causing the material to break completely down to ash. You have to monitor the process carefully.
The gases will have to be vented to keep the lid from popping off, and once this happens the material will burn completely away and could cause your fire to get out of control, safety first.
Layer the material in the tin and place on a fire. Make char cloth in a well ventilated area that allows for a safe fire. You will see smoke (gases) coming out of the hole as the material reduces, and once the smoke diminishes or stops altogether you then have char cloth. Sounds easy enough, but you will have to practice this technique a few times to get it just right, because it is quite easy to reduce the material to ash.
Before the introduction of steel, a variety of iron pyrite or marcasite was used with flint and/or other stones to produce a spark that could be used to create fire.
When flint and steel were used, the fire steel was often kept in a metal tinderbox together with flint and tinder. In Tibet and Mongolia however, they were carried in a leather pouch called a chuckmuck.
Read Full Article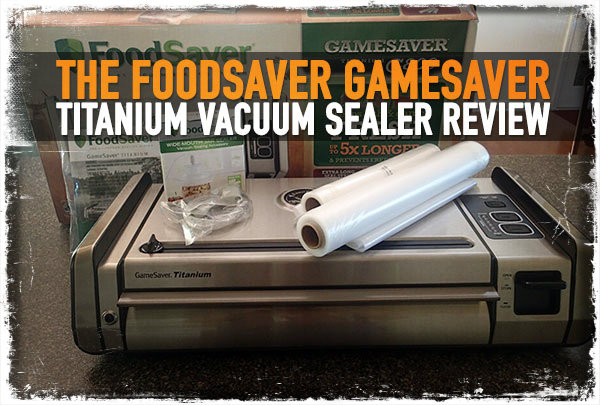 Hunting season is upon us, and this means game meat processing will soon be in full swing. Freezers stuffed with meat, fish, and poultry, food that required skill and considerable effort to bring home to help feed you and your family over the long winter months. Will it carry you over the months however, will it be ready to eat whenever you grab a package out of the deep freeze.
How do you ensure it stays edible for months or even years in some cases? It has to be packaged correctly to make sure it is ready when you are hungry, and one of the best ways to ensure this is by vacuum sealing your game meats and fish.
FoodSaver has an incredible deal right now, well they have incredible deals all year long, but right now the deal is especially appealing for hunters and anglers. The FoodSaver GameSaver Titanium Vacuum Sealer is designed with hunters and anglers in mind.
Already you are thinking the bags are too expensive to make it worthwhile. Similar to a printer, which is relatively inexpensive, but they get you on the ink right. Maybe that's true but we are talking about vacuum sealer bags not ink cartridges. 
The bags, when sealed properly keeps meats, poultry, and fish up to 5 times longer than traditional storage methods. The savings from not wasting foods would far outweigh the cost of the bags.
The bags in many cases can be reused, in particular the Ziploc bags that can be vacuum sealed and then opened and resealed a number of times. Mason jars can be sealed, opened, and resealed indefinably using this sealer as well with the optional jar sealing accessory. Simply wash the bags or jars and let air dry between sealing. Buy once and use repeatedly.
With this model you can seal mason jars as well, but this is not a replacement method for proper canning procedures it's more for sealing dry goods like salt, sugar, and rice to name a few. When you can stop the waste, you save money, and eat better in the process.
Manufactures' Description and Items Included In Offer:
1 – 11″ X 10′ Heat Seal Roll

3 – 15″X10′ Heat Seal Roll

3 – Gallon DAM® Bags

2 – Heavy Duty Rolls

2 – Expandable Rolls
Bonus Offer Includes:
1 – Heavy Duty Rolls, 2 Pack

1 – 15 Inch Rolls, 2 Pack

1 – Square Container to Marinate In (The vacuuming process opens the pores of the meat or food allowing the marinade to penetrate the food for better flavor and for tenderizing)

1 – Outdoor Cookbook
Vacuum seals up to 15″ wide bags for large cuts of game and fish, which allows for larger packages, and this of course cuts down on meat processing time and uses less bags.
Up to 100 repetitive seals

Dual pump for more power

2 seal settings – single and double

XL rubberized buttons

Patented, removable, dishwasher-safe, drip tray

Convenient bag cutter and roll storage

Accessory port and vacuum hose seals canisters and marinates food in minutes

Limited Lifetime Warranty

Product Dimensions: 26″ L x 12″ W x 6″ H
Meats and fish wrapped in butcher paper or sealed in Ziploc bags do not fare well in the freezer, and typically after a few months they have lost the battle with the cold. The food gets freezer burned, it discolors and ultimately loses its flavor.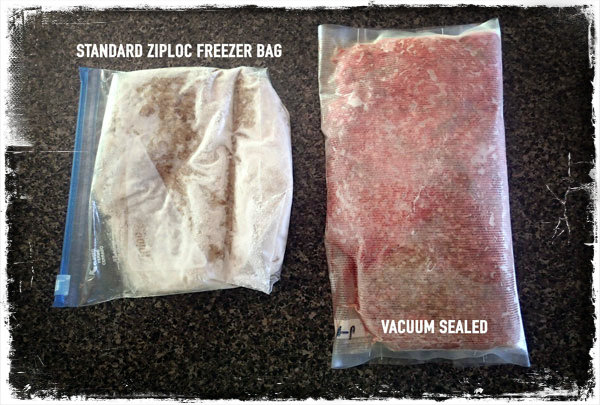 Hard cheeses left in the refrigerator that have not been sealed properly will grow mold and absorb odors from whatever else is in the refrigerator. You can prolong the life of cheese and other products that are traditionally stored in your refrigerator as well.
Once you have the FoodSaver GameSaver Titanium Vacuum Sealer home, you will realize other uses for the GameSaver Vacuum Sealer. Snacks for the kids can be sealed up and kept fresh in the reusable Ziploc bags and all they have to do is break the seal and eat, and then start all over again with the same bag.
Seal up items you want to protect from moisture such as matches for your emergency kit. Seal up socks and smaller clothing items to save space in your closet, vehicle or survival bags. The uses go on and on only limited by your imagination.
The savings you will see when you stop wasting foods will add up, and soon the cost of the vacuum sealer and bags is well behind you as the real savings add up day after day.
Final Thoughts
After months of reading reviews of all the different vacuum sealers out there I decided to go with the FoodSaver GameSaver Titanium. This machine is built like a tank so if you're planning on keeping it on your counter top you're going to need a lot of room. I was tired of throwing away hundreds of dollars worth of food and I couldn't really justify buying meat in bulk to save money because it would just end up going bad, so I decided to make a vacuum sealer purchase and I'm glad I did.
The GameSave Titanium is a bit pricey but I wanted something that had the double seal feature and could handle repetitive seals to make processing my fish and game go by a lot quicker. Keep in mind FoodSaver has plenty of models to choose from so you can find one that fits your budget and needs. Plus if you purchase from the FoodSaver site they allow easy payments so it's not so hard on the wallet. They also have plenty of deals on the bags all the time and a rewards system to get free products. You can purchase the GameSave Titanium for $449.95 at FoodSaver.com.
Read Full Article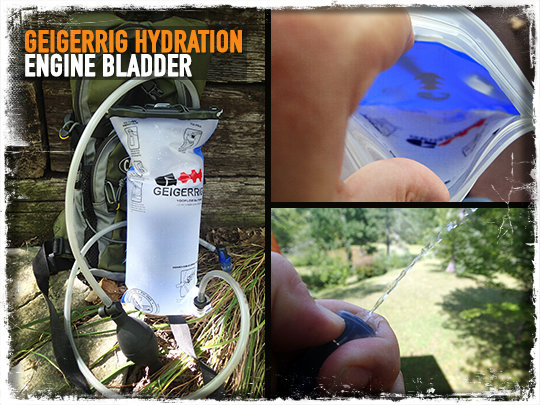 This Hydration Engine Bladder is much more than just a plastic bag with a drink tube that can only be used for hydration for one person. 
The GEIGERRIG system dramatically expands the uses for you and even others' access to drinking water. The bladder is BPA FREE and PTHALATE Free.
It has a unique spray system, with an on board pump bulb used to pressurize the system. Use the spray system for an emergency shower, to cool down pets, cool down you, or fill a pet's water bowl without contaminating the mouth piece.
Use the spray to irrigate wounds on yourself and others and to fill drinking cups or spray directly in the mouth of others from the bladder without anyone or anything touching the mouth piece. The water is under pressure, so no one has to touch the drinking tube to get access to drinking water if you do not want him or her to.
Read Full Article