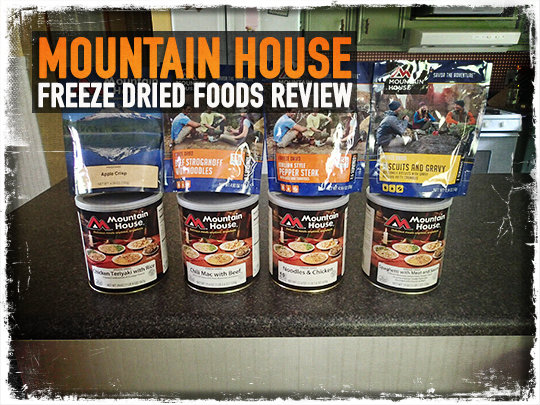 Freeze-dried foods retain virtually all of their fresh-food taste and nutritional content just like frozen foods will. The Freeze-drying process removes 98 percent of the water content but not the flavor or the nutrients. Removing 98 percent of the water and oxygen means the foods will not deteriorate. The last thing you need is to find out during a crisis is that your foods have turned rancid or are well past their expiration dates.
If you have to worry about finding food immediately after a disaster strikes then you were not prepared. Make sure food and water is not a concern for the short or long term so you can focus on developing sources if the crisis is an extended one.
Most of you are familiar with freeze-dried foods. Emergency readiness is on peoples' minds these days, and so is good quality food for when the SHTF. Preppers and others are looking for foods with an extended shelf life, for foods that taste good and for foods he or she is used to eating, in other words variety is important and so freeze dried foods do fit the bill.
Mountain House has a significant variety of freeze dried foods. Breakfast, lunch, and dinner entrees are available along with desserts and side dishes.
Just because there is an emergency does not mean you have to eat foods you do not like. However, this requires being prepared for an emergency. Being prepared means you have choices, choices made when you are not under stress, so you do not have to scramble and fight for the last can of pork and beans on the shelf at the local grocery. You cannot prepare during or after disaster strikes, you have to be prepared well ahead of the catastrophe. 
Mountain House foods started out nearly 50 years ago, and one of their pivotal moments was when they started supplying nutritious and good tasting food to our elite United States Military units.
Shelf life is important and Mountain House foods in the pouches are good for 12+ years when stored under the proper conditions, and food in the cans are good for 25+ years. Store it and forget it you might say.
GMOs and Gluten Free Foods
Mountain House does offer a line of "Gluten Free Products" along with a vegetarian line, as well as, low sodium foods.
However Mountain House does not offer Non-GMO Project Verified products at this time, and no other survival food company that I know of offers Non-GMO Verified products either.  
GMO products stir heated debates even arguments among people. There are some very strong feelings on both sides when it comes to GMO foods, and the debate is far from settled. It is a decision you have to make based on careful research and your own personal preferences. The regulating agencies (FDA, USDA) are not much help when it comes to deciding.
The Non-GMO project is North America's ONLY independent verification for products made to avoid GMOs. So if a company claims their foods are Non-GMO make sure it has their seal.
For more on Non-GMO Project Verified Foods Visit http://www.nongmoproject.org/learn-more/understanding-our-seal/
We are here to talk about survival, when the SHTF and when the last thing you need to worry about is food, food for you and your family during a crisis. You cannot stockpile foods for an indefinite period. At some point your supplies will be depleted.
You stockpile knowing you may have to develop your own food sources at some point. You need quality foods that can get you to the point where you have developed a sustainable and renewable food supply.
It can take considerable time for your garden to start producing, months in facts if you do not have one already established. Gardens do not flourish over night, and depending on the seasons and other factors it could be a year before you see your first harvest. You need foods that have an extended shelf life, have ample variety, are nutritious, and are foods that actually taste good.
You will not be eating your emergency supply of freeze dried foods forever, GMO or otherwise. Your freeze dried food stockpile is food to get you through the crisis, whether it is a few days, weeks or even for a few years. 
You do what you have to do to survive the crisis, and food does not need to be a worry in the short or long term if you prepare properly by stocking up on freeze dried foods that have an extended shelf life, and have enough variety so that everyone in the family can have their favorite foods.
Survival Needs
First, Mountain House foods taste as good, if not better than most freeze dried foods out there. They are actually as good as or better than most MRE's on the market today and it actually, in some cases, comes down to the food varieties that are offered, and Mountain House has a large variety from which to choose. If you like biscuits and gravy, for example, you will love Mountain House's version, it is good, It's better than good actually, it tastes great.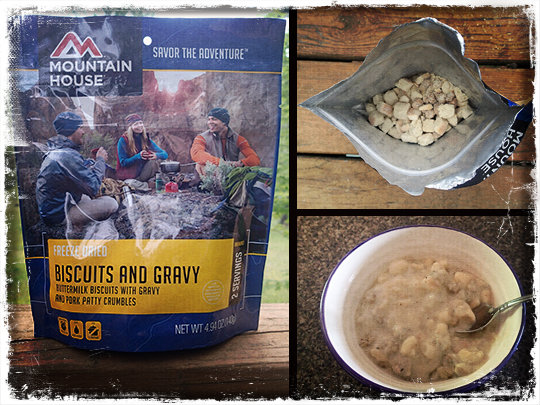 The foods are packaged with emergencies in mind. The pouches are ideal for bug-out bags and for storing in your vehicle and they are perfect for camping trips as well. When storing in your vehicle the temperature variations may affect the shelf life so carefully read the product description.
The #10 cans are ideal for home storage, they are lightweight, and each #10 can holds a significant amount of meals with 25 years plus on shelf life. Remember that 98 percent of the water is extracted so the weight is considerably less than traditional canned goods. The food in the cans can be distributed into other containers for carrying in backpacks or for in your vehicle, but the shelf life will be reduced once the can is opened however.
Preparation Considerations
Freeze dried foods require reconstitution and this means you need water and the means to heat the water. Mountain House foods in the pouch are ideal for many emergencies, because all you have to do is pour the recommended amount of hot water into the pouch, stir let sit for a few minutes and then eat right out of the pouch if you like. The foods in the #10 cans will require a cooking vessel to prepare them however.
When calculating water needs during a crisis you will have to ensure you have water for your cooking needs. Visit Mountains House's website to get a better idea of how much water is required for their various meals. Once you have an idea of how much water is needed for cooking requirements add 10 to 15 percent to account for waste. Energy for heating the water is important as well, so factor this in when preparing.
Final Thoughts
I was recently given the opportunity to sample a few of Mountain House's freeze dried meals, and I now know why outdoor enthusiasts have made Mountain House freeze-dried foods their first choice for over 40 years. Every one of the meals that I've tasted so far have exceeded my expectations. The biscuits with gravy was extremely satisfying and so was the apple crisp. My favorite meal from Mountain House is their new Italian Pepper Steak. It's loaded with tons of steak, peppers, onions and rice, and it has such great flavor.
The Beef Stroganoff was my least favorite out of the four varieties I tried, however as freeze-dried food goes, it still tasted good and much better than most frozen dinners. I wouldn't turn my nose up to any Mountain House meal if offered them, overall they're very tasty and easy to prepare, just add hot water, wait a few minutes, and enjoy! So, if you're looking for tasty freeze-dried, meals for your next camping trip, long term storage plans, Bug Out Bag or for virtually anytime, Mountain House gets my vote! In my opinion Mountain House is one of the best long-term Freeze Dried Food brands available today.
Mountain House. (2015). Retrieved 2015, from http://www.mountainhouse.com/
Non GMO Project. (2015). Retrieved 2015, from http://www.nongmoproject.org/learn-more/understanding-our-seal/
Read Full Article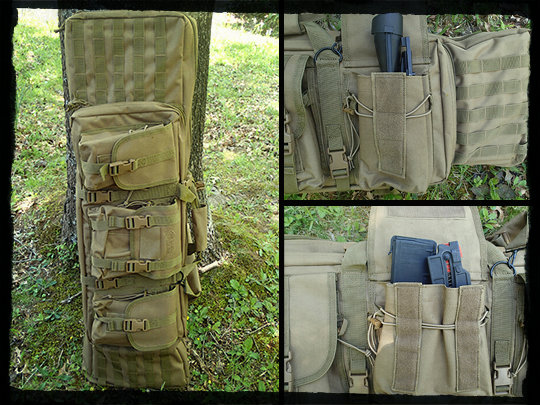 Many of you want to carry multiple firearms, and still have them protected while doing so, but you only have one case, so what can you do. You can't just stuff your firearms in a pack they need to be protected and what about your extra magazines and other accessories.
Well now, your problem is solved, because the Voodoo Tactical Weapons case, (15-7612) can securely hold up to four weapons. With this case, not only can you carry two rifles up to 42 inches long, you can also carry two pistols along with extra magazines for both the rifles and pistols. Each weapon is secured in its own dedicated storage space, so the firearms are not left to bang and rattle around inside the case.
In addition to carrying four weapons in the same case there are added storage pockets inside the bag for scopes, manuals and other optics or other needed accessories, even survival gear. The case also has plenty of Universal/MOLLE webbing for adding extra storage to the case.
There are three carry modes, carry it in your hands, or wear it across your shoulder or wear it as a backpack.
The case is made from ballistic pack cloth, it is heavy duty, so it will stand up to the rigors of camp life, hunting expeditions or any outdoor shooting adventure you have in mind. The case does have padded dividers to separate and protect your rifles.
Manufactures' Specifications and Features
Dedicated Rifle Storage For 2 Rifles up to 42" Long

Dedicated Storage for 2 pistols

Rifle Magazine Storage For 6 Magazines

Pistol Magazine Storage (2)

Additional Internal Pockets (3)

Additional External Pockets (1)

Approximate Dimensions: 42″ x 12″ x 4″

Metal Double Zippers

Cinch Straps

Four Tie Downs

Universal/MOLLE Webbing

For Carry Mode You Have A Padded, Adjustable And Detachable Shoulder Strap, Hand Strap And Padded Backpack Harness Customizable To Your Carrying Preference

Hook-n-Loop I.D. Patch: Yes
The case is available in Black, Olive Drab, Coyote Brown, Army Digital and Multi-cam. Pink and Purple "Lady Voodoo" colors are available as well.
When I first came across the Voodoo Tactical 42″ Double Rifle Case I asked myself do I need another bulky case. I already have one, albeit it is hard shelled, but it did the job. However, after actually handling the Voodoo Tactical Case I realized the possibilities. It is not just for your weapons, although that is the main purpose.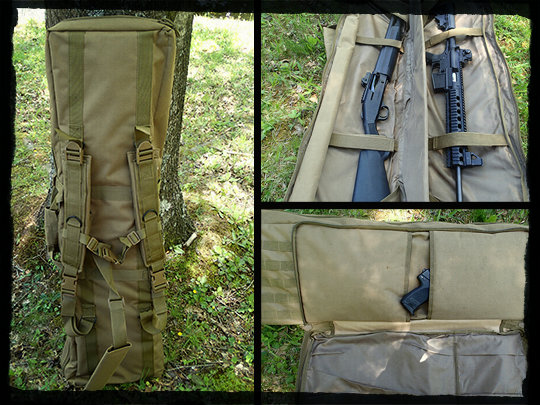 The case is compact compared to many single carry hard-shelled carrying cases, and it is flexible to some extent unlike a hard-shelled case that simply has no give at all. The Voodoo case can be carried as a backpack making it perfect for hunting trips where you have vehicles for your heavier gear. This case is perfect for excursions into the backcountry.
Plenty of storage for extra magazines and with the MOLLE webbing it was easy to add pouches and pockets for survival gear and other essentials. With the Voodoo case, you can combine all of your essentials in one place for short excursions where you would expect to be resupplied.
Of course, for those traveling deep into the woods without a vehicle or the ability to resupply you would need a backpack packed with wilderness survival essentials, but the Voodoo case can be attached to your pack or carried with your pack.
Keep in mind weight will be a factor of course, and it will depend on the number of weapons, weight of each and number of loaded magazines and other gear you are packing in the case. The Voodoo Tactical 42″ Double Rifle Case is adaptable to the situation, and it is recommended you take advantage of the MOLLE webbing to add more storage.
The case is perfect for carrying your firearms to the range. Carry ammunition, sight adjustment tools, cleaning equipment and so on, all in the same case, which by the way is very sleek looking, so be prepared, because you will be asked by others where they can get one for themselves.
Carry the case on hunting expeditions, and anytime you need to carry multiple weapons, magazines, tools and accessories, with the assurance they are secured and protected from the elements and above all in the same place for quick access. You can purchase the Voodoo Tactical 42 inch rifle case at Top Spec U.S. online for $99 dollars. 
Read Full Article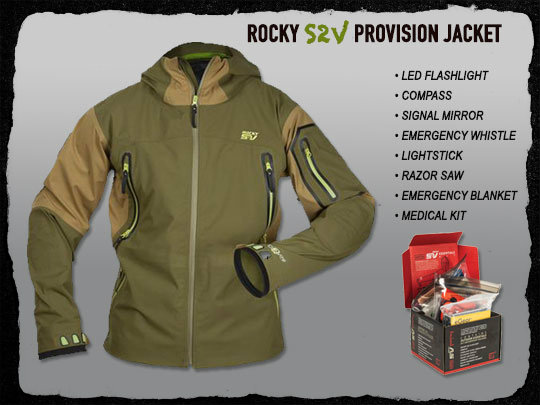 Rocky S2VProvision Jacket That Includes the S2V Essentials Kit
As any outdoor enthusiast knows, your clothing is your first line of defense against the elements. Clothing is shelter against the cold, rain and snow and not having the right outer layer can spell disaster.
Read Full Article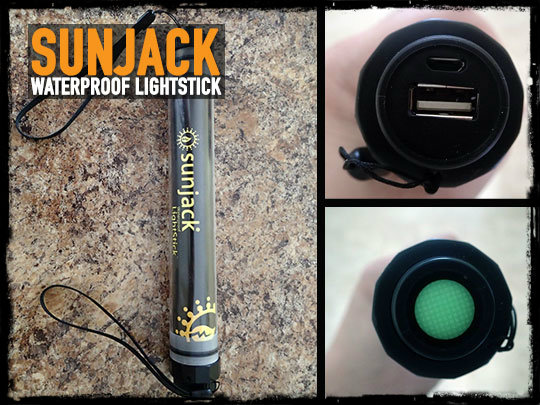 You cannot have too many lights in an emergency and when something happens you want a light that is charged and ready to go. Regular batteries in devices can leak and they can lose their charge even when the device is not in use.
Worrying about whether your devices have fresh batteries or not is the last thing you need to worry about in an emergency. Fumbling in the dark trying to locate the right size batteries, and then getting them in the device the right way is time consuming and frustrating.
If your vehicle breaks down at night you want a strong light that will provide light for hours, as well as, provide you with an emergency strobe to alert others that you are in distress.
Can you have all this and a light that has an integrated power bank that can charge your Smart phone 3 times over in any emergency. Of course you can, it is Sunjack's Waterproof LightStick™
Technical Details
350 Lumens On Brightest Setting

Integrated Power Bank For Charging USB Devices

Waterproof to Six Feet (1.8 Meter)

3 Brightness Levels Including an Emergency Strobe

Reaches full Charge in 4-5 Hours

Charges via USB Cable Which is Included

The 5200mAh Internal Battery Can Charge Up To 3 Smart Phones

Provides up To 46 Hours of Light On Lowest Setting

Weight is 0.47lbs, and the dimensions are 10.25L x 1.25 x 1.25 inches
The Waterproof LightStick's™ internal battery bank is charged/recharged using a USB cable, which is included, so this means you can charge the device from your laptop or desktop computer and from your vehicle. Newer vehicles may have a USB port in the console or somewhere on the dash for charging devices and they make USD adapters for your lighter socket.
Of course the LightStick can also be charged using a Sunjack solar panel making it ideal for camping and hiking, because the panel can be used for charging devices as you hike if it is secured to the outside of your pack.
Charge the device during the day so it can charge your USB devices at night as well as provide you with light. Keep in mind the charging time may vary when using a solar panel. The size of the panel and the amount of sunlight available may affect the charge time.
It includes two lanyards (one on each end) so the light can be secured overhead so you have both hands free. The light is ideal for working under the hood of your vehicle or for changing tires in the dark and the emergency strobe can be used to alert other motorist or used to alert rescuers if you are lost or stranded.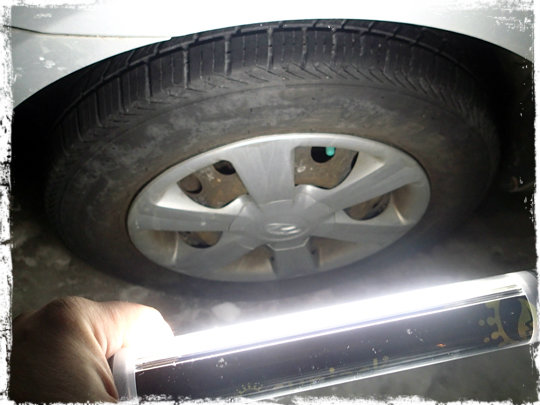 Is it rugged, and shock proof yes it is? You can literally leave it in a snow bank for hours and it still keeps on lighting. The occasional drops on the garage floor or driveway are no problem, and remember it is waterproof to six feet, so no need to worry if it is raining, snowing, or sleeting out it will continue to light up. However, make sure the end cap is secured when working with the light stick to keep moisture and debris out of the USB ports. Blue LED lights indicate the level of charge, so you know when it is time to recharge.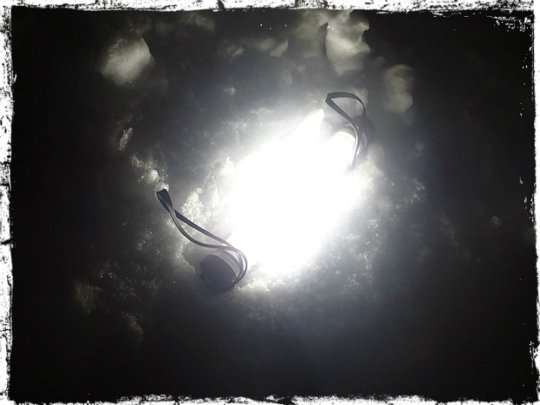 The Waterproof LightStick™ is shaped like a typical florescent shop light stick, so for some it may seem a bit big or long for a survival kit, but it can be carried in virtually any pack or lashed to the outside if needed.
The light is ideal for vehicle emergency kits, get home bags, home emergency kits and for tasks around the house and garage. Hang it under the kitchen cabinet to work on the plumbing, hang it under the hood of the car, and use it to light up a room whenever the power goes out at home.
What makes the Waterproof LightStick™ stand out from other lights is the fact it can charge your USB devices anywhere you happen to be, and that the light can be charged using various methods, not to mention the rugged and waterproof nature of the light and its three light settings and 350 Lumens on high.
An essential light that provides over 40 hours of continual light if fully charged. Even though it may be a bit big or long for a survival kit consider one for the kit anyway, because as stated earlier you cannot have too many lights, and you will be thankful if you find yourself lost or stranded that you have a waterproof light in your pack.
Final Thoughts
I like this light, and it is more than I expected. I am always looking for very portable battery banks to charge my devices, and a battery bank with a very bright light is the perfect combination. I do have a solar panel that will charge the light stick. I keep the light stick fully charged so I know my cell phone can always be charged during a power outage. Sitting in the dark with a dead cell phone is not the time to wish you had a light and a way to charge your cell phones. Now is the time to get prepared before something does happen. You can purchase the Sunjack Waterproof LightStick for $45 dollars at SunJack.com.
Read Full Article
Posted in
Knives
, March 15, 2015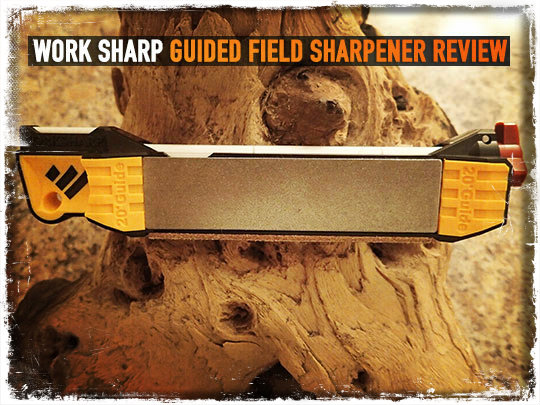 This angle guided, 5 stage sharpening solution is perfect for all of your sharpening needs, whether in the field or around the home.
It Sharpens and hones:
Your Flat Bladed Knives

Serrated Blades

Fish Hooks

Camping Tools

Kitchen/Camp Knives

Broad heads
The Work Sharp Guided Field Sharpener comes with 2 Diamond Plates one is coarse grit for shaping and repairing, and one is fine grit for sharpening
It also includes two Ceramic Rods one is a 3-position ceramic rod with coarse grit, fine grit and fish hook honing sides, plus a smaller diameter, fine grit serration sharpener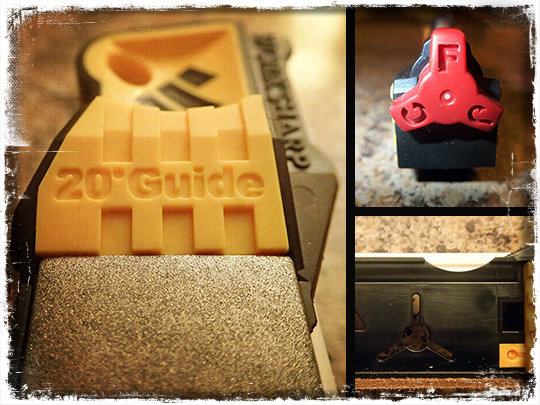 There is even more, it also includes a Leather Strop conditioned with a micro-abrasive to finish your blades to a razor-sharp edge
The sharpening guides are a perfect match up and they are specifically designed for your hunting knives, pocket knives and even your filet knives. The guides make quick work out of sharpening flat, curved and even serrated blades . Sharpen camp tools as well such as axes, hatchets, and machetes.
The diamond grit plates are held in place by rare earth magnets, and they provide cover for the broad head wrench and small storage compartment as well. Compact yet rugged and ready for practically any job. It includes a lanyard hole for easier carry or lashing to a pack or even to your belt.
Now that we have all of the technical aspects out of the way let's talk about how it really does the job under any conditions. The Guided Field Sharpener should be an everyday carry because if you carry a clip-on knife or even a belt knife as part of your everyday carry then you need a sharpener that is up to the task.
It will touch up needles for sewing and leather awls for when you are working with leather or simply want to add another hole to your belt. The sharpener also has a small storage compartment where you can carry small odds and ends such as needles or fishhooks or even fish line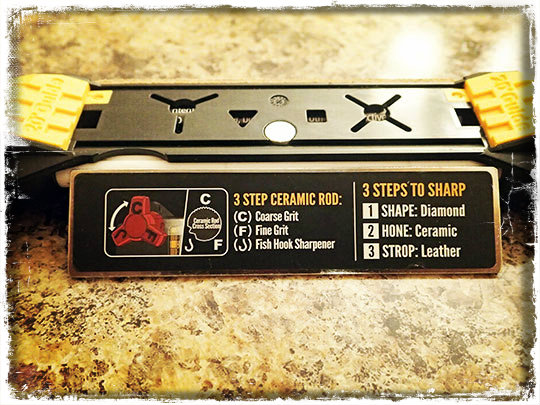 The Work Sharp Guided Field Sharpener will put an edge on any knife and on practically any tool you have and the strop will hone it to the point you can literally shave with the blade, it is not recommended that you do of course, but a sharp knife is invaluable.
It is a solid piece of work and it will hold up out in the field, whether it is wet cold or in between it is there when you need it and it will do the job.
I especially like the guides because each blade has a different angle and if you are not paying attention you can spend a lot of time sharpening and not have accomplished anything. With the guides you know the angle is right and after a few swipes on either side you are ready to go. Of course it will take more work if the blade is damaged, nicked or is extremely dull but this sharpener will bring the edge back.
You might even be in a situation where you have to make your own fishhooks or cutting tools and this sharpener can help you do that. You can make needles, sharpen pop can tops into fishhooks and take the lid off of a can of food and turn it into a cutting tool using this sharpener.
The Work Sharp Guided Field Sharpener is not just a knife sharpener it is a survival tool for your bug-out-bag, survival kit, emergency kit for the home, in the car, even in the kitchen and on your person.
The sharpener is ideal for anglers, hunters, scouts, campers, law enforcement, active duty military, and hikers and for anyone with sharpening needs around the home and can be purchased for around $22 dollars on Amazon. 
Read Full Article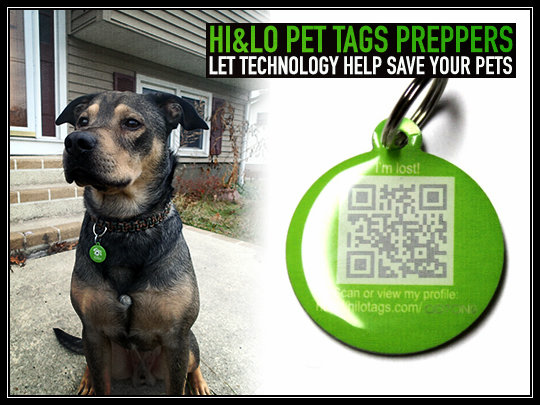 Posted in
Apparel
, December 5, 2014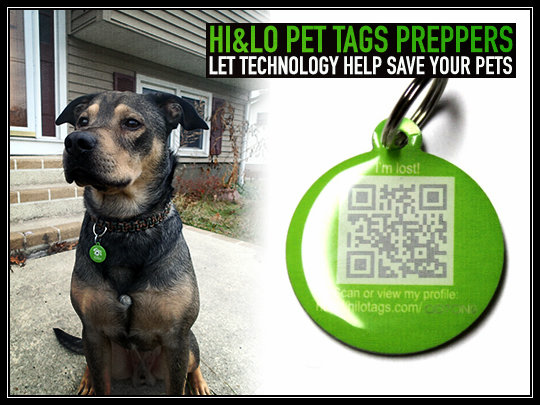 Preppers, when a disaster strikes, your first priority is to make sure that all family members are protected and this of course includes any pets in the home. Your pets will be under stress just as you are and may not follow commands, as they should. If the unthinkable happens, and you and your pet (s) become separated, you want to do all you can do, to reunite with them. The Hi&Lo QR pet ID tags may be just the answer you are looking for when disaster strikes.
What are Hi&Lo pet tags? They are "pet-tags" that the pet wears on its collar. The tag is laser engraved with a Quick Response (QR) Code and a unique alphanumeric ID code. The QR code laser engraved on the tag can be scanned by any Smartphone once a free scanner app is downloaded.
There are free android and iPhone scanner apps available for immediate download.
Each pet tag will have a unique alphanumeric ID and QR code engraved on the tags. The engraving will not wear off or become faded and the tags are coated in epoxy for greater protection.
You have all heard the horror stories about pets lost during a crisis, and in particular, the heart wrenching stories after Hurricane Katrina struck. Thousands of pets separated from their family never to be reunited because the shelters and individuals that had the pets simply did not have any way of contacting the owners. Now individuals can alert you that they have your pet, because they will have access through their Smartphone by simply scanning the barcode on the tag.
When the QR code is scanned by taking a picture of it the app immediately links to your pet's online profile, so any person anywhere can contact you from their cell phone immediately after coming in contact with your pet, all this without them having to take your pet to a veterinarian or shelter to have a microchip read.
The tag's QR code is readily apparent when someone looks at the tag and it states, "I'm lost scan or view my profile". The website is listed on the tag, so someone can simply type in the address to access your pet's profile without scanning the QR code. Many QR code scanners already installed on many Smartphone's would work with the tags.
The Hi&Lo QR pet tags make it easier and affordable for you to reunite with your beloved pets during a crisis or at anytime they become separated from the family. Preppers you can now expand your preparedness plans to include Hi&Lo tags for all of your pets.
Once you receive the tag you can create an online profile unique to your pet (s). Your pet will always have the same tag, any changes to your information is done online, anytime and as often as you need to. This is a lifetime benefit, no expiration dates, and you will never have to purchase new tags unless the tag is lost or damaged.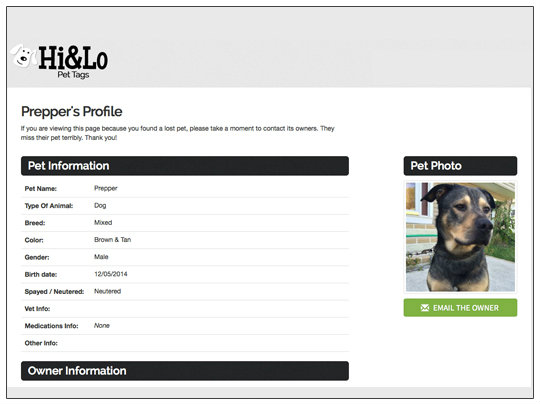 You can provide as much or as little information as you want when setting up the online profile. Anyone that finds your pet and scans the QR code or enters the unique ID code online can only see what information you have checked when setting up the profile.
You can change the information and access to the information at anytime, and of course you or anyone else can access your pet's profile from anywhere in the world where there is access to the Internet.
Anyone that finds your pet can also enter the alphanumeric code embedded on the tags to find your pet's profile online to gather contact information so you and your pet (s) can be reunited.
Privacy is a big concern of course, so once a "stranger" has accessed your pets' profile you decide what contact information they see.
For contact information, you can list a cell phone number, home address, what veterinarian your pet's uses, email address, other phone numbers or all available contact information. You get to decide what someone sees when they access your pet's profile online.
You can list any maintenance medications, the pet's name of course, allergies the pet has or particular medications the pet is currently taking and/or any information that may help them care for your pet until you are reunited.
This is an amazing concept because microchips that must be embedded need to be read by specialized scanners that are normally only found at veterinarian's offices or at certain animal shelters. It may take days or even weeks before your pet finds their way to a veterinarian or shelter so the microchip can be read.
The Hi&Lo QR pet ID tag retails for 19.99 but can be purchased here for $8.99 on Amazon. To learn more about the Hi&Lo QR pet ID tag visit HiLotags.com.
Read Full Article
Posted in
Knives
, November 18, 2014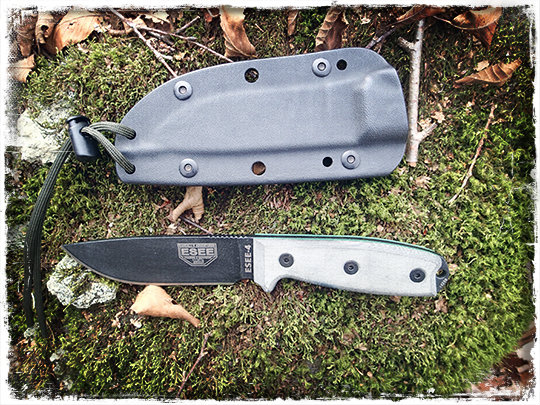 Before we get started if you are looking for a "Rambo type knife" with sharp curved points with wicked looking Jimping on the back of the blade, and a bug-out-bag sized hollow handle, that houses a tool kit, medical kit, compass, matches, thread, hooks and spearmint gum you probably should stop reading. 
Jimping by the way is the serrations on the blade back that gives your thumb a gripping point when using the knife. On a quality knife, like the ESSE 4 Jimping has a real purpose. Some knives look good, they even look deadly, but looks are all they have going for them. Hollow handled knives with a compass ball and space for survival gear are useless in a survival situation, and useless in any situation for that matter.
Keep the Rambo knives hung over the mantle so you can tell your grandkids some day you used one to fight a grizzly back in 2014, and the fact that you can tell the story obviously means you won.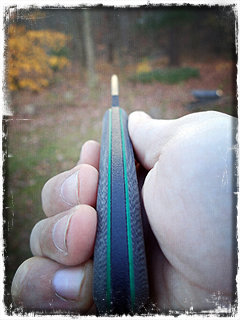 The ESEE 4 is full tang meaning the blade and handle are one piece. Full tang means strength. It also means that if the Micarta or G10 handles break, not likely by the way, but if they do, you can wrap Paracord or even duct tape around the handle and get on with surviving. If you break the handle on a blade that is not full tang there is nothing left to wrap with anything.
The ESEE brand screams quality and once you have it in your hand you will see. The ESEE 4 is shorter than the ESEE 6 but that is ok because a shorter blade is ideal for many survival tasks. Use it to skin small game, for example, make wood curls for fire, cut cloth/canvas, cut up food and even repair your gear, cut sewing or suture thread and the list goes on.
Because it is full tang and made with quality carbon or stainless steel, you can use it with a wooden baton to split wood, hack through limbs or chop through ice.
The sheath is quality, which is always a surprise. Usually manufactures put all the effort into the blade, so they tend to treat the sheath as an afterthought, not with the ESEE models though.
You can order the ESEE 4 with the optional MOLLE back, which is ballistic black nylon. Otherwise, you can use Paracord to lash the standard included sheath to a pack or even your belt. The MOLLE back is recommended if you plan to do a lot of jumping from an aircraft or plan other extreme activities, because it comes with additional security to hold the knife in the sheath.
The sheath without the MOLLE back has a place where you can attach cordage for lashing the sheath to whatever you want. The MOLLE sheath can also be used in the inverted as well as the standard mode.
The sheath is a quality Kydex sheath, so there is no need to go looking for another sheath because it comes with a high quality one. The standard sheath is friction fit so you do not have to fumble with straps or snaps and it can be drawn from the sheath one handed. The sheath has a detachable clip so it can be moved from one side of the sheath to the other, to accommodate for whichever side of the body you want to wear it.
If you happen to be caught up in your parachute rigging, for example, and hanging exposed to all below, you can extract the blade one handed, from the inverted or standard position, and use the serrated edge model to cut yourself loose. In other words if one hand is occupied or injured you can still draw your blade.
ESEE 4 SPECS:
Length 9.0inches

Length of cutting edge is 4.1 inches

Total length of blade is 4.5 inches

Blade width 1.25 inches

Weight knife only is 8.0 ounces

Blade is drop point style

The carbon steel model is 1095 carbon steel

(carbon blades can and will rust if not cleaned and oiled properly)

The stainless steel model is 440C Stainless

The ESEE 4 has removable handles

(Canvas Micarta or G10)

Comes with rounded pommel with lanyard hole

Includes ambidextrous molded sheath

(MOLLE Back Sheath Is Optional)

Made in the USA
There are hundreds, if not thousands of knife companies that all want your business. Flash and bang, smoke and mirrors are all used to get you to buy one of their knives. ESEE knives are made in the USA and they are not cranked out by the hundreds every hour. Each knife is crafted, inspected and tested.
If you want a survival knife that goes to the field with you and comes back in the same shape it left in, then ESEE knives are the way to go. The ESEE 4 is perfect for bug-out-bags, emergency kits, hunters, anglers and for anyone that spends any time in the woods.
Everyone needs a back up knife in their backpack, and if called upon the backup knife needs to be good enough to be the main survival knife. The ESEE 4 fits the bill. You can purchase the ESEE 4 on Top Spec U.S. online for $114.95. 
Read Full Article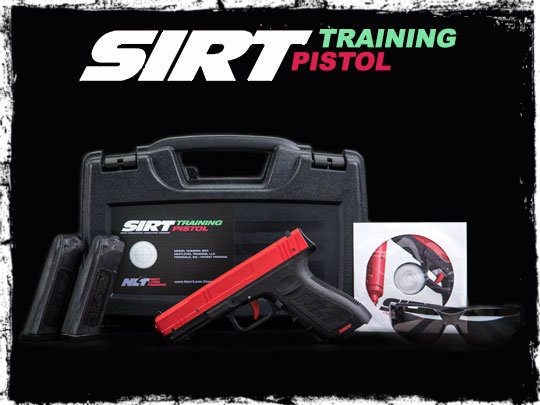 First, What Is Included With the SIRT Training Package
1 SIRT Performer
Red Polymer Slide
Red Shot Indicating Laser
Red Trigger Prep Indicating Laser
Functional features of Glock™ 17/22
Standard Sights
Two weighted training magazines
NLT Intro Training DVD
NLT Shooting Glasses
Primarily the SIRT Training Pistol is a training and educational tool with safety in mind. You can train under virtually any conditions safely. If anyone claims they do not need additional, training or practice then they are deceiving him or herself.
With the SIRT, you can practice so-called unconventional draws, for example, from your waistband, coat pocket, purse and of course from a traditional belt or shoulder rig. There are some of course that are convinced that carrying a pistol in their pocket or even purse is dangerous, but with the proper training and practice, it is no more dangerous than carrying one in a standard holster.
There are many reasons why someone would carry a pistol in their waistband, pocket or cluttered purse or even in less conventional places. You still need quick access regardless of where it is carried. You can begin now learning how to draw your pistol when wearing a jacket, or from deep in your purse.
It may not seem important now but when you are moving quickly and your jacket is, flapping around it becomes important if you have never experienced it before. Try it and you will understand how something as simple as a jacket can be problematic when there is a need to draw your firearm. You need practice to learn how to overcome this and other obstacles that can interfere with your draw.
You simply cannot purchase a pistol, strap it to your body and assume you are protected. If you cannot draw, aim and fire quickly and accurately then there is no point to having a pistol.
Additionally, you need to practice changing out magazines on the fly. Quick magazine change over's may not be a tactic you can practice on a traditional firing range, but if you cannot reload faster than your aggressor can, then you have a problem. Practice in the environment you expect to use your self-defense firearm.
Where do you carry your pistol and are you worried, you cannot draw it fast enough in that position. It can be difficult to practice with a real pistol in certain situations. Keep in mind many firing ranges do not allow you to practice certain tactics and you may not want to practice at home with your "real pistol" because of children or various other reasons. Now you can practice virtually anywhere so you can find the best place to carry your pistol for quick access.
Dry firing is a method for practicing when not at the range, but it is simply not the same in most cases, and beside you have damage to the firing pin to consider as well. The SIRT Training Pistol is perfect for dry fire exercises.
The SIRT Pistol is the ideal training tool for instructors. You can now essentially train in any environment safely. After all, you and your pupils will not likely be using your firearms for self-defense at the firing range, so why not train safely in the environment in which the pistol is most likely to be used. At home, in your vehicle, or even on a dark and deserted street are just some of the places.
The SIRT Training Pistol allows you to make mistakes that do not have life altering consequences. When practicing any survival technique you should always practice in a controlled environment so mistakes can be used as a learning experience.
The SIRT Training Pistol comes with two lasers, and they are very important ones. The first laser illuminates when pressure is applied to the trigger. This helps you develop trigger control, (to control the take up of the trigger), but keep in mind the lasers are not aiming tools.
The first laser is designed to help you "prep the trigger" before firing. The draw, the handgrip and bringing the weapon up is important, but if you cannot get a "feel" for the trigger then you will develop bad habits like jerking the trigger. This laser can be turned off at any time.
The second laser illuminates when the trigger breaks. Using the first and second laser correctly lets you know where you are with the trigger at all times. To recap, the first laser indicates when pressure is applied and then the second one illuminates when the trigger breaks.
With practice, you will have complete trigger control and this of course means greater accuracy even when firing in rapid succession. It will take practice and concentration, but once you have developed the right habits, follow up shots will be smooth and effortless.
Included with the package is a trigger adjustment tool so you can make adjustments to make it feel more like your own carry. Practice and more practice with the training pistol will reduce or eliminate your bad shooting habits.
Who Can Benefit From Having the SIRT Training Pistol?
Anyone that carries a pistol, or is considering carrying a pistol can benefit. There is probably no such thing as practicing too much. However, practicing with a real pistol can be problematic in some cases.
Instructors can now train in various environments and present different scenarios safely. Anyone that wants to practice at home, in his or her vehicle or anywhere for that matter can now do so without worry.
So before you spend another dime on ammo, I highly recommend that you take your training to the next level and give a SIRT training pistol a try. You can learn more about the SIRT Training Pistol at Sirtsurvival.com.
Read Full Article
Posted in
Apparel
, October 19, 2014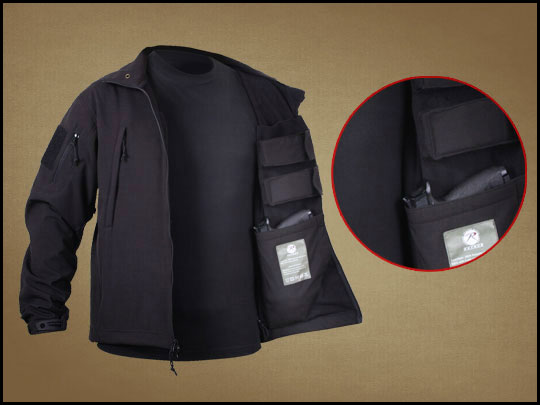 Rothco takes this tactical soft shell jacket to the next level. Not only is the outer shell waterproof the inner layer is breathable fleece making it ideal for cold weather tactical training, hunting or for any outdoor cold weather activity.
Specifications:
2 Interior Mag Pouches
2 Interior Concealed Carry Pockets w/ Hook & Loop Closure
Loop Fields on Shoulder
Adjustable Wrist Cuffs, Multiple Pockets & Concealed, Detachable Hood
Material Specs: Outer Shell is 100% Polyester, Inner shell is Fleece
Zippered shoulder pocket
Forearm pocket on left sleeve
Two front slash pockets,
Two back pockets, vented under arm, and a 4″x4″ hook & loop patch attachment on each side
Size Ranges: S, M, L, XL, 2XL, 3XL
The jacket has a zippered collar with a concealed and detachable hood, which is important. Hoods can create blind spots, interfere with hearing and they certainly can interfere with your frontal vision when operating in windy conditions, because the hood is always blowing around your ears and face. Something as simple as a hood that can be restrained and concealed makes a huge difference. Use it when you need it, but when not needed it tucks away so as not to be in your way.
Now for the best part, the Rothco Concealed Carry Soft Shell Jacket is specifically designed for concealed carry. The jacket has two interior conceal carry pockets, one on each side and two pouches for magazines. Load up, zip up and no one knows you are carrying. Stay unzipped for quick access with either hand and still stay warm because of the soft inner shell.
In the past, you may have carried pistols in your parka's pocket and you know how awkward it is trying to fumble the weapon out of the pocket. Not only awkward it can be deadly, because the firearm can become tangled up in the material making it very difficult to get it out, and besides all that, your pockets sag with the weight, and then bang against your legs or hips as you walk or run.
You cannot holster a weapon on your belt and expect to get to it quickly with a heavy parka on that hangs below the waist and the same with shoulder rigs, but now you can have quick access to your pistols with the Rothco Concealed Carry Soft Shell Jacket. No sagging from the weight and no bulky material to get in the way as you reach for your weapon and no one knows you are carrying because of the design.
Frankly, the Rothco Concealed Carry Soft Shell Jacket is well worth it without the concealed carry pockets and with them, well the jacket is something you just simply have to experience for yourself to appreciate. Rothco really takes this jacket to the next level. Anyone that has a need to carry concealed will realize the second the jacket is put on how well designed and how clever the jacket really is.
The magazine pouches have Velcro closures and they are mounted sideways and not up and down so you simply slide the mags out instead of trying to pull them out. Open the flap and push the bottom of the Mag with your thumb and it slides out into your hand for quick reloads.
The concealed carry pockets will not sag, so no awkward looking bulges and once loaded up your pistol (s) will not bang against your chest as you walk or even run, and have no fear the pistols will stay in place until needed because of the hook and loop closures.
The jacket is so well designed that even if you only carry a pistol on one side the jacket will not feel off balanced. Actually, it feels perfect, and once you are loaded up, the weight is a comfort that can only come from knowing you are protected.
Like anything new, it will take a bit of practice, but I found the design of the jacket makes it easy to reach in and draw without having to paw around. The pockets are right there ready for the hand. Take the time to practice drawing with or without gloves. Heavy gloves or mittens of course would make it difficult to draw effectively so keep this in mind and practice, practice and then practice some more.
The Rothco concealed carry soft shell jacket retails for $132.99 and can be purchased at Rothco.com
Read Full Article
If the sun is shining, or even if it is not you can be charging your devices. You can charge your mobile phones (compatible with most), iPads or tablets, any USB lighting devices, digital cameras, MP3 players and gaming devices.
The SunJack includes a fast-charge 8,000mah battery that can be fully charged in roughly five hours. From this point, you can charge your devices overnight if needed no need for sun in other words, or you can directly power any USB device from the SunJack when the unit is placed in direct sunlight.
The powerful 8,000mah Sunjack battery when fully charged holds enough charge to power up four iPhones.
The SunJack's battery can also be charged from any standard micro-USB plug. This means you can use your vehicle's USB port (many newer models have one) or from a laptop computer for example, if you want a full charge before leaving on your adventure. It will take up to five hours for a full charge using this method.
Portable power on the go, you can take the SunJack anywhere with you. Take it camping, hiking, or on survivalist training deep in the backcountry. Have one in your disaster preparedness kit, one in your car, bug-out-bag, hiking backpack and in your camping supplies.
Specifications:
Solar panels: 14 watts of high efficiency mono-crystalline
Max output voltage/current: Two 5V/2A USB ports
Battery: 8,000mAh lithium-polymer battery
Size folded: 6.75" x 9.25" x 1.75" (17.15cm x 23.50cm x 4.5cm)
Size unfolded: 30.75" x 9.25" x 1.75" (78.11cm x 23.50cm x 4.5cm)
Weight: 2lbs (907.19grams)
At 14 watts, you can still charge the battery with indirect sunlight and on cloudy days in some cases. Some other charging panels may only be five watts and they simply will not charge unless in direct sunlight for the specified period.
The Sunjack at 14 watts ensures you can charge the included battery virtually anywhere there is sunlight, and not necessarily direct sunlight. Having 14 watts and two USB ports also allows you to charge more than one item at a time, charge your iPhone and iPad simultaneously.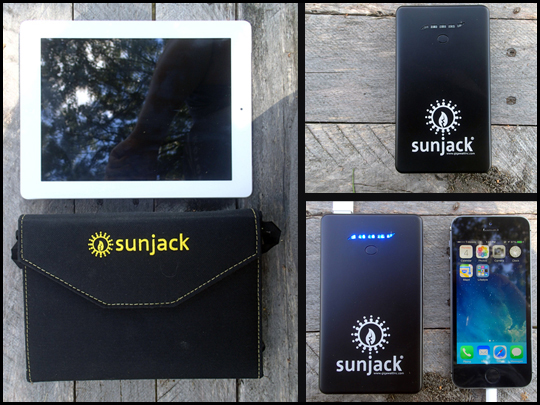 At some point, you will be in a situation where you do not have power, so this means you do not have the ability to charge your cell phone. This can happen right in your own home or while camping, hiking or even if you become lost or stranded.
If you have the SunJack with you then you have one less problem to contend with and not having communications during a crisis is a big problem that needs to be addressed before you experience such a situation.
You do need a means of charging your devices during a power outage, if your vehicle breaks down or while out hiking and you find yourself lost. One less worry means you can focus on other tasks needed for survival.
It only weighs two pounds and folds up nicely (similar to an iPad) so you do not need to make special arrangements or leave anything out of your pack to accommodate the SunJack when packing for camping or hiking. Once at your campsite simply unfold where there is plenty of sun for optimum charging and then go about your other duties. You do not have to monitor the device while it charges.
The SunJack 14 watt portable solar charger retails for $150.00 to see a full line of their products visit TheSunJack.com. The optional light weight SunJack 340 lumen USB CampLight (equivalent to a 40W incandescent bulb)  will fully illuminate a tent at night and makes a great addition to this charger.
Read Full Article