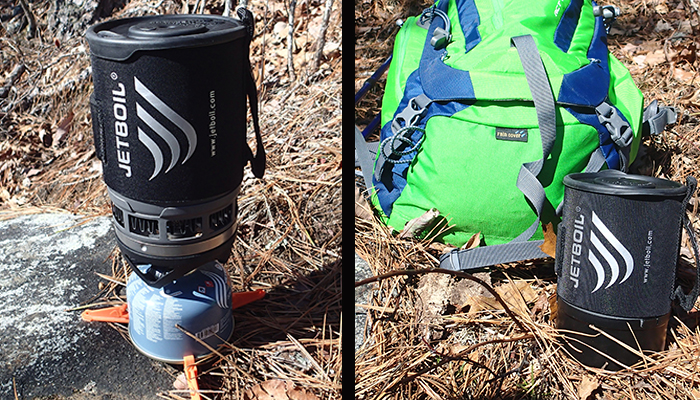 Posted in
Stoves
, February 4, 2017
There is certainly room in your survival pack, vehicle or in with your camping supplies for this compact and extremely efficient personal cooking system. A possible life-saving system because it can boil water and cook food all in its compact cooking cup, which sits right on top of its fuel canister. Once your water is boiled or food heated/cooked simply remove the cup and eat or drink right from it.
We like to see survival or hiking, camping, and hunting gear that is compact, rugged, and easy to use and can perform multiple tasks. One thing to keep in mind, however, this unit does require a match or lighter to ignite the burner because it does not have a built-in sparking device.
Read Full Article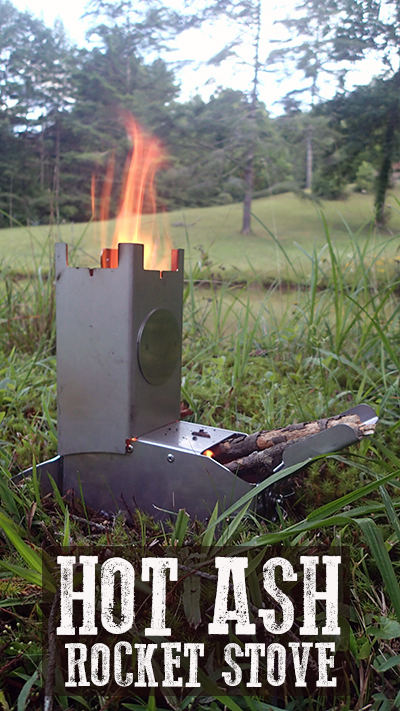 Posted in
Stoves
, July 2, 2016
First, this stove packs down to 3 inches square by 9 inches tall, and that right there caught my eye. Rocket stoves are everywhere, some are more mobile than others are, however, and then there is the so-called rocket stove made out of cinder blocks. Well, that's great for the backyard but try bringing one along on your hiking trip.
Yes, you should know how to make your own rocket stove, but keep in mind any you do make for an emergency is likely not going to fit well into a pack, and how many times can you use it for emergency cooking. In some cases, it makes more sense to purchase one that will last a lifetime, is easily packed, and weighs just three pounds.
Read Full Article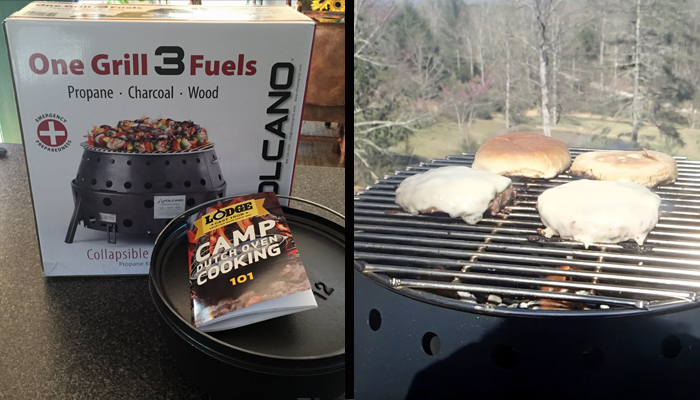 Posted in
Stoves
, April 11, 2016
I wouldn't necessarily categorize the Volcano 3 as a survival stove, though; it could be used as one. The reason being is the weight. At 25 pounds, it would be difficult to pack in a survival kit and tote around the backwoods. We can call it the perfect Prepper stove however.
This stove is capable of providing you and your family three meals a day for as long as it takes during any crisis or emergency. I like that it collapses to five inches with a quick snap of the wrists. It is ready to pack away in minutes after you have let it cool down, of course, and remember to be responsible when disposing of hot ashes from a wood or charcoal fire, and never use this stove in an enclosed area even if you are cooking with it using propane.
Read Full Article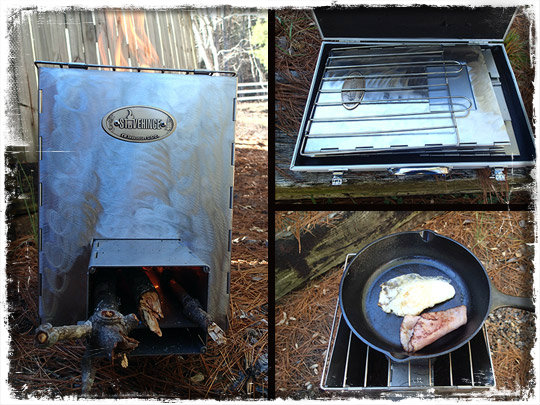 Posted in
Stoves
, January 19, 2016
First, a little about how the Stovehinge Collapsible Rocket Stove works, and why it is so efficient when it comes to combustion. This stove has the traditional "L" shaped design that allows oxygen to be drawn into the fire chamber via the split feed tube design.
The feed tube is split into two chambers, the top is the feed tube for combustibles, and the bottom is for airflow.
Read Full Article
Posted in
Stoves
, August 6, 2013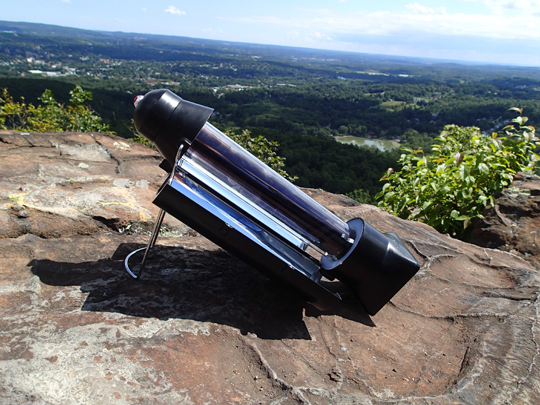 Specifications Description
Using the latest in solar thermal technology the Sunrocket combines a Vycor glass vacuum tube along with reflective panels to balance portability, style and above all efficiency.
The Sunrocket is capable of heating water in as little as 30 minutes. Once heated it stays hot for hours. The Sunrocket will heat water even when there is a light cloud cover or haze, though it may take longer.
The time it takes to boil or heat water will vary depending on the weather conditions, primarily how much direct sunlight is available. For best results place the Sunrocket in direct sunlight for the most efficient way to capture solar radiation.
The Sunrocket does not require any other heat source it only uses the sun's rays, so no need to start a campfire or carry heavy pots to heat water. Simply fill the Sunrocket with water leaving a two-inch space at the top, fold out the reflective panels and connect to the carry handle/support base and you will have hot steaming water in no time.
Specifications

Dimensions: 17.7×4.3×4.3inches (45x11x11cm)
Volume: 17oz (500ml)
Weight: 2.2lbs/1kg
Materials
An evacuated vacuum glass tube made from Vycor glass (95% silica, high temperature and thermal shock resistant) and copper / aluminum absorption.
Reflective aluminum panels, high quality scratch and weather resistant plastics and pressure release valve.
BPA free, safe non-toxic materials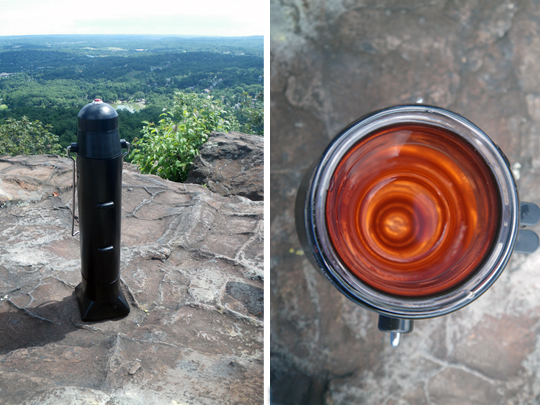 Applications
The Sunrocket can be used during a power disruption to heat water for dehydrated/freeze dried foods, heat water for sponge baths or for brewing of hot beverages. Heat only water in the Sunrocket and then pour the hot water over your dehydrated or freeze dried foods.
Carry the Sunrocket with you on your camping adventures, but because of its size, it may not be ideal for carrying in your backpack. It can of course be packed in your vehicle for any vacation adventure.
Pressure will not build up inside the Sunrocket's heating chamber because of the pressure release valve on the cap so you can leave the water to heat while you do other chores.
Keep in mind however, you are dealing with hot water and steam so use caution when removing the cap. 
The Sunrocket is great for those weekend getaways at the family cabin. Simply unfold the reflective panels and use the carry handle, which doubles as a support base, and place on any level surface to begin heating water. The Sunrocket's reflective panels must be opened up to catch the sun's rays and the carry/support handle must be used as a support.
The inner vacuum tube (evacuated glass tube) is made of shock resistant glass but it can be broken if handled rough or dropped on a hard surface. The Sunrocket can be transported in any position.
Weighing in at slightly over two pounds the Sunrocket, it will not add any significant weight to your home emergency kit. Knowing you have the ability to heat water in virtually any situation will help reduce the stress level during a crisis. Keep one in your homes' emergency kit.
Ideal for on the job as well, construction workers and others that work primarily outside during the day can now heat water for lunches or breaks. Simply set up the Sunrocket and allow the water to heat as you go about your work and when lunch or break time arrives you have steaming hot water ready for meals, coffee, tea, or any hot beverage.
The Sunrocket will boil water if left in direct sunlight. After using a few times in various situations, you will have a better idea of times and temperatures, so you can better plan your meals and other activities.
Pros and Cons
Pros
Lightweight can be used anywhere there is sunlight
Heats water by simply placing in the sun and does not require any action or attention by the user other than filling with water
Can boil water even if the surrounding air is frigid because of the unique insulating qualities as long as there is adequate sunlight
Excellent for home/car emergency disaster kits
Keeps water hot for hours
Cons
Too big for backpacks/bug-out-bags so it is not ideal for wilderness survival situations
Inner vacuum tube is glass and can be broken if handled roughly or dropped
Final Thoughts
The SunRocket does exactly what it sets out to do, I was able to get steaming hot water in just about 30 minutes in full sunlight. However because of its size and the possibility that it could be broken if handled roughly or dropped, I don't think it's ideal for a bug out bag. It is however great for your home or car emergency kits. I would like to thank Louise at SunRocket for providing me with an excellent product to test and review. You can purchase the SunRocket Solar Kettle for $59.50 at SunKettle.com.
Read Full Article
Posted in
Stoves
, June 7, 2013
First, this stove is an excellent product that can be used during any emergency or disaster, especially during power outages. However, because it weighs 26.75 pounds, it not ideal for your bug-out-bags. You will want to keep this stove at your bug-out location or ready to use for bugging-in. The EcoZoom is also perfect for camping/hunting trips, backyard adventures and even tailgating. I highly recommend the EcoZoom Versa for camping, hunting or any type of planned outdoor adventure. Its convenient carrying handles make moving it a breeze.
Manufacture's Description and Specifications
The EcoZoom stove can burn wood, charcoal or biomass fuels. Essentially, no matter where you end up with the stove you can find fuel for it. It has a top door for wood and biomass fuels and the bottom door acts as a damper to control airflow.
The combustion chamber is made of durable ceramic and it is designed to force the gases to mix with the flame to reduce harmful emissions. The ceramic chamber is protected by a refractory metal liner to increase the life of the stove/fire chamber.
The doors are hinged making it easy to convert from wood to charcoal. The doors are designed to help regulate airflow as well. The EcoZoom Versa has a sturdy reformulated six pronged cast iron stovetop. Cast iron of course is ideal for heat transfer whether the cooking pots are flat bottomed or slightly rounded. Virtually any cooking pot will work with this stove.
Dimensions
The depth is 11 inches while the height is 12.5 inches
Upper door is 4.5 inches wide and 2 3/8 inches high
Lower door 2 3/8 wide and 1 3/8 inches high
As you can see, it is fairly compact, but because of the rigorous manufacturing specifications and quality materials it is heavier than you might expect. The stove has a metal grate called a stick support that allows you to place wood on it as you feed the combustion chamber.
The combustion chambers limit the flow of oxygen to the fuels so the fire burns slowly and efficiently. You will find yourself cooking complete meals with just a handful of fuel. You do not have to worry about getting rid of charcoal or bits of other unburned fuels, because the Versa Stove's unique design allows all fuels to burn down practically to powder form. Cleaning is also a breeze. You just have to shake the stove on its side and the ash comes out the lower door.
Having the ability to burn charcoal as well as other types of fuels really makes a difference especially for backyard get-togethers. You may not be able to go forage for branches and twigs to burn so being able to use charcoal makes this stove truly versatile. Of course, take charcoal with you on your camping or hunting trips because you never know how damp or wet the wood might be. The more fuels you can burn the greater chance you have of finding those fuels in any situation.
The Versa Stove comes with a "pot skirt" that is usually placed around a Dutch oven or covered pot for even cooking (helps contains the heat around the cook pot). This makes it quite easy to bake breads with it.
The Versa stove can put out up to 23,000 BTUs when cooking with charcoal, which is double that of a traditional gas range. 
This stove is ideal for for those of you that can your own foods. As you know, canning takes time, meaning your gas range is operating a long time. The kitchen and the rest of the house can become extremely warm during this process. So for your next family project why not get everyone involved in an outdoor canning project and even save some money on the air conditioning bill!
The Versa stove does have a charcoal grate that is slid in to support charcoal briquettes or lump charcoal. The grate elevates the charcoal so there is good airflow for consistent and efficient burning.
What really is impressive when you use the stick grate is you do not have to cut up the wood. Simply put it on the grate with one end in the fire chamber. Just push the sticks in as they burn. When done with cooking, pull the stick out and let cool to use next time. The wood will not go anywhere because of the stick grate, so no more sawing or hacking on the sticks with an axe trying to break up the wood up so it fits. Because of the way the Versa stove burns fuels, you will notice less smoke than you would get from traditional types of stoves or backyard fires.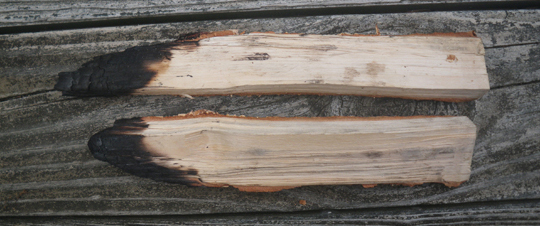 Things to Consider
Because of its compact design, the stove can be used virtually anywhere, except of course in confined spaces.
The exterior of the stove will become warm to the touch when in use, but it can be touched without the fear of burns.
You will notice that the bottom of your pans will have less soot associated with cooking over most stoves of this type. This stove will of course support heavy cast iron cookware, such as small Dutch ovens and pans.
My Thoughts
In addition to some of its more practical uses, the EcoZoom Versa Stove can prove to be invaluable as it can be used in most any type of emergency situation. Having the ability to get a hot fire going relatively quickly and easily, without ever having to worry about fuel to feed the fire as nearly any wood source can be used, gives me great peace of mind.
I would like to thank Tom at EcoZoom for providing me with such a great product to test and review. I've used the stove several times since it arrived, and in my opinion, the EcoZoom Versa Stove is a great stove to own.
The EcoZoom Versa is available for $129.00. Check out EcoZoom and their whole line of stoves at http://ecozoomstove.com.
To receive a discount off any EcoZoom stove, use code PREPSHTF when checking out
EcoZoom Story
Three billion people in the world rely on biomass and charcoal for their cooking needs, often burning it indoors on open fires or dangerous unimproved cook stoves. We believe that people of any economic status should have access to beautifully designed cooking products that will improve their health, income, and environment.
EcoZoom is a for-profit, certified B Corp making clean cook stoves accessible and affordable in developing countries. Since starting in April of 2011, we have sold over 70,000 cook stoves into our 14 target countries.
EcoZoom designs manufactures and sells stoves to multinational for‐profit and nonprofit organizations. This includes NGOs, and governments who distribute to end consumers in commercial, development or relief projects. EcoZoom is focused in four key regions: Eastern, Western and Southern sub-Saharan Africa and specific countries within Latin America.
Our biomass-fueled stoves have been designed and tested in both lab and field, and verified for performance by independent third parties such as the US EPA, USAID, Millennium Villages Project, and UNDP. EcoZoom cook stoves are healthy, efficient and environmentally friendly.
The Stoves Will
Reduce fuel needed by 60%
Emit 70% less smoke and emissions than a three stone fire
Stay cooler to the touch while in use to prevent burns
Read Full Article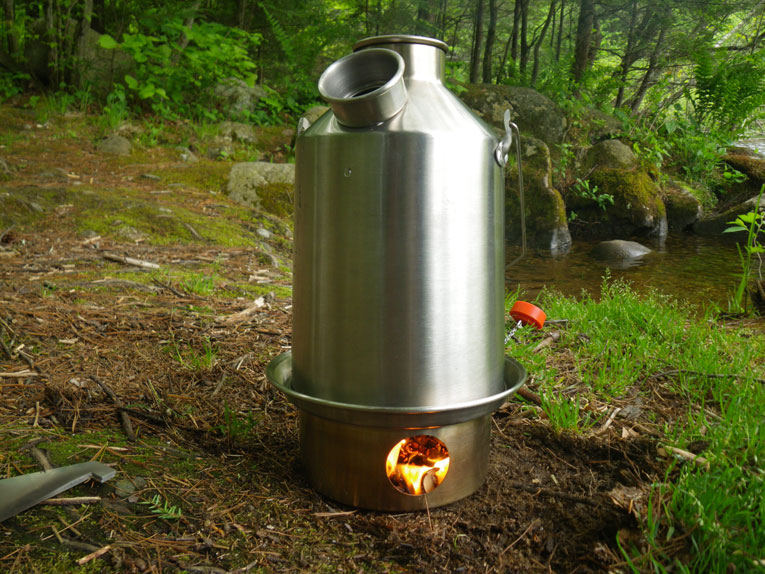 Posted in
Stoves
, June 1, 2013
Manufactures Product Dimensions/Specifications 
Holds 37.2 fluid ounces
Height is 10.2 inches when fully packed and when set up for use the height is 11.8 inches
The diameter is 7.3 inches at the widest point (rim at the base)
Weight 2.2 pounds
The Kelly Kettle is offered in 3 sizes:
The kit includes the pot for cooking, a pan/lid, grill, pot support and gripper handle for the pot/pan.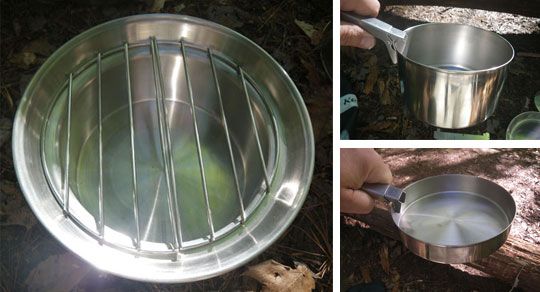 If you have been considering investing in a biomass stove but are hesitant about dishing out any money  without first knowing the quality of your purchase, then you will want to continue reading my review on the Kelly Kettle Scout first.  
The Kelly Kettle uses a heat chimney technique to heat water and it can be used for cooking as well. It does not need any electricity, as it has no fan. It will literally burn any combustible fuels you find in your environment.
This item should be called the "perfect stove in a bag" because of its handy carrying bag that will keep all the parts together, which is important when putting together a survival or disaster kit.
As any expert will tell you to save space and to reduce weight, you want to have items that serve a dual purpose. You simply cannot afford the space and additional weight added to a pack when you only have single use items. The Kelly Kettle is a multi-purpose item ideal for any wilderness survival pack and home emergency disaster kits.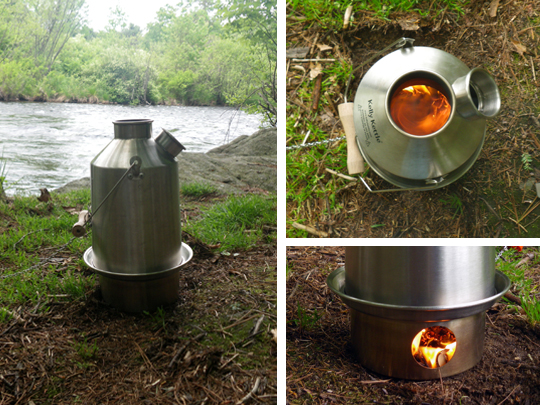 Carrying the Kelly Kettle Scout Kit means, you do not need to carry metal canteen nesting cups or stainless steel bowls for boiling water or for food preparation. This all-in-one stove will boil water, heat food, and provide you with a heat source using limited fuel in any weather conditions. Because of the unique design, this stove can be used in light rains and in very damp conditions.
As most of you know, keeping a fire going on wet/snow covered ground is extremely difficult because the moisture from the ground inhibits the fire and in some case makes it impossible to maintain a fire. Having this stove along ensures you can have a life saving fire under extreme conditions.
The distinctive design of the stove allows for the efficient burning of fuel, such as wood chips/small chunks of wood, small sticks, pinecones and so on. Open "camp" fires allow the heat to conduct into the surrounding air. Heat always conducts from warm to cold so an open fire is not always an efficient heat/cooking source particularly in windy conditions.
The Kelly Kettle has a uniquely designed fire chamber that limits the flow of oxygen to the combustibles, which means the fuel burns slower and extremely efficient. A very small amount of fuel will not only boil 37 ounces of water in a very short period, it will also heat your food at the same time using the same fuel. Once the fire is going and you are boiling water or heating food, you can easily add more fuel.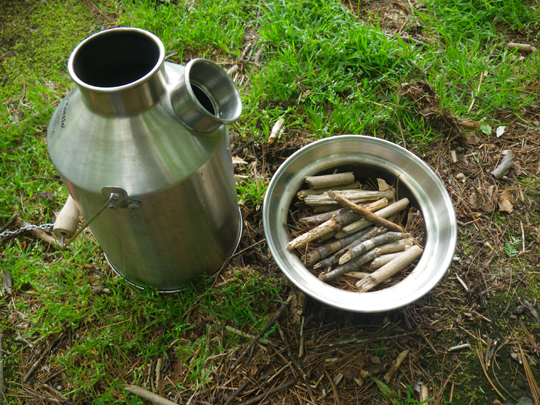 Literally, a handful of fuel is all that is needed to boil up to 37 ounces of water and heat your food in about five minutes.
To reheat/cook food while boiling water at the same time place the pot support over the chimney of the kettle. This product is ideal for packages of Meals Ready to Eat (MRE's) that can be heated by immersing the package in hot water or with dehydrated/freeze dried foods.
Survival experts will usually recommend that you carry stainless steel canteens so you can boil water in it for purification. Boiling water is the preferred method of purification over chemical treatments. Canteens however make it awkward at times and they do not allow for the heating or cooking of food.
Use the Kelly Kettle to boil your water for purification and then after cooling pour into your canteens so you can then boil more water more efficiently.
I have often posted about the importance of having a source of safe water to drink, and one way to have safe water is to bring it a boil; something you can easily do with the Kelly Kettle.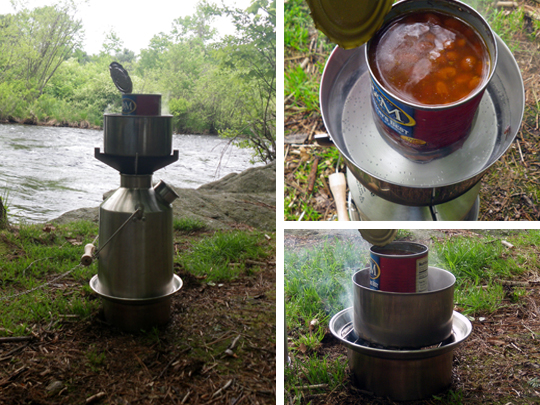 Think About This As Well
 The Kelly Kettle Scout Kit is perfect for use in areas where you do not necessarily want to leave your signature. You can use this stove in an escape and evasion situation because the flame/light is masked and the smoke is channeled similar to a "Dakota" fire hole. This stove will dispense smoke but because it uses a small amount of fuel, the smoke is limited. Use the stove under heavy foliage so the smoke is dispersed throughout the foliage making it harder to detect.
Once done the entire cook set fits together and goes into the handy carrying bag with drawstrings. You can secure the stove to the outside of your pack to save room inside. Because of the weight, and ability to store extra equipment in the stove, the Kelly Kettle Scout Kit would not be considered overly burdensome.
You can find fuel in any wilderness environment and having this stove means you do not have to trek far from base camp or have to drag large branches back to camp just to boil water or cook food. Because it's easier to get a fire going with the Kelly Kettle you're insuring you will have food and boiling water with minimum amount of effort.
My Thoughts
Just as their website promised, this Kelly Kettle Camping Stove worked great for Boiling Water and Cooking Outdoors.  I gave the Kelly Kettle a good workout several times, boiling water super fast and cooking several meals without any problems. I used it for several days fishing, making coffee, and breakfast every morning, soups and light lunches and quick dinners at night.
The Kelly Kettle worked quickly and efficiently, getting good and hot with just some small twigs as fuel. A few times, I did have to add some additional fuel (i.e. twigs, etc) during the cooking process however this was a non-issue. I never found myself having to feed fuel constantly into the stove.
The stainless steel Kelly Kettle Scout is available for $84.99 or as a full kit for just $103.99. Check out Kelly Kettle and their whole line of stoves at http://www.kellykettleusa.com/.
I would like to take this opportunity to thank Patrick from Kelly Kettle for providing me with such an amazing product to review, and to also express my total satisfaction with the Kelly Kettle Scout camp/cook stove. No matter the setting or the weather conditions, the Kelly Kettle did not disappoint; it functioned perfectly, and I believe the Kelly Kettle will prove to be invaluable to have over the years. I look forward to the Kelly Kettle accompanying me on future hikes, long drives, camping trips and alike, and I'll likely be purchasing their smallest model Kelly Kettle for my Bug-Out-Bag(s) as well as for any future backpacking trips.
Coming Soon
In communicating with Patrick from Kelly Kettle, Patrick informed me that there are some exciting new additions to the Kelly Kettle product line which are soon to be released, and are to include the following products:
The Kelly "Hobo" Attachment coming soon is an additional stainless steel ring that packs neatly inside the base of the Kelly Kettle. To use simply pull out, turn over and drop onto the existing firebase of the kettle. The attachment doubles the fuel capacity in the base thus, keeping refueling to a minimum. It has a castellated effect at the top allowing the flame and smoke to dissipate. It will of course accommodate the Kelly Kettle cook set. This attachment easily and securely holds any large pot or pan for stewing, frying and so on. Fuel can be fed through the side of the Hobo attachment without having to remove the pot or pan from the top.
Note: The new mugs 350 and 500ml mugs will fit inside our cook pot, which fits insides the Hobo without having to remove the pot or pan. This is a very simply, yet extremely useful addition to the Kelly Kettle System.
The Ultralight coming soon designed to meet the needs of the Ultralight backpacker and for use in bug-out-bags and so forth. Target weight is less than 10oz, and dimensions are 136 x 105mm.Water chamber volume is between 600-700 ml.
The Kelly Ultralight will be capable of boiling water and heat/cook food. You will be able to access the water/food chamber via a removable lid making it easy to place an MRE into the chamber with water for heating. Noodles and rice for example, can also be cooked in the chamber, which can be easily cleaned afterwards. The Ultralight eliminates the need to carry multiple pots/containers.
Although the Ultralight is designed with biomass fuels in mind, it can be used with a small alcohol stove or solid fuel tablets.
Read Full Article
Posted in
Stoves
, April 28, 2013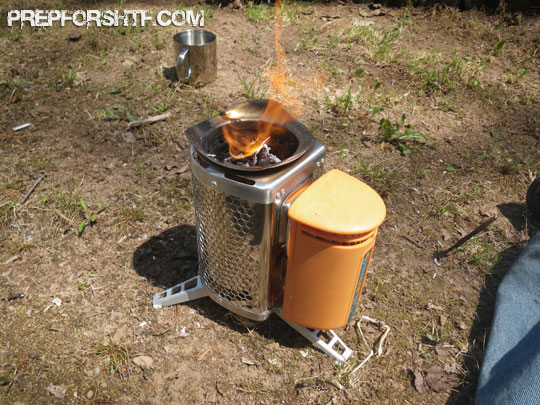 Today I did a quick boil test with my BioLite camp stove. I also weighed it because a lot of people think this thing weighs a ton for some reason, when it is actually comparable to some lighter stoves when you add the weight of the fuel that you will have to carry along with them. The BioLite weighs in at just over 2 pounds.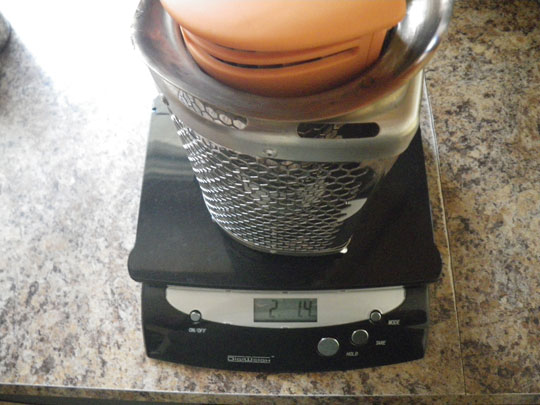 One small drawback to this stove is you can't boil water with it in a small cup as you can see using a small cup will only snuff out the fire.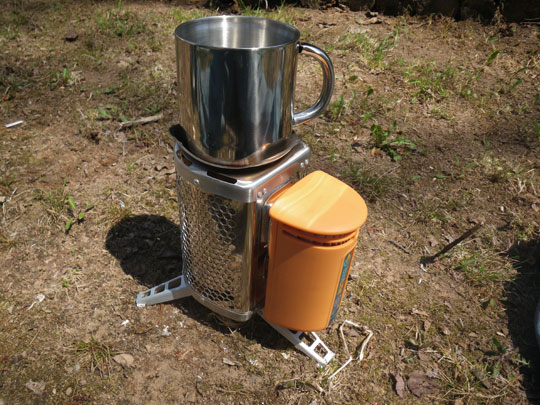 So for this test I am going to use the GSI Ketalist with 32 ounces of water and I will be running the fan on high and it's about 65 degrees out today.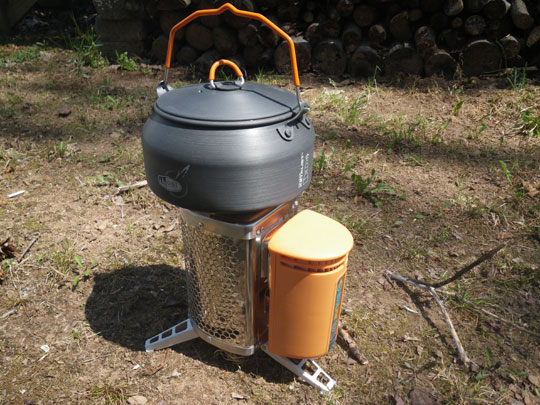 This stove on high really consumes some fuel and burns pretty hot.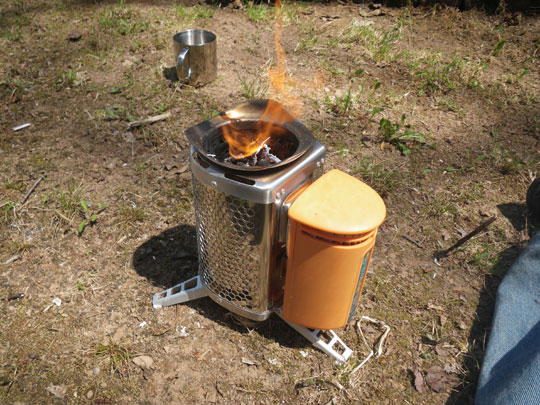 I had a rolling boil in just under 5 minutes at 4 minutes and 55 seconds, not too bad for 32 ounces of water.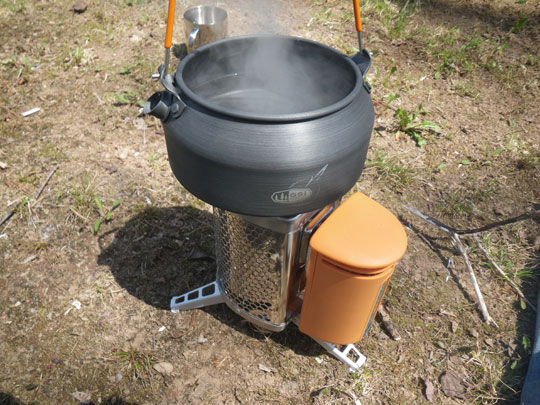 Read Full Article