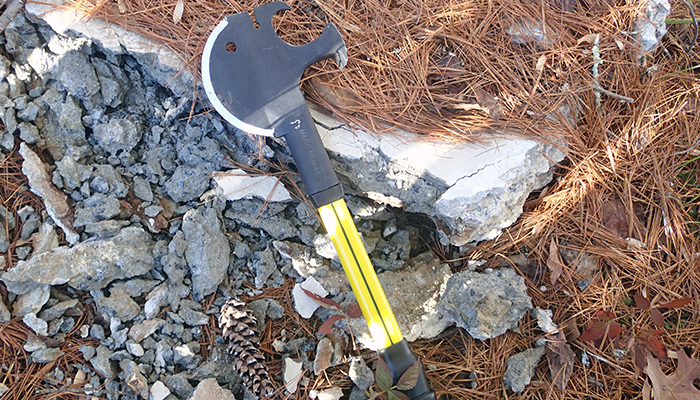 It is called the "The Trucker's Friend", but after taking a closer look we here realized it is a friend to all, because it is a tough all-purpose tool. A tool that combines the indispensable functions of an ax, (ax blade sharpened using a file), a claw hammer, crowbar, nail puller, wire twist, spanner wrench, grapple hook, tire chain hook and more.
Read Full Article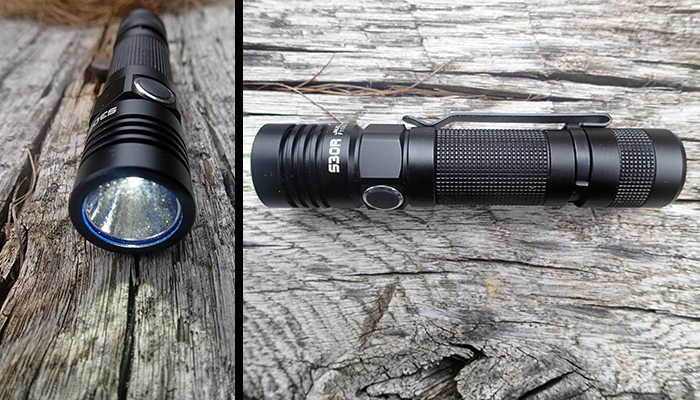 When I pulled this one out of the box, it yelled quality, which is hard to find these days regardless of price sometimes. One of the features I immediately liked is the magnetic charging base, which means you can pull it from the charger one-handed if you have to, no cables to deal with. Its things like this that can be a deciding factor for me sometimes.
The magnet is strong enough so that you can mount the base on uneven surfaces, and the light fits snug so it will not fall out of the base even if you do have to charge it on an uneven surface.
Having the ability to charge using a USB cable is another great feature, and it would pair up well with a small solar panel, which could be attached to your backpack as you hike. You could charge it in your vehicle if you have a USB port, as well, as with many of the portable battery packs and converters on the market today.
Read Full Article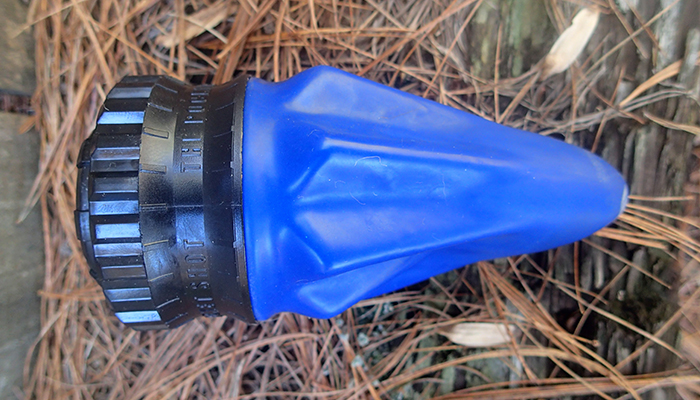 The Pocket Shot is new take on the slingshot, a natural evolution, if you will, from the traditional slingshot to a circular one that you can carry in your pocket, tackle box, or backpack, closed it measures 2.3 inches by 1.3 inches, so carry it anywhere.
It is described as a projectile launcher with a cone-shaped latex pouch that is securely attached to a fiber-reinforced composite ring, so all you do is drop your ammo into the pouch, stretch it back, and let fly.
Read Full Article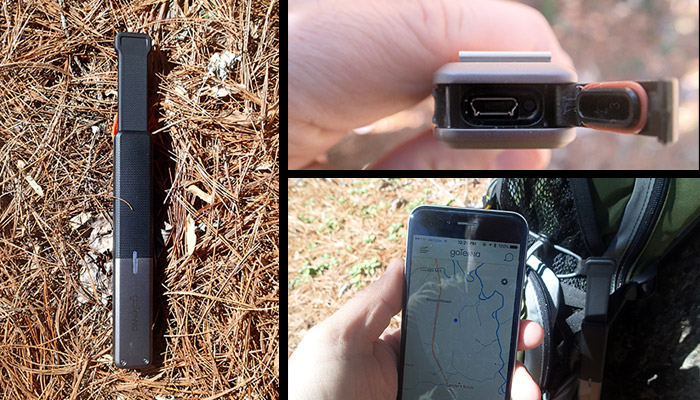 The goTenna works with iOS or Android devices.
Pair goTenna to your Smartphone via Bluetooth, and use the app to connect with other goTenna users, which can be up to several miles away. This system essentially turns your Smartphone into a walkie-talkie.
It takes less than a minute to create your own people-powered network, anywhere. This system does not require towers, routers, or satellites.
The manufacturer recommends that you attach your goTenna externally and as high off the ground as is practical for best results. Attach to the outside of your pack, or attach to your person in some manner, such as a belt loop or shoulder straps. When not moving about put the antenna where the signal is less likely to be obstructed by heavy foliage, hills and so on.
Read Full Article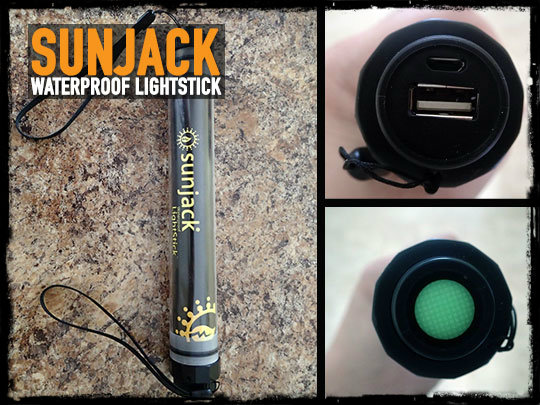 You cannot have too many lights in an emergency and when something happens you want a light that is charged and ready to go. Regular batteries in devices can leak and they can lose their charge even when the device is not in use.
Worrying about whether your devices have fresh batteries or not is the last thing you need to worry about in an emergency. Fumbling in the dark trying to locate the right size batteries, and then getting them in the device the right way is time consuming and frustrating.
If your vehicle breaks down at night you want a strong light that will provide light for hours, as well as, provide you with an emergency strobe to alert others that you are in distress.
Can you have all this and a light that has an integrated power bank that can charge your Smart phone 3 times over in any emergency. Of course you can, it is Sunjack's Waterproof LightStick™
Technical Details
350 Lumens On Brightest Setting

Integrated Power Bank For Charging USB Devices

Waterproof to Six Feet (1.8 Meter)

3 Brightness Levels Including an Emergency Strobe

Reaches full Charge in 4-5 Hours

Charges via USB Cable Which is Included

The 5200mAh Internal Battery Can Charge Up To 3 Smart Phones

Provides up To 46 Hours of Light On Lowest Setting

Weight is 0.47lbs, and the dimensions are 10.25L x 1.25 x 1.25 inches
The Waterproof LightStick's™ internal battery bank is charged/recharged using a USB cable, which is included, so this means you can charge the device from your laptop or desktop computer and from your vehicle. Newer vehicles may have a USB port in the console or somewhere on the dash for charging devices and they make USD adapters for your lighter socket.
Of course the LightStick can also be charged using a Sunjack solar panel making it ideal for camping and hiking, because the panel can be used for charging devices as you hike if it is secured to the outside of your pack.
Charge the device during the day so it can charge your USB devices at night as well as provide you with light. Keep in mind the charging time may vary when using a solar panel. The size of the panel and the amount of sunlight available may affect the charge time.
It includes two lanyards (one on each end) so the light can be secured overhead so you have both hands free. The light is ideal for working under the hood of your vehicle or for changing tires in the dark and the emergency strobe can be used to alert other motorist or used to alert rescuers if you are lost or stranded.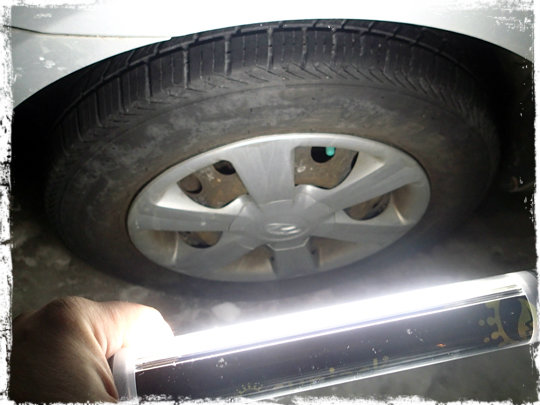 Is it rugged, and shock proof yes it is? You can literally leave it in a snow bank for hours and it still keeps on lighting. The occasional drops on the garage floor or driveway are no problem, and remember it is waterproof to six feet, so no need to worry if it is raining, snowing, or sleeting out it will continue to light up. However, make sure the end cap is secured when working with the light stick to keep moisture and debris out of the USB ports. Blue LED lights indicate the level of charge, so you know when it is time to recharge.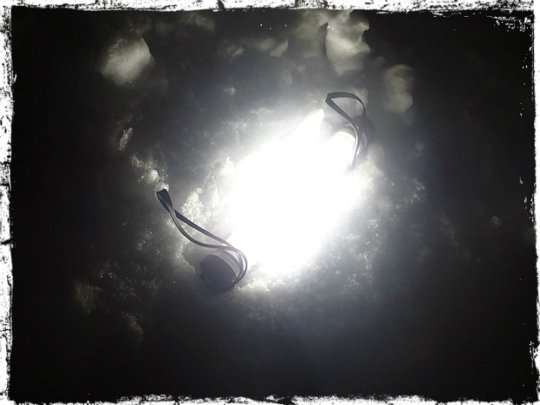 The Waterproof LightStick™ is shaped like a typical florescent shop light stick, so for some it may seem a bit big or long for a survival kit, but it can be carried in virtually any pack or lashed to the outside if needed.
The light is ideal for vehicle emergency kits, get home bags, home emergency kits and for tasks around the house and garage. Hang it under the kitchen cabinet to work on the plumbing, hang it under the hood of the car, and use it to light up a room whenever the power goes out at home.
What makes the Waterproof LightStick™ stand out from other lights is the fact it can charge your USB devices anywhere you happen to be, and that the light can be charged using various methods, not to mention the rugged and waterproof nature of the light and its three light settings and 350 Lumens on high.
An essential light that provides over 40 hours of continual light if fully charged. Even though it may be a bit big or long for a survival kit consider one for the kit anyway, because as stated earlier you cannot have too many lights, and you will be thankful if you find yourself lost or stranded that you have a waterproof light in your pack.
Final Thoughts
I like this light, and it is more than I expected. I am always looking for very portable battery banks to charge my devices, and a battery bank with a very bright light is the perfect combination. I do have a solar panel that will charge the light stick. I keep the light stick fully charged so I know my cell phone can always be charged during a power outage. Sitting in the dark with a dead cell phone is not the time to wish you had a light and a way to charge your cell phones. Now is the time to get prepared before something does happen. You can purchase the Sunjack Waterproof LightStick for $45 dollars at SunJack.com.
Read Full Article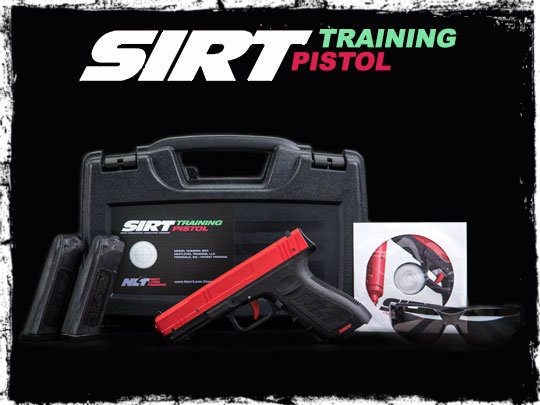 First, What Is Included With the SIRT Training Package
1 SIRT Performer
Red Polymer Slide
Red Shot Indicating Laser
Red Trigger Prep Indicating Laser
Functional features of Glock™ 17/22
Standard Sights
Two weighted training magazines
NLT Intro Training DVD
NLT Shooting Glasses
Primarily the SIRT Training Pistol is a training and educational tool with safety in mind. You can train under virtually any conditions safely. If anyone claims they do not need additional, training or practice then they are deceiving him or herself.
With the SIRT, you can practice so-called unconventional draws, for example, from your waistband, coat pocket, purse and of course from a traditional belt or shoulder rig. There are some of course that are convinced that carrying a pistol in their pocket or even purse is dangerous, but with the proper training and practice, it is no more dangerous than carrying one in a standard holster.
There are many reasons why someone would carry a pistol in their waistband, pocket or cluttered purse or even in less conventional places. You still need quick access regardless of where it is carried. You can begin now learning how to draw your pistol when wearing a jacket, or from deep in your purse.
It may not seem important now but when you are moving quickly and your jacket is, flapping around it becomes important if you have never experienced it before. Try it and you will understand how something as simple as a jacket can be problematic when there is a need to draw your firearm. You need practice to learn how to overcome this and other obstacles that can interfere with your draw.
You simply cannot purchase a pistol, strap it to your body and assume you are protected. If you cannot draw, aim and fire quickly and accurately then there is no point to having a pistol.
Additionally, you need to practice changing out magazines on the fly. Quick magazine change over's may not be a tactic you can practice on a traditional firing range, but if you cannot reload faster than your aggressor can, then you have a problem. Practice in the environment you expect to use your self-defense firearm.
Where do you carry your pistol and are you worried, you cannot draw it fast enough in that position. It can be difficult to practice with a real pistol in certain situations. Keep in mind many firing ranges do not allow you to practice certain tactics and you may not want to practice at home with your "real pistol" because of children or various other reasons. Now you can practice virtually anywhere so you can find the best place to carry your pistol for quick access.
Dry firing is a method for practicing when not at the range, but it is simply not the same in most cases, and beside you have damage to the firing pin to consider as well. The SIRT Training Pistol is perfect for dry fire exercises.
The SIRT Pistol is the ideal training tool for instructors. You can now essentially train in any environment safely. After all, you and your pupils will not likely be using your firearms for self-defense at the firing range, so why not train safely in the environment in which the pistol is most likely to be used. At home, in your vehicle, or even on a dark and deserted street are just some of the places.
The SIRT Training Pistol allows you to make mistakes that do not have life altering consequences. When practicing any survival technique you should always practice in a controlled environment so mistakes can be used as a learning experience.
The SIRT Training Pistol comes with two lasers, and they are very important ones. The first laser illuminates when pressure is applied to the trigger. This helps you develop trigger control, (to control the take up of the trigger), but keep in mind the lasers are not aiming tools.
The first laser is designed to help you "prep the trigger" before firing. The draw, the handgrip and bringing the weapon up is important, but if you cannot get a "feel" for the trigger then you will develop bad habits like jerking the trigger. This laser can be turned off at any time.
The second laser illuminates when the trigger breaks. Using the first and second laser correctly lets you know where you are with the trigger at all times. To recap, the first laser indicates when pressure is applied and then the second one illuminates when the trigger breaks.
With practice, you will have complete trigger control and this of course means greater accuracy even when firing in rapid succession. It will take practice and concentration, but once you have developed the right habits, follow up shots will be smooth and effortless.
Included with the package is a trigger adjustment tool so you can make adjustments to make it feel more like your own carry. Practice and more practice with the training pistol will reduce or eliminate your bad shooting habits.
Who Can Benefit From Having the SIRT Training Pistol?
Anyone that carries a pistol, or is considering carrying a pistol can benefit. There is probably no such thing as practicing too much. However, practicing with a real pistol can be problematic in some cases.
Instructors can now train in various environments and present different scenarios safely. Anyone that wants to practice at home, in his or her vehicle or anywhere for that matter can now do so without worry.
So before you spend another dime on ammo, I highly recommend that you take your training to the next level and give a SIRT training pistol a try. You can learn more about the SIRT Training Pistol at Sirtsurvival.com.
Read Full Article
If the sun is shining, or even if it is not you can be charging your devices. You can charge your mobile phones (compatible with most), iPads or tablets, any USB lighting devices, digital cameras, MP3 players and gaming devices.
The SunJack includes a fast-charge 8,000mah battery that can be fully charged in roughly five hours. From this point, you can charge your devices overnight if needed no need for sun in other words, or you can directly power any USB device from the SunJack when the unit is placed in direct sunlight.
The powerful 8,000mah Sunjack battery when fully charged holds enough charge to power up four iPhones.
The SunJack's battery can also be charged from any standard micro-USB plug. This means you can use your vehicle's USB port (many newer models have one) or from a laptop computer for example, if you want a full charge before leaving on your adventure. It will take up to five hours for a full charge using this method.
Portable power on the go, you can take the SunJack anywhere with you. Take it camping, hiking, or on survivalist training deep in the backcountry. Have one in your disaster preparedness kit, one in your car, bug-out-bag, hiking backpack and in your camping supplies.
Specifications:
Solar panels: 14 watts of high efficiency mono-crystalline
Max output voltage/current: Two 5V/2A USB ports
Battery: 8,000mAh lithium-polymer battery
Size folded: 6.75" x 9.25" x 1.75" (17.15cm x 23.50cm x 4.5cm)
Size unfolded: 30.75" x 9.25" x 1.75" (78.11cm x 23.50cm x 4.5cm)
Weight: 2lbs (907.19grams)
At 14 watts, you can still charge the battery with indirect sunlight and on cloudy days in some cases. Some other charging panels may only be five watts and they simply will not charge unless in direct sunlight for the specified period.
The Sunjack at 14 watts ensures you can charge the included battery virtually anywhere there is sunlight, and not necessarily direct sunlight. Having 14 watts and two USB ports also allows you to charge more than one item at a time, charge your iPhone and iPad simultaneously.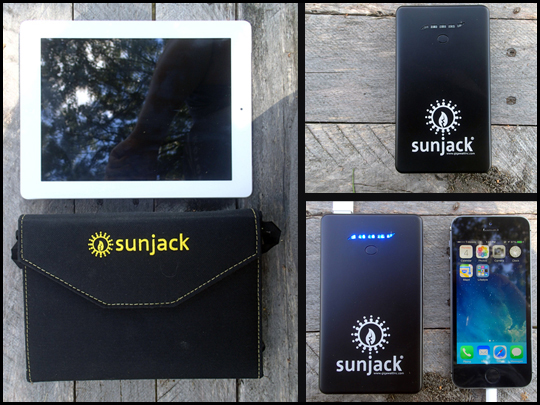 At some point, you will be in a situation where you do not have power, so this means you do not have the ability to charge your cell phone. This can happen right in your own home or while camping, hiking or even if you become lost or stranded.
If you have the SunJack with you then you have one less problem to contend with and not having communications during a crisis is a big problem that needs to be addressed before you experience such a situation.
You do need a means of charging your devices during a power outage, if your vehicle breaks down or while out hiking and you find yourself lost. One less worry means you can focus on other tasks needed for survival.
It only weighs two pounds and folds up nicely (similar to an iPad) so you do not need to make special arrangements or leave anything out of your pack to accommodate the SunJack when packing for camping or hiking. Once at your campsite simply unfold where there is plenty of sun for optimum charging and then go about your other duties. You do not have to monitor the device while it charges.
The SunJack 14 watt portable solar charger retails for $150.00 to see a full line of their products visit TheSunJack.com. The optional light weight SunJack 340 lumen USB CampLight (equivalent to a 40W incandescent bulb)  will fully illuminate a tent at night and makes a great addition to this charger.
Read Full Article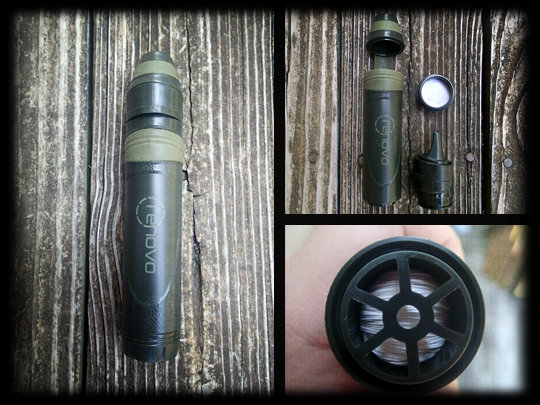 Without clean drinking water, there is nothing else. You can have plenty of food, the latest and best gadgets, but if you do not have clean, safe water to drink, then all is for naught. Stockpiles of water are important but stockpiles run out and usually sooner than you had planned.
You need the means to make possibly contaminated water safe to drink. You need more than just an emergency water supply you need to be able to create your own supply from any surface water source available. You need a reliable water filtration device.
The Renovo Trio 3 Stage Water Filter is one such reliable water filtration device. The Renovo is not just designed to filter out turbidity; it does a great deal more.
There may be surface water sources available such as lakes, ponds, streams and even mud puddles but these sources are not safe to drink from unless properly filtered.
The Renovo has a stage 3-carbon filter, a stage 2 UF filter and then a stage 1 pre-filter. The pre filter is rated at 5 microns and it is designed to remove heavier debris, which means you can use the filter with turbid water sources. Mud puddles would be one example of a turbid water source. Floating insects, pieces of wood, leaves and vegetation particles are removed by the stage 1filter. Once the heavier debris is removed, the filtration system starts to filter out micro-contaminates.
Specifications
UF Filter Pore Size:  .05 Microns
Dimensions: 7.1″ x 1.4″
Weight is 3.5 oz.
Capacity:  1000L
Flow rate:= 200 ml/min
Will the Renovo remove protozoa? Yes
Does it remove bacteria? Yes
Will it reduce viruses in the water? Yes
Does it reduce heavy metals in the water? Yes
Will the Renovo reduce chemical compounds in the water? Yes
The Renovo Trio 3 Stage Water Filter is designed for use with hydration bladders, but can be used as a gravity filter or screwed to the top of certain types of bottles. The important thing is however, that the Trio is between you and a contaminated water source filtering out deadly chemicals, viruses, bacteria and protozoa.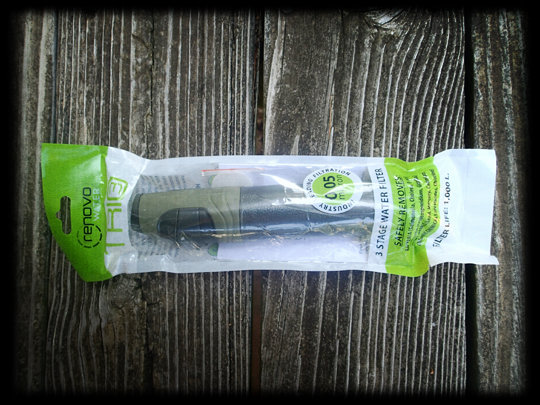 The Renovo comes in a hermetically sealed bag and if left sealed the filter can be stored for 25 years. Once exposed to air the activated carbon used in the filtration will start to degrade somewhat. This of course does not have any effect on water filtration, but it is something to keep in mind when purchasing. If you plan to buy with storage in mind, do not open the packaging, simply store in your emergency kit, bug-out-bag or in your vehicle unopened in the original packaging. Replacement filters (purchased separately) are also packed in a hermetically sealed package.
In years past filtration device simply filtered out sediment, and possibly some bacteria clinging to certain types of sediment. Generally, water was filtered, and then purified using chemicals such as iodine or bleach or boiled if there were a means to do so.
Technology of course has advanced over the years and thus you now have the Renovo Filtration system.
Take it from someone that has in the past drunk from questionable water sources because devices like the Renovo were not available, a quality filtration device can be a lifesaver.
Iodine tablets where always the preferred choice for those traveling in the backcountry but iodine has its drawbacks as does bleach. Of course, filtering and rapid boiling is the preferred choice if available, but in many survival situations, this method is not always available.
The Renovo can be carried and used by anyone. It is not complicated from a user's standpoint by any means. It can be carried in any pack or even a pocket if needed and it is needed by anyone that may have to deal with natural disasters, a broken water line where a boil order is issued in your community and by any outdoor enthusiast.
Make sure you have one in your bug-out-bag, emergency kit in the home and have one in your vehicle because you simply never know what the day may bring. This device can save your life. The Renovo Trio sells for $33.00 to learn more about the the Renovo Trio 3 visit renovowater.com.
Read Full Article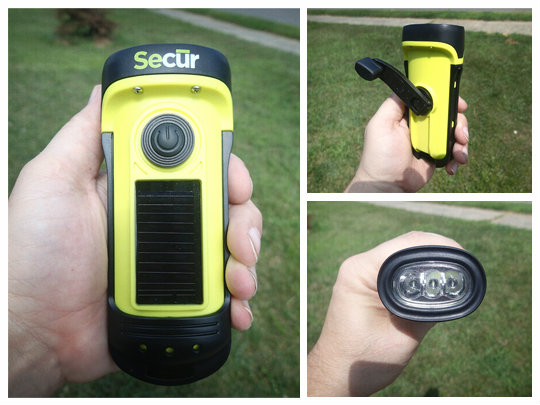 The Waterproof Solar/Dynamo has the best of both worlds, solar and crank power. What is one of the first things an emergency checklist has on it, batteries of course? Batteries are expensive, and they do not last long, or as long as they should relevant to how much they cost. They can corrode in your pack or device and it seems when you need them the most they fail.
Secur Waterproof Solar Dynamo Ed Flashlight Model Number Sp-1002
The Solar Dynamo Never Needs Batteries
It Charges by Built-in Dynamo or Solar Panel
It is Waterproof to 45 feet
3 functions one LED, three LEDs, or three LEDs flashing
SPECIFICATIONS: 
Flashlight power is up to 8 Lumens
Lighting time with a full charge is 4 hours using 3 LEDs, 8 hours with 1 LED
Charging time, 1 minute of cranking equals 80 minutes lighting using 1 LED
Charging time of 1 hour in direct sunlight gives you 120 minutes lighting using 1 LED
Life of LEDs is 50000 hours
Battery capacity , 80 mAh, Ni-MH battery
6" x 2.5" x 1.75"
With the Solar/Dynamo flashlight, you can crank for a few minutes and have all the lighting you need for any task or any emergency. During the day, you can simply leave, it in full sunlight, and it will fully charge, no effort, no batteries, and no worries using the built in solar panel. The built in solar panel can fully charge the device with no need for cranking.
Secure the flashlight to the outside of your pack so it receives direct sunlight, and it will be fully charged when ready to make camp for the night.
Waterproof to 45 feet, that is 45 feet underwater that it's waterproof up to, so it's not just "water resistant". This makes it perfect for any task in any emergency use it in a pouring rain, during a flood or any disaster.
Its dark, it is raining hard and your car has slid off the road, you need a light you can depend on. You have enough to worry about so never be in the position again where you have to worry if the batteries are fresh, wonder how long they will last and can anyone see me standing on the side of the road. You need a strong dependable light at this point and you need one that will not fail, in the rain, sleet or snow.
You can use the 3 LEDs flashing mode if you need to signal for help, or to indicate your position in the dark, in any situation.
Why do manufactures sometimes give a depth when describing waterproof devices? It either is waterproof or not, right. There is a difference between "waterproof" and can something be submerged. Water pressure increases the deeper underwater you are, so this means the waterproof seals must be manufactured to hold tight under pressure at certain depths, so to be waterproof at 45 feet means it meets a very high standard of manufacturing.
Some so-called waterproof devices cannot be submerged because they are not manufactured to withstand water pressure. Some device are considered waterproof in a rainstorm but cannot be submerged without permanently damaging the device. Just like a diving watch, some are rated for certain depths while others would fail at that depth, but can be worn when washing hands, in the rain or even when showering without damage.
The Waterproof Solar Dynamo Ed Flashlight is also great for camping and one ideal use is for trail lighting. Imagine trying to stumble to the latrine in the dead of night in the woods. Easy enough to get lost trip or knock your head on a limb, all this just a few yards from camp in the dark.
Why not set a few Solar/Dynamos along the trail. With a full charge at the "1 Lumens" setting, you get eight hours of lighting, which makes it ideal for trail marking. You can leave any trail marked for hours at night to guide others to your campsite, or to help you find your way around camp. The best part is no need to put in fresh batteries in the morning.
The Flashlight has a lanyard slot for attaching cordage or you can use it with a hook. This means the light can be secured to any pack, hung around the neck with a breakaway lanyard, or hung overhead for hands free working at night or even for reading inside your tent.
Have one in your bug-out-bag, home workshop, home emergency kit and certainly have one in every vehicle.
The Secur Waterproof Solar/Dynamo Ed Flashlight can be purchased for $19.99 to see a full line of their products visit securproducts.com
Read Full Article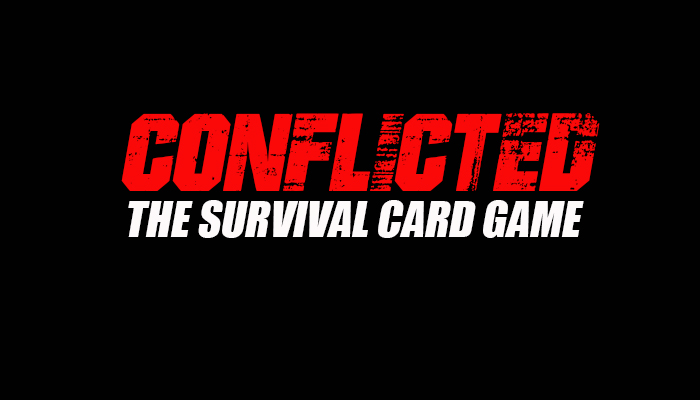 Some of you may be wondering what a card game can do for you in a survival situation. It is not about what the card game can do, but about what decisions you would make during a crisis.
The game is designed around situations/scenarios that will arise when the world has turned chaotic.
The game presents you with a series of what ifs. The Conflicted Card Game will get you thinking, and when played with a group it allows you to know what others are thinking and how they will react in certain situations as well.
Read Full Article