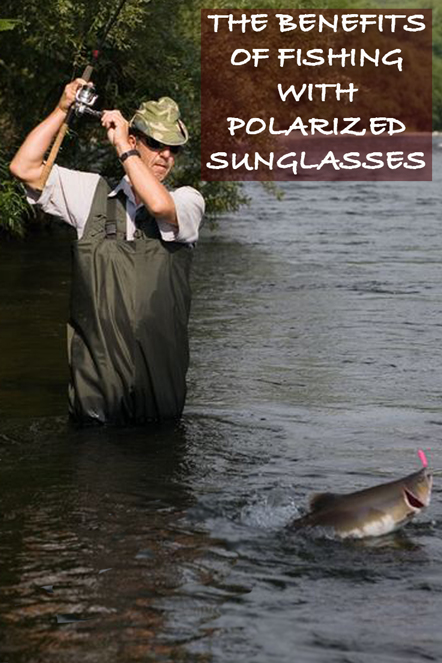 First, what do polarized lenses do, and then we will discuss the benefits to anglers.
When light is reflected from a smooth surface such as water it is what is referred to as "horizontally polarized", which simply means instead of being scattered in all directions, it is more focused in a horizontal direction, which causes intense and sometimes dangerous glare.
Polarized lenses block this type of glare or reflected light. When wearing polarized lenses, even on cloudy days you will notice the haze or halo is reduced or eliminated as well.
Read Full Article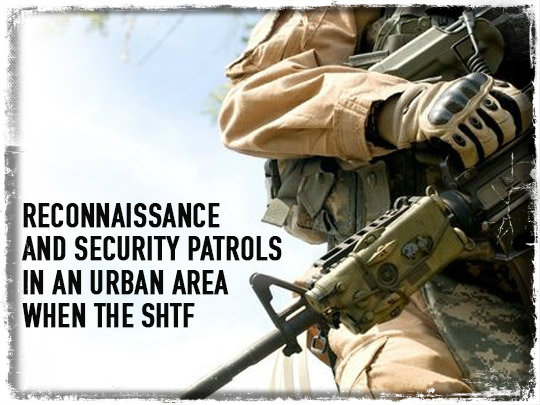 Reconnaissance or Recon patrols are typically sent out to gather information such as enemy numbers, and in the case of a Prepper group, they would also be used to locate resources, and generally keep track of the comings and goings of others that may or may not pose a threat. The patrols would normally range beyond any security patrols. In fact, they may cover many miles in and around a city in a single day.
Security patrols are usually sent out to detect threats that may be directed at the base camp or Command and Control Center. A security patrol would be the first to know of an attack directed at the base camp and they would need the means to provide advanced warning to the camp so they can prepare.
Read Full Article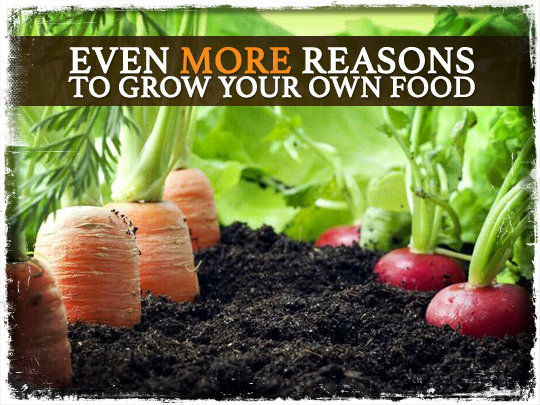 As if you needed any more reasons to start growing and raising your own food, Chipotle restaurants have now given you one more reason.
Chipotle restaurants are noted or want to be noted for using organically grown foods. Obviously, the growers cannot use commercial fertilizers and still call their product organic, so they typically use animal manure for fertilizer. Before the manure can be used however, it must be composted for a specific period, but foods grown in other countries are not regulated as heavily as they are here in the United States.
The manure may go directly from the barns to the fields, bypassing proper composting practices, which would have eliminated the bacteria in the manure, bacterium that has sickened close to two dozen people so far.
In addition, human feces has been found on some food products grown in other countries, so it may not just be animal manure being used as fertilizer. In fact, in July 2015, the FDA banned Cilantro from Mexico because of human feces in the fields.
Once in the fields it is not a far stretch to imagine it is on the leaves of your produce as well. Some foods do not require cooking that would kill the bacteria, and a quick rinse may not be enough to remove the bacteria (Stapleton, 2015).
Foods from other countries or even from this country could pose a health risk if not properly grown and processed, and part of the processing to ensure you are safe must be done by you. You have to clean any foods that will not be cooked to a high enough temperature to kill any bacteria present on the product.
You simply cannot buy fresh produce carry it home and slice and eat. You shouldn't do this even with produce you grow yourself. A proper scrubbing and rinsing is important to wash away contaminates on the product. You also have to clean fruits and vegetables that have heavy skins that are not usually eaten. The knife used to cut into the product will carry the bacteria inside to the edible parts, as will your hands, if you handle the skins before washing the skins and your hands thoroughly.
If you compost at your homestead it has to be done properly to ensure the organic matter has been broken down (decomposed) correctly. This requires heat, which is generated by the decomposition of organic matter. Cow/horse manure can be composted, but it should compost for up to six months before being used as fertilizer. The heat generated must reach a certain level and maintain at that level.
Hot composting manure before applying it to your garden will kill parasites and reduce seeds from any weeds in the manure. Hot composting balances food, water, and air in the compost pile to favor the growth of much needed microorganisms that thrive in high temperatures.
It takes one-half to one cubic yard of fresh organic matter for the pile to reach the recommended temperatures for hot composting", states Nick Andrews, small farms specialist with the OSU Extension Service. "The pile should also have a balanced carbon-to-nitrogen ratio and good moisture and oxygen supplies (OSU, n.d.)."
Associated Press (2015, November 3) Retrieved 2015, from http://www.foxnews.com/health/2015/11/03/officials-identify-microorganism-responsible-for-chipotle-e-coli-outbreak-shift-focus-to-suppliers.html?intcmp=hplnws
OSU. (n.d.). Retrieved 2015, from http://extension.oregonstate.edu/gardening/turn-manure-compost-your-garden
Stapleton, A. (2015, July). Retrieved 2015, from http://www.cnn.com/2015/07/28/health/mexico-cilantro/
Read Full Article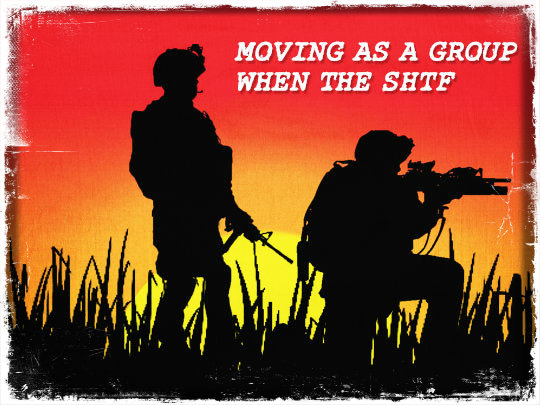 Previous articles have talked about Prepper groups, and whether you should be a part of one or not, and how to establish one, and who and what to look for when choosing members. This article, however, will assume you will end up traveling with a group of people, whether that was your original intent or not.
We as humans tend to seek out other humans, particularly during a crisis. Your objective during a calamity would be to separate the sheep from the shepherd however, if you end up traveling with a group.
Read Full Article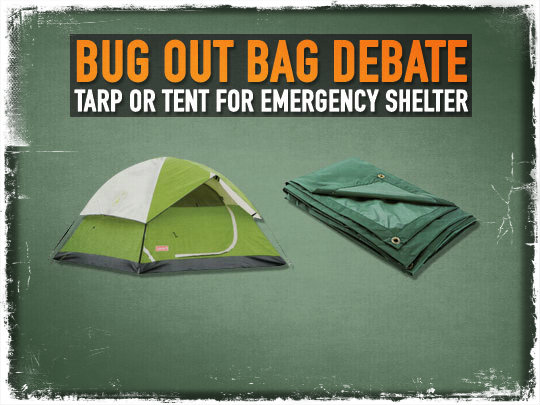 Bug Out Bag Debate: Tarp or Tent for Emergency Shelter
A Bug-Out-Bag Is Designed For Emergencies, So Some Inconvenience Is To Be Expected
When on a family outing, you can carry a six or eight person cabin tent in the back of your vehicle. Weight is not a large factor when you can pack your supplies in the cargo space of an SUV or pickup.
Read Full Article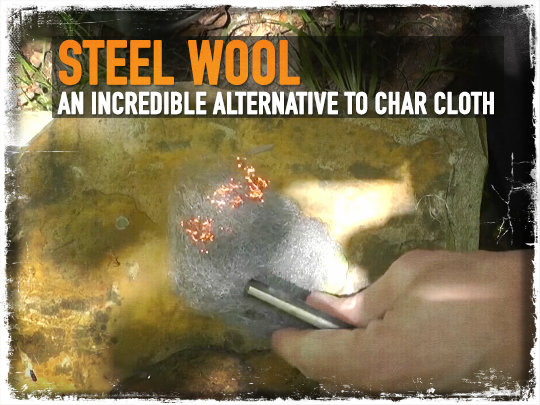 Steel Wool is inexpensive, lightweight and is a much better alternative to char cloth when used for making fires. Steel wool takes a spark just as easily as char cloth but burns a lot hotter than char cloth and can even be used if it gets wet.
Another plus to steel wool is that you can use batteries to ignite it. So check out this excellent video by The Outdoor Gear Review to see how well it works and throw some in your fire kit because you never know when it might come in handy.
Read Full Article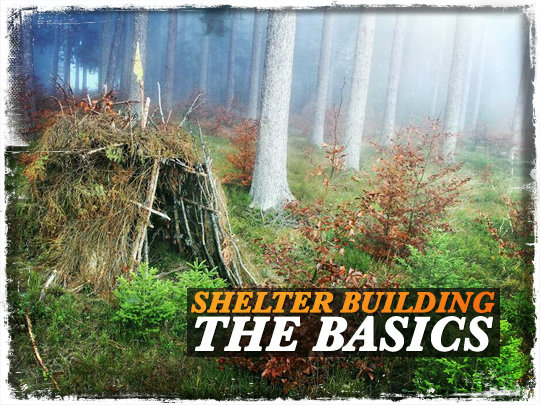 A previous article talked about the importance of shelter placement, so we will not discuss shelter locations in great detail other than to say it may be one of the more important aspects when it comes to your safety. Today's article will discuss other aspects of shelters such as size, and materials and why you need one regardless of temperature and weather.
Size
In cold weather you want it just big enough for your body, and whatever gear you have. The smaller the shelter the easier it is to heat and to retain your body heat. You also do not want to expend a lot of energy and materials building your shelter.
Materials
If you start out unprepared to shelter overnight or even shelter for a few hours then you will have to construct a debris hut or find a natural shelter. Something as simple as breaking a frigid wind or blocking the hot rays of the sun can save your life.
In cold weather however, you will need to insulate your body from the cold ground, so you will need materials such as leaves, pine boughs, pine needles, and dried grasses for ground insulation. A simple waterproof ground cloth would not provide enough ground insulation in cold weather.
Mylar blankets can be used for emergency shelters if you have cordage and other means of securing the material, otherwise a slight breeze can carry the blanket away. Use the blankets along with forest debris. Once you have a debris hut built line the inside with a Mylar blanket to reflect heat in cold weather and use on the outside in the summer to reflect the hot rays of the sun away from the shelter.
Once you have the poles in place any forest debris can be used to help repel rain and snow and to block cold winds and even the sun. Your shelter can be as simple as placing some stout saplings against a fallen log or you can build a tepee style shelter by creating a tripod and filling in the sides with saplings and forest debris.
You can scoop out the soil under a fallen log to create a body sized depression. Pile some debris on one side to create an ad hoc lean to shelter. Build your fire so it reflects into the depression, but of course be careful not to set fire to your new home.
Soil and snow make great insulators for the sides of your hut, but it will require some work to make your hut as warm as possible. It is important to set out on your day hike or other outdoor adventure prepared to shelter overnight. Tarps and Mylar blankets and even the heavier Mylar blankets are lightweight and can be carried in any pack or even folded/rolled and lashed to your body.
For those that think they do not need a shelter at night in the woods in the summer months probably should never get caught in the woods after dark. Once the sun goes down you can get ground fog which can soak your clothing and settle on your skin, and then once the temperature drops you may very well feel cold. Hypothermia can develop at temperatures around 50° F. Cool air combined with high humidity/moisture could spell problems.
You cannot simply drop to the ground and go to sleep. You need some protection from insects, four legged predators, and even reptiles to some extent. Shelter is important and it must be planned for, and be adequate any time you spend a night in the woods.
Pack for the seasons. In the winter a tarp/poncho may not be sufficient for overnight. They are ideal for blocking cold winds for a few hours, or providing shade in the hot sun, but for overnight in extreme cold you may have to use a tarp or poncho along with forest debris to make a warm shelter. Know the terrain and weather patterns before you set out so you can pack your kit accordingly.
Read Full Article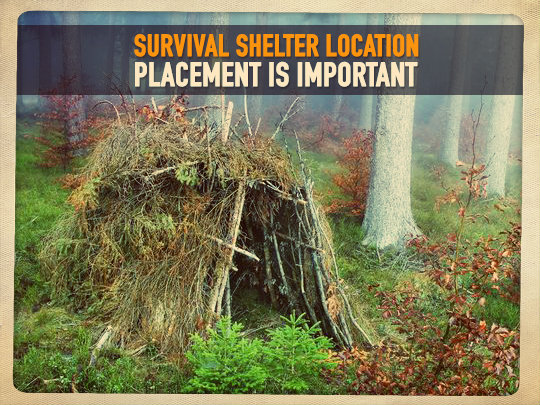 Shelter can mean the difference between life and death in a survival situation, and so the importance of a shelter cannot be stressed enough. However, your shelters' location is just as important, and it is something that must be carefully considered.
Your shelter will protect you from cold winds, the scorching rays of the sun, from rain, snow, from insects and from predators that prowl the night as well. Mother Nature is unforgiving and she will insist on near perfection when it comes to the location of your shelter.
Read Full Article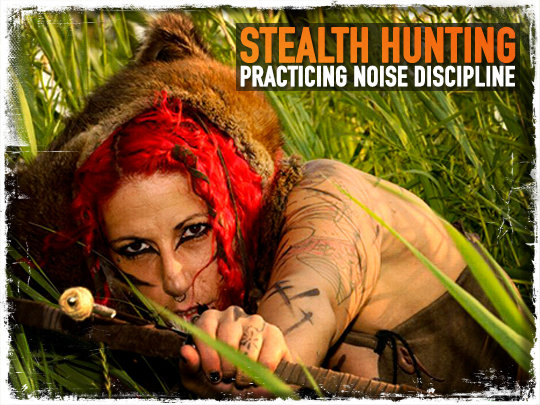 If they can hear you they can find you. In some cases, you will have to minimize your noise signature so as not to comprise your location, or mission if you will. In a grid down scenario or in certain other situations, you may have to hunt to survive, and you may have to hunt using stealth and noise discipline to keep your location or the fact you are even hunting a secret.
Read Full Article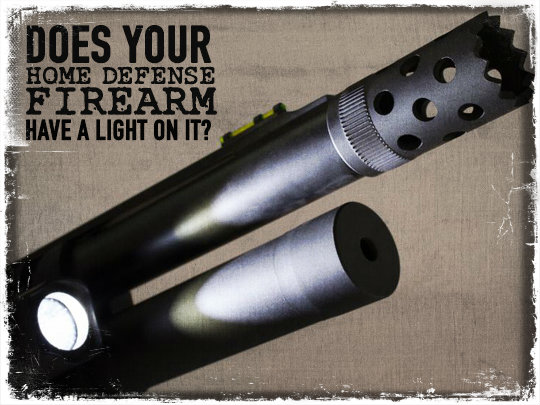 Does Your Home Defense Firearm Have A Light on It and Do You Even Need One?
If you cannot see, you cannot shoot. Family members have been killed, or injured by other family members shooting in low light, or no light conditions. Someone sees a shadow or senses movement and the trigger is pulled. Lighting up a potential target may reveal it is not a target at all.
If you cannot see what you are shooting at then you have no idea who you are shooting at.
You can of course turn on the room's lights, but your night vision is gone once this happens and there may be an aggressor (s) in the room with you. If you turn a light on in a room and you are in the same room, then you cannot see into other darkened rooms. A tactical light mounted correctly lights up the target or the area where you suspect a target is, not the entire room, thus preserving your night vision.
Read Full Article