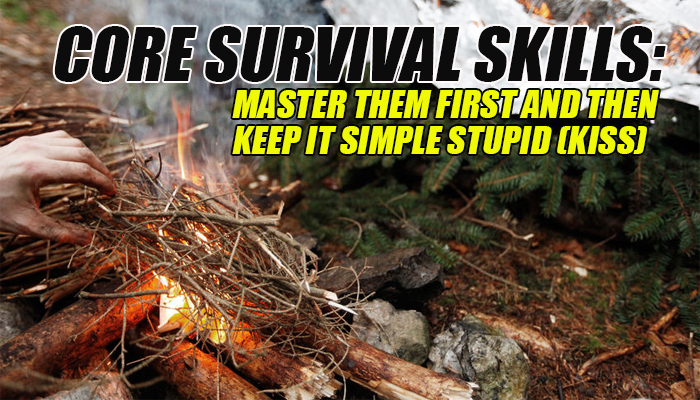 You have probably heard of the KISS concept, but do you really know what it means.
KISS is an acronym for "Keep it simple, stupid" as a design principle noted by the U.S. Navy in 1960. The KISS principle states that most systems work best if they are kept simple rather than made complicated. Therefore, simplicity should be a key goal in design and unnecessary complexity should be avoided.
"If you can't explain it to a six-year-old, you don't understand it yourself." – Albert Einstein (Anderson, 2014).
When practicing your skills, imagine you are explaining what you are doing to someone else. If you can't explain what you are doing then you need more time, more practice. Use this as a learning technique to improve or hone your own survival or Bushcraft skills, you may never achieve perfection, but you do want to achieve permanent. You want your skills to last, as we stated in an earlier article your successes from practicing have to outlast your failures.
The Basics
If you cannot make a fire in the middle of a pine forest, in a rain forest, or on a snow covered mountain in Montana, you won't survive long. You need fire for warmth, cooking, lighting up the night and for a psychological boost, also to repel predators and flying pests, and most importantly in many cases, you need fire to purify water.
Humans that lived 10,000 years ago needed fire to survive every day. We need it today as well. We need fire to burn propane or natural gas to heat our homes, heat our bath water, cook our food, and even power vehicles, in some cases. We also need fire to cook our steaks and chicken on the grill, but it all seems so easy, well it is easy today, except when it's not.
Just because you have matches does not mean you can get a fire going. What if the wood is wet, the ground soaked, or snow covered, and what if there is no wood.
No wood, well certain animal dung when dried makes a very hot fire, do you know what kind of dung? Herbivores are those animals that only eat plant material. Plant material that once dried will take a spark. Once you have created an ember, it will burn like charcoal briquettes. It will boil water, heat your shelter, and cook your food.
Matches, lighters, Ferro rods, and magnesium sticks can be carried in your pockets, packs, and vehicles. In fact, you should have all or most of these fire-starting tools in your cars, packs, and pockets at all times.
Along with the above mentioned, you can carry dry tinder, such as wood curls and cotton balls, along with fire aids such as petroleum jelly, cigars (they hold an ember), alcohol-based hand sanitizer, strips of duct tape, (duct tape burns) and then wrap them all up in aluminum foil. The foil gives you a dry base in which to build your fire if the ground is saturated or snow covered.
If the wood you need is wet, you can split branches to reach the dry core and lay the dry side over your small fire, or shave the outer bark until you reach dry wood. If you have enough dry fuel, you can dry larger pieces of wet wood next to the fire.
You have to be pro-active. The underside of bark can be dry and used, or wood lying under downed trees and wood found under rock shelves can be dry as well. You need to assess or zone the area immediately and begin the hunt for fuel.
Simply put if you have matches, magnesium sticks, Ferro rods and fuel you can start a fire, providing you know how to use a Ferro rod and magnesium stick. There are videos on how to build the perfect fire, but perfect is not required, but some practice is. Practice may not make for perfect but if you practice something, long enough the information becomes permanent, which is actually better than perfect.
Okay, fire has been discussed, so now what. Well how do you get those perfect wood curls, how do you split sticks to reach the dry center, and how do you clean your fingernails.
You need a knife, a decent knife, not a 300-dollar knife, but one with a full tang, sturdy blade and one that can hold an edge. Stainless or carbon steel, carbon steel blades are stronger but they rust and it takes more effort to put a good edge on one, however, once sharp they stay sharp longer.
Stainless is softer, easier to sharpen and rust is not a problem. All that said, though, your knife needs to be able to clean fish, spread jelly on your toast, skin a rabbit or deer and cut up your food and be stout enough to split saplings, make wood curls and in some cases be able to dig small depressions in the ground. Choose carefully and you don't need to spend a fortune either.
If you can make fire and have a good fixed blade knife, you can go far, so far in fact, you can survive. Forest debris will be your shelter. Long grasses can be cut and twisted or braided into cordage to help build your shelter or you can excavate under a downed tree to make a small space or find a downed tree and use the root ball as shelter by cutting vegetation, pine boughs, and so forth to enhance the roof and sides. Simply entwine grasses, pine boughs or any vegetation in and through the roots sticking up.
Learning how to make a fire in any situation takes practice, so never leave home until you know for sure you can, and, of course, always have the needed materials. Have a knife at all times, and know how to build a shelter from forest debris, which also takes some practice and a certain skill set that you must advance.
After all that, you go on to make tools such as spears for fishing, and long bows for hunting and stone arrowheads for the arrows or even spearheads. Cordage is everywhere if you know where to look, and you very likely have some on your person right now. 
While we said Bushcraft is simplistic, it requires work, knowledge and a skill set. You cannot wake one day and decide you want to be Mick Dodge. You will need food, clothing, and tools. You can, of course, make all of what you need, if you keep your needs simple.
One approach is to combine, prepping, training, and preparing for a crisis in your community, off grid living along with Bushcraft skills. This doesn't mean you live in caves and hollow logs, it doesn't mean you hunker in a bunker or string razor wire around your home. It means you learn all you can about living where and how you live now and learning how to live if your home is gone and you are heading for the hills.
Learn how to survive until rescued, this means having an EDC/survival kit with you at all times. The basics are simple, KISS remember, fire, water, shelter and then food, but food is not as important unless you do plan to live in logs and caves as a chosen way of life.
Anderson, A. R. (2014). Retrieved 2017, from http://www.forbes.com/sites/amyanderson/2014/02/27/keeping-it-simple-doesnt-mean-youre-stupid/#500d894672ca