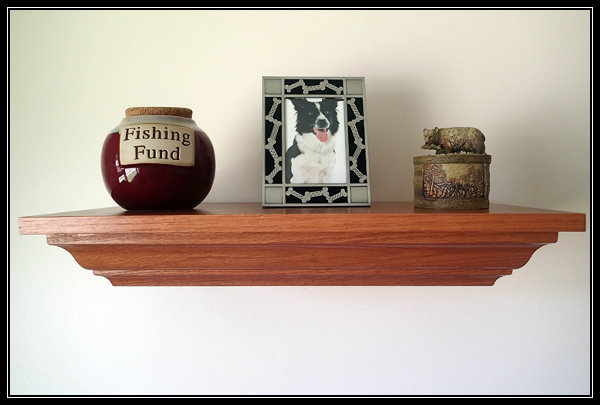 Covert Cabinet Handgun Cabinet HG-21
A major concern homeowners have when it comes to home defense is gun safety along with quick access to their firearms. Considerations include keeping home defense firearms out of the hands of children and others that may live in, or have access to the home. You simply cannot have weapons displayed openly for various reasons with safety being a priority.
However, you still need the ability to protect your family and possessions and having a firearm locked away in a safe can be problematic when an intrusion occurs. One option, and a very good option by the way, is to install a Covert Cabinet Handgun Cabinet. They are hardwood cabinets made specifically for handgun storage, while still being able to store other items as well, such as documents, cash and valuable jewelry.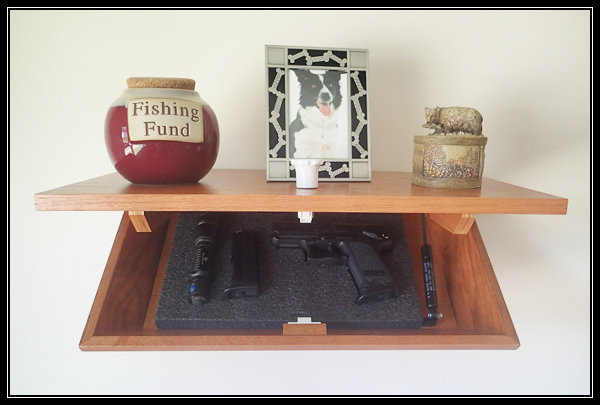 Theft of your firearms is a major concern, and thieves have been known to carry off small gun safes or other storage devices. Locked boxes always indicate valuables to a thief. Thieves generally do not even look at shelving, let alone carrying them off, making them the ideal hiding place for firearms.
Made of real hardwood, these cabinets, as they are called, are made in America. They can hang on any wall in any room in your home or office. They are not made of composites or particleboard but real hardwoods in either maple or oak. Once hung on the wall there is absolutely no indication they have a secret storage compartment. Items can be placed on the shelves and left there. Items on the shelf will not interfere with your access to firearms or other valuables.
Locks, latches and hinges are hidden from view with no indication even under scrutiny that they are present when the compartment is closed. The compartment drops down from under the shelf. The interior lock is magnetic that requires a magnetic key to access, which of course is included.
The storage compartment does not simply drop open, spilling things when you activate the magnetic lock to open. The hinges operate smoothly using a "Stabilus" dampener gas spring. However, the hinges do operate quickly giving you immediate access to what is inside.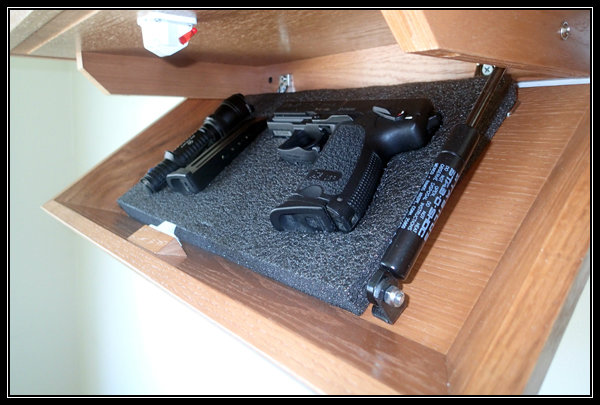 Once on the wall small children cannot gain entry, because first, they are well above their reach and secondly a key is required for entry. Children of course are curious, so if they know there is a secret compartment they will want to investigate. This can cause fall injuries and/or breakage of items on the shelves, so keep this in mind when installing and using.
You can place photographs, bric-a-brac, candles and so forth on the shelving. Once again, items stored on the shelf do not have to be moved to get at what is stored in the concealed compartment.
The shelving blends into any décor so they are not the focal point that catches the eye. Subdued and yet allowing things to be hidden in plain sight, making them the ideal "secret" storage place that allows quick access to your firearms.
Specifications:
Includes three distinct finishes: Sugar Maple, American Cherry and Gunstock Walnut with your choice of Maple or Oak Wood
Exterior Dimensions are 21″ long by 12″wide by 4″deep
Interior Dimensions are 13.5″long by  8″wide by 2″deep
Includes 1 Magnetic safety lock with 1 magnetic key
Also includes 1 Stab-O-Shoc dampener gas spring
Comes with 2 Hinges, steel, nickel plated
1 ½"  double sided adhesive on the back of 20mm black Foam
Finish is two coats of Varicure Satin finish
Mounting hardware and installation instructions are included
Considerations
The cabinets are designed to hide your valuables in plain sight. Certainly, no one wants to be the victim of a burglary, but why compound the misery by having your valuables stolen as well, when there is a break-in.
Your firearms are within reach if you experience a home invasion. Unfortunately, if someone kicks in your front door while the family is watching television, you do not have time to run to your gun safe, fumble with the lock, remember your pass code, or combination, and then grab your firearm. Quick reaction is essential.
Invest now in something that makes absolute sense, there is no downside at all to owning a Covert Cabinet system that allows you to secure and hide your firearms within reach in any room, in your home or office. You can purchase a Covert Cabinet HG-21 for $229.99 Amazon.com or on CovertCabinets.com.
Quick Modification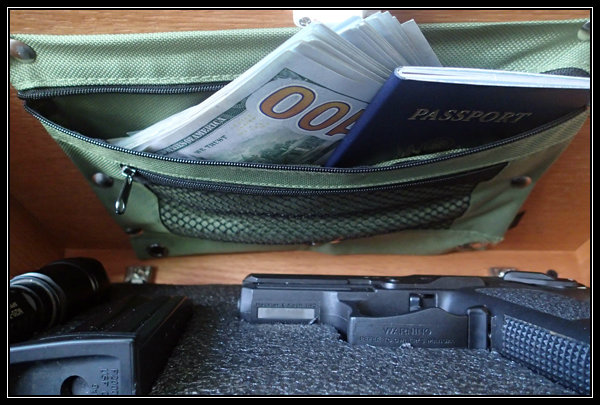 I wanted to be able to keep money in my cabinet without it getting in the way when reaching for my firearm, so I tacked in a simple zippered pouch that I picked up at Staples to the underside of the self, seen above. This works quite well for keeping cash, coins and small jewelry items without interfering with your firearm.