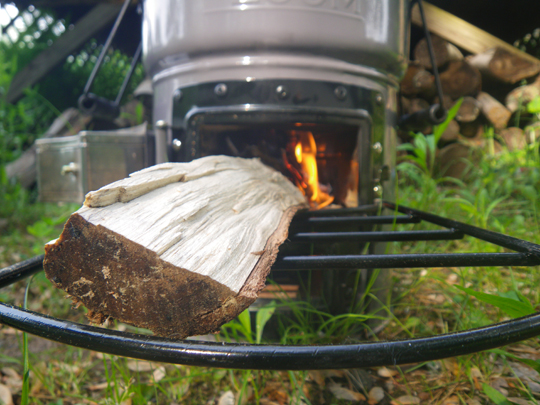 First, this stove is an excellent product that can be used during any emergency or disaster, especially during power outages. However, because it weighs 26.75 pounds, it not ideal for your bug-out-bags. You will want to keep this stove at your bug-out location or ready to use for bugging-in. The EcoZoom is also perfect for camping/hunting trips, backyard adventures and even tailgating. I highly recommend the EcoZoom Versa for camping, hunting or any type of planned outdoor adventure. Its convenient carrying handles make moving it a breeze.
Manufacture's Description and Specifications
The EcoZoom stove can burn wood, charcoal or biomass fuels. Essentially, no matter where you end up with the stove you can find fuel for it. It has a top door for wood and biomass fuels and the bottom door acts as a damper to control airflow.
The combustion chamber is made of durable ceramic and it is designed to force the gases to mix with the flame to reduce harmful emissions. The ceramic chamber is protected by a refractory metal liner to increase the life of the stove/fire chamber.
The doors are hinged making it easy to convert from wood to charcoal. The doors are designed to help regulate airflow as well. The EcoZoom Versa has a sturdy reformulated six pronged cast iron stovetop. Cast iron of course is ideal for heat transfer whether the cooking pots are flat bottomed or slightly rounded. Virtually any cooking pot will work with this stove.
Dimensions
The depth is 11 inches while the height is 12.5 inches
Upper door is 4.5 inches wide and 2 3/8 inches high
Lower door 2 3/8 wide and 1 3/8 inches high
As you can see, it is fairly compact, but because of the rigorous manufacturing specifications and quality materials it is heavier than you might expect. The stove has a metal grate called a stick support that allows you to place wood on it as you feed the combustion chamber.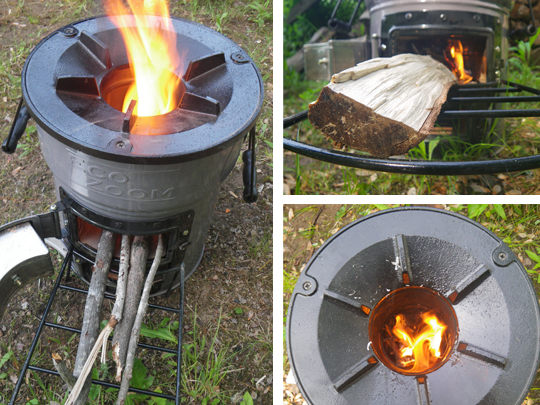 The combustion chambers limit the flow of oxygen to the fuels so the fire burns slowly and efficiently. You will find yourself cooking complete meals with just a handful of fuel. You do not have to worry about getting rid of charcoal or bits of other unburned fuels, because the Versa Stove's unique design allows all fuels to burn down practically to powder form. Cleaning is also a breeze. You just have to shake the stove on its side and the ash comes out the lower door.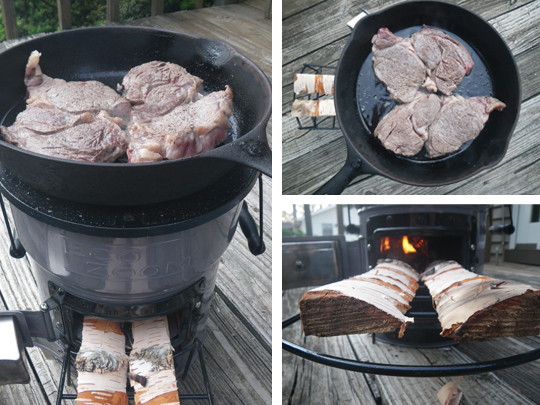 Having the ability to burn charcoal as well as other types of fuels really makes a difference especially for backyard get-togethers. You may not be able to go forage for branches and twigs to burn so being able to use charcoal makes this stove truly versatile. Of course, take charcoal with you on your camping or hunting trips because you never know how damp or wet the wood might be. The more fuels you can burn the greater chance you have of finding those fuels in any situation.
The Versa Stove comes with a "pot skirt" that is usually placed around a Dutch oven or covered pot for even cooking (helps contains the heat around the cook pot). This makes it quite easy to bake breads with it.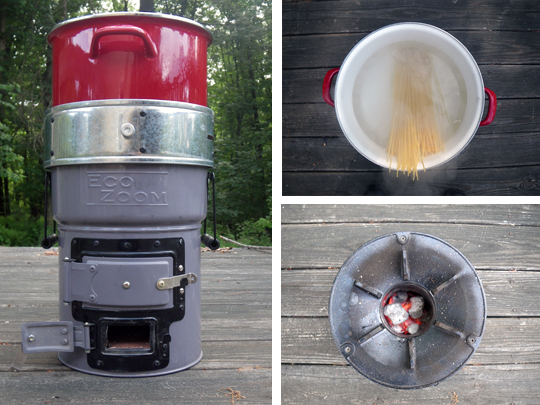 The Versa stove can put out up to 23,000 BTUs when cooking with charcoal, which is double that of a traditional gas range. 
This stove is ideal for for those of you that can your own foods. As you know, canning takes time, meaning your gas range is operating a long time. The kitchen and the rest of the house can become extremely warm during this process. So for your next family project why not get everyone involved in an outdoor canning project and even save some money on the air conditioning bill!
The Versa stove does have a charcoal grate that is slid in to support charcoal briquettes or lump charcoal. The grate elevates the charcoal so there is good airflow for consistent and efficient burning.
What really is impressive when you use the stick grate is you do not have to cut up the wood. Simply put it on the grate with one end in the fire chamber. Just push the sticks in as they burn. When done with cooking, pull the stick out and let cool to use next time. The wood will not go anywhere because of the stick grate, so no more sawing or hacking on the sticks with an axe trying to break up the wood up so it fits. Because of the way the Versa stove burns fuels, you will notice less smoke than you would get from traditional types of stoves or backyard fires.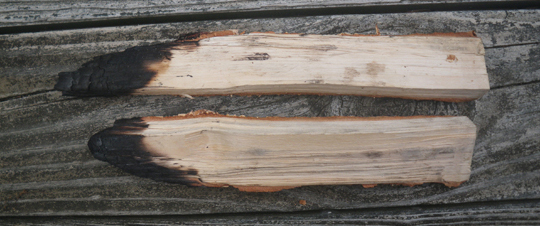 Things to Consider
Because of its compact design, the stove can be used virtually anywhere, except of course in confined spaces.
The exterior of the stove will become warm to the touch when in use, but it can be touched without the fear of burns.
You will notice that the bottom of your pans will have less soot associated with cooking over most stoves of this type. This stove will of course support heavy cast iron cookware, such as small Dutch ovens and pans.
My Thoughts
In addition to some of its more practical uses, the EcoZoom Versa Stove can prove to be invaluable as it can be used in most any type of emergency situation. Having the ability to get a hot fire going relatively quickly and easily, without ever having to worry about fuel to feed the fire as nearly any wood source can be used, gives me great peace of mind.
I would like to thank Tom at EcoZoom for providing me with such a great product to test and review. I've used the stove several times since it arrived, and in my opinion, the EcoZoom Versa Stove is a great stove to own.
The EcoZoom Versa is available for $126.99. Check out EcoZoom and their whole line of stoves at http://ecozoomstove.com.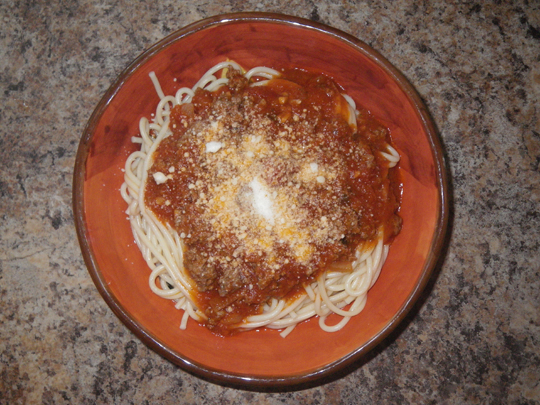 EcoZoom Story
Three billion people in the world rely on biomass and charcoal for their cooking needs, often burning it indoors on open fires or dangerous unimproved cook stoves. We believe that people of any economic status should have access to beautifully designed cooking products that will improve their health, income, and environment.
EcoZoom is a for-profit, certified B Corp making clean cook stoves accessible and affordable in developing countries. Since starting in April of 2011, we have sold over 70,000 cook stoves into our 14 target countries.
EcoZoom designs manufactures and sells stoves to multinational for‐profit and nonprofit organizations. This includes NGOs, and governments who distribute to end consumers in commercial, development or relief projects. EcoZoom is focused in four key regions: Eastern, Western and Southern sub-Saharan Africa and specific countries within Latin America.
Our biomass-fueled stoves have been designed and tested in both lab and field, and verified for performance by independent third parties such as the US EPA, USAID, Millennium Villages Project, and UNDP. EcoZoom cook stoves are healthy, efficient and environmentally friendly.
The Stoves Will
Reduce fuel needed by 60%
Emit 70% less smoke and emissions than a three stone fire
Stay cooler to the touch while in use to prevent burns