My Emmrod Pack Rod Review
First let me say that I'm not getting paid for this Emmrod pack rod review, it is my unbiased opinion. Ok with that out of the way let me start by saying I love this little rod. Today I fished the entire day for trout with it and I can honestly say that there isn't anything that I didn't like about it. The quality of this rod is top notch. The rods overall length is just about 24 inches and weighs about 8 ounces without a reel. The handle measures at about 10 and 1/2 inches and has a rubber anti-slip material.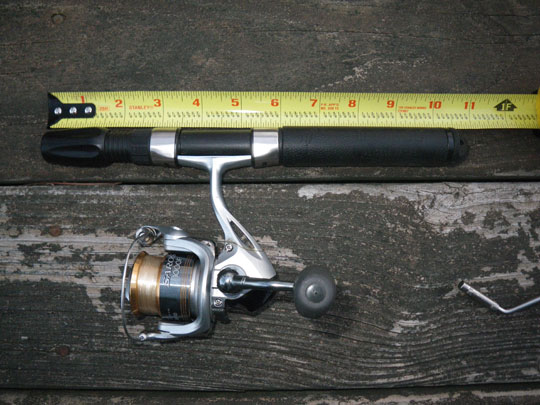 The rod end is about 15 inches long and is made entirely of stainless steel, it locks into the handle by pushing it in and turning it a 1/4 turn. I read a few reviews from other people that had problems trying to lock theirs into place, I didn't seem to have a problem with it at all.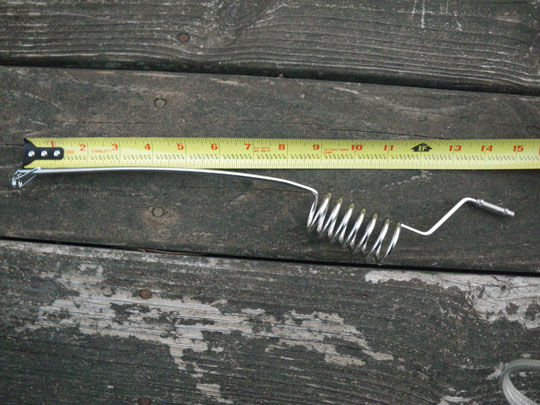 The rod end looks pretty bulletproof and looks like it will take a quite a bit to break it, unlike some graphite rods. You can buy different rod ends for different weight fish, I went with 8 coil that was rated for 5 pound fish since I mainly fish for trout. I found it to be very sensitive and I could feel the slightest strike with it, I was pleasantly surprised because I wasn't sure it would be as sensitive as my St. Croix rod.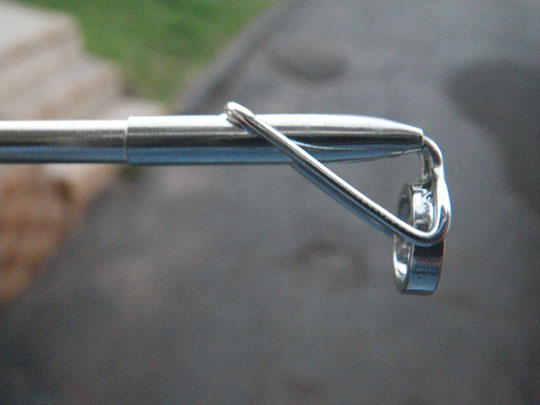 Here is a picture of the locking mechanism that is built into the handle. You Just insert the rod end and push all the way down and give it a 1/4 turn to lock it into place.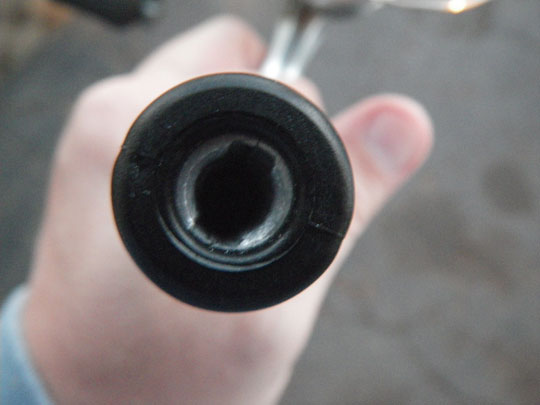 Here is what the end of the rod end looks like that locks into the handle.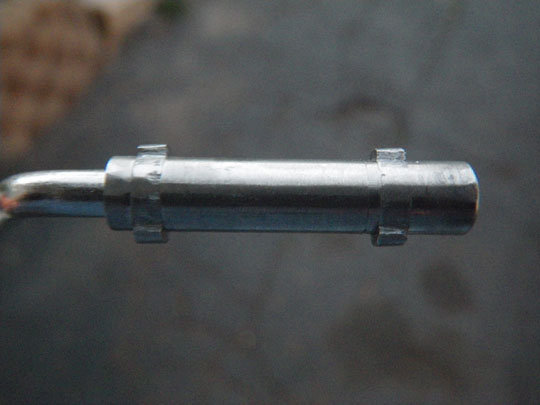 Casting took a little getting used to but I can cast just as far with it as I can with my 5 foot ultra light. Another thing I love about the Emmrod is when you are walking through the woods you don't have to worry about smacking your pole against any trees since it is so compact. If you do any brook or small stream fishing in the back country you know what I mean.
Another plus to this rod is the spring coil actually assist you in setting the hook, every bite I had today was caught and in my net. The pole cost 79.95 and I think it was worth the money, I have spent more on some of my other rods. A few of you asked if this rod was good for trout and I think it is.
Keep an eye out for my Emmrod combat rod review soon, this is the smaller rod I bought for my bug out bag. Below is one of the trout I caught today, I tried to get it on video but it was to hard to fish and film at the same time. You can purchase one of these rods at Emmrod.com.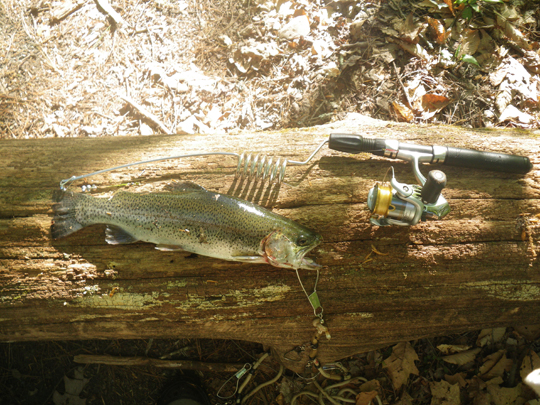 Here is a video I made while fishing for trout with the Emmrod pack rod! I will definitely be keeping one of these in all my bug out bags.