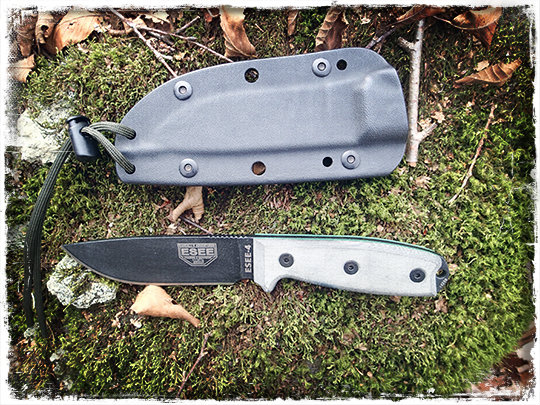 Before we get started if you are looking for a "Rambo type knife" with sharp curved points with wicked looking Jimping on the back of the blade, and a bug-out-bag sized hollow handle, that houses a tool kit, medical kit, compass, matches, thread, hooks and spearmint gum you probably should stop reading. 
Jimping by the way is the serrations on the blade back that gives your thumb a gripping point when using the knife. On a quality knife, like the ESSE 4 Jimping has a real purpose. Some knives look good, they even look deadly, but looks are all they have going for them. Hollow handled knives with a compass ball and space for survival gear are useless in a survival situation, and useless in any situation for that matter.
Keep the Rambo knives hung over the mantle so you can tell your grandkids some day you used one to fight a grizzly back in 2014, and the fact that you can tell the story obviously means you won.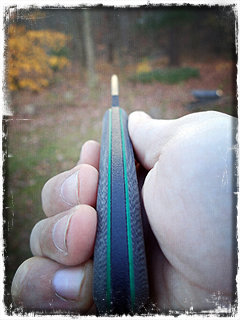 The ESEE 4 is full tang meaning the blade and handle are one piece. Full tang means strength. It also means that if the Micarta or G10 handles break, not likely by the way, but if they do, you can wrap Paracord or even duct tape around the handle and get on with surviving. If you break the handle on a blade that is not full tang there is nothing left to wrap with anything.
The ESEE brand screams quality and once you have it in your hand you will see. The ESEE 4 is shorter than the ESEE 6 but that is ok because a shorter blade is ideal for many survival tasks. Use it to skin small game, for example, make wood curls for fire, cut cloth/canvas, cut up food and even repair your gear, cut sewing or suture thread and the list goes on.
Because it is full tang and made with quality carbon or stainless steel, you can use it with a wooden baton to split wood, hack through limbs or chop through ice.
The sheath is quality, which is always a surprise. Usually manufactures put all the effort into the blade, so they tend to treat the sheath as an afterthought, not with the ESEE models though.
You can order the ESEE 4 with the optional MOLLE back, which is ballistic black nylon. Otherwise, you can use Paracord to lash the standard included sheath to a pack or even your belt. The MOLLE back is recommended if you plan to do a lot of jumping from an aircraft or plan other extreme activities, because it comes with additional security to hold the knife in the sheath.
The sheath without the MOLLE back has a place where you can attach cordage for lashing the sheath to whatever you want. The MOLLE sheath can also be used in the inverted as well as the standard mode.
The sheath is a quality Kydex sheath, so there is no need to go looking for another sheath because it comes with a high quality one. The standard sheath is friction fit so you do not have to fumble with straps or snaps and it can be drawn from the sheath one handed. The sheath has a detachable clip so it can be moved from one side of the sheath to the other, to accommodate for whichever side of the body you want to wear it.
If you happen to be caught up in your parachute rigging, for example, and hanging exposed to all below, you can extract the blade one handed, from the inverted or standard position, and use the serrated edge model to cut yourself loose. In other words if one hand is occupied or injured you can still draw your blade.
ESEE 4 SPECS:
Length 9.0inches

Length of cutting edge is 4.1 inches

Total length of blade is 4.5 inches

Blade width 1.25 inches

Weight knife only is 8.0 ounces

Blade is drop point style

The carbon steel model is 1095 carbon steel

(carbon blades can and will rust if not cleaned and oiled properly)

The stainless steel model is 440C Stainless

The ESEE 4 has removable handles

(Canvas Micarta or G10)

Comes with rounded pommel with lanyard hole

Includes ambidextrous molded sheath

(MOLLE Back Sheath Is Optional)

Made in the USA
There are hundreds, if not thousands of knife companies that all want your business. Flash and bang, smoke and mirrors are all used to get you to buy one of their knives. ESEE knives are made in the USA and they are not cranked out by the hundreds every hour. Each knife is crafted, inspected and tested.
If you want a survival knife that goes to the field with you and comes back in the same shape it left in, then ESEE knives are the way to go. The ESEE 4 is perfect for bug-out-bags, emergency kits, hunters, anglers and for anyone that spends any time in the woods.
Everyone needs a back up knife in their backpack, and if called upon the backup knife needs to be good enough to be the main survival knife. The ESEE 4 fits the bill. You can purchase the ESEE 4 on Amazon for around $105 dollars.