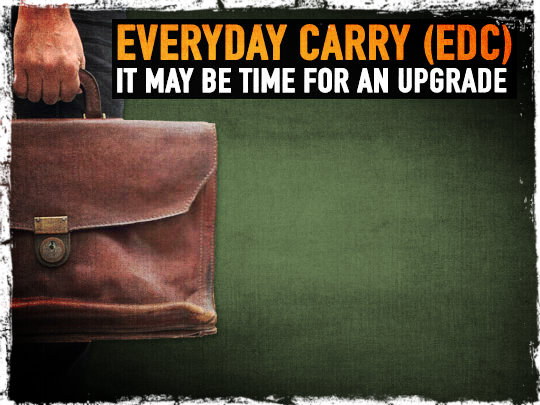 Obviously, you cannot carry everything with you as you go about your daily routine. The things you might possibly need or the things you want to carry could fill a good-sized backpack, so you have to choose carefully.
You want items that can be used for multiple tasks instead of trying to carry multiple items. One tool that can do a dozen jobs, for example, is ideal instead of trying to carry a dozen tools.
Keep in mind your EDC items would be tools or materials you carry in your pockets, briefcase, purse, satchel, laptop case and even car in some cases. The items would be readily available no matter where you were such as at work, on the subway, commuter train or when on any public transportation or when simply walking along on the sidewalk.
This articles' focus is on additional EDC items that can be used as a first line of defense against the Ebola virus. The information presented is not medical advice. Seek medical help immediately if you suspect you have made contact with the virus.
You May Want To Consider Adding A Few Extra Items to Your EDC Because Of Ebola
PPE or personal protection equipment such as gloves, eye protection and facemasks may be needed in some cases, so consider carrying a few emergency protection items as the Ebola threat progresses.
According to experts, Ebola enters the human body through the nose, mouth, eyes and thru any cuts or abrasions in the skin, so these areas obviously have to be protected (CDC, 2014).
Carry Gloves (four pair) ensure the gloves are high quality and fit well above the wrists. Double gloving is recommended in most cases when handling any contaminated items or treating/attending to any person suspected of having, or known to have the virus
Carry Face masks fitted to cover the nose and mouth properly
Eye protection make sure the eye protection is wrap around to prevent splatter from entering the sides
If any of your protective gear is contaminated or is suspected of being contaminated, alert the proper authorities, so they can help you remove it, and contain it properly. Do not attempt to disinfect it yourself. Handling any protective gear that is contaminated may cause you to become infected.
The mentioned items would be minimal protection only. Full hazmat suits would of course be ideal but not practical to carry around. Any exposed skin that becomes contaminated with the virus may cause you to become infected.
Additional Items To Consider Include:
Hand sanitizer that contains at least a 60 percent alcohol concentration to destroy any pathogens on the hands, allow the sanitizer to dry completely on the hands before touching any part of your body
The CDC Recommends using alcohol based hand sanitizer at 60 percent concentration when soap and water is not available (CDC, 2014).
Pre-moistened anti-bacterial wipes to clean surfaces your hands will contact, such as shopping cart handles, rest room door handles and even towel dispensers and so forth. The packets are small and compact and can fit in a purse, briefcase or even pocket.
The above mentioned would be in addition to your normal EDC items. The additional items will take up space but they are your first line of defense against Ebola and other pathogens. However, do not consider them your only defense. They are emergency items only, and are not a substitute for the proper medical gear and training.
The items would be designed for use if you suspect there is someone on the bus, subway, train or even at work who you suspect may be infected. Once you suspect someone is infected use your protection, and move away from that person, and this may mean getting off the bus or subway before your destination.
Times have changed and it is important you change with them, and this means when you are in public places, you should have certain items with you. Learn to carry a small satchel that can be carried off the shoulder or even a small pack that can be attached to the belt or around the waist.
After a few weeks of carrying one, you will feel naked without it, so start now and begin deciding what items you do need for your EDC. Items can vary depending on where your work and live, so adapt the items to your life style and especially to emerging threats such as Ebola.
CDC. (2014, October 14). Retrieved 2014, from http://www.cdc.gov/quarantine/air/managing-sick-travelers/ebola-guidance-airlines.html