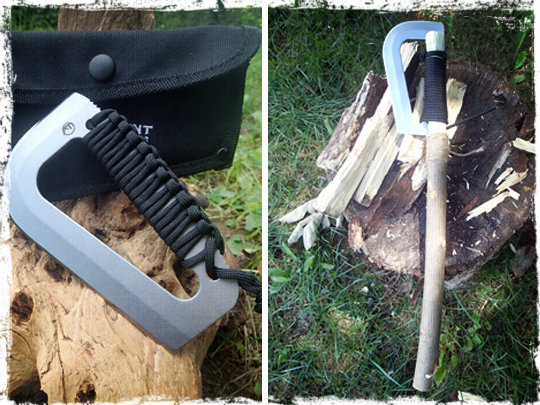 The Farson Blade Survival Tool design is based on an ancient stone tool found near Farson Wyoming. Ancient humans needed tools to survive in their environment just as modern humans do today. The tools that early humans used were made for a multitude of tasks. They did not make multiple tools they made one tool that could do multiple tasks. No frills no fancy scrollwork just sturdy usable tools. Get the job done and move on.
The Farson Blade cuts, chops, slices and skins. It makes an ideal all around backup survival tool. It will replace a knife or hatchet in a survival situation but consider it a backup tool that will compliment your other survival gear.
The blade fits anywhere, inside your backpack, survival kit or it can be worn on your belt or lashed to the outside of your backpack for easy access when hiking. Make the Farson Blade part of your everyday carry.
Caution: The blade right out of the box is extremely sharp, so use caution when handling. The tool is all sharpened blade for the most part.
It can be used in the home, or camp kitchen as a food chopper, dicer and slicer. The design allows the user complete control over the tool as you chop, skin or slice. Turn the blade around and you will notice the edge has just enough of a point so it can be used to slice canvas, leather, cardboard or meats and other food.
Because of how your hand is wrapped around the handle and over the blade there is no chance of losing your grip and sliding your hand up the blade if your hand or the handle gets wet/slippery.
There is Jimping (cut notches) where your thumb or forefinger would naturally rest to prevent slipping when applying pressure or for a more defined grip when doing delicate work with the blade. The blade is light enough and certainly sharp enough to easily make wood curls for fire tinder or even do carvings that are more precise.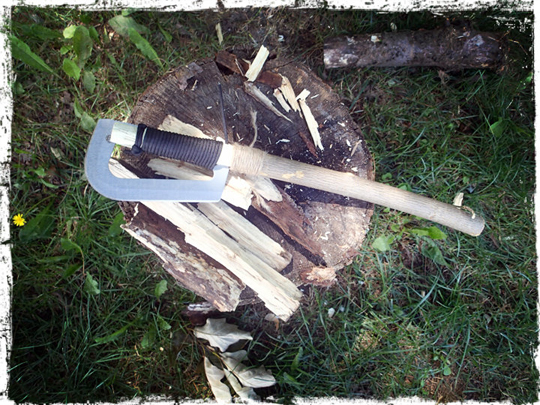 Once in the Backcountry you can attach a wooden handle, using the 550 Paracord already wrapped on the handle to make a field expedient hatchet/ax for more serious chopping. If you remove the Paracord from the handle, you can also use the Farson Blade to split wood using a wooden baton. There is not a protruding handle of course so you will have to strike both ends of the blade to drive it straight down through the wood. Practice on a piece of 2×4 so you can get the feel of it before splitting harder less uniformed pieces out in the field.
Manufactures' Specifications
Length Overall is 6″
3.1″ in Width
Thickness is .140″
Length of Cutting Edge is 7.75″
Blade Material 4cr15
Handle wrapped with 8ft of 550 Black Paracord with a Loop for Securing around the Wrist
Includes Nylon Sheath With protective Plastic Insert
The blade material is high quality stainless steel so rust and corrosion is not a worry. Of course, as with any tool keeping it clean and sharp will enhance its usability and help prolong its life. Hone the blade as you would any knife, and because it is stainless, it can be honed with virtually any sharpening tool or stone.
Hikers can wear the Farson Blade on their belt or carry it in their packs. Campers will find the Farson Blade one of those tools they always reach for, for all their camping chores. Hunters and anglers will find any number of uses for the Farson Blade from skinning and processing wild game to cleaning fish.
The blade can be used with a Ferro/flint rod to create a spark or use it to shave a magnesium stick for fire starting. The Farson Blade also makes an ideal hide scraper for those that want to process/tan their hides while in the field.
Keep one in your home emergency kits and always have at least one in your bug-out-bag and survival kit. Carry the Farson Blade along with your traditional survival knifes and other gear on any outdoor adventure.
The Farson Blade is an ideal gift to give for those that already have several quality survival knifes. The Farson is that one tool that anyone will find useful in any type of situation.
Once again, it is not necessarily designed to replace any one particular piece of survival gear but will complement what you already have. However, if you find yourself in a situation where the only tool you have is the Farson Blade then you have a survival tool that will get the job done. To learn more about the Farson Blade visit FremontKnives.com