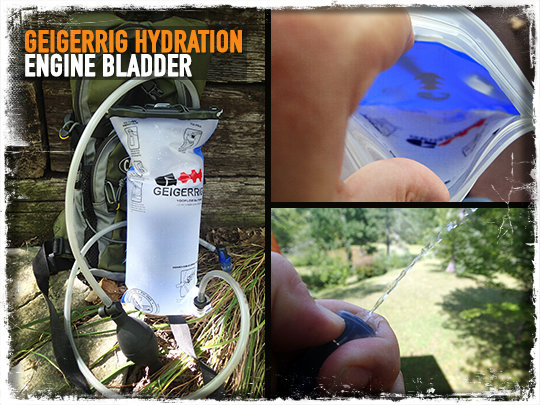 This Hydration Engine Bladder is much more than just a plastic bag with a drink tube that can only be used for hydration for one person.
The GEIGERRIG system dramatically expands the uses for you and even others' access to drinking water. The bladder is BPA FREE and PTHALATE Free.
It has a unique spray system, with an on board pump bulb used to pressurize the system. Use the spray system for an emergency shower, to cool down pets, cool down you, or fill a pet's water bowl without contaminating the mouth piece.
Use the spray to irrigate wounds on yourself and others and to fill drinking cups or spray directly in the mouth of others from the bladder without anyone or anything touching the mouth piece. The water is under pressure, so no one has to touch the drinking tube to get access to drinking water if you do not want him or her to.
If hiking or out with others that did not come as prepared as you will likely want to take a sip of your water, but you may not want them using your mouthpiece to get a drink, so take advantage of the spray feature to give others a drink. It is an amazing feature.
The drinking hose can be quickly disconnected, and the top has a wide opening for easy filling, and it is wide enough so you can even add ice. The bladder itself can be pulled inside out so any drinking water contact surfaces can be properly sanitized. You can even put the bladder on the top rack of your dishwasher for cleaning.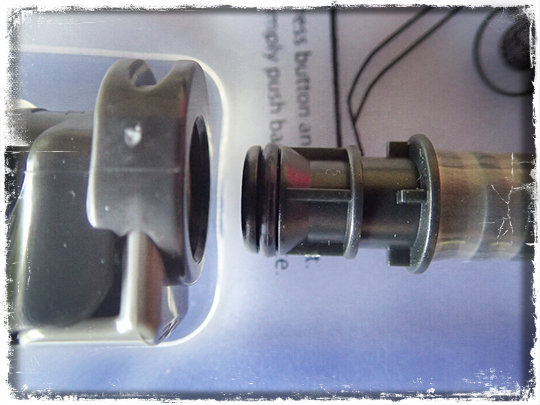 The water line is built in such a way that a water filter can be installed inline. The filter can be purchased separately, and the installation is quick and easy. You can choose an inline virus or Crypto filter. The bladder sizes are 2 or 3 liter. The GEIGERRIG Hydration Engines are compatible with most other packs.
A study conducted by the makers of The GEIGERRIG hydration packs shows that people during strenuous workouts or activities, comfortably drink 30% more water than, they would when using standard, un-pressurized, sucking hydration packs.
People often times only think they are getting hydrated properly, and when getting a sip of water turns into work people tend to drink less, which can lead to serious health problem if you are sweating profusely. No need to slow down when taking a drink thanks to the pressurized system.
With the GEIGERRIG Hydration Bladder, all that you need to do is lightly bite down and the pressurized system does the rest. Water is sprayed into your mouth, so you do not have to draw on it as if it were a straw.
The pressurized hydration bladders have a sliding top that allows the bladder to be immersed in a stream, river, lake, or pond. Make sure however, if the water source is questionable that you have one of the filters installed.
The pressurized air chamber inside the GEIGERRIG hydration engine keeps the system from collapsing. When water is used air replaces the volume to keep the system in place standing tall as it were. This helps keep the contents of your pack from shifting around, as would be the case with a traditional water bladder. Simply pressurize the system with 20 to 25 pumps.
The hydration packs are ideal for hikers, hunters, and other outdoor enthusiast. Keep in mind a hydration pack or bladder is just one method of carrying and storing drinking water. You should always have a backup system/plan in place to ensure you can collect, filter and purify any surface water source you would find in a wilderness environment. You can purchase the 3 Liter (100oz) GEIGERRIG Hydration Engine Bladder for around $43.00 on Amazon.com.