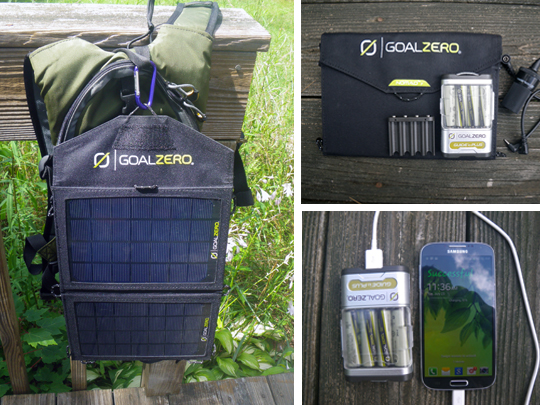 Goal Zero Guide 10 Plus Solar Kit Review
The Goal Zero Guide 10 Plus Solar Kit is a portable rechargeable battery pack/solar panel that can virtually go anywhere with you to keep your handheld devices going strong. It will charge AA/AAA batteries from the sun or you can charge a device using a USB port. You can charge your cell phone, MP3 player or your GPS system practically on the go. There are devices such as a GPS system and cell phones that you cannot do without if you are camping, hunting, hiking or simply enjoying the outdoors.
The Guide 10 Plus Solar Kit is ideal for campers, hunters, hikers and any outdoor enthusiast. It is also ideal for your home disaster preparedness kits. Once the power goes out, you must have a means of keeping cell phones, portable radios and other communication devices operational.

 You Can:
Charge a Smartphone/Cell phones and small USB devies
Charge removable AA/AAA batteries from cameras, flashlights, Walkie-Talkies and so on
A built in LED light is also included that runs for 150 hours plus on a single charge 
Manufacture's Description Specifications
Can Charge From Any USB Power Source
8-10 hours
GOAL ZERO Nomad 3.5 (solar port)
6-8 hours
GOAL ZERO Nomad 7
2-4 hours
INPUTS
USB-mini port
5V, 0.7A max (3.5W)
Solar port
6.5V, 1.5A max (7W)
OUTPUTS
Batteries
4 x AA or AAA** NiMH cells
USB Standard Port
5.0V, 1.0A max (5W)
Flashlight
100mW white LED, 100+ hours*
INTERNAL
Battery Capacity
10 Wh*, use only NiMH cells
Life-span
hundreds of cycles*
Shelf Life
12 months*
GENERAL
Weight w/Batteries
0.4 lbs (0.18 kg)
Dimensions
2.5 x 4 x 0.75 in (6 x 10 x 2 cm)
Warranty
12 Months
Certifications
FCC and CE
Optimal Operating Temp
32-104 F (0-40 C)
*When using GOAL ZERO NiMH rechargeable low self-discharge AA cells.
**AAA Cells require an adapter, which is included with AAA battery purchase.
The guide 10 cannot be any simpler to use, and with all of the recharging options you can be assured you will never be without a powered device when you need it the most. With its compact size, it can fit into any emergency kit for the home or into any backpack or even keep one in your vehicle for emergencies so you are always connected.
Keep in mind according to the manufacturer the Guide 10 Plus is not waterproof so you cannot operate it in the rain or allow it to be submersed in water.
The main purpose of the Goal Zero Guide 10 Plus Solar Kit is to recharge your electronic devices while in the field or when common household current is not available at home or even at the office. Because the device uses solar power you can be virtually anywhere in the world and still have a reliable charging system.
What makes this device unique is that you can recharge AA/AAA batteries anywhere and at virtually anytime you are in the field. Simply remove the AA/AAA batteries and recharge for the specified time and your flashlight for example is once again ready to light up the night. The battery pack when fully charged can also be used to charge your usb devices, I was able to get 2 full charges to my smart phone from it and about a 40% battery boost to my iPad.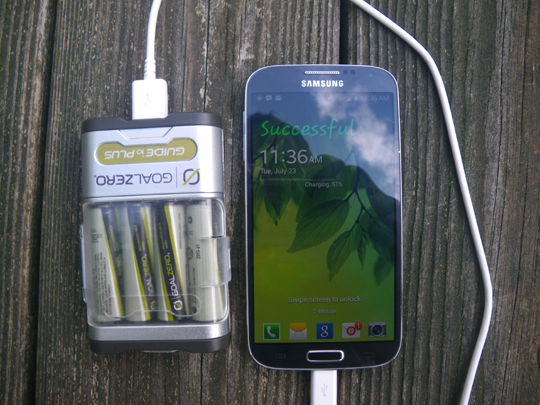 Carry extra batteries so when in the field you can have a set in your device and one set charging. This way your device is never down waiting on the batteries to charge. Carefully review all of the manufacture's specifications to ensure you understand completely what devices can and cannot be charged using this device.
Before setting out for any outdoor adventure make sure, you know how the charging device operates so once in the field you will not have any problems keeping your devices operational.
The solar panels are designed so they can be suspended from your pack, or hung from tree limbs/branches using rope/string to get maximum sunlight exposure. You can walk and charge at the same time if you lash the panels to your backpack to get direct sunlight on the panels as you are walking. Make sure you adjust the panels wherever they may be suspended to get as much direct sunlight as possible for optimum charging.
 My Final Thoughts
The Guide 10 plus worked as advertised and I was very pleased with it, the built in led on the battery pack is also an excellent addition and I found it very useful. Keep in mind the iPhone and other smart devices can be charged connected directly to the panel but can sometimes can be disrupted, I found this to be true with my iPhone 4. I only had to re-plug the phone in to restore the charging process. I would like to take this time to thank Kaysi at GoalZero for sending me the Guide 10 Plus Adventure kit for review and testing. To learn more about the Guide 10 Plus and their full line of products visit GoalZero.com.