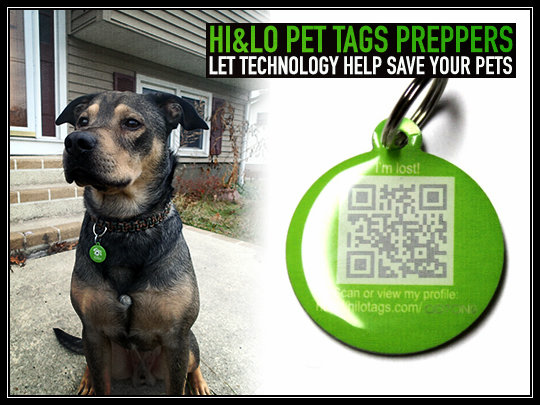 Preppers, when a disaster strikes, your first priority is to make sure that all family members are protected and this of course includes any pets in the home. Your pets will be under stress just as you are and may not follow commands, as they should. If the unthinkable happens, and you and your pet (s) become separated, you want to do all you can do, to reunite with them. The Hi&Lo QR pet ID tags may be just the answer you are looking for when disaster strikes.
What are Hi&Lo pet tags? They are "pet-tags" that the pet wears on its collar. The tag is laser engraved with a Quick Response (QR) Code and a unique alphanumeric ID code. The QR code laser engraved on the tag can be scanned by any Smartphone once a free scanner app is downloaded.
There are free android and iPhone scanner apps available for immediate download.
Each pet tag will have a unique alphanumeric ID and QR code engraved on the tags. The engraving will not wear off or become faded and the tags are coated in epoxy for greater protection.
You have all heard the horror stories about pets lost during a crisis, and in particular, the heart wrenching stories after Hurricane Katrina struck. Thousands of pets separated from their family never to be reunited because the shelters and individuals that had the pets simply did not have any way of contacting the owners. Now individuals can alert you that they have your pet, because they will have access through their Smartphone by simply scanning the barcode on the tag.
When the QR code is scanned by taking a picture of it the app immediately links to your pet's online profile, so any person anywhere can contact you from their cell phone immediately after coming in contact with your pet, all this without them having to take your pet to a veterinarian or shelter to have a microchip read.
The tag's QR code is readily apparent when someone looks at the tag and it states, "I'm lost scan or view my profile". The website is listed on the tag, so someone can simply type in the address to access your pet's profile without scanning the QR code. Many QR code scanners already installed on many Smartphone's would work with the tags.
The Hi&Lo QR pet tags make it easier and affordable for you to reunite with your beloved pets during a crisis or at anytime they become separated from the family. Preppers you can now expand your preparedness plans to include Hi&Lo tags for all of your pets.
Once you receive the tag you can create an online profile unique to your pet (s). Your pet will always have the same tag, any changes to your information is done online, anytime and as often as you need to. This is a lifetime benefit, no expiration dates, and you will never have to purchase new tags unless the tag is lost or damaged.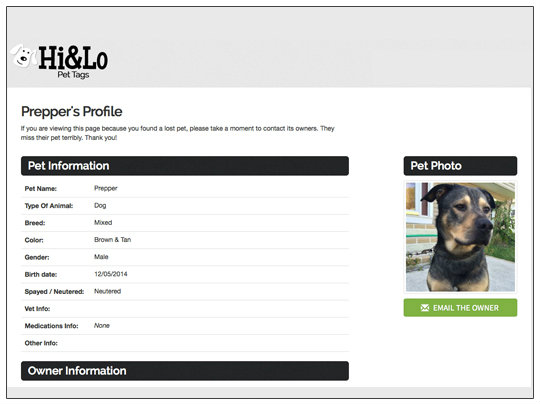 You can provide as much or as little information as you want when setting up the online profile. Anyone that finds your pet and scans the QR code or enters the unique ID code online can only see what information you have checked when setting up the profile.
You can change the information and access to the information at anytime, and of course you or anyone else can access your pet's profile from anywhere in the world where there is access to the Internet.
Anyone that finds your pet can also enter the alphanumeric code embedded on the tags to find your pet's profile online to gather contact information so you and your pet (s) can be reunited.
Privacy is a big concern of course, so once a "stranger" has accessed your pets' profile you decide what contact information they see.
For contact information, you can list a cell phone number, home address, what veterinarian your pet's uses, email address, other phone numbers or all available contact information. You get to decide what someone sees when they access your pet's profile online.
You can list any maintenance medications, the pet's name of course, allergies the pet has or particular medications the pet is currently taking and/or any information that may help them care for your pet until you are reunited.
This is an amazing concept because microchips that must be embedded need to be read by specialized scanners that are normally only found at veterinarian's offices or at certain animal shelters. It may take days or even weeks before your pet finds their way to a veterinarian or shelter so the microchip can be read.
The Hi&Lo QR pet ID tag retails for 19.99 but can be purchased here for $8.99 on Amazon. To learn more about the Hi&Lo QR pet ID tag visit HiLotags.com.