Manufactures Product Dimensions/Specifications 
Holds 37.2 fluid ounces
Height is 10.2 inches when fully packed and when set up for use the height is 11.8 inches
The diameter is 7.3 inches at the widest point (rim at the base)
Weight 2.2 pounds
The Kelly Kettle is offered in 3 sizes:
The kit includes the pot for cooking, a pan/lid, grill, pot support and gripper handle for the pot/pan.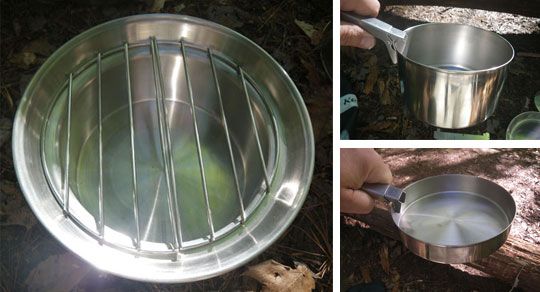 If you have been considering investing in a biomass stove but are hesitant about dishing out any money  without first knowing the quality of your purchase, then you will want to continue reading my review on the Kelly Kettle Scout first.  
The Kelly Kettle uses a heat chimney technique to heat water and it can be used for cooking as well. It does not need any electricity, as it has no fan. It will literally burn any combustible fuels you find in your environment.
This item should be called the "perfect stove in a bag" because of its handy carrying bag that will keep all the parts together, which is important when putting together a survival or disaster kit.
As any expert will tell you to save space and to reduce weight, you want to have items that serve a dual purpose. You simply cannot afford the space and additional weight added to a pack when you only have single use items. The Kelly Kettle is a multi-purpose item ideal for any wilderness survival pack and home emergency disaster kits.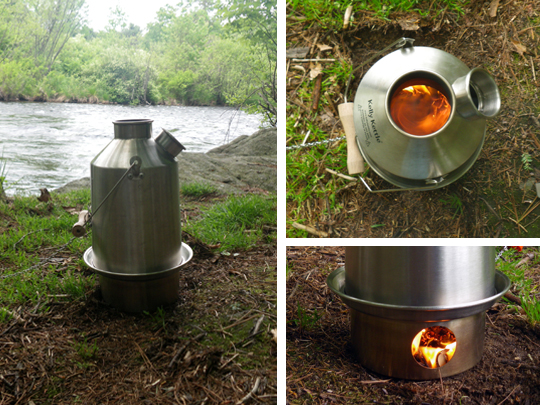 Carrying the Kelly Kettle Scout Kit means, you do not need to carry metal canteen nesting cups or stainless steel bowls for boiling water or for food preparation. This all-in-one stove will boil water, heat food, and provide you with a heat source using limited fuel in any weather conditions. Because of the unique design, this stove can be used in light rains and in very damp conditions.
As most of you know, keeping a fire going on wet/snow covered ground is extremely difficult because the moisture from the ground inhibits the fire and in some case makes it impossible to maintain a fire. Having this stove along ensures you can have a life saving fire under extreme conditions.
The distinctive design of the stove allows for the efficient burning of fuel, such as wood chips/small chunks of wood, small sticks, pinecones and so on. Open "camp" fires allow the heat to conduct into the surrounding air. Heat always conducts from warm to cold so an open fire is not always an efficient heat/cooking source particularly in windy conditions.
The Kelly Kettle has a uniquely designed fire chamber that limits the flow of oxygen to the combustibles, which means the fuel burns slower and extremely efficient. A very small amount of fuel will not only boil 37 ounces of water in a very short period, it will also heat your food at the same time using the same fuel. Once the fire is going and you are boiling water or heating food, you can easily add more fuel.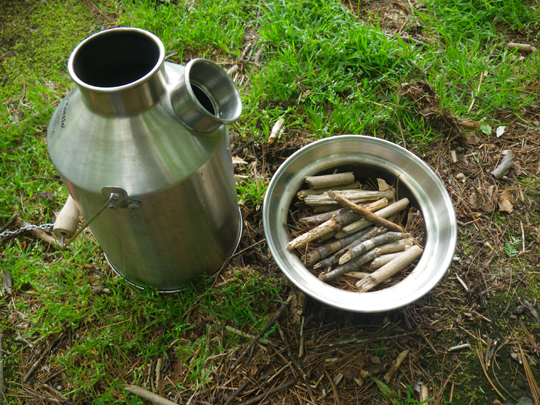 Literally, a handful of fuel is all that is needed to boil up to 37 ounces of water and heat your food in about five minutes.
To reheat/cook food while boiling water at the same time place the pot support over the chimney of the kettle. This product is ideal for packages of Meals Ready to Eat (MRE's) that can be heated by immersing the package in hot water or with dehydrated/freeze dried foods.
Survival experts will usually recommend that you carry stainless steel canteens so you can boil water in it for purification. Boiling water is the preferred method of purification over chemical treatments. Canteens however make it awkward at times and they do not allow for the heating or cooking of food.
Use the Kelly Kettle to boil your water for purification and then after cooling pour into your canteens so you can then boil more water more efficiently.
I have often posted about the importance of having a source of safe water to drink, and one way to have safe water is to bring it a boil; something you can easily do with the Kelly Kettle.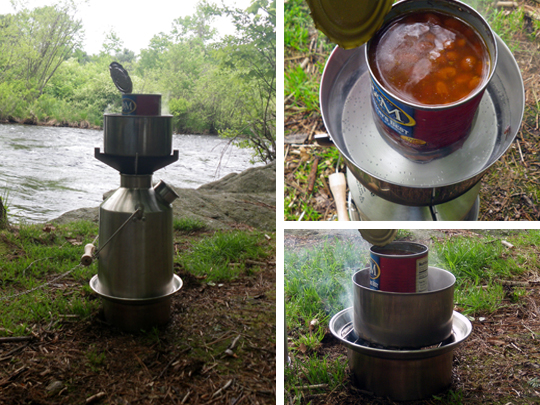 Think About This As Well
 The Kelly Kettle Scout Kit is perfect for use in areas where you do not necessarily want to leave your signature. You can use this stove in an escape and evasion situation because the flame/light is masked and the smoke is channeled similar to a "Dakota" fire hole. This stove will dispense smoke but because it uses a small amount of fuel, the smoke is limited. Use the stove under heavy foliage so the smoke is dispersed throughout the foliage making it harder to detect.
Once done the entire cook set fits together and goes into the handy carrying bag with drawstrings. You can secure the stove to the outside of your pack to save room inside. Because of the weight, and ability to store extra equipment in the stove, the Kelly Kettle Scout Kit would not be considered overly burdensome.
You can find fuel in any wilderness environment and having this stove means you do not have to trek far from base camp or have to drag large branches back to camp just to boil water or cook food. Because it's easier to get a fire going with the Kelly Kettle you're insuring you will have food and boiling water with minimum amount of effort.
My Thoughts
Just as their website promised, this Kelly Kettle Camping Stove worked great for Boiling Water and Cooking Outdoors.  I gave the Kelly Kettle a good workout several times, boiling water super fast and cooking several meals without any problems. I used it for several days fishing, making coffee, and breakfast every morning, soups and light lunches and quick dinners at night.
The Kelly Kettle worked quickly and efficiently, getting good and hot with just some small twigs as fuel. A few times, I did have to add some additional fuel (i.e. twigs, etc) during the cooking process however this was a non-issue. I never found myself having to feed fuel constantly into the stove.
The stainless steel Kelly Kettle Scout is available for $84.99 or as a full kit for just $103.99. Check out Kelly Kettle and their whole line of stoves at http://www.kellykettleusa.com/.
I would like to take this opportunity to thank Patrick from Kelly Kettle for providing me with such an amazing product to review, and to also express my total satisfaction with the Kelly Kettle Scout camp/cook stove. No matter the setting or the weather conditions, the Kelly Kettle did not disappoint; it functioned perfectly, and I believe the Kelly Kettle will prove to be invaluable to have over the years. I look forward to the Kelly Kettle accompanying me on future hikes, long drives, camping trips and alike, and I'll likely be purchasing their smallest model Kelly Kettle for my Bug-Out-Bag(s) as well as for any future backpacking trips.
Coming Soon
In communicating with Patrick from Kelly Kettle, Patrick informed me that there are some exciting new additions to the Kelly Kettle product line which are soon to be released, and are to include the following products:
The Kelly "Hobo" Attachment coming soon is an additional stainless steel ring that packs neatly inside the base of the Kelly Kettle. To use simply pull out, turn over and drop onto the existing firebase of the kettle. The attachment doubles the fuel capacity in the base thus, keeping refueling to a minimum. It has a castellated effect at the top allowing the flame and smoke to dissipate. It will of course accommodate the Kelly Kettle cook set. This attachment easily and securely holds any large pot or pan for stewing, frying and so on. Fuel can be fed through the side of the Hobo attachment without having to remove the pot or pan from the top.
Note: The new mugs 350 and 500ml mugs will fit inside our cook pot, which fits insides the Hobo without having to remove the pot or pan. This is a very simply, yet extremely useful addition to the Kelly Kettle System.
The Ultralight coming soon designed to meet the needs of the Ultralight backpacker and for use in bug-out-bags and so forth. Target weight is less than 10oz, and dimensions are 136 x 105mm.Water chamber volume is between 600-700 ml.
The Kelly Ultralight will be capable of boiling water and heat/cook food. You will be able to access the water/food chamber via a removable lid making it easy to place an MRE into the chamber with water for heating. Noodles and rice for example, can also be cooked in the chamber, which can be easily cleaned afterwards. The Ultralight eliminates the need to carry multiple pots/containers.
Although the Ultralight is designed with biomass fuels in mind, it can be used with a small alcohol stove or solid fuel tablets.