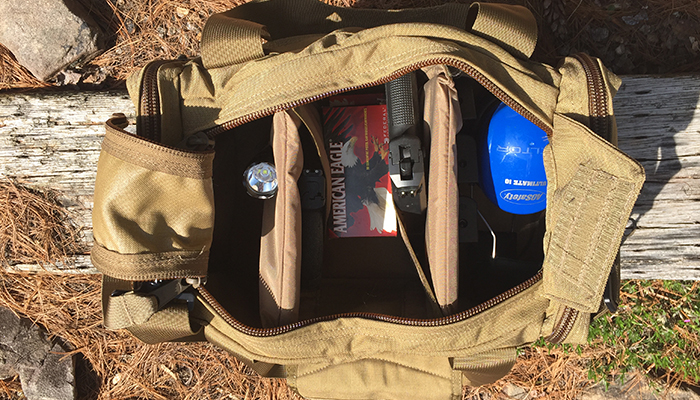 This bag is made in the USA in Selma, North Carolina, and it is Berry Amendment compliant under USC, Title 10, and Section 2533a. What is the Berry Amendment and what does it have to do with a range bag anyway.
The Berry Amendment is a statutory requirement that restricts the Department of Defense (DoD) from using funds appropriated or otherwise available to DoD for procurement of food, clothing, fabrics, fibers, yarns, other made-up textiles, and hand or measuring tools that are not grown, reprocessed, reused, or produced in the United States.
The Berry Amendment has been critical to maintaining the safety and security of our armed forces, by requiring covered items to be produced in the United States. With respect to textiles and clothing, the Berry Amendment has been critical to the viability of the textile and clothing production base in the United States (Trade.Gov, 2016).
This means that the Lynx Defense Range Bag is made from the highest quality materials available and that all phases of manufacturing and assembly comply with Department of Defense standards even though this bag is marketed for civilian use.
Manufacturer's Specifications
The Bag Is 12 Inches Tall, 16 Inches Long And 9 Inches Wide

Two Inserts Are Included With The Option To Purchase More, Which Can Then Be Added

Inserts Fit Most Guns (Feature Gun And Magazine Holders)

Fits A Maximum Of Four Gun/Magazine Combination Inserts

Includes A Detachable Rollout Gun Mat

Durable 500D Cordura Fabric

Removable Hard Bottom For Increased Durability
(Cordura is a durable proven fabric for the needs of the shooting sports, military, and tactical industries. We source every single thread, zipper, piece of Velcro, and fabric from US companies making their products in the USA.)
I found out years ago that using a gym bag or a duffle bag made for clothes just doesn't make the cut, when it comes to carrying firearms and assorted relevant gear around. Ammo gets lost in gym bags, and my shooting glasses always seemed to get bent out of shape and everything bangs around inside the bag, which always made me cringe, because what is getting chipped or nicked I always wondered.
If you are like me, you want to configure things to suit yourself, and this bag makes it easy to do, so play around with it when you get it home. The bag employs hook-and-loop attachments, so they can be removed and placed in different positions so you can adjust to suit your needs, and you can purchase and add additional ones as well.
With the Lynx Defense Range Bag, everything has its place and it stays in its place, so if you are heading out for a hunting trip and are traversing rough terrain rest assured your firearms, magazines and Ammo are secured in place.
While not as big as some range bags you can buy this one has plenty of room above and beyond what is needed for your handguns and magazines. You can carry firearm tools, eye and ear protection, there is a pocket for paper targets, and plenty of room for extra Ammo along with your cleaning kit and other assorted sundry items.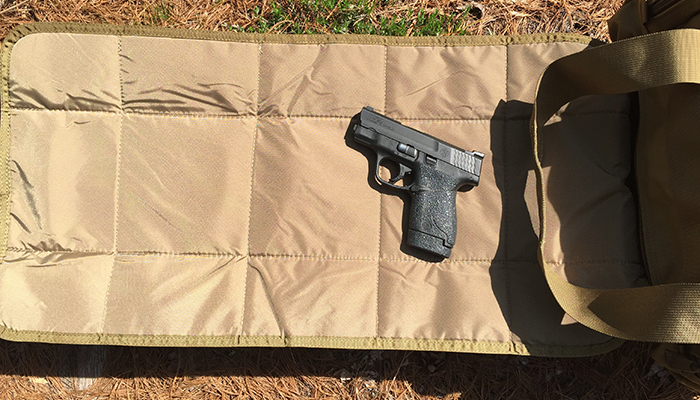 I love the range mat because it protects your handguns and gives you a good work surface to clean and work on your firearms. The material cleans up easy as well, so you can keep it looking new no matter how much you use it.
Some firing ranges have concrete tables/benches that can mar the finish on your handgun quickly, so you do need a mat for laying out your firearms, and having one built in ensures you always have one, and of course lay the mat out at home for firearm maintenance, as well.
You can remove the rollout mat for extra storage if you so choose. This bag gives you options and allows you to adapt it to suit your personal preferences.
The removable hardened bottom may not sound like a selling point for some people, but it is, and you will appreciate it once you reach inside the bag. The bottom holds the bag in such a way that you don't have to constantly push the sides away to find something, which is characteristic with many range bags. Moreover, you can remove it as I said, which makes cleaning the bag much easier and the material does clean up easy by the way, which is typical of high-quality material. The hard bottom also protects the contents if you happen to drop the bag or set it down harder than you expected.
Even though the bag is high quality, it is nondescript in the sense that when carrying it in public it doesn't advertise it is a range bag full of firearms. The bag has an adjustable shoulder strap if you choose to use it. You can learn more about Lynx Defense and all there products at LynxDefense.com
Trade.Gov. (2016). Retrieved 2016, from http://web.ita.doc.gov/tacgi/eamain.nsf/BerryAmendment/Berry%20Amendment?Opendocument