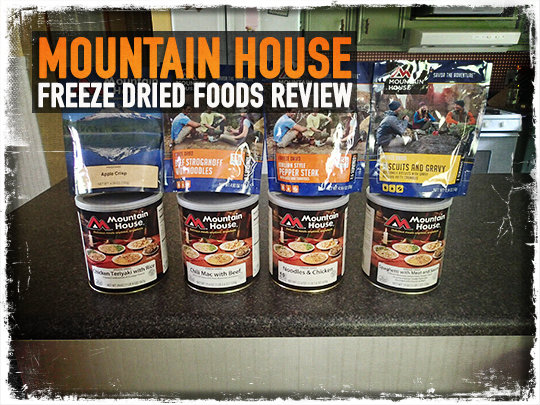 Freeze-dried foods retain virtually all of their fresh-food taste and nutritional content just like frozen foods will. The Freeze-drying process removes 98 percent of the water content but not the flavor or the nutrients. Removing 98 percent of the water and oxygen means the foods will not deteriorate. The last thing you need is to find out during a crisis is that your foods have turned rancid or are well past their expiration dates.
If you have to worry about finding food immediately after a disaster strikes then you were not prepared. Make sure food and water is not a concern for the short or long term so you can focus on developing sources if the crisis is an extended one.
Most of you are familiar with freeze-dried foods. Emergency readiness is on peoples' minds these days, and so is good quality food for when the SHTF. Preppers and others are looking for foods with an extended shelf life, for foods that taste good and for foods he or she is used to eating, in other words variety is important and so freeze dried foods do fit the bill.
Mountain House has a significant variety of freeze dried foods. Breakfast, lunch, and dinner entrees are available along with desserts and side dishes.
Just because there is an emergency does not mean you have to eat foods you do not like. However, this requires being prepared for an emergency. Being prepared means you have choices, choices made when you are not under stress, so you do not have to scramble and fight for the last can of pork and beans on the shelf at the local grocery. You cannot prepare during or after disaster strikes, you have to be prepared well ahead of the catastrophe. 
Mountain House foods started out nearly 50 years ago, and one of their pivotal moments was when they started supplying nutritious and good tasting food to our elite United States Military units.
Shelf life is important and Mountain House foods in the pouches are good for 12+ years when stored under the proper conditions, and food in the cans are good for 25+ years. Store it and forget it you might say.
GMOs and Gluten Free Foods
Mountain House does offer a line of "Gluten Free Products" along with a vegetarian line, as well as, low sodium foods.
However Mountain House does not offer Non-GMO Project Verified products at this time, and no other survival food company that I know of offers Non-GMO Verified products either.  
GMO products stir heated debates even arguments among people. There are some very strong feelings on both sides when it comes to GMO foods, and the debate is far from settled. It is a decision you have to make based on careful research and your own personal preferences. The regulating agencies (FDA, USDA) are not much help when it comes to deciding.
The Non-GMO project is North America's ONLY independent verification for products made to avoid GMOs. So if a company claims their foods are Non-GMO make sure it has their seal.
For more on Non-GMO Project Verified Foods Visit http://www.nongmoproject.org/learn-more/understanding-our-seal/
We are here to talk about survival, when the SHTF and when the last thing you need to worry about is food, food for you and your family during a crisis. You cannot stockpile foods for an indefinite period. At some point your supplies will be depleted.
You stockpile knowing you may have to develop your own food sources at some point. You need quality foods that can get you to the point where you have developed a sustainable and renewable food supply.
It can take considerable time for your garden to start producing, months in facts if you do not have one already established. Gardens do not flourish over night, and depending on the seasons and other factors it could be a year before you see your first harvest. You need foods that have an extended shelf life, have ample variety, are nutritious, and are foods that actually taste good.
You will not be eating your emergency supply of freeze dried foods forever, GMO or otherwise. Your freeze dried food stockpile is food to get you through the crisis, whether it is a few days, weeks or even for a few years. 
You do what you have to do to survive the crisis, and food does not need to be a worry in the short or long term if you prepare properly by stocking up on freeze dried foods that have an extended shelf life, and have enough variety so that everyone in the family can have their favorite foods.
Survival Needs
First, Mountain House foods taste as good, if not better than most freeze dried foods out there. They are actually as good as or better than most MRE's on the market today and it actually, in some cases, comes down to the food varieties that are offered, and Mountain House has a large variety from which to choose. If you like biscuits and gravy, for example, you will love Mountain House's version, it is good, It's better than good actually, it tastes great.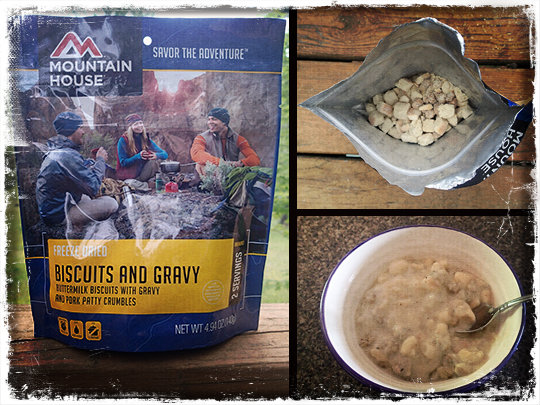 The foods are packaged with emergencies in mind. The pouches are ideal for bug-out bags and for storing in your vehicle and they are perfect for camping trips as well. When storing in your vehicle the temperature variations may affect the shelf life so carefully read the product description.
The #10 cans are ideal for home storage, they are lightweight, and each #10 can holds a significant amount of meals with 25 years plus on shelf life. Remember that 98 percent of the water is extracted so the weight is considerably less than traditional canned goods. The food in the cans can be distributed into other containers for carrying in backpacks or for in your vehicle, but the shelf life will be reduced once the can is opened however.
Preparation Considerations
Freeze dried foods require reconstitution and this means you need water and the means to heat the water. Mountain House foods in the pouch are ideal for many emergencies, because all you have to do is pour the recommended amount of hot water into the pouch, stir let sit for a few minutes and then eat right out of the pouch if you like. The foods in the #10 cans will require a cooking vessel to prepare them however.
When calculating water needs during a crisis you will have to ensure you have water for your cooking needs. Visit Mountains House's website to get a better idea of how much water is required for their various meals. Once you have an idea of how much water is needed for cooking requirements add 10 to 15 percent to account for waste. Energy for heating the water is important as well, so factor this in when preparing.
Final Thoughts
I was recently given the opportunity to sample a few of Mountain House's freeze dried meals, and I now know why outdoor enthusiasts have made Mountain House freeze-dried foods their first choice for over 40 years. Every one of the meals that I've tasted so far have exceeded my expectations. The biscuits with gravy was extremely satisfying and so was the apple crisp. My favorite meal from Mountain House is their new Italian Pepper Steak. It's loaded with tons of steak, peppers, onions and rice, and it has such great flavor.
The Beef Stroganoff was my least favorite out of the four varieties I tried, however as freeze-dried food goes, it still tasted good and much better than most frozen dinners. I wouldn't turn my nose up to any Mountain House meal if offered them, overall they're very tasty and easy to prepare, just add hot water, wait a few minutes, and enjoy! So, if you're looking for tasty freeze-dried, meals for your next camping trip, long term storage plans, Bug Out Bag or for virtually anytime, Mountain House gets my vote! In my opinion Mountain House is one of the best long-term Freeze Dried Food brands available today.
Mountain House. (2015). Retrieved 2015, from http://www.mountainhouse.com/
Non GMO Project. (2015). Retrieved 2015, from http://www.nongmoproject.org/learn-more/understanding-our-seal/