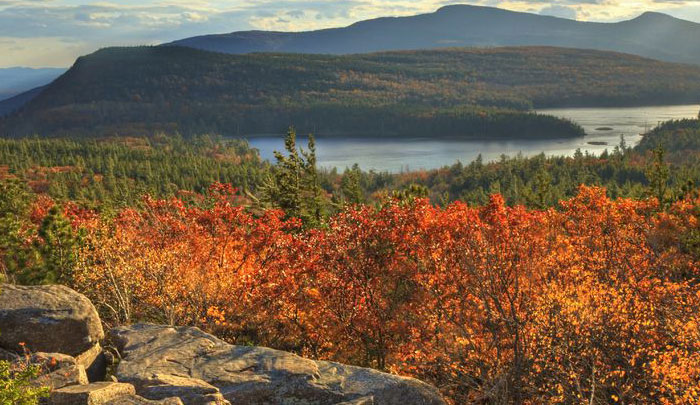 It won't be long before the leaves are gone, so this means it is harder to move around unseen, and sound will travel farther, as well, because there are no longer any buffers to stifle it. Dry leaves make noise, making it almost impossible to move quietly through the woods, so what if your life depended on being invisible and quiet in the woods. In a SHTF scenario, you may be the hunted instead of the other way around.
First, blend in, and to do this you have to know the colors of the landscape. Earth tones as some call them are everywhere, such colors include browns, tans, grays, and greens. Of course, colors are unique to certain areas because of manmade structures and so you have to consider this as well. Backpacks, rain gear, your footwear and all of your clothing must blend in with your environment.
Certain shelters will stand out in the forest during the fall and winter so it is important that you choose your shelter materials carefully. Using what is available in your environment is ideal. Leaving a small footprint is important as well, so hacking and slashing bushes and limbs for your shelter can give you away.
There is plenty of debris on the ground so use it to your advantage. Fresh woods chips and running sap from cut in trees is of course what a tracker would look for. The ringing of an ax or machete is a dead giveaway in the forest. Noise discipline is important.
If you are, being hunted or you simply want to use evasion tactics, your movement is what gives you away. Unless you have a specific destination to get too, then staying put for as long as possible is safer. Go to ground as the animals do during hunting season.
Like in any tactical situation, it helps to know your adversary, so study them carefully as they track you to determine their skill level. Hunting humans is similar to hunting animals except for one important fact; animals do not shoot back so keep this in mind if you attempt to turn the tables on those tracking you.
Spider holes are easy to dig so always make sure you have a digging implement. Scoop out a shallow depression and place the excavated soil at the end where your feet would be. Cover your "hide" with forest debris as you settle inside. Use a quality ground cloth or pad for insulation. You will have to pull in debris on top of you so make sure you have piled some nearby making sure it looks natural.
You can literally be lying in a pile of leaves mere feet from an adversary and they would not see you if done properly. Keep in mind you need room to maneuver a weapon in any shelter you construct. One problem with lying in a pile of leaves is that a smart tracker would look for unnatural humps in the landscape, so always make sure you have scooped out a depression that keeps the body below ground level to prevent any unnatural looking humps.
Movement can be spotted by those that know how to look, so again moving around unnecessarily is something you do not want to do. Observation is important, so take the time to find a place to hunker down and observe what is happening around you.
Wandering aimlessly is dangerous so while you do your normal preps for a crisis prepare for the possibility you may have to take to the woods. This will require planning, the right materials, skills and above all the patience to stay alive or to stay out of confinement.