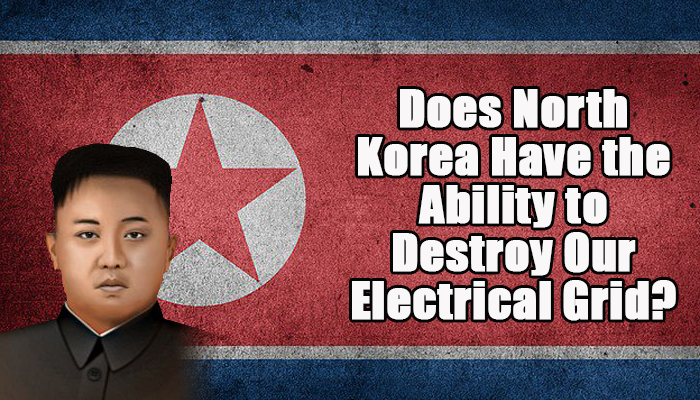 When it comes to winning it is not always about the size or capability of a country's army, but rather its willingness to use weapons of mass destruction. Like in any fight, it is often mindset that determines the outcome.
Seeing how this country sometimes gives in or capitulate to demands that seem outrageous and have no benefit to us, some countries and organizations out to harm us may believe they can bluff or terrorize us, and thus, get away with it.
We as citizens and the governing body are gripped by fear. We sometimes as a whole fear our neighbors and citizens and non-citizens at times from within our own borders. Certain words, actions and moves made are often criticized and analyzed by a small majority and if they find it offensive, the country, its politicians and some of its citizens give up and give in. Therefore, North Korea has every reason to believe they can bluster, act aggressively, launch missiles and threaten us with no repercussions.
Everyone knows what an EMP is, but do you know about the commission tasked to study the effects of an EMP attack on the United States. The EMP Commission was established pursuant to title XIV of the Floyd D. Spence National Defense Authorization Act for the fiscal year 2001 (as enacted into law by Public Law 106-398; 114 Stat. 1654A-345).
The study is a matter of public record and in the reference section at the end of this article, you can find a link to the study. It is a chilling report, but it is the worst case scenario, so keep in mind there could be attacks that would fall short of the worst case. The study is a few years old but the information still holds true today.
The report is quite long but the abstract states it all pretty clearly, and we are quoting directly from the report.
"Several potential adversaries have or can acquire the capability to attack the United States with a high-altitude nuclear weapon-generated electromagnetic pulse (EMP). A determined adversary can achieve an EMP attack capability without having a high level of sophistication."
"High-altitude EMP results from the detonation of a nuclear warhead at altitudes of about 40 to 400 kilometers above the Earth's surface. The immediate effects of EMP are disruption of, and damage to, electronic systems and electrical infrastructure" (Dr. John S. Foster, Earl Gjelde, Dr. William, & Dr. Hermann, Mr. Henry (Hank) M. Kluepfel Gen Richard L. Lawson, USAF (Ret.) Dr.Gordon K. Soper Dr. Lowell L. Wood, Jr. Dr. Joan B. Woodard, 2004 ).
North Korea has nuclear weapons, has threatened the United States, and many believe the ruler of the country is just crazy enough to embark on a suicide mission. Not everyone believes the dictator is that crazy however, and much of his rhetoric is a bargaining tool according to some experts, but talk only carries you so far, and if, or when he determines that we and other countries can't be bluffed, what is their next move.
It's debatable whether they have the missiles mounted with nuclear warheads that could reach the mainland of the United States, maybe Hawaii right now, maybe not, but they do have nuclear weapons and they may very well be capable of creating an EMP if one or several were launched and successfully detonated in the atmosphere over parts of the United States.
If they were to launch a nuclear warhead destination New York City or Washington D.C. we would know, but could we stop it, well we don't know, but the point is a strike of this nature would kill fewer people than an EMP attack over a large portion of the United States, so which scenario is more likely. That is the million dollar question.
The commission that did the study referenced above has estimated that 90 percent of the population would die as a result of an EMP attack that damaged or destroyed the power grid, while a strike on one or even two major cities would not come close to killing 90 percent of the population of the United States. Subsequent launches from a country would be thwarted or the country that attached us would essentially be leveled by our own attacks. An EMP is more deadly and requires less effort to achieve. 
Being prepared should not even be a question in anyone's mind. As far as we know, not much is being done by the government at any level to prevent such an attack, to harden our systems against one or to prepare its citizens for the eventuality.
It is up to you to prepare, and to what extent, well, simply put, you cannot be too prepared when the experts tell you that 90 percent of the population will die. Those not prepared will die first, those prepared but not sufficiently enough will die in the days and weeks following an attack, while others with luck, good health, and emergency supplies will survive, but for how long can anyone survive. Who will survive until the country rights itself and the government can once again assume its duties, its first duty to protect and help its citizens?
http://www.empcommission.org/index.php
(Dr. John S. Foster, Earl Gjelde, Dr. William, & Dr. Hermann, Mr. Henry (Hank) M. Kluepfel Gen Richard L. Lawson, USAF (Ret.) Dr. Gordon K. Soper Dr. Lowell L. Wood, Jr. Dr. Joan B. Woodard, 2004).