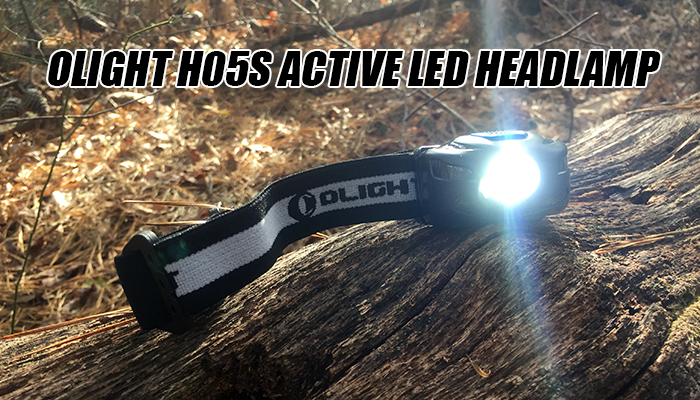 We have talked about the need for a headlamp, a quality headlamp in previous articles. The need is still there, and now the quality problem has been solved as well. Olight's H05S Active solves the quality issue, at a very good price by the way.
One of the outstanding features that I am sure you will come to appreciate is the wave function, (hands-free motion sensor). Imagine you have heavy gloves on or your hands are dirty from cleaning a fish, skinning a rabbit or from working under the hood of your car and daylight is fading quickly. Well, with the wave function, you do not need to worry about getting your headlamp dirty or worry about fumbling for the switch. No, you just have to wave your hand in front of the built-in sensor to active the light and then another wave of the hand to shut the light off.
This function has numerous possibilities, and you won't know the full extent of them until, well, until you need to use the motion sensor for on/off.
The light has three light settings, starting at 10 lumens, to 30 to 200 lumens. The 10 level on some lights is called "moonlight mode", which is ideal if you do not want to broadcast your location. Use this setting for signaling to personnel close by if you are moving as a team or for discreet map reading and so on. At 200 lumens, you have plenty of light for any task at hand in virtually any situation. There are also 2 red light modes steady on or blinking which can be used as emergency indicators.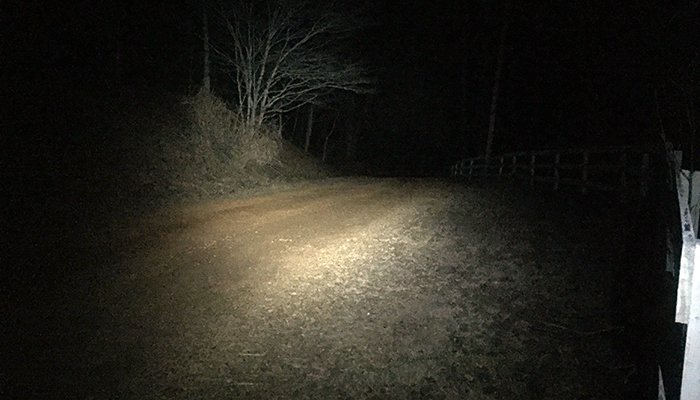 One downfall, if you can even call it that is the 2 AAA batteries, which are included, but are not rechargeable. Batteries, of course, do discharge, and how fast depends on the setting and time activated, so it is important that you always carry fresh batteries with you. Triple A's are easily carried and a pack of six, for example, would not take up any space to speak of in your pockets, pack, or glove box.
Hands-free, of course, means you can use the light for night skiing, bicycling, and hiking at night, and so on while both hands are free. The headlamp has four adjustable angles at 10, 25, 35, and 50 degrees, so even for those awkward positions, you may find yourself in and need a light then the various angles will allow you to shed light on any task.
The light also lets you know when the batteries are low. A red indicator glows intermittently right at your nose so you can't miss it letting you know it's time for fresh batteries. Additionally, there is also battery polarity indicators. While removing the cover of the battery compartment, the + sign glows red so you'll know which way the batteries go in even in complete darkness.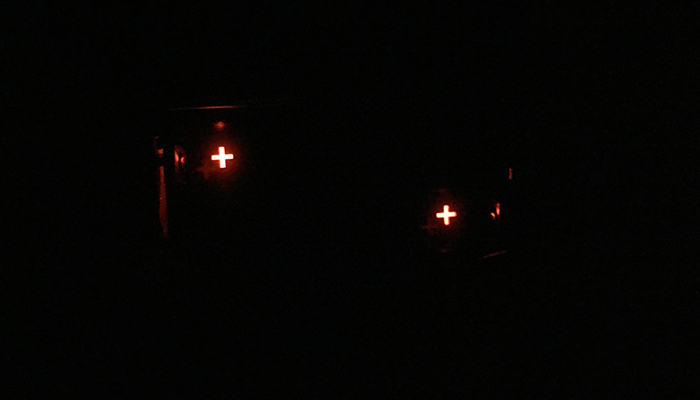 Now For Some Tech Specs on the H05S Active
Maximum Run Time is 24 hours On The Low Setting With Fresh Batteries

High: 200 Lumens / High Mode Drops Down To 120 Lumens After 10 Minutes
Medium: 30 Lumens / 8.5 Hours
Low: 10 Lumens / 24 Hours
Red light: 100mcd / 40 Hours

Beam Distance is 60 Meters or Roughly 196 Feet

Water Resistant Rating Is IPX4, Which Means The Light Can Withstand Splashing From Any Angle Up To 5 Minutes

Impact Resistant From 1 Meter (39 Inches) Drop Height

Weight is 1.6600 Ounces Without The Batteries

 Uses Cree XM-L2
TIR Lens of High Light Transmission Rate to Deliver a Balanced Beam for Close-Range Illumination
Powered by 2 AAA Batteries With an Output Up to 200 Lumens, With Adjustable Brightness Levels at: 200 Lumens, 30 Lumens and 10 Lumens
Red LED Lights Served as Indicators for the User's Location. Steady On or Blinking Modes Available
4 Adjustable Light Angles Available: 10, 25, 35, and 50 Degrees Below the Horizontal
Eco-Friendly Fabric Headband with Width of 25mm
Built-In Infrared Light Transmitter and Receiver to Allow Motion Sensor Switches to Control the On/Off of the Headlamp
When the Battery Voltage is Below 1.8V, The Red Indicator Will be Turned On and Shinning Intermittently On The User's Nose.
Battery Polarity Indicator: While Removing The Cover of the Battery Compartment, The "+" Sign Glows In Red Indicating The Direction of the Polarity of the Batteries.
Anyone can use this light, and if you camp or hike with children make sure they have their own H05S in the event they find themselves out after dark. Make sure everyone in your group has one, and knows how to use the light and to immediately activate it if lost at night. I also found an excellent hard shell case that lets you store the Olight on your belt or in your pack so the light can't accidentally get turned on by something in your pack bumping the power button.
The uses for a headlamp are endless and who hasn't found the need for one even during daylight hours. You may need to poke around in the trunk of your car, a closet, or if in the wilds, you may need to explore/search caves and crevices. The H05S Active is ideal for your EDC, so never leave home without it. You can purchase the Olight H05S for around $25 dollars on Amazon.