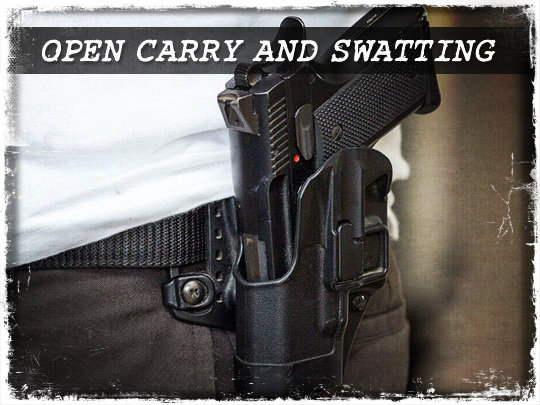 The gun control lobby and certain citizens at large who do not believe that anyone should own, or carry a firearm are putting legal gun owners, police and citizens in danger (Chiaramonte, 2015).
It is called "swatting" when people see you carrying a firearm or even suspect you are concealing one, and then call the police (911). People with an agenda in most cases, falsely report you are doing something illegal just to get the police to show up, and hope they drag you off to jail. In some instances a person is reported as a "suspicious person" and is acting in a threatening manner and of course has a gun on them.
Most of the time the reports have been exaggerated to inflame the situation. For example, stating a person is brandishing a firearm or a person has threatened another with a gun when this is simply not the case. Some do this in hopes there is a confrontation (a violent one possibly?) between the police and the gun owner.
This of course puts the police on high alert and can get the gun owner, the police or citizens in the area injured or killed. Any confrontation would be tense to say the least, because the police are responding to, in many cases, a 911 call about someone with a firearm, a so-called emergency, so the only information they have is what the caller wants them to have. The anti-gun lobby is doing this to incite the police to essentially harass gun owners who are doing nothing wrong.
Should You Open Carry If It Is Allowed In Your State
First, just because your state does allow open carry per the constitution does not mean that those that cannot legally own a firearm can carry one openly or otherwise.
Police unless they ask for and check your identification do not know if you can legally own a firearm or not just by looking at you. Like it or not there are laws that prohibit certain individuals from owning a firearm. Everyone has an opinion on who should be able to own one, and we will leave it at that for now, that is an argument for another day.
Of course there are those people that openly carry just to incite a response from others. They want to provoke others, to make a point, a statement, or whatever the case may be, and this is their right to do so if your state allows open carry, but also expect the police may want to check whether you can legally carry a firearm, if you draw enough attention to yourself.
Unfortunately, there are citizens that simply do not know the laws in their state concerning the carrying and possession of firearms. As often is the case, if they see a person who cannot be identified as a police officer carrying a firearm then the overly concerned citizen may call the police.
Openly carrying a firearm could in some instances deter crime. If someone, who plans on robbing a convenience store, sees an armed citizen, that person may think twice about robbing the store. However, those on drugs may not notice, nor care, they are not in control of their actions, and so may forge ahead with their robbery plans. In some rare cases a person may be targeted simply because someone wants his or her firearm.
It is a personal choice. However, if you know that the police in your area routinely stop those that open carry to check identification, then you have a decision to make. You can stand on principle, or blend in so you do not become a target every time you step out.
The reality is that those not trained in the use of a firearm are scared of them. They do not want to see them and they immediately judge those that carry or own a firearm, usually in a negative way. There are groups so radical that they believe that even sworn law enforcement should not be allowed to carry firearms.
Chiaramonte, P. (2015, September 1). Retrieved 2015, from http://www.foxnews.com/us/2015/09/01/gun-control-groups-accused-swatting-open-carry-permit-holders-putting-lives-at/