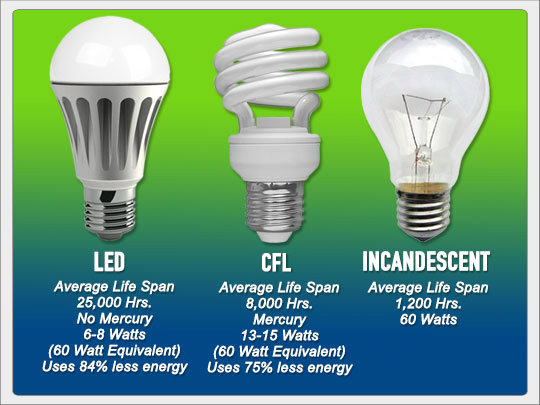 LED Light Bulbs Really Are Cost Effective Especially If Using Solar Power
While they may seem expensive to some, if not to most people, LED bulbs are however, cost effective, and they will pay for themselves over time. You can also purchase LED grow lights that have an extended bulb life and they do have the same cost effectiveness as regular LED bulbs. Grow lights would typically be on longer than a lamp inside the home for example, so you would save energy even though grow bulbs are usually on in excess of 16 hours a day.
Read Full Article
Posted in
How To
, March 21, 2015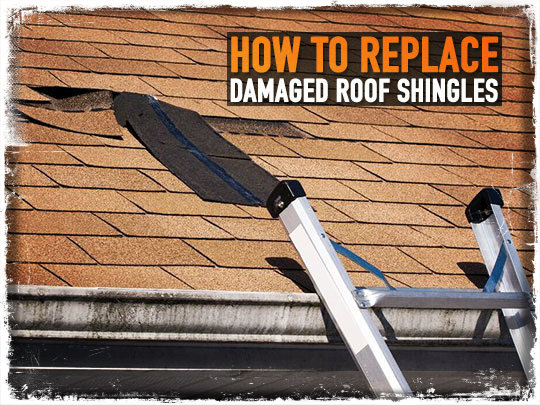 Your roof is the most important part of your house.  You can ignore maintenance on many other home systems for years and probably not suffer serious consequences.  Not so with your roof.  A roof leak will quickly destroy your home and turn it into a rotting decayed moldy mess.  You should not only have spare roofing materials on hand, but know how to make repairs.  Once the stores close, you will be out of luck.  Check out this video and learn how to repair a missing or broken shingle:
Read Full Article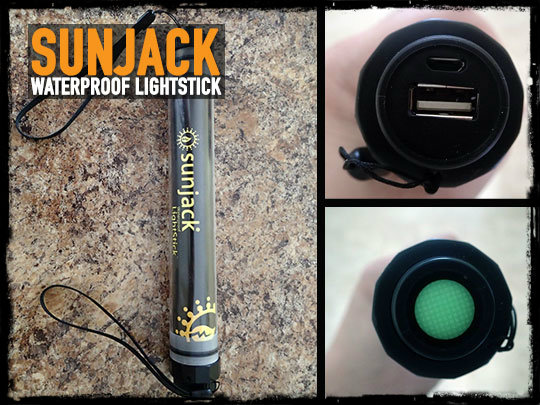 You cannot have too many lights in an emergency and when something happens you want a light that is charged and ready to go. Regular batteries in devices can leak and they can lose their charge even when the device is not in use.
Worrying about whether your devices have fresh batteries or not is the last thing you need to worry about in an emergency. Fumbling in the dark trying to locate the right size batteries, and then getting them in the device the right way is time consuming and frustrating.
If your vehicle breaks down at night you want a strong light that will provide light for hours, as well as, provide you with an emergency strobe to alert others that you are in distress.
Can you have all this and a light that has an integrated power bank that can charge your Smart phone 3 times over in any emergency. Of course you can, it is Sunjack's Waterproof LightStick™
Technical Details
350 Lumens On Brightest Setting

Integrated Power Bank For Charging USB Devices

Waterproof to Six Feet (1.8 Meter)

3 Brightness Levels Including an Emergency Strobe

Reaches full Charge in 4-5 Hours

Charges via USB Cable Which is Included

The 5200mAh Internal Battery Can Charge Up To 3 Smart Phones

Provides up To 46 Hours of Light On Lowest Setting

Weight is 0.47lbs, and the dimensions are 10.25L x 1.25 x 1.25 inches
The Waterproof LightStick's™ internal battery bank is charged/recharged using a USB cable, which is included, so this means you can charge the device from your laptop or desktop computer and from your vehicle. Newer vehicles may have a USB port in the console or somewhere on the dash for charging devices and they make USD adapters for your lighter socket.
Of course the LightStick can also be charged using a Sunjack solar panel making it ideal for camping and hiking, because the panel can be used for charging devices as you hike if it is secured to the outside of your pack.
Charge the device during the day so it can charge your USB devices at night as well as provide you with light. Keep in mind the charging time may vary when using a solar panel. The size of the panel and the amount of sunlight available may affect the charge time.
It includes two lanyards (one on each end) so the light can be secured overhead so you have both hands free. The light is ideal for working under the hood of your vehicle or for changing tires in the dark and the emergency strobe can be used to alert other motorist or used to alert rescuers if you are lost or stranded.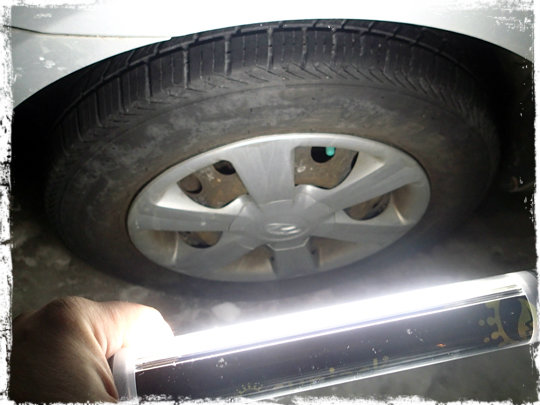 Is it rugged, and shock proof yes it is? You can literally leave it in a snow bank for hours and it still keeps on lighting. The occasional drops on the garage floor or driveway are no problem, and remember it is waterproof to six feet, so no need to worry if it is raining, snowing, or sleeting out it will continue to light up. However, make sure the end cap is secured when working with the light stick to keep moisture and debris out of the USB ports. Blue LED lights indicate the level of charge, so you know when it is time to recharge.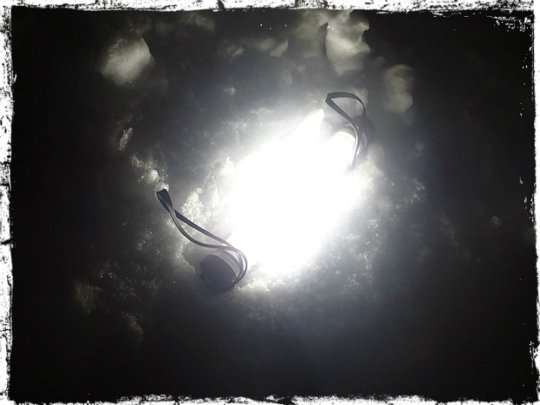 The Waterproof LightStick™ is shaped like a typical florescent shop light stick, so for some it may seem a bit big or long for a survival kit, but it can be carried in virtually any pack or lashed to the outside if needed.
The light is ideal for vehicle emergency kits, get home bags, home emergency kits and for tasks around the house and garage. Hang it under the kitchen cabinet to work on the plumbing, hang it under the hood of the car, and use it to light up a room whenever the power goes out at home.
What makes the Waterproof LightStick™ stand out from other lights is the fact it can charge your USB devices anywhere you happen to be, and that the light can be charged using various methods, not to mention the rugged and waterproof nature of the light and its three light settings and 350 Lumens on high.
An essential light that provides over 40 hours of continual light if fully charged. Even though it may be a bit big or long for a survival kit consider one for the kit anyway, because as stated earlier you cannot have too many lights, and you will be thankful if you find yourself lost or stranded that you have a waterproof light in your pack.
Final Thoughts
I like this light, and it is more than I expected. I am always looking for very portable battery banks to charge my devices, and a battery bank with a very bright light is the perfect combination. I do have a solar panel that will charge the light stick. I keep the light stick fully charged so I know my cell phone can always be charged during a power outage. Sitting in the dark with a dead cell phone is not the time to wish you had a light and a way to charge your cell phones. Now is the time to get prepared before something does happen. You can purchase the Sunjack Waterproof LightStick for $45 dollars at SunJack.com.
Read Full Article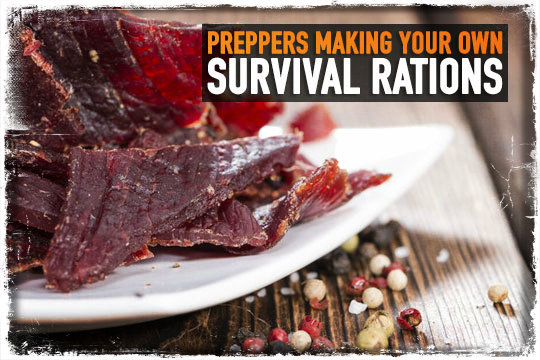 You have probably heard of "Hardtack" but do you know what it is made of. It is simply flour, water and sometimes salt. In years past in particular during the Civil War salt was difficult to obtain because of blockades and the fact many people simply lacked the money. Flour however was available because farmers could mill their own or have it milled locally.
Hardtack is often times referred to as pilot bread, ship's biscuit, shipbiscuit, sea biscuit, cabin bread, and sea bread.
For traditional Hardtack you need four to five cups of flour, 3 teaspoons of salt and enough water to create a dry yet pliable mixture. Once the mixture is ready simply roll out roughly one half inch thick and cut into squares or round biscuits and poke holes in the mixture to prevent puffing, and uneven baking. Then place on an un-greased baking sheet and cook for 30 minutes at 375. For long sea voyages bakers would bake the sea biscuits up to four times, to ensure they held up for months at sea.
Read Full Article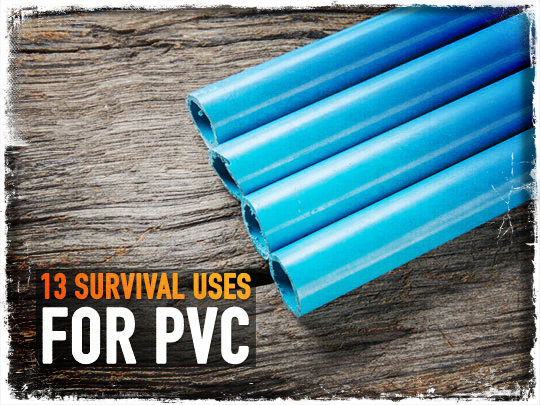 PVC or Polyvinyl Chloride is one of the most, if not the most, widely used plastic piping today. It is relatively inexpensive, comes in various diameters, and can be joined together with solvent and PVC cement.
Because of the various diameters, and the fact it is impervious to water and decay, PVC pipe is ideal for storing items, survival items, for example, in the ground. PVC pipe can be made into survival gear as well, and what it can be used for or made into is only limited by your imagination.
Read Full Article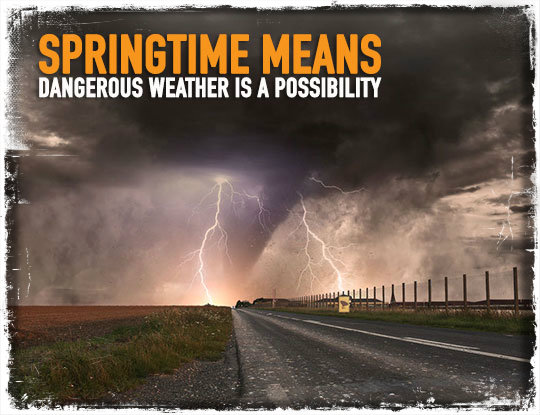 Spring arrives every year and along with the warmer weather comes the possibility of dangerous weather to include flooding.
A Few Facts
Floods are one of the most common and widespread of all natural disasters, and more than half of all flood victims were in a vehicle that was swept away by floodwaters.
Being Prepared
If you have moved to another state or even to another area of your state, make sure you know what natural disasters you can expect. Do your research so you can prepare, because being prepared and staying informed can save your life.
Read Full Article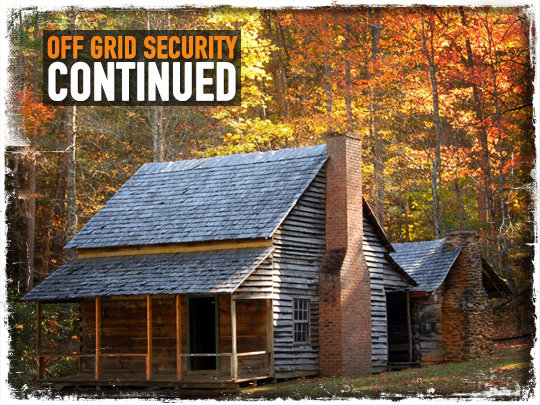 If criminals know your home is isolated, and you are not there at certain times, what does this tell a potential intruder? It tells them that they have all the time in the world to ransack your home.
Security is concern if you purchase remote property for your bug-out location or to construct an off grid homestead. If the nearest neighbor is 20 miles away then there is simply no deterrent for anyone wanting to break into your home if you are away.
Isolation May Not Be Your Best Option
Good neighbors can be beneficial, but for some people, the reason to go off grid is to get away from people and the hustle and bustle of urban living. Unless you never leave the home, or can have roving guards 24/7 you are susceptible to break-ins when you are not around.
Neighbors can work together to keep an eye on each other's property, and if people in the area know this is customary in certain areas then would be intruders may at least think twice about breaking in.
Alarm systems can be incorporated but powering them 24 hours a day every day can be a problem if you are using solar to generate electricity, for example, and if you are not at home who would hear the alarm. Having a monitored system would be out of the question without cell or landline phone service.
Do Your Research before Buying
Subscribe to the local paper before buying property, while it will tell you some things about crime in the area it will not tell you everything, so you also have to do some footwork if you will. Drive the area and look for clues such as boats, ATV's, and other items in plain sight. If high dollar items are scattered about the property then homeowners may not be worried about them being stolen. Do kids play in the yards, and are windows left open in warm weather.
Do not advertise your intentions. If you use a Realtor, for example, there is no need to explain to them your intentions. Word would get around, and once the word Prepper or homesteader is spread around you may get unwanted attention.
Have a police scanner in your vehicle, but be cautious, because having one may send the wrong signal to law enforcement. Pay attention to the calls police are receiving to determine the type of crimes typical to the area. Check state laws, because in some states there are restrictions as to the use of a police scanner in a motor vehicle.
Some security experts subscribe to occupying the high ground. Build on top and clear the area below for line of sight and to deprive intruders and others the benefit of cover is the thinking of some. This only works if you never leave the property, and can monitor the property around the clock however. Building high means people below can see you, your home stands out in other words.
Your structure can be built with security in mind, for example, make it two stories, and the bottom story could be all brick, stone or block walls without windows and a very secure door. However, your quality of living can suffer if you put all of your efforts into securing the structure.
Leave a Small Footprint
If your property is several miles off the main highway the last thing you want to do is to start clearing a roadway that leads right up to your property. Putting in a level gravel roadway only tells people one thing; there is a home at the end of the gravel driveway.
The roadway itself should be a deterrent and not look inviting. It will of course, get plenty of use by you, but it should look like a path that hunters or even hikers would take, it should not look like a well maintained road. Make people think twice about pulling off the highway for some sightseeing or snooping.
Consider a locked gate well off the main roadway so no one can see it passing by on the highway. If someone happens to drive up the road and encounters a gate they may not go any further. A gate of course would not stop anyone on foot, but it is impossible to lock down any structure or to make any area totally secure unless you have the personnel, time, and finances to do so. Locked gates do make people curious as to what may be on the other side, so weigh the benefits against the downside.
All you can do is to reduce your risk by not standing out, and by not telling everyone you are building an off grid home to survive the apocalypse, for example. Some people when they hear Prepper they think that firearms, hoards of food and other survival gear is being warehoused.
Game cameras can be used but they can only record the event while you are gone. If theft and vandalism is an ongoing problem cameras and video surveillance may identify the ones responsible however. 
Surveillance cameras whether working or not can act as a deterrent, because the theory is that the intruder would not know the cameras are not recording their every move.
On the other hand if someone has done their homework and knows you are not at home monitoring the system they may feel emboldened to break in anyway. They may know that you do not have landline service or that cell service is sketchy at best, so they may assume the alarms are not monitored by a service provider.
Any structure you build no matter where it is can be broken into. You can only reduce your footprint and blend into the area. There are advantages to extreme remote locations, but it would be difficult to build hundreds of miles from civilization simply to prevent people from finding your property. Twenty miles, 40 miles and even 50 miles from town is not all that remote considering you can get on the highway and cover 50 miles rather quickly in a motor vehicle.
Use a post office box for your mail and do not order items that have to be delivered. Do not make large purchases locally, and buy your firearms and ammunition in another town if possible.
Read Full Article
Posted in
Knives
, March 15, 2015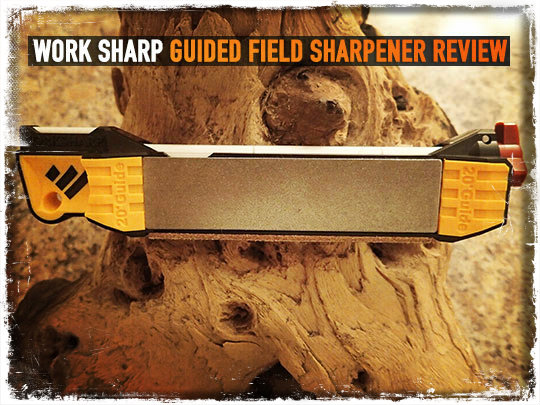 This angle guided, 5 stage sharpening solution is perfect for all of your sharpening needs, whether in the field or around the home.
It Sharpens and hones:
Your Flat Bladed Knives

Serrated Blades

Fish Hooks

Camping Tools

Kitchen/Camp Knives

Broad heads
The Work Sharp Guided Field Sharpener comes with 2 Diamond Plates one is coarse grit for shaping and repairing, and one is fine grit for sharpening
It also includes two Ceramic Rods one is a 3-position ceramic rod with coarse grit, fine grit and fish hook honing sides, plus a smaller diameter, fine grit serration sharpener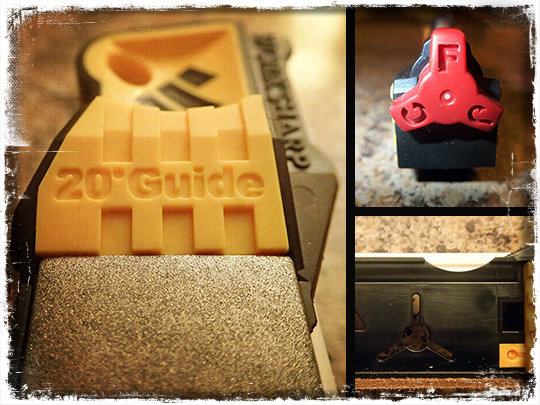 There is even more, it also includes a Leather Strop conditioned with a micro-abrasive to finish your blades to a razor-sharp edge
The sharpening guides are a perfect match up and they are specifically designed for your hunting knives, pocket knives and even your filet knives. The guides make quick work out of sharpening flat, curved and even serrated blades . Sharpen camp tools as well such as axes, hatchets, and machetes.
The diamond grit plates are held in place by rare earth magnets, and they provide cover for the broad head wrench and small storage compartment as well. Compact yet rugged and ready for practically any job. It includes a lanyard hole for easier carry or lashing to a pack or even to your belt.
Now that we have all of the technical aspects out of the way let's talk about how it really does the job under any conditions. The Guided Field Sharpener should be an everyday carry because if you carry a clip-on knife or even a belt knife as part of your everyday carry then you need a sharpener that is up to the task.
It will touch up needles for sewing and leather awls for when you are working with leather or simply want to add another hole to your belt. The sharpener also has a small storage compartment where you can carry small odds and ends such as needles or fishhooks or even fish line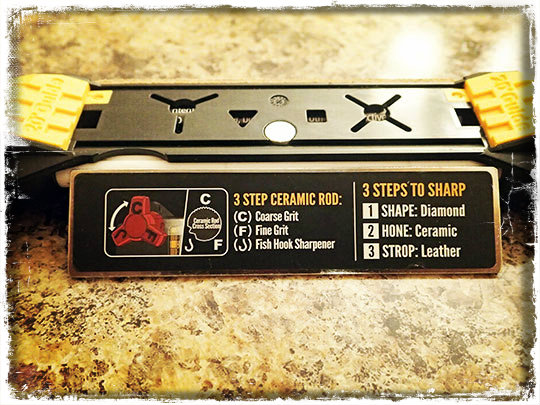 The Work Sharp Guided Field Sharpener will put an edge on any knife and on practically any tool you have and the strop will hone it to the point you can literally shave with the blade, it is not recommended that you do of course, but a sharp knife is invaluable.
It is a solid piece of work and it will hold up out in the field, whether it is wet cold or in between it is there when you need it and it will do the job.
I especially like the guides because each blade has a different angle and if you are not paying attention you can spend a lot of time sharpening and not have accomplished anything. With the guides you know the angle is right and after a few swipes on either side you are ready to go. Of course it will take more work if the blade is damaged, nicked or is extremely dull but this sharpener will bring the edge back.
You might even be in a situation where you have to make your own fishhooks or cutting tools and this sharpener can help you do that. You can make needles, sharpen pop can tops into fishhooks and take the lid off of a can of food and turn it into a cutting tool using this sharpener.
The Work Sharp Guided Field Sharpener is not just a knife sharpener it is a survival tool for your bug-out-bag, survival kit, emergency kit for the home, in the car, even in the kitchen and on your person.
The sharpener is ideal for anglers, hunters, scouts, campers, law enforcement, active duty military, and hikers and for anyone with sharpening needs around the home and can be purchased for around $22 dollars on Amazon. 
Read Full Article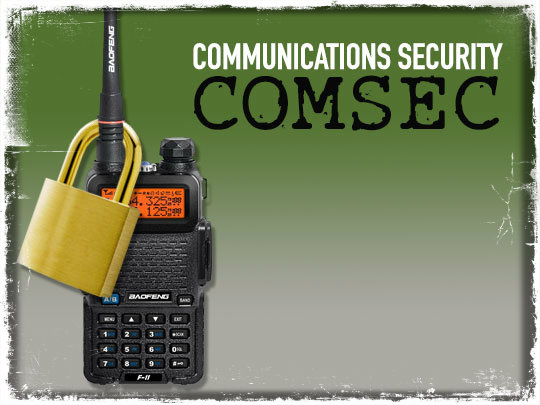 Communications Security (COMSEC)
COMSEC would include any electronic communications such as email, text messages, and postings on social media websites.
Who What When and Where
Who are you, someone may want to know, what are you doing, someone may want to know this as well, when is something going to happen, and where is it going to happen is relevant information that must be safeguarded when communicating electronically.
Radio Signals
Radio signals can be intercepted and with a directional antenna someone can determine your location by triangulation. All it requires is three bearings from three different locations. Where the bearings intersect is your location.
It is not quite as easy as described for those that have never triangulated a signal, but with a little practice and some knowledge of radio transmissions virtually anyone can do it.
Typically, someone would be monitoring radio traffic for information, and then decide based on that information they may decide they need/want your location.
Reduce Your Risk
To reduce the risk of giving away a location you can transmit from another location that is not relevant to you, or cannot be connected to you in any way. In other words, do not key the microphone while standing on your front porch if you do not want someone finding your front porch.
Keep your transmissions short and use just enough power to make contact with others on the net. The stronger the signal the easier it is to intercept and track.
Personal names should never be used so you should assign call signs to anyone on your communications net. If someone does not use the proper call sign and attempts to communicate with you then go dark, change to a backup frequency and attempt contact again, or wait to be contacted.
Remember, someone is always monitoring, and you would not know it. Unless you have sophisticated equipment your traffic would not be encrypted, and can be intercepted by anyone with a receiver.
The military and some law enforcement agencies use Communications-Electronics Operating Instructions (CEOI). The information is changed after a certain period typically every 24-hours. The guide would contain an authentication table, among other information, that all users would have to follow to communicate with anyone on the communications network. This is something that you could easily replicate for your communications net. A simple code that lets you know that the person you are talking to is a "friendly" and not someone searching for information.
Email
Once you hit the send button there is absolutely no way of knowing who at some point may have access to the contents. The person receiving it may distribute it to any number of people, the service provider may scan the email contents for keywords so advertisers can target you and hackers and others can intercept it as well.
Think before sending email, is there information in the correspondence that could compromise your personal, family or business's security. If there is any doubt do not send.
Text Messages
Treat text messages, as you would email. Once sent any number of people could view the information and it is not unheard of to text to the wrong phone number. Once again think and double check before hitting send.
Social Media
It should be obvious to most people that posting personal information online can be dangerous. Even information that is supposedly only accessible by "friends" can in some cases be viewed by others, and just who are your friends by the way, do you know.
Certain social media sites update their privacy policies from time to time, and they do not make much of an effort to notify users, so this could change who has to access your information. Typically, the sites do this so advertisers have greater access to your browsing habits, but along with advertisers there are others out there looking.
You may not even be aware of your privacy settings, so take some time to review how your accounts are set up to determine who has access to what as far as your online accounts are concerned.
Know what your children are posting on social media. An innocent picture of mom and dad's new firearm may bring unwanted attention to your family. Pictures of your home and vehicles with license plates showing is not a good idea either. Of course anyone driving by can see your plates, but if someone is looking for your home, because they liked what they saw online, and they have the plate numbers of your vehicles it only makes it that much easier to find the right home.
Taking pictures of your prepping supplies and posting them online is not a good idea even though you think there is no information in the pictures anyone can use there may be a clue that together with another clue can allow someone to figure out who you are and where you live.
If you have to stop and wonder if it is a good idea then it probably is not a good idea when it comes to posting information online.
No one has to break into your home to plant electronic intrusion devices anymore. Electronic surveillance can be conducted from down the street or hundreds if not thousands of miles away.
Cell Phones
Cell phones are by no means secure for the common user. You have to assume every call is being intercepted and the contents of the call possibly stored somewhere. For most this is not a concern, because all of the calls being swept up in a dragnet, as it were, cannot be listened too, there are simply too many and it is not the intention of the agencies doing it to listen to everyone. The information is stored, and if something happens later on then they may access some calls, because certain keywords not previously relevant have surfaced.
The agencies conducting surveillance and call collection dragnets are looking for specific keywords and they focus on the location and destination.
Calls of interest include those that connect with callers overseas. The call may originate from the United States or come into the United States from overseas. Law enforcement agencies will intercept cell phones during investigations as well, so all in all, you have to assume to be safe that all calls are being recorded, stored, and possibly analyzed. For the typical person this means nothing and nothing would ever come of all this surveillance as far as the average person is concerned.
If you do not want anyone to know you are a Prepper then do not tell anyone you are a Prepper. However, your actions and purchases can indicate you are a Prepper. If you buy a lot of supplies on Amazon for example, it is a safe bet someone at Amazon knows or suspects you are a Prepper. They don't care, but that is not the point, if someone gets a look at your browsing history or credit card purchases, for example they too will know.
Your browsing history will tell someone a lot about you and knowing what sites you visit may make you an easier target for hackers or others that may be gathering information about you.
Keep your phone locked/password protected so no one can access it to see what you have been up too. The same applies to your computer at home, use password protection so no one has access to your laptop, for example, to see what you have been up too.
Use common sense, security lapses often times occur because people did not stop and think. Something as simple as opening up an email attachment can override thousands of dollars of sophisticated security hardware.
Stop and think about who, what, when and where, when communicating with anyone.
Read Full Article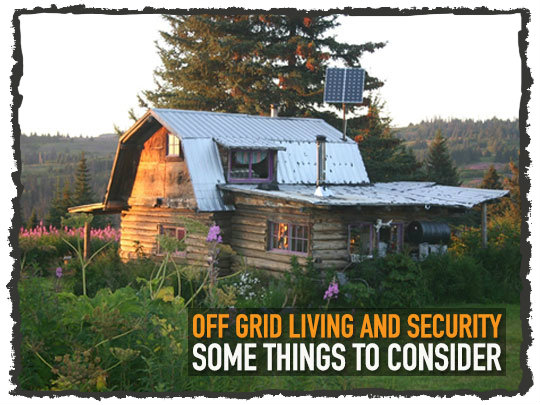 Reducing the dependency on local infrastructure, infrastructure managed by the local municipalities is the goal of many that go off grid. Anyone that has been paying attention realizes that the residents of any size city or town are at the mercy of those in charge. Cities control your water, electric, gas and even electronic communications to some extent. Taking control and going off grid however, requires work, planning, and adaptation.
Without Water Nothing Else Matters
When this country was first being settled it was a dangerous place, and so people grouped together, often times inside of forts for protection, and to protect what vital commodities they may have had such as water. Wells were typically inside the protective walls of the fort to keep them from being poisoned and/or taken over by those that may attack the fort or had the fort under siege.
Those hardly souls that may have lived outside of the fort in some cases, built their cabins close to natural springs or even diverted small streams so they ran close to, or even into the home. Water was close at hand and it was protected as best as it could be.
When the SHTF rural homes may or may not be a target, but you have to assume as the crisis draws on anyone and everyone would be a target, in particular those that have certain life essentials such as water and food sources.
You cannot rely on streams, rivers, or lakes for your water supply if your cabin or shelter is under siege. You must be able to access your water supply from inside the structure.
You will need a well that is properly cased off so no one can poison it or disrupt the flow of water to the home. All water lines would have to be buried to a depth to where it would take considerable effort to dig them up. Pumps typically would be inside the well casement, but additional pumps may be in use outside of the well, and they need protection as well, to prevent tampering.
Power Sources
Solar, hydro and wind power is essential to those that live off grid if they expect to take advantage of electricity. However, power sources are susceptible to damage accidentally or purposefully. Your power can be disrupted, and if someone or a group is trying to force you out they will attack your power infrastructure.
Solar panels installed on the roof of the home are better protected than those mounted on poles, but they can be damaged or destroyed by small arms fire and by other means if it comes to that. Pole mounted panels can be tampered with without your knowledge if they are installed for example, near livestock water tanks that may be out of sight of the home. If you do not check every day you may not be aware of the disruption. Solar operated pumps may be used to pump water to keep the tanks topped off.
Hydro generators can be more easily concealed as long as the lines supplying the electricity to the home or other buildings are concealed. Hydro generators can be placed anywhere there is enough flowing water to turn the turbine at an acceptable rate. Hydro turbines can be placed in small ravines and crevices that are difficult to access by others provided they are even aware of a hydro power system.
Wind turbines would be extremely difficult to camouflage, but on the other hand they are not as easily tampered with. Of course with some effort your wind turbines could be destroyed. Typically a wind turbine not mounted on the roof is 20 or so feet high. The turbines can be damaged by small arms fire and by other means, and the mounting poles can be destroyed as well, but with considerable effort.
As with any city or town infrastructure it is important to everyone's well being but it is vulnerable. It can be damaged by natural disasters, sabotaged, and it can simply malfunction.
Redundancy is important for off grid living. You need backup resources in the event of a malfunction or damage caused by any means, and you need to be able to control and protect as much as possible from within your structure.
Even if you live off the grid you need emergency supplies, and you must be able to sustain life without electricity. Some people may be under the impression that once they can generate their own electricity that they would never be without electricity.
Solar energy while becoming more popular there is still a considerable cost involved and then there is maintenance and repairs. You will need more than a working knowledge of how solar panels work so you can replace damaged ones or to make repairs. Solar panels do not last forever, and aged panels cannot produce as much as newer ones, so replacement is a very real concern.
If something happened to where you could not pump water from your well, what is your backup plan, what will you do if you lose the ability to generate electricity for a short period, or are forced to defend your home, and cannot get outside to make repairs or to gather water from other sources?
Off grid homes should have adequate storage for emergency supplies. This may mean that you have to have a basement and/or root cellar under the home or a bunker that can be accessed from within the home.
You may be forced to sustain yourself in a cellar or bunker and so it needs to be well stocked with all essentials to include an adequate water supply.
Just a cabin in the woods with some solar panels is not enough to sustain you even though you are for all intents and purposes off the grid. You still need everything that a municipality had previously supplied. However, now you are responsible for the infrastructure.
Read Full Article