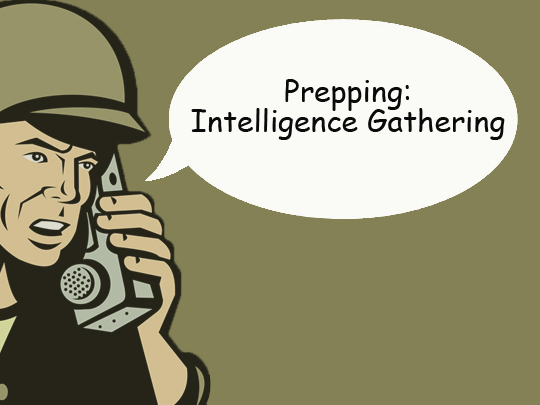 "Forewarned is Forearmed"
Knowing a disaster is looming allows you to prepare, and knowing what type of crisis is coming allows you to prepare for specifics. However, too many people may be waiting for others, in particular, governmental agencies to warn them. You know what this means, you may not receive a warning at all. Ignorance is not bliss in a SHTF scenario it is deadly.
Last winter people jumped in their cars in some southern states and headed off to work, apparently without a care in the world until the ice storm struck. You have to wonder did they not know that an ice storm was headed their way. If they did, how is it then that they were caught off guard? People were stranded in their cars in the cold for hours without any emergency supplies. Many simply abandoned their cars on the highway and set off on foot in frigid temperatures not dressed for the cold.
Is it possible that people did not know a storm was headed their way? The only conclusion a reasonable person can draw is that they did not know, because the alternative is even more troubling. If they did know and left unprepared anyway, what does that say about society today.
Stay Informed
Professional intelligence analysts use the term "actionable intelligence", which simply means the information can be acted upon to either change the course of events, or give you time to prepare for the event (s). Getting an alert about a storm, for example, that had passed through your area 24 hours ago is not actionable intelligence. This can also be referred to as "time sensitive information".
In intelligence circles, experts evaluate information streams for actionable intelligence. Then once known, a classification level is assigned, in other words what level of protection is needed to safeguard the information.
An example would be if the enemy found out today a spy plane passed overhead three days ago. The information is old news and not actionable, nothing can be done today to prevent the action. Reaction time of the enemy is considered when classifying or disseminating information.
People trained in intelligence gathering will determine if the information is obsolete before taking any action based on the intelligence. This is why it is important in most cases, not to have a "knee jerk" reaction to information. Consider the source and consider the source purposely leaking false information to test your reaction to it. The opposition may be gathering information on you as well in some instances, so be aware intelligence gathering is not a one-way street.
You Need To Be Ahead of the Intelligence
Intelligence gathering is like putting together a crossword puzzle that someone has tossed into the air and the pieces have come down scattered all over the place. It is your job to find those pieces.
Do not get tunnel vision. Information must be gathered from multiple sources. Intel analysts will tell you that if your mother says she loves you verify the information from another credible source.
You may not be in a position to verify much of what you discover but you can check other sources to see if they are reporting the same information. You cannot just use social media for information gathering about critical events. Information gets lost in the translation and rumors are just that, rumors. Someone hears something and then he or she puts their spin on it and then passes it on to you and before long, Elvis is alive and living with John F. Kennedy.
HUMINT
Once the SHTF information is vital to your survival, and intelligence gathering must be ongoing. Your group is gathered at a safe haven and you have people out patrolling the perimeter and monitoring the foot traffic on the road nearby. You as group leader would have instructed all guards to gather intelligence by interacting with others they encounter. This is called Human Intelligence (HUMINT). HUMINT is gathering intelligence by interaction with humans as opposed to intercepting radio or telephone signals or gathering information by way of cameras and video systems.
A family is passing by on the road so any guards that encounter them should encourage the family to talk. Ask about where they came from and what the situation is on the ground in places they have passed through. Are there military or armed gangs present in the towns, are there any diseases spreading, or quarantines or curfews that they know of and so forth? Ask questions, and then add the information to other data you gather from others to get the big picture, the puzzle is coming together.
Information is always compartmentalized, one person has a bit of news, others have bits and pieces, and by putting the pieces together, a bigger picture emerges. Intelligence operations generally compartmentalize information on purpose, so no one person has the big picture. This is to prevent vital information from being gathered in one place or on one persons' hard drive.
Edward Snowden is a prime example of how damaging it can be to allow sensitive information to gather in, or be accessible from one place. If information is all in one place, then all can be taken at one time.
Gathering Methods
Police scanners can be utilized during a crisis to monitor for information. You would have to have an independent power source and you can assume that the government would have a source for their communications. Your scanner may or may not be able to gather signals from law enforcement depending on its quality and age.
Many transmitting systems today are digitized and thus may be scrambled, but it is well worth the effort to have one and have it actively monitored by someone in your group during a crisis. Scanners can also be used to monitor two-way radio traffic and various other communication devices to include ham radios.
Two-way radios can also be used to monitor for information. You simply scan the channels for chatter. You will need an ample supply of batteries and/or a source to charge the devices.
Citizens Band (CB) Radios are another option along with ham radios. Again, keep in mind the power grid may be down so you will need to plan accordingly if you expect to use your devices. Gather information from all sources and never discount any or act impulsively upon intelligence. In some cases however, you may have to act without verification, if not acting puts your life in immediate danger.
"Seeing with your own eyes" is ideal especially when it comes to troop movements and movements by others that may pose a threat. Things to look for when assessing opposing forces is numbers of personnel, how well organized do they look, is their appearance uniform in nature, in other word do they all dress alike, move in unison, do they break into small teams and how well armed are they and do they appear to have an objective. Objectives would include occupation of the area or town, theft of supplies, trying to establish law and order or are they simply armed people protecting themselves. You need to know the answers.
It is important that you have personnel assigned to gather information. Remind everyone to gather it all and not sort through it and discard any on their own because remember each one is gathering small pieces of the puzzle. All information is important until determined otherwise.