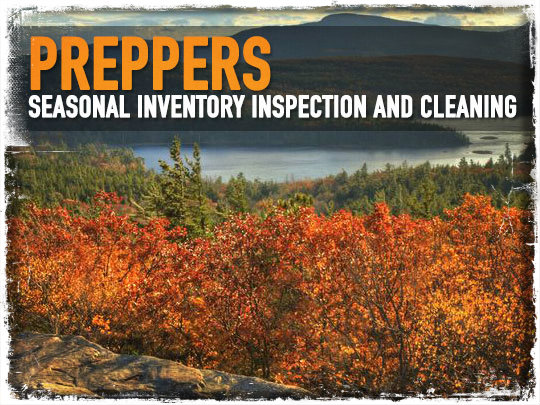 Closer and closer to fall and then winter, so this means the seasons will change from oppressive heat to cooler and eventually to bitter cold in some parts of the country. In other parts of the country, the change will not be as dramatic, but change it will.
Changes in the weather means you have to change some of your gear out, or add some things to your emergency packs, things that may have been packed away all summer, and then you may have to pack certain other items away for the winter.
Tents
Any tent packed up, and stored damp will develop mold and mildew. Often times when breaking camp you do not always have time to let the material air dry after a heavy dew or rain shower. Mildew smells, and of course mold can cause respiratory problems, so it must be dealt with.
Washing your nylon tent is an option, but do not toss it in the washing machine. The agitation, even with washers without an agitator can split/tear the seams and stretch the fabric. The easiest way is to pitch the tent, on a day when rain is not expected, then grab a bucket of warm soapy water and a non abrasive sponge. Use mild dish soap or something similar. You will also need a soft bristled brush and a garden hose. Wash all surfaces with the soapy water, scrubbing when needed with the brush. Rinse well and let dry in the sun or shade as the case may be.
Some will tell you that you need to use special soap for your tent, and then it just so happens they are selling that very soap. Use a mild detergent, not bleach to wash nylon fabric. Yes you can make a tent less water repellent by washing the material, but rain showers and sunlight can reduce its effectiveness as well. Reapply water repellent as needed.
Food Stores
MRE's and other food products left in vehicles or backpacks all summer probably need to be changed out/thrown out. Incorporate into daily use if you feel the food stocks are still edible. Heat reduces the shelf life of MRE's dramatically. Protein bars, trail mix, candies, snacks, and so on need to be checked carefully as well.
You do not want to lose track of expiration dates. While many foods can be eaten well past the dates, why would you want to go into a crisis with old foods, and some may not be edible after a certain point. Keep food stockpiles fresh, so if disaster does strike, you go into the crisis with fresh supplies.
Water
Rotate any water you bottled yourself after six months. Use the water to water house plants, garden crops, or use to flush toilets. Water commercially bottled and unsealed is likely still potable, but check the packaging for brittleness and other damage.
Clothing
Some of you may have bagged up your dirty clothes after a camping outing, and what a shocker, some of those bagged up clothes may not have been laundered yet. Dirty clothing can be somewhat of a health hazard, bacteria can grow on soiled clothing and certain insects may have been transported from the woods to your garage or laundry room and they may be still living.
Put a cup of white vinegar in with the wash along with your regular detergent to help combat odor, in particular that musty smell. You can use baking soda, as well, to help eliminate odor, but do not add vinegar and baking soda to the same wash load. Hang the freshly laundered clothes on a clothesline to further freshen them up.
Bedding
If you do not want to put your sleeping bags in the washer or the washer is simply too small, you can open up the bags and sprinkle baking soda on the inside material. The baking soda will absorb moisture and smells. After 15 or 20 minutes, shake well to remove the soda, or vacuum up if you can control the suction. Consider having your bags laundered professionally if they become soiled or you cannot remove odors.
Footwear
Use a shoe brush to remove any loose dirt and then apply oils or waxes to keep your leather shoes or boots in top shape. Suede can be brushed and treated with special cleaners and nylon, canvas or other man-made material can be touched up with a brush dipped in a mild soap and water solution.
Inspect everything else for wear and tear, rust, mold and mildew and treat accordingly before repacking in your bags or packing up to store for the winter.
Inspect clothing and other gear you may be unpacking to now put in your winter emergency kits. Wool is of course, susceptible to moths so inspect wool garments carefully for damage. If your winter clothing was washed and allowed to dry fully before storing, then hanging the clothing on a clothesline for a few hours to freshen them up is probably all you need to do.