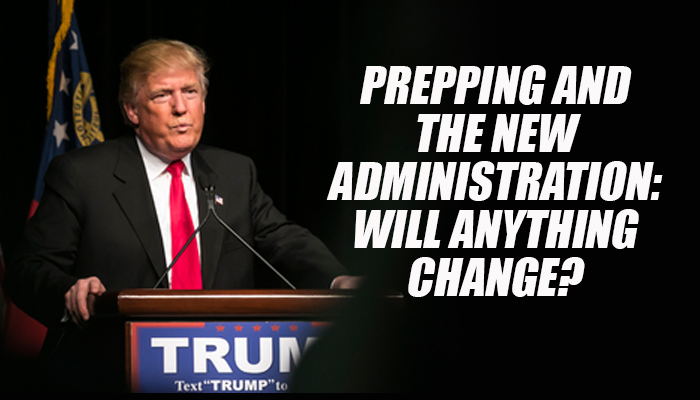 People's perception will change and have changed already in some cases. Depending on what side of the so-called political aisle you call home, things may have changed for the worse or the better. It's all perception at this point. Sometimes all it takes to change trajectory is the likelihood of something new.
It is not what the new administration will actually do, but how you and others react to the prospect. New vigor, new energy, in some cases, and as a Prepper sometimes all it takes to kick things into high gear is possibilities.
Will the EPA be hobbled, will homeowners be able to collect rainwater without fear of fines or even jail. Will you be able to have a pond on your land for livestock without someone coming along and saying you have committed a crime, or how about digging a well or putting in a bunker on your land? Will people be able to disconnect from utility companies even though they live within the confines of a city, can we have a latrine or compost pile in our backyards.
What about gun control, will you be able to get ammunition or guns as they are needed, or do you have to hoard Ammo or firearms for fear of some new regulation that may prevent you from buying more. We don't know yet, but what we do know is that things will change, and in some instances, the only thing that will change, however, is how you perceive the new administration.
The threats are still there. Hurricanes, tornadoes, blizzards, and floods care not about who may be in power, but you do, and thus, how you prepare may change. A more efficient government may mean a faster and more efficient response to emergencies in your community. It is possible that we as a country may look to taking care of our own before worrying about others. A possibility, and whether it is right or wrong it could happen and may very well happen, and this again will change how you prepare, maybe.
If you are to believe the chatter, the rhetoric if you will, from the President-Elect then you believe there will be fewer regulations. Businesses and private individuals will have less onerous regulations, less paperwork, less money spent on compliance, fewer permits to seek, and a greater sense of freedom, and maybe we can speak our minds without fear of ridicule. All possible and sometimes that's all it takes.
It will be a slow process in many cases. Much slower than some anticipated, but knowing it is in the works may be enough for the moment, a perception that things will get better. The villains are still there through, but the closet door has been flung open and the bogeyman lurking there does not seem quite so threatening, as it did in the dark of night.
You still have to prep, still have to be ready for the wrath of Mother Nature and you still have to worry about terrorism, but somewhere in the back of your mind, you may be able to start believing that now maybe someone has your back. Has your back and that the threats will be called out and the villains exposed. Once the curtain is pulled back and sunlight is allowed into, the corners only then can you truly assess the threats and prepare for them. Until then we must all be ready because perception is one thing, reality is another.