You have been there before, you have needed something out of your backpack and to retrieve that item you had remove your pack set it on the ground and then look for the item. In some cases, all that moving around may have alerted others to your presence or scared off game. You may be in a confined space such as in heavy brush where removing your backpack is cumbersome and awkward.
The Ribz Pack can be worn with or without a traditional backpack. This means more space for your valuable gear, greater balance and better weight distribution.
Now you can retrieve items with just a few hand moves, so no more gymnastics to find your compass or binoculars. With the Ribz Front Pack, everything is right at your fingertips.
Maps, GPS systems and medical supplies can be carried in the front pack and certain other items in particular ones such as map that you need on a continual basis. Use your front pack to distribute weight evenly and to ease the burden on your shoulders and back if you are carrying a traditional backpack.
Anyone that has ever hiked over rugged terrain especially uphill terrain understands the need for balance. Hiking uphill with a heavy backpack can be treacherous at times and a little weight forward would make all the difference in the world. With the Ribz Front Pack, you can adjust the weight to balance your body for those uphill climbs.
The front pack does not hinder your movements so you can sit down with it on and bend over easily. 
The Ribz Front Pack is ideal for hikers, hunters, cross-country skiers, anglers and for anyone that simply wants to enjoy the outdoors.
Hunting takes patience and stealth and in some cases, you may have to sit or even stand for long periods. You know game is nearby but you do not want to reach around and try to find a snack or other item in your backpack. With a front pack however, you can find items without scaring off game by all the thrashing around needed to get things out of your backpack.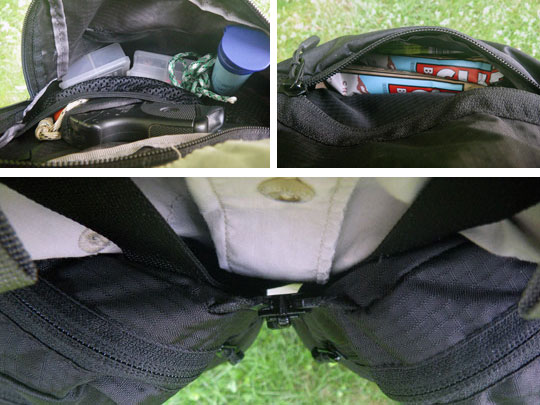 Something else to think about if you are using a hunting tree stand, moving around trying to get to your pack can be dangerous. Have all the essentials in your front pack that way you do not have to unhook your safety harness to drag your backpack around in front of you.
Snowmobilers and skiers understand the dangers of snow. Snowdrifts can be dangerous especially if you are injured and you are lying in a snowdrift unable to reach your backpack because it is essentially buried under you because it is strapped to your back. Have your transponder (signal beacon) in the front pack along with emergency medical supplies, rations, thermal blanket and a communication device so your hands can always reach your emergency essentials.
You can fish with the front pack on because it sets high enough for you to wade into the stream or river without worrying about getting the pack wet. You can also put waders on without removing the pack. Everything you need is right at your fingertips. Use the front pack just like you would a fishing vest, so no need to pack one for your next backcountry fishing adventure.
My Final Thoughts
The moment I tried on the Ribz front pack I knew how much I was going to benefit from it, not only for fishing and other outdoor activities but as an added pack to my bug out bag. Being able to have the items I use frequently at my finger tips is a great benefit. I'm sure once you try one you will feel the same about this excellent pack. The Ribz front pack comes in two sizes Regular (700+ cu in) and Small (500 cu in) and can be purchased for $64.95 at RibzWear.com. I would also like to thank Ray at RibzWear for providing me such with such an excellent product to test and review. Sorry fishing vest but in the closet you go.