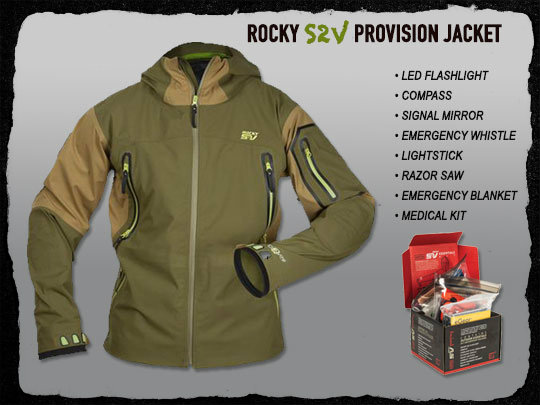 Rocky S2VProvision Jacket That Includes the S2V Essentials Kit
As any outdoor enthusiast knows, your clothing is your first line of defense against the elements. Clothing is shelter against the cold, rain and snow and not having the right outer layer can spell disaster.
One major drawback with a heavy outer coat though, is the bulky nature of many of them and some people may not be properly protected because of this fact. Some may choose a more flexible coat even though it provides less protection over a bulkier though warmer out layer. However, the makers of the Rocky S2V Provision Jacket are way ahead of the pack when it comes to mobility that also combines essential protection from the cold, rain and snow. The S2V Provision Jacket has articulated patterning for mobility with a durable water repellent coating.
More on Articulated Patterning
Essentially articulated body protection is designed to protect an individual with padding and yet allow freedom of movement. How this is done and applied to the S2V Jacket is quite simple really. The maker's of the S2V designed the protective layers to protect against the elements by allowing the padding (protection layers) to mold to, and move with the body. Bulky traditional patterns do not move well and thus restricts movement. The articulated design allows for protection and mobility making it perfect for a protective outer layer for cold weather adventures.
Getting wet in cold temperatures will dramatically increase your chances of hypothermia even if the temperature is above freezing and in particular if there is even the slightest wind or breeze.
Your face and neck are protected from the cold with a micro fleece laminated chin guard that again allows for a greater range of head/neck movement. When bundled up in the wrong bulky jacket your head movement is restricted and can reduce your range of vision.
Keep in mind your neck has arterial veins (blood from the heart to the brain) that must be protected from the cold to prevent chilling of the blood that will reduce core body temperature quickly.
 Some other features include:
Enhanced dexterity with Hypalon pull tabs
Dual pockets on forearm with detachable essential links
Storm fly with high-rise collar
Hydro IQ, 20,000/20,000
The jacket is classified as windproof
Has a nine piece hood with adjustable brim that is laminated for use with or without a helmet
Polyester 3 layer construction with wicking soft texture
AEROTHERM® zoned thermal insulation
Media pocket with duel access along with a laminated zip and cord management
No-lift gusseted underarms and mobility wrist gussets
One handed waist draw cord with locks
Polyurethane lined storm cuffs with laminated Velcro closure
Recco Advanced Rescue Technology
Two way front zip, chest pockets and pit zips
Ultimate Survival Technologies essential organizers located within chest pockets
Waist pockets for use without pack
Waterproof, laminated, zippered pockets
Welded, taped, and sealed micro seams
The makers of the Rocky S2VProvision Jacket are just getting started when it comes to protection and survival. 
Shelter is always your first priority and while clothing is your first line of defense, you need the means to construct in some cases, a more suitable shelter for protection from the elements. Can you imagine a jacket (yes you can it is the Rocky S2V Provision Jacket) that not only provides what has already been described but also provides a vast array of survival essentials as well?
Get ready to wear one of the most innovated jackets on the market today because the Rocky S2VProvision Jacket also is outfitted with the S2V Essentials Kit.
Survival tools and equipment that will help you survive and shelter in place but also help in your rescue by providing you with the Recco® Advanced Rescue Technology. The built in device releases an electronic signal that can be tracked by medical/rescue personnel and other first responders. This is ideal for skiers, mountain climbers, snowmobilers or for any one that may be caught up in and/or buried in an avalanche or simply stranded far from civilization.
The essentials kit also includes an eGear® led flashlight, a StarFlash® ultra signal mirror, a JetScream™ whistle, an eGear® light stick, and a medical kit. Additionally, the makers of the S2V did not forget about a razor saw, an eGear® emergency blanket or a compass so rest assured everything you need is in your jacket ready for any emergency. Your new S2V Jacket also includes a snow skirt that is brightly colored that can easily be removed and used as a signaling device.
S2V Provision Pants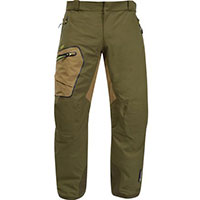 Now that you have the S2V Provision Jacket, you now need the S2V Provision Pants for complete protection from the elements. Keeping your lower extremities protected from the cold and rain is as important as protecting your upper body.
The pants with their durable water repellent coating will keep you dry as you push through the snow or during heavy rains. The pants also include an expandable laminated thigh pocket with an internal pocket that contains an approved international signaling strip. With its AEROTHERM® zoned thermal insulation you can be confident you will be protected from the cold.
Additional Features Include:
Dexterity enhanced Hypalon pull tabs
Loops for a belt or to attach additional gear such as flashlights, canteens, small axe or knives
Hydro IQ, 20,000/20,000
Waterproof waist and back pockets that are laminated
Recco Advanced Rescue Technology
Articulated knees and gusseted crotch for enhanced mobility so no pinching or binding when you have to bend and this is ideal for climbers, skiers and snowmobilers
Two way full length waterproof leg zippers
Windproof
Welded, taped, and sealed micro seams
Abrasion-resistant 4-way stretch polyester 3 layer construction, wicking soft texture
Adjustable internal snow cuff with footwear attachment
Anyone that has spent any amount of time outside in the snow or cold knows the value of water resistant clothing. With the S2V Provision Pants you can kneel in the snow or on damp ground without worrying about the cold or moisture wicking through to your skin. You can also sit down in damp or cold areas knowing you are protected.
One of the biggest dangers of being outside is body to ground contact. Without proper insulation between you and the cold ground your body will conduct heat into the ground accelerating hypothermia. Simply put you need insulation between you and the ground at all times, whether simply kneeling, squatting, sleeping or sitting.
Having laminated and waterproof pockets means you can safely store maps or documents and still have them accessible as you hike or move about. Their specially designed pockets can also be used to protect any media devices you may have such as smart phones or GPS systems. You can see a full line of Rocky S2V Outdoor apparel at RockyS2V.com