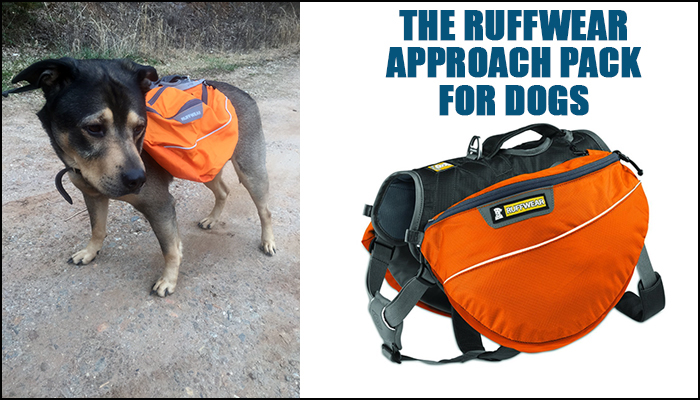 The Ruffwear Approach Pack for dogs is perfect for anyone that wants to get out with their dogs to enjoy nature together. Dogs love chores and certain dog breeds live to work for their human masters, and what better way than helping to carry their own supplies while hiking, camping or simply out enjoying nature.
Not only can your pet carry their own supplies, they can also tote some of yours as well, if they happen to be a service animal. Have them carry some of your medical supplies. They will love you even more for it, because they do want to help, and do not forget exercise is beneficial to any pet. As a precaution, however, if you have any doubts stop by your veterinarian to ensure your pooch is up to the task.
As you know, as a pet owner, you cannot set out on a day hike without food, snacks, and water dishes and maybe even their favorite toy like a Frisbee or a favorite fetch toy. Until now, you had to carry the food, toys, blankets, and dishes in your own pack.
The Ruffwear Approach Pack is an every day and a very functional pack. It provides dogs with the ability to carry a load efficiently.
It has a built integrated harness, which creates an excellent fit, stability of the pack and enhances the overall performance. The saddlebag design creates a passive compression system that is form fitting for better load carrying.

"It's recommended that your dog carries no more than 25% of their body weight in their dog pack. If your dog is new to dog packs, start with a light load and work up to a heavier load as your dog gets accustomed to wearing the pack".
Integrated Harness and Reflective Trim
The Approach's integrated harness features provide for leash walking (clip in via the V-ring), lifting (via the handle), and pulling (via the tow eye). The integrated, reflective trim allows you to keep an eye on your dog, even in low-light visibility environments.
There may come a time where you have to lower or raise your pooch up or down a steep incline. You can with this pack on them. Make sure you have the proper cordage and know how to properly attach any harness used for raising and lowering your animal and that you have the physical capability as well. The handle can be easily grasped by hand if you need to help Fido over obstacles or rough terrain.
Key Features
Customizable fit with five points of adjustment allow for full range of motion

Two leash attachment points: single-piece, anodized aluminum V-ring, and webbing loop

Padded handle and non-slip girth straps offer good load dispersion for controlled and comfortable lifting

Trail-ready details: stash pockets and external gear loops

Radial cut, weight-forward saddlebag design creates passive compression that stabilizes pack contents

Harness suspension system provides stability, comfort, and fit
Pick the proper size for your animal and follow the measuring guide pictured below so you don't choose the wrong size pack. This means you will have to measure your dog for the pack. However, the measuring is simple and can easily be done with a string and tape measure.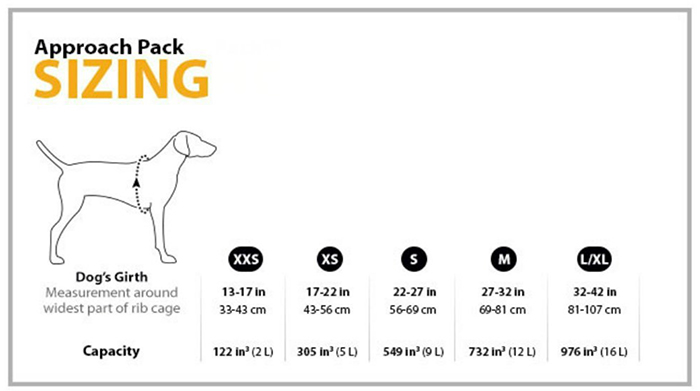 Do not over pack and the easiest way to ensure you are not overloading your dog's pack is to weigh the items you would always carry. You know you need to carry food, medicines possibly, a blanket or small pad, and collapsible plastic food and water dishes along with some toys. Then add other items as you see fit as long as you stay under the 25 percent of the animal's body weight. In warm weather take more breaks so the pack can come off for cool downs.
Being prepared means you are prepared to handle whatever comes up and this may mean a night in the woods for you and your pet so plan accordingly. A three-hour hike could turn into a 24-hour or longer jaunt.