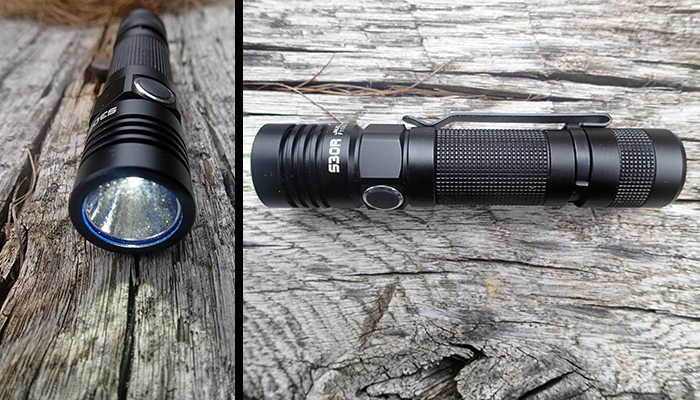 When I pulled this one out of the box, it yelled quality, which is hard to find these days regardless of price sometimes. One of the features I immediately liked is the magnetic charging base, which means you can pull it from the charger one-handed if you have to, no cables to deal with. Its things like this that can be a deciding factor for me sometimes.
The magnet is strong enough so that you can mount the base on uneven surfaces, and the light fits snug so it will not fall out of the base even if you do have to charge it on an uneven surface.
Having the ability to charge using a USB cable is another great feature, and it would pair up well with a small solar panel, which could be attached to your backpack as you hike. You could charge it in your vehicle if you have a USB port, as well, as with many of the portable battery packs and converters on the market today.
You can buy adapters that convert to a USB port, which plug into your vehicle or a battery box's' 12 Volt receptacle, so you can charge USB devices.
The strobe feature, of course, means it can be used as a signaling device if you become lost, or use it to warn other motorists you are having a problem with your vehicle. The S30R, in my opinion, is a must-have for all of the vehicles in your family. Young adults driving, yes they need one in the glove box whether they think they do or not.
The turbo mode will temporarily blind an assailant, and keep in mind this flashlight remembers the last mode you used. If you have to walk across a darkened parking lot at night, for example, make sure the last mode is turbo so you can use it to blind someone if the need arises.
The moonlight mode would be used in a tactical situation to help keep you from losing your night vision if you have to clear a room or need a light to check a map, compass or trail markings.
Did I mention it has a belt clip or slips into a coat or even a pants pocket? I love the clip. Attach it to your backpacks' shoulder straps so it is always within hands reach when hiking or simply when enjoying the great outdoors.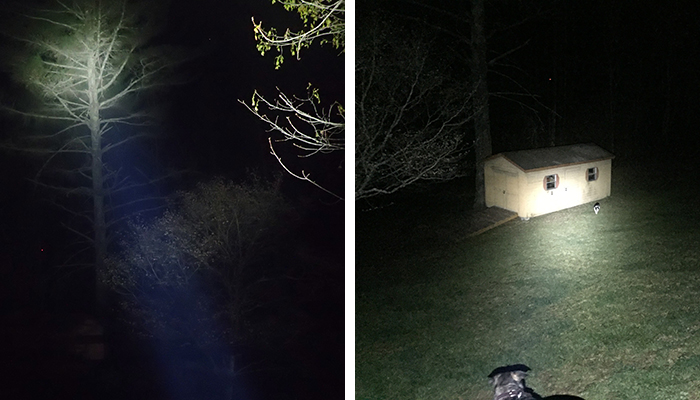 Hunters, campers, anglers, dog walkers, and of course, Preppers will love, and furthermore, use this flashlight almost on a daily basis. The S30R Javelot is perfect for your EDC kit, action bag and for the desk drawer at work. Put one in your tackle box and mount one near the breaker box in your home for power outages and other emergencies.
The waterproof feature is a good one, and it is waterproof to the stated depth. For most people they would need a good light that can take being in the rain if you are hiking, or if your vehicle breaks down. You want a light that can take being dropped in the snow or a mud puddle. This is not a diving flashlight, however, but if you drop it in a shallow stream, for example, you will not have to worry about damaging it. Again, it is waterproof to 2 meters underwater. It is shock resistance, as well, but I didn't test this feature because the shock rating states it will not be damaged by impacts from 1.5 meters/5 feet. Much would depend I imagine, on the surface you are dropping it on.
I love this one, it is a keeper, and I expect this flashlight will be with almost every day.
More from the Manufacturer
Cree XP-L HI LED With A Maximum Output Up To 900 Lumens And A Beam Distance Of 264 Meters, That's over 800 Feet

2600mah 3.7v 18650 Battery (Battery Included)

Tough Ultra-Clear Tempered Glass Lens with a Two-Sided Anti-Reflective Coating.

Type-III Hard Anodizing Aircraft-Grade Aluminum Body Material

IPX8 Waterproof Rating (Rated For 2 Meters Under Water)

6 Different Modes Including Turbo, Moonlight, And Strobe
More on Lumens
Moonlight (1 lumens)

Turbo Mode (900 / 500 lumens)

High (400 lumens)

Medium (80 lumens)

Low (20 lumens)

Strobe
A Smaller Version with a Big Punch Is Available As Well
There is a key chain model (I3S-CU) that also comes with a belt clip, and delivers a lot more than I expected, so if you are looking for a smaller version, or want both, consider this for your keychain, purse, pocket, EDC kit, and glove box or give away as a gift.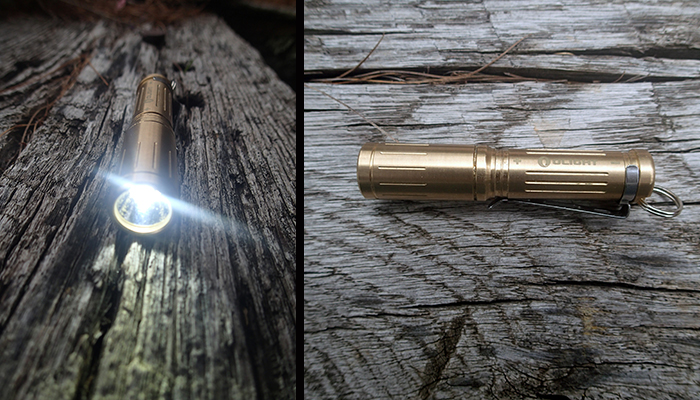 Both flashlights will likely last your lifetime if taken care of reasonably well. They are built that well.
Its Specs Are:
Cree XP-L LED running off of one AAA Alkaline battery with an output up to 180 lumens

Simply Twist the head to change brightness levels

Three modes from 180 lumens, 20 lumens, and 1 lumen

Built-in intelligent active thermal programmatic control system limits output on turbo mode for constant-on, the output will ramp down by 50% of the initial output within 30 seconds (approximately 90 lumens)

Aluminum-made smooth reflector with strengthened tempered glass with double anti-reflection coating

Removable split ring for your keychain
The Olight I3S is great for your keychain or hang it somewhere inside your vehicles or home or at work. It will light your workspace if you have to change a tire, find something in the trunk, or light up a pathway if you find yourself lost or stranded. It uses one battery, so it is easy enough to keep a small pack of batteries in the car or anywhere to make sure you always have a fresh one.
The stated maximum run time is 132 hours, which is an incredible time for such a small flashlight with one battery. I haven't verified yet by the way.
The beam distance is 164 feet, which I again found amazing for a flashlight operating off one AAA battery. It is well worth it to have one in your pocket, purse, and car and in your EDC kit.
This one is water resistant with the same rating as the bigger model and it is impact resistant as well.