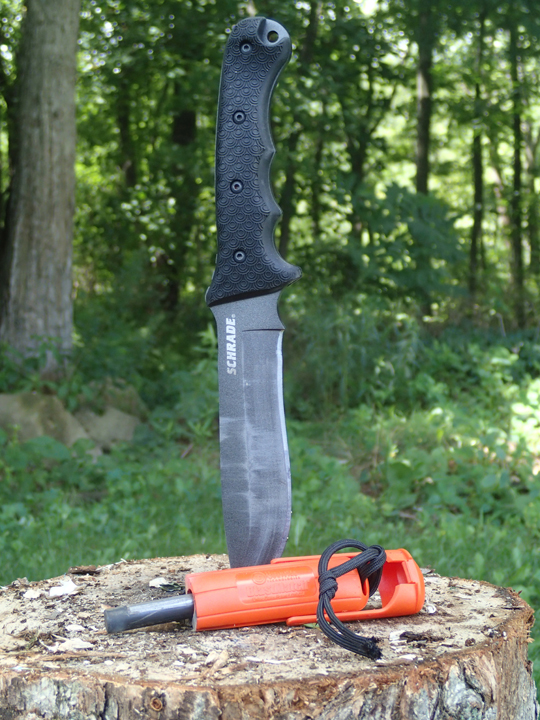 Manufactures Specifications and Description
6.4″ blade, 5.6″ handle
Blade is made of 1/4 " 1095 High Carbon Steel
Kraton handle
Weight is 15.9 ounces
Includes nylon sheath
The words you can use to describe the Schrade SCHF9 Ultimate Survival Knife accurately are a tough, rugged, good looking and one hell of a workhorse. Once you pull it from its sheath, you will start looking for things to cut, chop or split with it. Hold this knife in your hand and you just know once out in the wilderness everything will be okay. It is a full tang knife with a lanyard hole for those that need it, which can be used in an emergency to hammer with or to break open wild nutshells.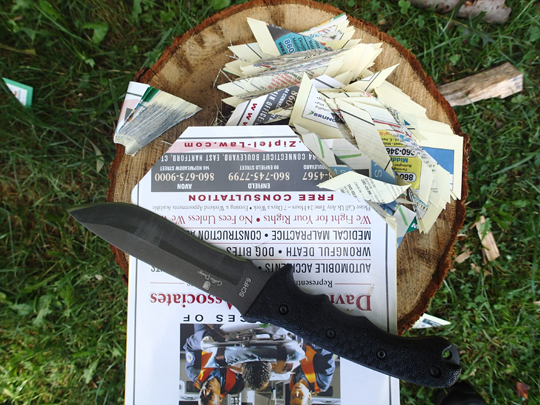 The sheath though nylon is not bad, it does have a protector so you do not slice up the sheath or cut the stitching getting the knife in and out. The leg tie down is good for pulling the knife one handed. Some of you know how hard it is sometimes to draw a knife one handed unless the sheath is secured. You have to grab the handle with one hand and hold the sheath with the other hand, and this can be detrimental in some situations, if one hand is restrained or injured.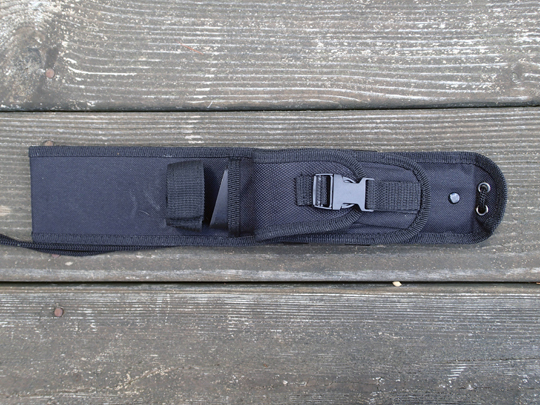 A removable pouch that can store survival gear or a sharpening stone secures to the front of the sheath, with the use of two straps that wrap around the back. This pouch and sheath strap system allows it to attach to a MOLLE vest or pack.
Once you get out in the woods, you can use the blade as you would an axe for small chopping jobs. It will take chunks out of a branch in a hurry and if you need it to shave wood curls for fire tinder, it can do that too. A heavy blade sure takes the work out of camp chores.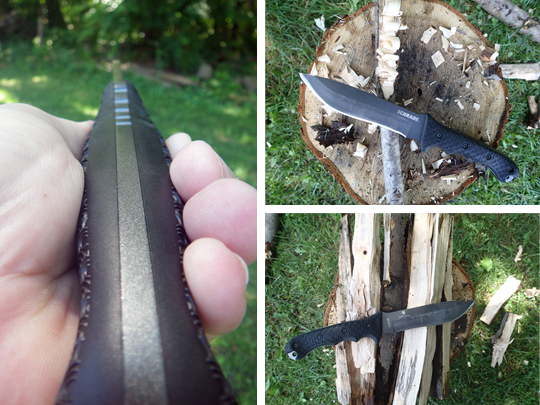 The blade shape near the front is shaped so chopping is possible without wearing out your hand. The ¼-carbon steel allows you to hammer on the backside with a piece of wood to split larger pieces of wood for making tools or splitting wood for the fire. The non-slip handle feels good even with gloves on so you always feel in control of the blade.
You can choke up on the blade for more precision cutting such as carving wooden snares or putting a finer point on a fishing spear and so forth. Do not hesitate to make the Schrade SCHF9 Ultimate Survival Knife your only knife. It is carbon steel so it will hold an edge, which means it can make a good backup skinning knife in a survival situation. Keep in mind though it is carbon steel and while it has been treated to be corrosion resistant, a little oil occasionally is a good idea. Some of you may carry multiple knives for various jobs but with this knife, you have it all in one.
The handle is made of Kraton, which is a very tough and durable rubber material. You would have to go out of your way essentially to destroy it but if you do, the broken pieces can be removed and because it is a full tang knife, you can then wrap the handle in Paracord.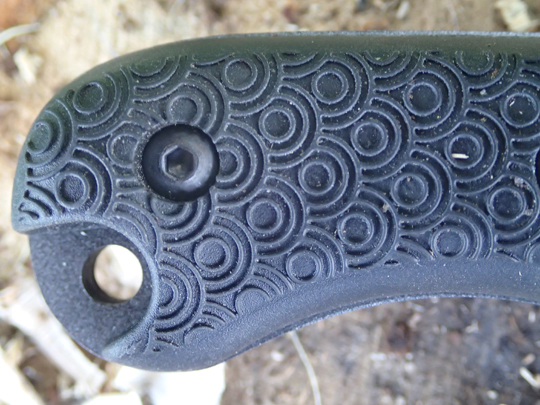 It has a drop point blade, which means it is stronger and will hold up better for plunge cuts, otherwise you can break the point off a blade if stabbing into hard material. The cut out for the forefinger allows for greater control when carving and is ideal to drag a Ferro rod along to create sparks for a fire. The handle is very comfortable and widens to fit the palm perfectly. It just plain feels good in the hand.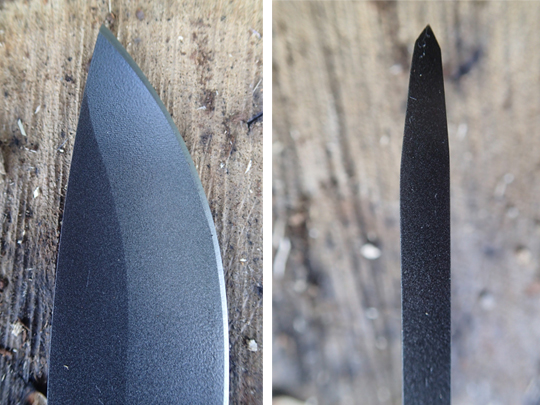 Final Thoughts
Should you buy one? No, you should buy two or even three of the Schrade SCHF9 Ultimate Survival Knives at the price it is offered. Are you kidding, you can have one in your bug-out-bag, survival kit and in with your camping gear all for the price that some other knives of this quality would cost you. You can see the full line of Schrade knives at TaylorBrandsllc.com.