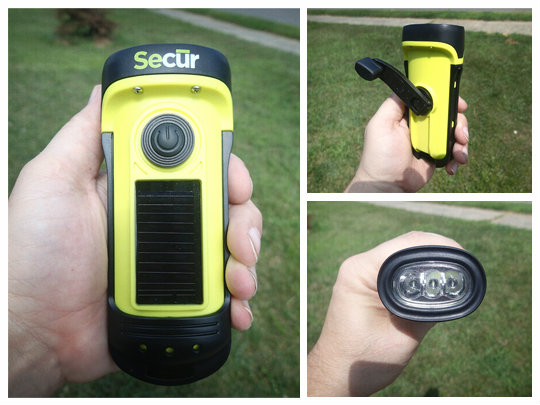 The Waterproof Solar/Dynamo has the best of both worlds, solar and crank power. What is one of the first things an emergency checklist has on it, batteries of course? Batteries are expensive, and they do not last long, or as long as they should relevant to how much they cost. They can corrode in your pack or device and it seems when you need them the most they fail.
Secur Waterproof Solar Dynamo Ed Flashlight Model Number Sp-1002
The Solar Dynamo Never Needs Batteries
It Charges by Built-in Dynamo or Solar Panel
It is Waterproof to 45 feet
3 functions one LED, three LEDs, or three LEDs flashing
SPECIFICATIONS: 
Flashlight power is up to 8 Lumens
Lighting time with a full charge is 4 hours using 3 LEDs, 8 hours with 1 LED
Charging time, 1 minute of cranking equals 80 minutes lighting using 1 LED
Charging time of 1 hour in direct sunlight gives you 120 minutes lighting using 1 LED
Life of LEDs is 50000 hours
Battery capacity , 80 mAh, Ni-MH battery
6" x 2.5" x 1.75"
With the Solar/Dynamo flashlight, you can crank for a few minutes and have all the lighting you need for any task or any emergency. During the day, you can simply leave, it in full sunlight, and it will fully charge, no effort, no batteries, and no worries using the built in solar panel. The built in solar panel can fully charge the device with no need for cranking.
Secure the flashlight to the outside of your pack so it receives direct sunlight, and it will be fully charged when ready to make camp for the night.
Waterproof to 45 feet, that is 45 feet underwater that it's waterproof up to, so it's not just "water resistant". This makes it perfect for any task in any emergency use it in a pouring rain, during a flood or any disaster.
Its dark, it is raining hard and your car has slid off the road, you need a light you can depend on. You have enough to worry about so never be in the position again where you have to worry if the batteries are fresh, wonder how long they will last and can anyone see me standing on the side of the road. You need a strong dependable light at this point and you need one that will not fail, in the rain, sleet or snow.
You can use the 3 LEDs flashing mode if you need to signal for help, or to indicate your position in the dark, in any situation.
Why do manufactures sometimes give a depth when describing waterproof devices? It either is waterproof or not, right. There is a difference between "waterproof" and can something be submerged. Water pressure increases the deeper underwater you are, so this means the waterproof seals must be manufactured to hold tight under pressure at certain depths, so to be waterproof at 45 feet means it meets a very high standard of manufacturing.
Some so-called waterproof devices cannot be submerged because they are not manufactured to withstand water pressure. Some device are considered waterproof in a rainstorm but cannot be submerged without permanently damaging the device. Just like a diving watch, some are rated for certain depths while others would fail at that depth, but can be worn when washing hands, in the rain or even when showering without damage.
The Waterproof Solar Dynamo Ed Flashlight is also great for camping and one ideal use is for trail lighting. Imagine trying to stumble to the latrine in the dead of night in the woods. Easy enough to get lost trip or knock your head on a limb, all this just a few yards from camp in the dark.
Why not set a few Solar/Dynamos along the trail. With a full charge at the "1 Lumens" setting, you get eight hours of lighting, which makes it ideal for trail marking. You can leave any trail marked for hours at night to guide others to your campsite, or to help you find your way around camp. The best part is no need to put in fresh batteries in the morning.
The Flashlight has a lanyard slot for attaching cordage or you can use it with a hook. This means the light can be secured to any pack, hung around the neck with a breakaway lanyard, or hung overhead for hands free working at night or even for reading inside your tent.
Have one in your bug-out-bag, home workshop, home emergency kit and certainly have one in every vehicle.
The Secur Waterproof Solar/Dynamo Ed Flashlight can be purchased for $19.99 to see a full line of their products visit securproducts.com