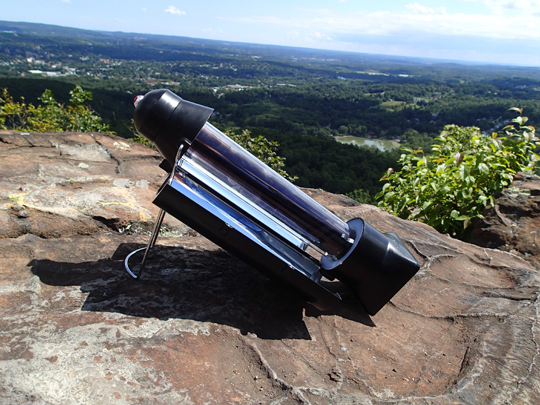 Specifications Description
Using the latest in solar thermal technology the Sunrocket combines a Vycor glass vacuum tube along with reflective panels to balance portability, style and above all efficiency.
The Sunrocket is capable of heating water in as little as 30 minutes. Once heated it stays hot for hours. The Sunrocket will heat water even when there is a light cloud cover or haze, though it may take longer.
The time it takes to boil or heat water will vary depending on the weather conditions, primarily how much direct sunlight is available. For best results place the Sunrocket in direct sunlight for the most efficient way to capture solar radiation.
The Sunrocket does not require any other heat source it only uses the sun's rays, so no need to start a campfire or carry heavy pots to heat water. Simply fill the Sunrocket with water leaving a two-inch space at the top, fold out the reflective panels and connect to the carry handle/support base and you will have hot steaming water in no time.
Specifications

Dimensions: 17.7×4.3×4.3inches (45x11x11cm)
Volume: 17oz (500ml)
Weight: 2.2lbs/1kg
Materials
An evacuated vacuum glass tube made from Vycor glass (95% silica, high temperature and thermal shock resistant) and copper / aluminum absorption.
Reflective aluminum panels, high quality scratch and weather resistant plastics and pressure release valve.
BPA free, safe non-toxic materials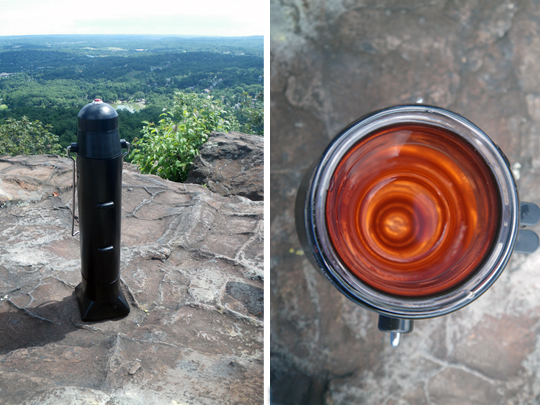 Applications
The Sunrocket can be used during a power disruption to heat water for dehydrated/freeze dried foods, heat water for sponge baths or for brewing of hot beverages. Heat only water in the Sunrocket and then pour the hot water over your dehydrated or freeze dried foods.
Carry the Sunrocket with you on your camping adventures, but because of its size, it may not be ideal for carrying in your backpack. It can of course be packed in your vehicle for any vacation adventure.
Pressure will not build up inside the Sunrocket's heating chamber because of the pressure release valve on the cap so you can leave the water to heat while you do other chores.
Keep in mind however, you are dealing with hot water and steam so use caution when removing the cap. 
The Sunrocket is great for those weekend getaways at the family cabin. Simply unfold the reflective panels and use the carry handle, which doubles as a support base, and place on any level surface to begin heating water. The Sunrocket's reflective panels must be opened up to catch the sun's rays and the carry/support handle must be used as a support.
The inner vacuum tube (evacuated glass tube) is made of shock resistant glass but it can be broken if handled rough or dropped on a hard surface. The Sunrocket can be transported in any position.
Weighing in at slightly over two pounds the Sunrocket, it will not add any significant weight to your home emergency kit. Knowing you have the ability to heat water in virtually any situation will help reduce the stress level during a crisis. Keep one in your homes' emergency kit.
Ideal for on the job as well, construction workers and others that work primarily outside during the day can now heat water for lunches or breaks. Simply set up the Sunrocket and allow the water to heat as you go about your work and when lunch or break time arrives you have steaming hot water ready for meals, coffee, tea, or any hot beverage.
The Sunrocket will boil water if left in direct sunlight. After using a few times in various situations, you will have a better idea of times and temperatures, so you can better plan your meals and other activities.
Pros and Cons
Pros
Lightweight can be used anywhere there is sunlight
Heats water by simply placing in the sun and does not require any action or attention by the user other than filling with water
Can boil water even if the surrounding air is frigid because of the unique insulating qualities as long as there is adequate sunlight
Excellent for home/car emergency disaster kits
Keeps water hot for hours
Cons
Too big for backpacks/bug-out-bags so it is not ideal for wilderness survival situations
Inner vacuum tube is glass and can be broken if handled roughly or dropped
Final Thoughts
The SunRocket does exactly what it sets out to do, I was able to get steaming hot water in just about 30 minutes in full sunlight. However because of its size and the possibility that it could be broken if handled roughly or dropped, I don't think it's ideal for a bug out bag. It is however great for your home or car emergency kits. I would like to thank Louise at SunRocket for providing me with an excellent product to test and review. You can purchase the SunRocket Solar Kettle for $59.50 at SunKettle.com.