sCharger-5 USB Solar Charger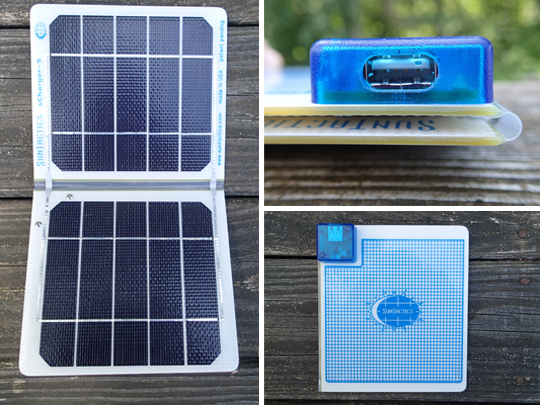 Description and Specifications
The sCharger-5 is capable of charging anything with a USB connection at wall charging speeds. It can charge a Smartphone in two hours or less. It will charge anything with a male USB connection. The sCharger is water and weather resistant.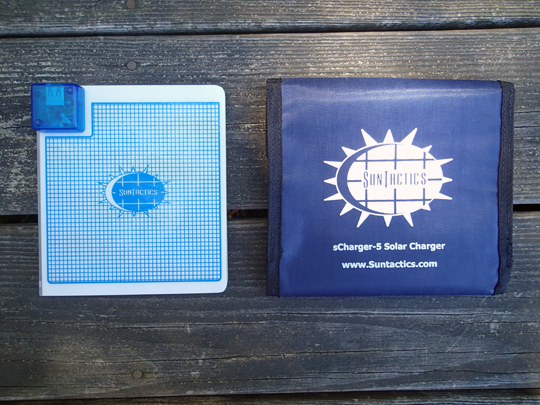 Independent testing shows that the sCharger-5 will in direct sunlight charge an iPhone in 2 hours or less, the same amount of time it would take using your homes' electrical outlet. Out in the wild you can recharge you device as fast as you can at home.
Employs a standard USB type "A" connector
Output for USB is 5 volts, 1 amp (1000mA), 5 watts
Length is  11.5 inches, width is 1.8″ (with USB width is 8/16″), Height is 6-1/8″
Weight 8.5 ounces
Can handle temperatures up 160ᵒF
Connect it and forget it. Utilizing exclusive "Auto-Retry" technology the charger will automatically re-start charging if for whatever reason the panels have been temporally blocked from sunlight. Similar products require you to reset manually to begin charging again if the sun goes behind a cloud. Connect your device and carry on with what you are doing knowing your device will be charging. This technology is ideal for campers and hikers that may want to leave their devices at camp while they do some exploring.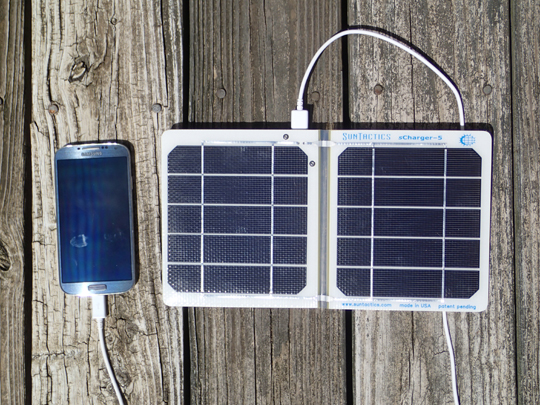 Now you do not have to worry about coming back to camp to find out the charging station stopped operating because of temporary cloud cover. It would be frustrating to find your device had not been charging the entire time you were gone because it needed to be reset to continue charging.
Communications is critical so take one with you on hikes, hunting trips and camping or carry one in your vehicle in case you have a mechanical failure and your cars' electrical system cannot charge your phone. Keep one in the car and the home so you're always prepared when the power does go out.
The sCharger is also great for Mt. biking or going on bicycle tours, and you don't have to worry about it getting wet in your pack, simply dry it off and you are ready to start charging again. Lightweight and compact enough it can be carried anywhere, and remember it will charge virtually any device that uses a male USB cable.
No more worries about running your phones' battery dead because you love to listen to music as you ride. Stop for a break, recharge you phone and you are ready to go again, recharge your phone literally on the fly.
In today's world regardless of where you live, you have to start thinking about the "what ifs". Anything can happen to anyone at anytime. Individuals and families have to begin thinking about how they will perform essential tasks during a power disruption. Just because the power goes out does not mean certain things do not have to be done.
Final Thoughts
I found the sCharger-5 lived up to its advertised charge times and it charged my completely drained Samsung Galaxy S4 in just about 2 hours, nothing unusual about the sun it was sunny and I plugged in the phone and went about my usual business for around two hours. It performs the same every time, obviously with longer charge times under cloudy conditions.
I really cannot stress enough how important the Auto-Retry feature is. You cannot babysit the charging station and keep resetting it manually every time the sun hides behind a cloud to keep it charging your devices. The Suntactics device does it for you, so you truly can go about your business knowing it is charging your device while you are away.
One fault I did find with it however, there is not any way to strap it to my backpack or even to my body. It needs lanyard slots or sling ports for attaching webbing or cordage of any sort for throwing it over my shoulder. I would like to be able to hang the charger across my back, or strap it to my pack, plug the USB cable in while my phone is on my belt clip or even in my pack while I am walking or hiking, so hopefully Suntactics will remedy this soon.
I would like to thank Michael over at Suntactics for sending me the sCharger-5 for review and testing. You can purchase the Suntactics sCharger-5 for $139.95 at SunTactics.com