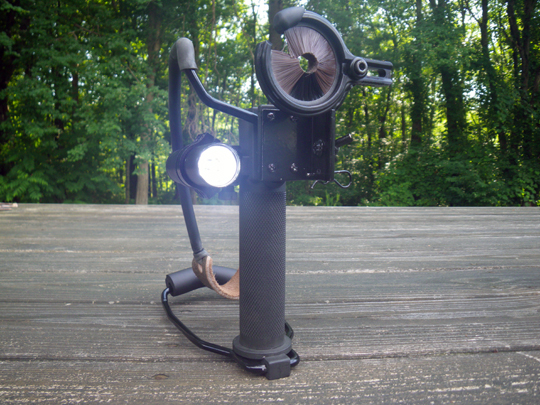 Manufactures Description and Specifications
Handle cast aluminum alloy
The brace is made of steel
Steel Yoke
End cap is cast aluminum alloy
Bands made of high quality surgical tubing
Finish is aluminum parts, anodized
Steel parts are powder coated
Not only is the Survival Slingshot a way to obtain food in a survival situation it is a survival tool unlike any you have ever seen before. With a 25-pound pull, you will find this slingshot is 50 percent more powerful than store bought slingshots.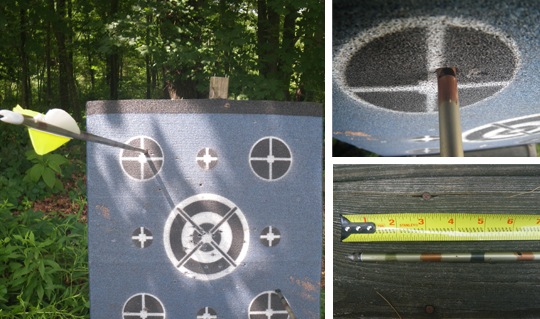 The Survival Slingshot is also customizable using the optional Weaver mount bases. Turn your survival slingshot into a one that can fire arrows with the optional archery attachment.
With the ability to mount a tactical flashlight you can now spot game in low light or even in the dark. As you know, many game animals are nocturnal so hunting at night can be very productive. With the Survival Slingshot and the light attachment, you can locate game or even fish at dusk, early dawn and late into the night.
Small game and fish are what will keep you alive if you become lost or stranded. The reality television shows and Internet blogs make it seem easy to snare and trap game. While snares, spears and homemade weapons do work, it is a painstaking process sometimes. However, with 25 pounds of pull and the added ability to not only shoot steel shot but arrows as well, small game hunting has taken a huge step forward.
The slingshot is heavy duty and can stand up to the rigors of any survival situation. It is made with aerospace grade aluminum alloy and high strength steel with a lifetime warranty. It comes with an integrated compass and the handle storage space is large enough for a small knife, lighter, matches, cordage or other survival essentials. It truly is a survival tool and not a toy. This heavy-duty survival tool can be carried virtually anywhere and if you leave home with the Survival Slingshot you can survive.
The survival Slingshot also has an optional Bionic ear so you can listen for game or if you are in a tactical situation, you can monitor for pursuers or adversaries.
With the Survival Slingshot you are not sitting back hoping a snare or deadfall works you are actively pursuing your food. Once you have practiced in a controlled environment and have become proficient, your chances of survival have dramatically increased in any survival situation. If you see a bird or small animal it is dinner tonight when you have the Survival Slingshot with you.
All the experts tell you to carry, wire for snares, line for fishing along with hooks and tackle, so why not carry an all in one Survival Slingshot that has everything you need in one outstanding survival tool.
The Standard Models ship with one container that contains, matches, weights for fishing, fishing hooks, pins and needles, fishing line, thread, swivels and an ammunition container with roughly 40 rounds of steel shot.
Shooting Directions:
Pull back with the fork 45 to 90 degrees from upright and release.  Release the shot smoothly and use a consistent style for best results and accuracy. Safety first so wear eye-protection. Inspect slingshot bands for wear before each shot as they can become old and worn with time.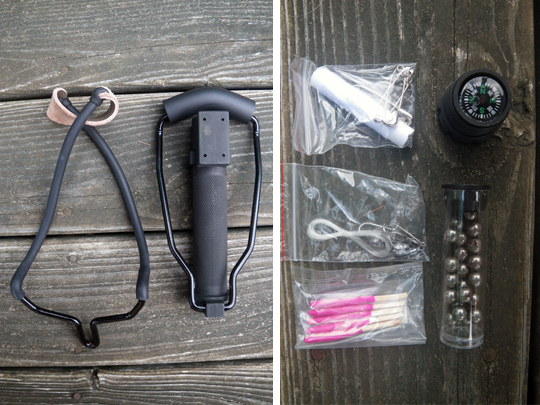 Customization
The taped holes in the front accessory mount and the side rails use #4 fasteners. The side mounts can accept a standard scope mount a flat base is preferred. Once attached with 2 #4 fasteners, you can attach a tactical light with a standard scope mount. There are endless sizes of scopes and therefore many mounting options.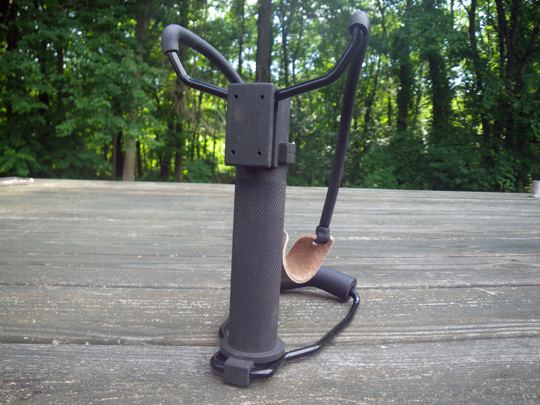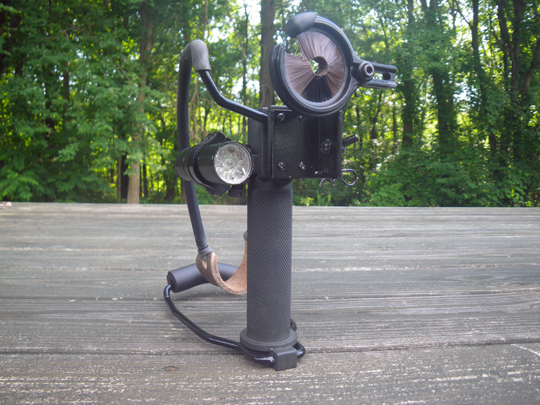 The photo shown above is configured with a custom bracket using a Trophy Ridge Whisker Biscuit, which are available at most sporting good stores that carry archery products. The whisker biscuit can easily be rotated down out of the way so you can shoot steel shot should you want to switch back.
To replace bands that are worn, dip the end of the band into either water or rubbing alcohol and slip end onto the fork a distance similar to the original. Make sure that the pouch is aligned evenly and roughly perpendicular to tube.
Warning this device has an effective range of 250+ Yards 
This is not a toy, adult supervision is recommended for minors. Ammunition may ricochet, inspect bands before each shot for wear and brittleness. Replace damaged bands immediately.
Final Thoughts
The survival slingshot will definitely improve your chances of hunting game especially when you have to do it in silence. It's compact and light enough where it is great for a bug out bag, add a few two piece arrows and you're good to go. I would like to thank Laura at Survival Slingshots for providing me with their Archer model to test and review. You can purchase the standard Survival Slingshot for $49.95 at survivalslingshot.com. The video below will show you arrow depth at about 20 yards using a standard field point.