Tactical Walls 1242 RLS Hidden Gun Shelf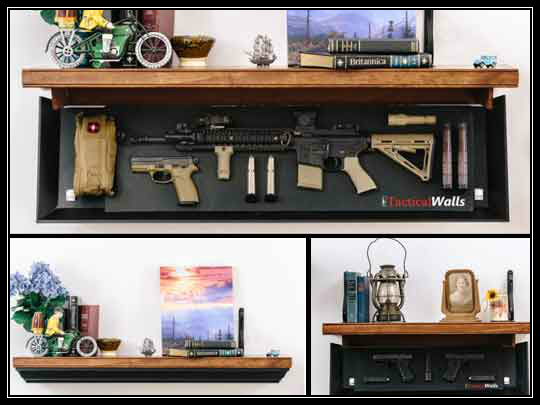 If you're a renter and want a great way to conceal your firearms then Tactical Walls has come up with the solution for you. Their new 1242 RLS (Rifle Length Self) and 825 PLS (Pistol Length Self) shelves will not only get you compliments from your friends and family, but they will also give you peace of mind in knowing that your home defense plan is a lot more flexible throughout your home.
Both Shelves have a discreet foam lined cavity that can be configured to your liking. Simply cut the shapes that you desire and the foam will securely hold your items without moving, keeping them right where you want them. Both shelves also have two hidden locks and once simply disengaged with the magnetic keys the lower half of the shelf is smoothly lowered with the assistance of pneumatic struts.
Both selves are designed to work with standard 2×4 walls found in most homes and apartments and do not require any interior modifications to your walls. Each shelf is also supplied with a set of shelf brackets that are to be installed on the top of the shelf for added support as well as also acting as an elegant set of bookends. To learn more about these two new shelves or to preorder them visit TacticalWalls.com