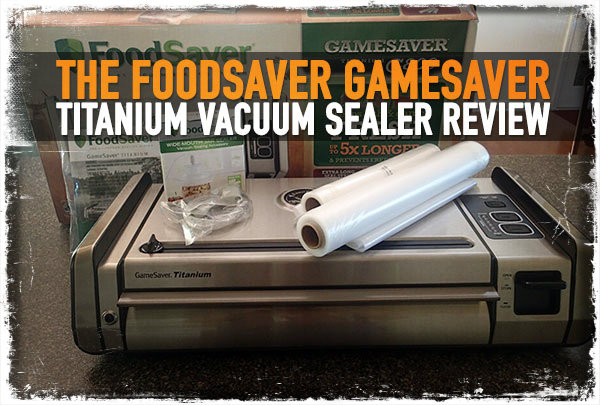 Hunting season is upon us, and this means game meat processing will soon be in full swing. Freezers stuffed with meat, fish, and poultry, food that required skill and considerable effort to bring home to help feed you and your family over the long winter months. Will it carry you over the months however, will it be ready to eat whenever you grab a package out of the deep freeze.
How do you ensure it stays edible for months or even years in some cases? It has to be packaged correctly to make sure it is ready when you are hungry, and one of the best ways to ensure this is by vacuum sealing your game meats and fish.
FoodSaver has an incredible deal right now, well they have incredible deals all year long, but right now the deal is especially appealing for hunters and anglers. The FoodSaver GameSaver Titanium Vacuum Sealer is designed with hunters and anglers in mind.
Already you are thinking the bags are too expensive to make it worthwhile. Similar to a printer, which is relatively inexpensive, but they get you on the ink right. Maybe that's true but we are talking about vacuum sealer bags not ink cartridges. 
The bags, when sealed properly keeps meats, poultry, and fish up to 5 times longer than traditional storage methods. The savings from not wasting foods would far outweigh the cost of the bags.
The bags in many cases can be reused, in particular the Ziploc bags that can be vacuum sealed and then opened and resealed a number of times. Mason jars can be sealed, opened, and resealed indefinably using this sealer as well with the optional jar sealing accessory. Simply wash the bags or jars and let air dry between sealing. Buy once and use repeatedly.
With this model you can seal mason jars as well, but this is not a replacement method for proper canning procedures it's more for sealing dry goods like salt, sugar, and rice to name a few. When you can stop the waste, you save money, and eat better in the process.
Manufactures' Description and Items Included In Offer:
1 – 11″ X 10′ Heat Seal Roll

3 – 15″X10′ Heat Seal Roll

3 – Gallon DAM® Bags

2 – Heavy Duty Rolls

2 – Expandable Rolls
Bonus Offer Includes:
1 – Heavy Duty Rolls, 2 Pack

1 – 15 Inch Rolls, 2 Pack

1 – Square Container to Marinate In (The vacuuming process opens the pores of the meat or food allowing the marinade to penetrate the food for better flavor and for tenderizing)

1 – Outdoor Cookbook
Vacuum seals up to 15″ wide bags for large cuts of game and fish, which allows for larger packages, and this of course cuts down on meat processing time and uses less bags.
Up to 100 repetitive seals

Dual pump for more power

2 seal settings – single and double

XL rubberized buttons

Patented, removable, dishwasher-safe, drip tray

Convenient bag cutter and roll storage

Accessory port and vacuum hose seals canisters and marinates food in minutes

Limited Lifetime Warranty

Product Dimensions: 26″ L x 12″ W x 6″ H
Meats and fish wrapped in butcher paper or sealed in Ziploc bags do not fare well in the freezer, and typically after a few months they have lost the battle with the cold. The food gets freezer burned, it discolors and ultimately loses its flavor.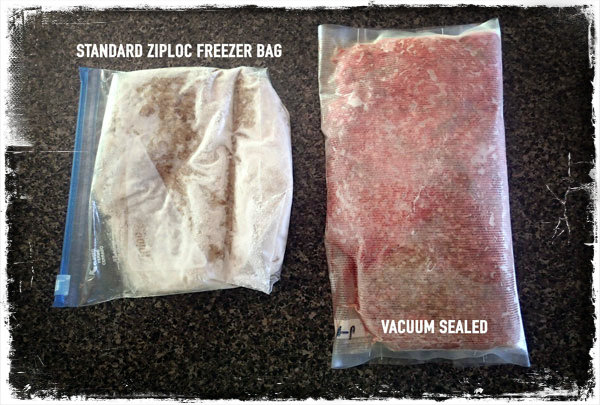 Hard cheeses left in the refrigerator that have not been sealed properly will grow mold and absorb odors from whatever else is in the refrigerator. You can prolong the life of cheese and other products that are traditionally stored in your refrigerator as well.
Once you have the FoodSaver GameSaver Titanium Vacuum Sealer home, you will realize other uses for the GameSaver Vacuum Sealer. Snacks for the kids can be sealed up and kept fresh in the reusable Ziploc bags and all they have to do is break the seal and eat, and then start all over again with the same bag.
Seal up items you want to protect from moisture such as matches for your emergency kit. Seal up socks and smaller clothing items to save space in your closet, vehicle or survival bags. The uses go on and on only limited by your imagination.
The savings you will see when you stop wasting foods will add up, and soon the cost of the vacuum sealer and bags is well behind you as the real savings add up day after day.
Final Thoughts
After months of reading reviews of all the different vacuum sealers out there I decided to go with the FoodSaver GameSaver Titanium. This machine is built like a tank so if you're planning on keeping it on your counter top you're going to need a lot of room. I was tired of throwing away hundreds of dollars worth of food and I couldn't really justify buying meat in bulk to save money because it would just end up going bad, so I decided to make a vacuum sealer purchase and I'm glad I did.
The GameSave Titanium is a bit pricey but I wanted something that had the double seal feature and could handle repetitive seals to make processing my fish and game go by a lot quicker. Keep in mind FoodSaver has plenty of models to choose from so you can find one that fits your budget and needs. Plus if you purchase from the FoodSaver site they allow easy payments so it's not so hard on the wallet. They also have plenty of deals on the bags all the time and a rewards system to get free products. You can purchase the GameSave Titanium for $449.95 at FoodSaver.com.