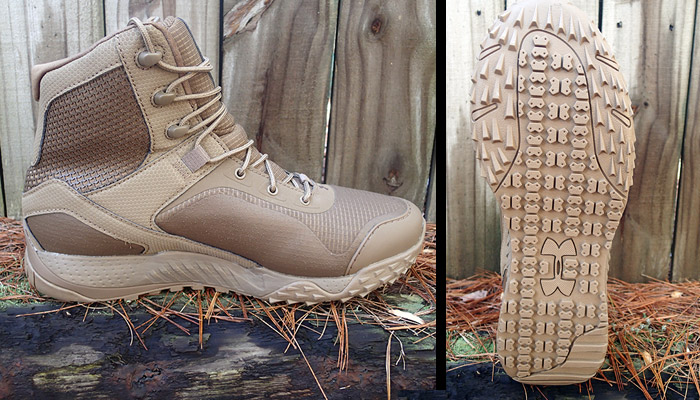 A foreword about UA
Kevin Plank went a long way from UA's humble beginnings in his grandmother's basement to owning a brand generating around 4 billion per annum.
It all started with an intention of making a "better" T-shirt that'll get rid of the body sweat rather than absorbing it. He was a college football team captain at the time, after failing private school and working countless jobs ranging from selling flowers to parking cars.
Just goes to show it really does get worse before it gets better.
HeatGear compression was the first T-shirt to hit the market in 1996, and the rest of it is history.
Fact sheet aka. the company boasting about its product
As per UA, the zinger on these tactical boots is the trifecta featured in the uppers.
They're completely waterproof, very light but still extremely durable. In other words, UA says they made these to feel like your "second skin". We're talking textile and synthetic leather with abrasion-resistant, welded film encircling the perimeter of the wearer's foot. The outsole is rubber, featuring low-profile lugs.
They follow this up by listing the (patented) technologies employed to make a boot unparalleled in performance, comfortable landings, shock-resistance and optimal stability (it's what they call a "locked foot").
They also mention TPU shank, meaning they've opted for plastic rather than metal.
Other features UA boasts about are:
Molded Ortholite insole

compressed EVA midsole

odor-prevention materials used
Anyway, let's make this review "real" by putting them on and getting a proper ride for our money.
Shall we?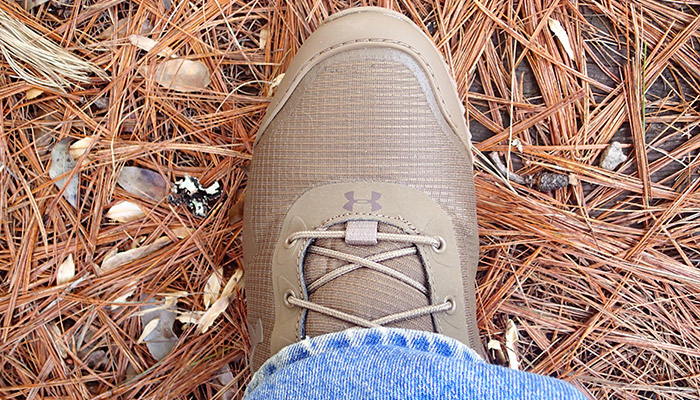 My review of the Under Armour Valsetz RTS
Initial thoughts:
The review of the RTS Valsetz tactical boots by Under Armour is produced in cooperation with SoleLabz.com. My first impressions of Under Armour's Valsetz RTS Tactical boots is they look and feel more like a pair of high top sneakers with a bit more of an aggressive soul than an actual boot. They are very lightweight only weighing in at 1 lb. 13 oz. a pair. The question is will they hold up under vigorous use and would I use them as my go to bug out boot, only time will tell. I'll be wearing these boots over the next few months and putting them through their paces so check back periodically to see how they stand up over time.