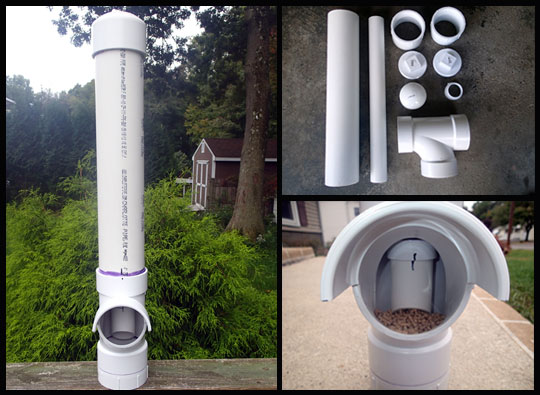 I have decided to start raising some chickens, so I'm in the process of searching for some chicken coop and feeder plans, while searching I came across this feeder that I seen online called the Dine-A-Chook. I thought it looked pretty cool, so I decided to try to and build one for myself and this is what I came up with. It holds 10 lbs. of feed but if you use a longer piece of PVC it could hold a lot more. So lets get started and I will show you how to build this yourself.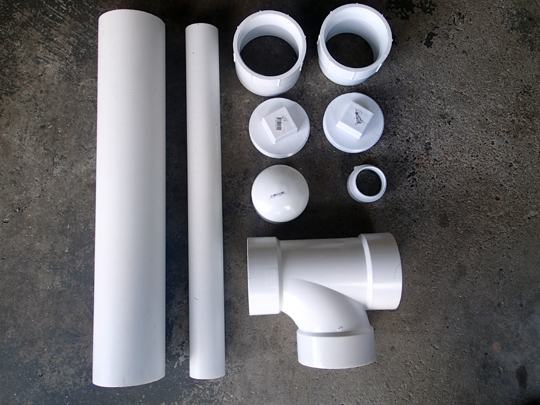 During the build process I changed my mind on the type of cap I wanted to use for the top. So instead of using the screw on cap I went with the plain push on cap, so my parts picture is a little different from my final build.
Parts List:
1 –  4″ PVC Cap
1 –  3″ PVC Cap
1 –  2″ PVC pipe 2 foot length (only ended up needing less than 5 inches)
1 –  4″ PVC pipe 2 foot Length
1 –  4″ PVC  3-way Sanitary Tee
1 –  4″ Clean Out Plug
1 –  4″ PVC DWV Street Spigot x FIPT Female Adapter
1 –  2″ PVC DWV Hub x MIPT Male Adapter
Tools Needed:
Drill
2 – 1/8″ hole saw
PVC Cement
Hack Saw
Dremel tool or file
Step 1. Mark out your 3-way tee, and cut off the lower half with a hack saw like the picture below. NOTE: At first I decided to mark it at the first seam but then changed my mind and cut it at the second seam it looked cleaner.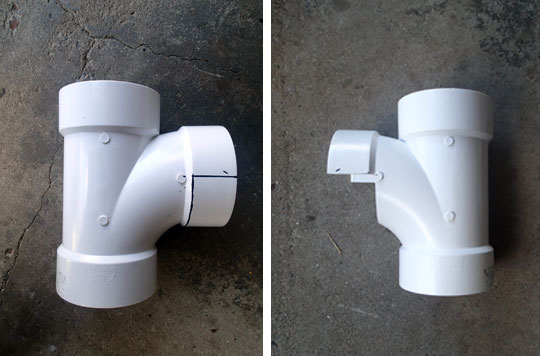 Step 2. Glue the 4″ PVC DWV Street Spigot x FIPT Female Adapter to the bottom of the 3-way tee like the picture below. Next install the clean out plug.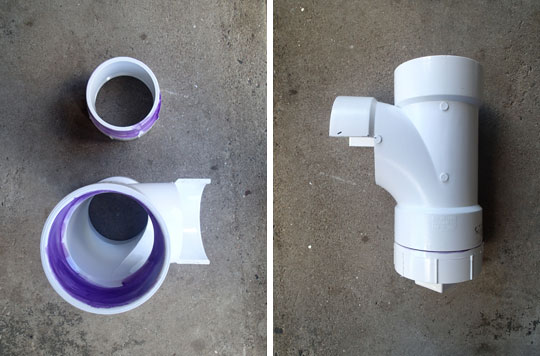 Step 3. Drill a 2-1/8″ hole into the center of the 3 inch PVC cap with your hole saw. The 2-1/8″ hole is slightly to small for the 2″ male adapter to fit so you will have to file it or use a dremel until you get the right size for it to thread in. Be careful not to make the hole to big or you will have to buy a new cap and start over. Next thread the 2″ male adapter into the top of the 3 inch cap. I forgot to ake a picture of this step but you can see it in the picture below on the bottom right.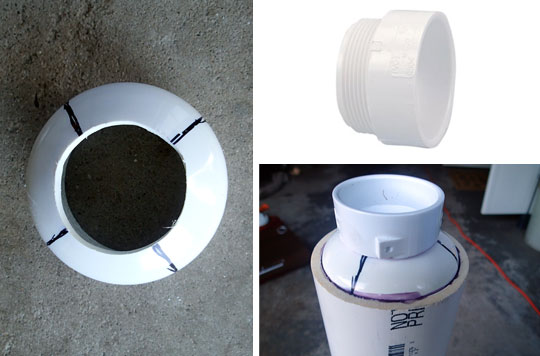 UPDATE

If you would like to add a flag indicator to this feeder so you will know when to add feed to it go to the link below before continuing on with step 4. Once you finish the steps in the link below come back here and continue with step 4.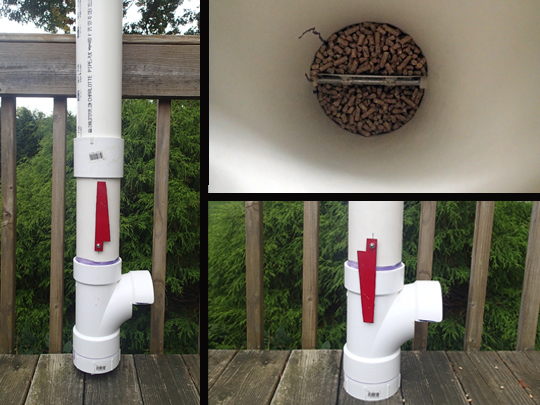 DIY Chicken Feed Indicator for PVC Chicken Feeder
Step 4. Next glue the three inch cap into the 4inch PVC pipe. I set it in right where the cap starts to round off see the picture below.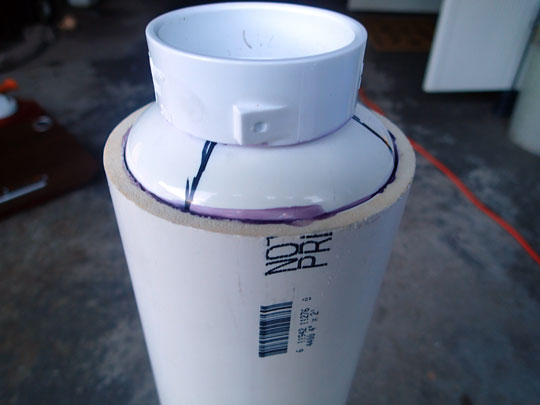 Step 5. Next measure 4-1/4″ of the 2 inch pipe and cut it at a 45 degree angle like the pictures below. I found this length filled the feeder without spilling over.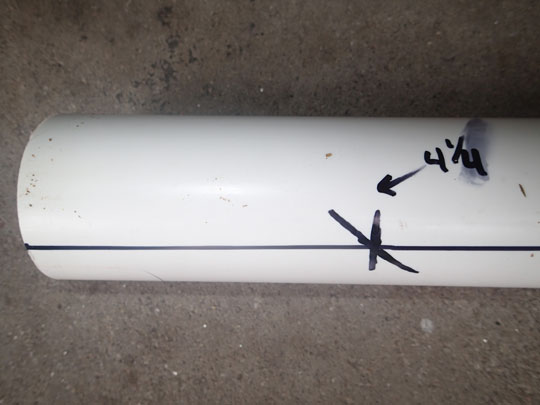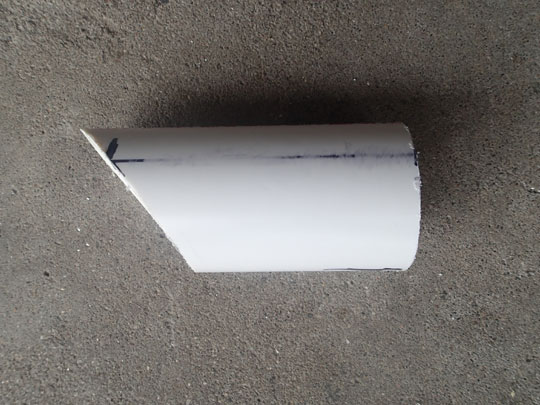 Step 6. Next glue the 2″ pipe into the 2″ adapter.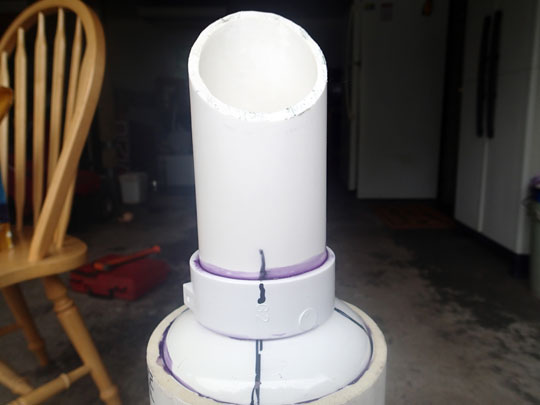 Step 7. Place the 4″ PVC pipe into the 3-tee and line up the 45 degree cut so its facing the front of the feeder. Once its lined up mark it with a marker so you will know where to set it when gluing. Once your sure you have your marks where you want them glue the 4″ PVC pipe into the 3-way tee. It should look like the picture below.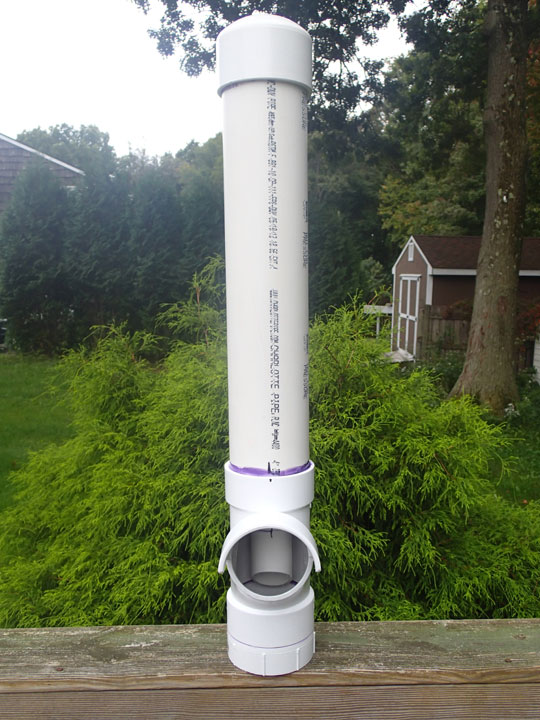 Step 8.  Use a dremel or a file and round off any sharp edges or corners of the hood of the feeder so your chickens won't get hurt. Thats it, your feeder is done. You can mount it to your coop with 4″ PVC straps or some galvanized hanger strap. Now all you have to do is fill the feeder and push the cap on. If you find the cap a little to tight you can make two relief cuts in the 4 inch pipe just a couple inches down with your hacksaw. Just make sure you don't cut lower than the cap, so no water can get in if you mount it outside. Pretty soon I will be adding a storm cover to this feeder and a way to let you know when it needs to be refilled with chicken food.