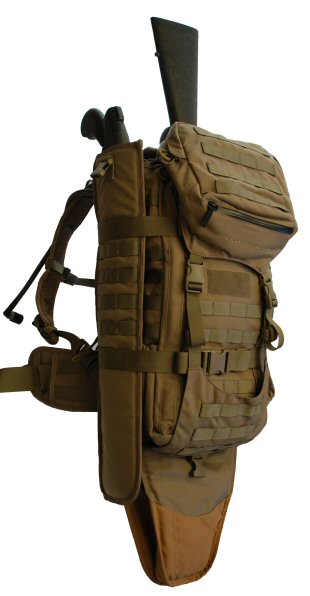 If you're looking for a pack for your bug out bag that can fully conceal your AR-15, then look no further. I found a great bug out bag pack, the Eberlestock Gunslinger II
, which can fully enclose a rifle up to 60 inches long. Also, this pack is loaded with features, like a top pocket with a handy internal organizer and padded pockets that will hold your AR mags. The scabbard on the Gunslinger II was made to fold into the bottom of the pack to accommodate shorter weapons or other gear, and there's also a side handle which allows you to grab the pack in a hurry, i.e. if you need to get out of dodge, or to assist mounting the pack with a heavy load. The pack also has plenty of (PALS) webbing, inside and out, to attach and to organize your gear. There's an assortment of accessories available for the Gunslinger II
 (sold separately);  the A1SS shotgun side scabbard, for entry guns or other similar sized items; the A2SS, for longer shotguns or hunting rifle-sized second weapons. The GS II comes in black, dry earth, olive drab, or multi-cam.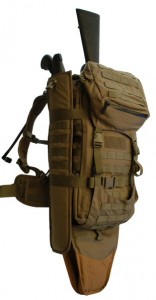 Gunslinger II Specifications:
1000D Cordura Nylon
Scabbard folds into the bottom of the pack and is secured by a buckle
Heavy-duty compression straps
Hydration sleeves on back wall
Semi-transparent tuck pockets
Interior Padlock (PALS) webbing
Includes GSTC Butt Cover with pull-out sleeve – allows you to fully enclose a rifle up to 60.00″ long
Adjustable / Removable Waist Belt
Total Volume:  2700 c.i.
 Volume Not Including Scabbard  2200 c.i.
Weight 5 lbs. 6 oz.