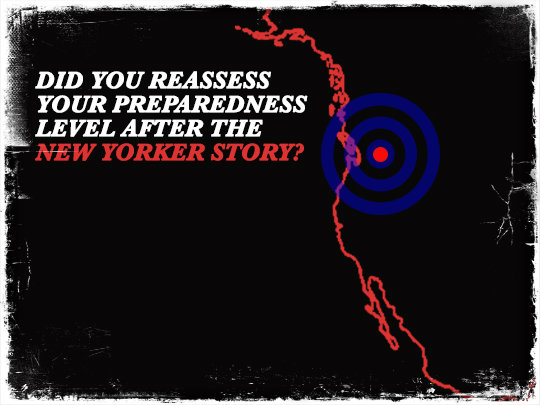 The New Yorker published a story July 20th, 2015, in which they detailed the destruction a massive earthquake and subsequent tsunami would cause in areas of the Pacific Northwest. The story is called The Really Big One (Schulz, 2015).
The danger zone that the article is referring to lies just north of the San Andreas Fault line. It is known as the Cascadia subduction zone, and it runs for seven hundred miles off the coast of the Pacific Northwest, and ends near Vancouver Island Canada.
There are a lot of technical details in the article and it is easy to get lost in the weeds when reading it, but the take away is that essentially experts predict that a massive quake could happen along the fault line any day now.
According to FEMA everything west of Interstate 5 would be toast if what has been described were to occur. Well if it were to occur there would of course be massive destruction and likely any estimation made before the quake would be a conservative estimation, because no one knows for sure.
The story had a visceral impact and some people panicked. The New Yorker is considered a reputable magazine in many quarters, and not some doom and gloom website that is always predicting the sky will fall tomorrow. When tomorrow comes there is always another tomorrow in which the sky will fall. This article resonated with people and according to some retailers emergency kits are flying off the shelves, because of the news story.
Sales of emergency-preparedness kits have skyrocketed after The New Yorker last week published a story about how an earthquake would destroy the Pacific Northwest (Lacitis, 2015).
American Preparedness CEO Steve O'Donnell was quoted as saying that his company sold an average month's worth of emergency kits in a single day right after the story was published (Lacitis, 2015).
Another company that retrofits homes for earthquakes stated the waiting list for clients went from 3.5 months to six months after the story came out. People wanted on the waiting list for the services the company provides.
Experts reveal what most of us already know and that is that things go in cycles. People will be hyper vigilant and eager to prepare for a period, and then it wears off. Emergency kits will be hot items for a time and then taper off.
However, according to a survey conducted by the city of Seattle only 25 percent of the citizens are prepared. This is good news to some extent because the national average is only four percent, only four percent of the population is ready for a crisis. That leaves far too many not prepared, and those unprepared may be as big of a problem as the crisis itself in the days after.
Kits prepackaged for you and ready to use right off the shelf are apparently popular, because people will spend money so they do not have to worry about gathering the items here and there themselves.
The kits however could be put together at home, and it might be cheaper to do it yourself, and you can control the quality of the items as well. It is the convenience factor for some, so the kits are popular.
Those that buy the kits, and then stick them in a closet without inventorying the items are only buying the kits based on the emotions at the time. Everyone is buying them so "I better get one too" is how some see things. A few do not even know why they need to prepare, but they get caught up in the rush. The city of Seattle is now recommending that everyone have 10 to 14 days worth of supplies so why not just buy one that is ready to use may be the thinking of some people.
Preparedness Has To Be Taken Seriously
Earthquakes are not a new development, but the story reminded people that live in earthquake prone areas that the big one could come at anytime. If the so-called big one did strike, then ten days or even 14 days worth of supplies would probably not be enough.
You do not prepare because someone else says it is the thing to do. You have to know why you must be prepared, and then know what you need to be prepared. You may very well survive the event, but can you survive the days and weeks after.
It really is unfortunate that it takes a glaring news headline to spurn people into action and yet given all of the alarm generated only 25 percent of the people living in Seattle have prepared for such an event.
Experts have been predicting the big one for years and it could in theory happen any day now, and the fact that no one knows, means you do have to be prepared for it to happen any day now.
Lacitis, E. (2015, July). Retrieved 2015, from http://www.seattletimes.com/seattle-news/ready-or-not-earthquake-kits-flying-off-the-shelves/
Schulz, K. (2015, July). The New Yorker. Retrieved 2015, from http://www.newyorker.com/magazine/2015/07/20/the-really-big-one