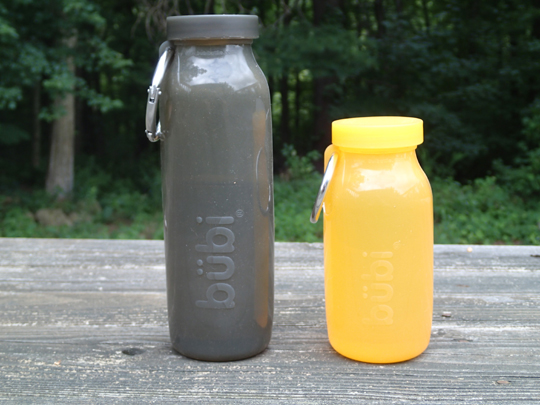 Air and watertight the Bubi Bottle is so much more than a water bottle.
BPA Free
Mold resistant
Use as a hot or cold compress
Carry hot or cold beverages
Always retains its shape
Never releases harmful chemicals
Dishwasher safe
Dimensions: 9.5 high x 2.75 diameter
Lightweight – 5.5oz
22 oz. capacity
Safe for the microwave or freezer
Remove the cap and carabineer before placing in the Microwave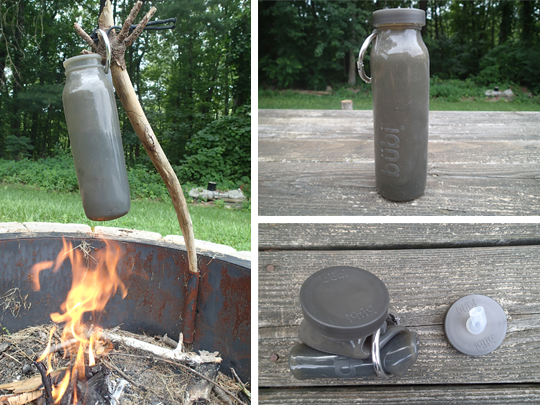 Survivalist, hunters, hikers and all outdoor enthusiasts immediately look for multiple uses for their gear. You cannot carry multiple items for various tasks because of weight and storage capacity so you need to carry one item that can perform a multitude of tasks.
The Bubi bottle fits the bill. It can be a water bottle, a waterproof storage container for matches, electronic gear, medical supplies and even food. It can be heated in the microwave or over an open flame to create a soothing hot pack for sore, tired muscles. Warm chilled hands while working outside or carry the Bubi in your jacket pocket to help keep the body warm. Need to relax after a hard day of hiking, freeze the Bubi or fill with snow and use as a cold compress. Microwaving or freezing water in the bottle will not cause it to lose its shape.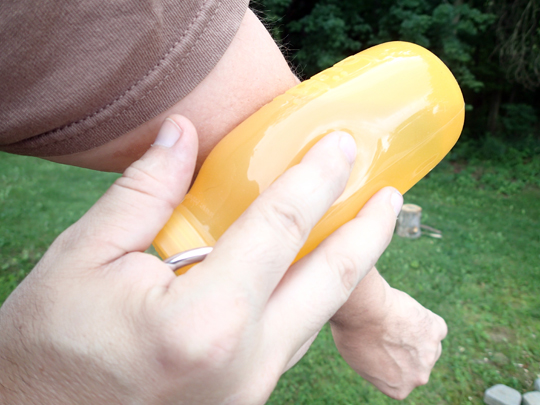 After filling the Bubi with warm/hot water place it in your sleeping bag for those cold nights under the stars or place it under your head to use as a pillow in an emergency situation.
The Bubi is collapsible and it can be stored almost anywhere. For this reason, many outdoor enthusiasts will often carry more than one, in addition to their canteens and/or other water containers. When not in use, the Bubi bottle can be attached to a pack or even to a belt loop using the included carabineer, and if needed it can be pressed flat so it will slip into a pocket as well.  If you have to purify a water source, you can store the clean water in the Bubi to insure that it stays clean and ready to drink. The material used in the manufacturing does not absorb odors, so a quick wash is all that's needed, regardless of what may have been in it previously.
Keep in mind that once sealed, the Bubi is watertight; something to remember If ever caught in a rainstorm, or for river or other water crossings. The Bubi will also float once sealed so attach to a tether and place your valuables in the Bubi bottle to protect them and be rest assured that everything will remain protected and dry. In a survival situation, to protect your fire starting materials, put your matches and tinder in the bottle to ensure that you'll always have the means to create a fire.
Because the Bubi is made of high grade silicone, it will not rattle like a metal water bottle, this is ideal for hunting expeditions and other situations where stealth is important. Store several in your home's emergency supplies pack, bug-out-bags as well as with your camping and hiking supplies.
Final Thoughts
This is the ideal type of product for your bug out bag, one that is lightweight, compact and has a variety of uses. Despite having read a few reviews on Amazon that  claimed the bottle caused their water to taste funny, personally I did not experience any change in the taste of water while using the Bubi. I would like to thank Bubi Bottle for giving me the opportunity to test and to review such a great product. The Bubi Bottle comes in two sizes and in assorted colors. You can purchase a 22 oz. Bubi Bottle for  $24.99 or a 14 oz. for $16.99 at BubiBottle.com.