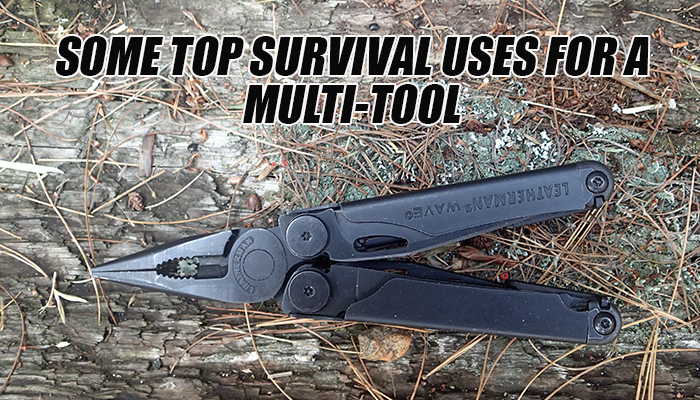 Not every multi-tool is made the same. This would be obvious if you were to conduct a comparison and put several tools through their paces.
Leatherman® probably comes to mind when talking about multi-tools, and that's because they are the innovators when it comes to multi-tools. Leatherman now has what they call the Leatherman OHT®, "one-hand-operable multi-tool".
We are not reviewing any particular multi-tool here, nor do we have this particular model, nor are we endorsing any specific model or manufacturer, that's up to you to decide which one you buy. We mention it simply because the Leatherman OHT can be used one-handed. If one of your hands is injured or otherwise occupied and you need access to a knife blade, pliers, strap cutter or saw then a one-handed operational tool could be a lifesaver.
The blades can be opened one handed, and the pliers are spring loaded so they are easily used one handed as well, just something to think about when choosing. Regardless of model or manufacturer, make sure your multi-tool is a quality one because the "cheap ones" are cheap in quality and performance. In a survival situation, you don't want to leave anything to chance.
There are tools and blades for every occasion. Any multi-tool out there comes with a pair of pliers and usually wire cutters built in. The cheap tools will cut thin wire but heavy gauge wire is not getting cut and when you feel the pliers springing back when cutting wire you know your tool is not up to the job.
You need pliers. Pliers can help fashion fishhooks out of metal or wire, help break down, adjust and help field clean your firearm and they can be used to pull hot cooking utensils from the fire as well. The uses are endless and you don't know you need a set until you really need a set of pliers. Think survival fishing and imagine the number of tasks a set of good pliers could perform.
Small pliers are ideal when you are using a heavy needle and thread. Use the pliers to push and then pull the needle through heavy canvas, nylon webbing or when repairing tent seams and sewing leather.
You can get needle nose or regular pliers, so decide which one would be more valuable to you. Is your multi-tool going to help you with your job, or used for small tasks around the house and of course a multi-tool is invaluable in a survival situation?
Wire cutters, of course, cut wire and can be used to snip small rubber tubing and in some cases crimp wire or electrical connections. Wire cutters are self-explanatory and most tools will have cutters, but you want to make sure they are quality. You may need to cut snare wire, wire for makeshift camp alarms systems or for cutting wiring out of your disabled vehicle, wiring that has multiple survival uses by the way.
There are normal and hard wire cutters available, and some models allow you to replace and exchange the blades as needed.
Knife blade, of course, you need a sharp blade for any number of tasks, and again most tools would have a blade for cutting rope, rubber hoses and so on. A small blade is ideal for carving fishhooks out of wood or even bone in some cases, and they come in handy when repairing clothing or gear with needle and thread.
Can opener/bottle opener. This is where quality counts because the cheap bottle openers do not work and the can opening blade can fail halfway around the can rim. The can opener on a multi-tool uses the same concept as a military issued P-38 or P-51 can opener. The P-38 typically came with cases of C-Rations. Never leave home without one.
Saw blade, used to cut plastic tubing such as PVC, shape wood and in some cases cut metal if the multi-tool has a metal cutting edge, you have to look for this type of saw blade specifically if you want to cut metal. The saw blade is different from a serrated blade which some knives have. A serrated blade is ideal for working through heavy cordage, vines and for heavy nylon or canvas webbing, and for seat belts.
Options you may want to look for include an oxygen tank wrench blade and strap cutter. In an emergency, you may have to administer oxygen to yourself or others. You need a wrench that fits the tank's valve to turn the oxygen on. You can use pliers but they can be awkward, and you stand a chance of ruining the valve using pliers.
A strap cutter can be used to slice through heavy webbing, leather, and canvas and for cutting packaging straps off boxes and crates.
Phillips and flat head screwdrivers, again these tools are self-explanatory. In some cases, you can use a dime for flat-headed screws but it is very hard to find an alternative for removing or screwing in a Phillips head screw.
Some tools do come with a threaded port that fits a small-bore brush for your firearm. There are multi-tools designed especially for firearms, which have many or the tools needed for sight adjustment, removing scopes, and other accessories from the mounting rail. You might want to consider having a standard multi-tool and one for firearms in some cases.
Shop around and compare options and purchase based on your lifestyle, job, or personal preference, but always keep survival in mind, because you may just get to use your multi-tool in a survival situation and you want one up to the task.